Unified Analysis of Multi-Chamber Contact Tanks and Mixing Efficiency Evaluation Based on Vorticity Field. Part II: Transport Analysis
1
Department of Civil Engineering, Eskisehir Osmangazi University, 26000 Eskisehir, Turkey
2
Multimedia Environmental Simulations Laboratory, School of Civil and Environmental Engineering, Georgia Institute of Technology, Atlanta, GA 30332, USA
*
Author to whom correspondence should be addressed.
Academic Editor: Yung-Tse Hung
Received: 15 August 2016 / Revised: 12 October 2016 / Accepted: 14 November 2016 / Published: 16 November 2016
Abstract
Mixing characteristics of multi-chambered contact tank are analyzed employing the validated three-dimensional numerical model developed in the companion paper. Based on the flow characterization, novel volumetric mixing efficiency definitions are proposed for the assessment of the hydrodynamic and chemical transport properties of the contact tank and its chambers. Residence time distribution functions are analyzed not only at the outlet of each chamber but also inside the chambers using the efficiency definitions for both Reynolds averaged Navier–Stokes (RANS) and large eddy simulation (LES) results. A novel tracer mixing index is defined to characterize short circuiting and mixing effects of the contact system. Comparisons of the results of these indexes for RANS and LES solutions indicate that mixing characteristics are stronger in LES due to the unsteady turbulent eddy mixing even though short circuiting effects are also more prominent in LES results. This result indicates that the mixing analysis based on the LES results simulates the mixing characteristics instantaneously, which is more realistic than that in RANS. Since LES analysis can capture turbulent eddy mixing better than RANS analysis, the interaction of recirculation and jet zones are captured more effectively in LES, which tends to predict higher turbulent mixing in the contact system. The analysis also shows that the mixing efficiency of each chamber of the contact tank is different, thus it is necessary to consider distinct chemical release and volumetric designs for each chamber in order to maximize the mixing efficiency of the overall process in a contact tank system.
View Full-Text
►

▼

Figures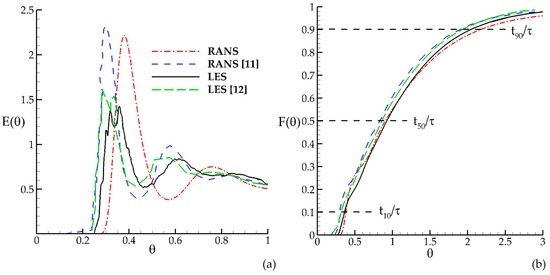 Figure 1
This is an open access article distributed under the
Creative Commons Attribution License
which permits unrestricted use, distribution, and reproduction in any medium, provided the original work is properly cited (CC BY 4.0).

Share & Cite This Article
MDPI and ACS Style
Demirel, E.; Aral, M.M. Unified Analysis of Multi-Chamber Contact Tanks and Mixing Efficiency Evaluation Based on Vorticity Field. Part II: Transport Analysis. Water 2016, 8, 537.
Note that from the first issue of 2016, MDPI journals use article numbers instead of page numbers. See further details here.
Related Articles
Comments
[Return to top]