Assessment of the Geo-Environmental Status of European Union Priority Habitat Type "Mediterranean Temporary Ponds" in Mt. Oiti, Greece
1
Department of Economic Geology and Geochemistry, Faculty of Geology and Geoenvironment, National and Kapodistrian University of Athens, Panepistiomiopolis, 15784 Zografou, Athens, Greece
2
Department of Geophysics-Geothermics, Faculty of Geology and Geoenvironment, National and Kapodistrian University of Athens, Panepistiomiopolis, 15784 Zografou, Athens, Greece
3
Department of Geography-Climatology, Faculty of Geology and Geoenvironment, National and Kapodistrian University of Athens, Panepistiomiopolis, 15784 Zografou, Athens, Greece
4
Department of Botany, Faculty of Biology, National and Kapodistrian University of Athens, Panepistiomiopolis, 15701 Zografou, Athens, Greece
*
Author to whom correspondence should be addressed.
Received: 27 June 2019 / Revised: 1 August 2019 / Accepted: 3 August 2019 / Published: 7 August 2019
Abstract
Mediterranean Temporary Ponds (MTPs) constitute priority habitat under the European Union Habitats' Directive. They are inhabited by rare species and subjected to unstable environmental conditions. Lakes and ponds act as early indicators of climate change, to which high altitude ecosystems are especially vulnerable. This study presents a full dataset of the geo-environmental parameters of such habitats (MTPs) along with their current ecological status for the first time. Furthermore, this paper aims to address the lack of basic geo-environmental background on the network of MTPs of Mt. Oiti concerning their geological, geomorphological, mineralogical and geochemical characteristics along with the pressures received from various activities. The study area is located in a mountainous Natura 2000 site of Central Greece, which hosts four MTPs. Fieldwork and sampling of water and bottom sediments were carried out during dry and wet periods between 2012 and 2014. Electrical Resistivity Tomography measurements identified synforms shaped under the ponds that topography does not always adopt them, mostly due to erosion procedures. The most significant feature, distinguishing those pond waters from any other province water bodies is the extremely low content of all studied ions (including NO
2
−
, NO
3
−
, NH
4
+
, PO
4
3−
, HCO
3
−
, SO
4
2−
, Al, As, B, Ba, Ca, Cd, Ce, Cl, Co, Cr, Cs, Cu, Fe, Ga, Gd, Ge, Hf, Hg, K, La, Li, Mg, Mn, Mo, Na, Ni, P, Rb, S, Sb, Se, Si, Sn, Sr, Ti, U, V, W, Zn, and Zr). MTPs water bodies are of bicarbonate dominant type, and a fresh meteoric water origin is suggested. The main pressures identified were grazing and trampling by vehicles. MTPs of Mt. Oiti were classified according to their ecological status form excellent to medium. Our results can contribute to a better understanding of the mountainous temporary ponds development in the Mediterranean environment.
View Full-Text
►

▼

Figures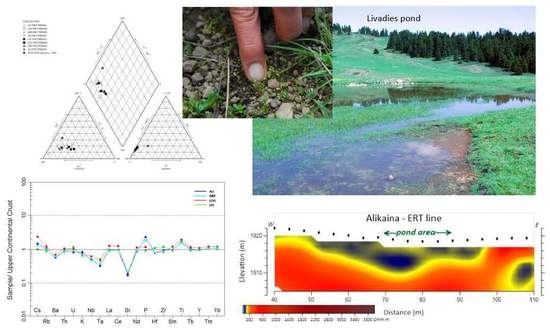 Graphical abstract
This is an open access article distributed under the
Creative Commons Attribution License
which permits unrestricted use, distribution, and reproduction in any medium, provided the original work is properly cited (CC BY 4.0).

Share & Cite This Article
MDPI and ACS Style
Vasilatos, C.; Anastasatou, M.; Alexopoulos, J.; Vassilakis, E.; Dilalos, S.; Antonopoulou, S.; Petrakis, S.; Delipetrou, P.; Georghiou, K.; Stamatakis, M. Assessment of the Geo-Environmental Status of European Union Priority Habitat Type "Mediterranean Temporary Ponds" in Mt. Oiti, Greece. Water 2019, 11, 1627.
Note that from the first issue of 2016, MDPI journals use article numbers instead of page numbers. See further details here.
Related Articles
Comments
[Return to top]