Open Access This article is
freely available
re-usable
Article
An Optimal Allocation Model for Large Complex Water Resources System Considering Water supply and Ecological Needs
1
College of Hydrology and water resources, Hohai University; Nanjing 210098, China
2
Institute of water resources planning, Changjiang Institute of Survey, Planning, Design and Research, Wuhan 430010, China
*
Author to whom correspondence should be addressed.
Received: 12 March 2019 / Accepted: 18 April 2019 / Published: 22 April 2019
Abstract
:
Water resources are very important to support the socio-economic development and maintain environmental health, which is a typical issue in water resources management. In this study, we developed an optimal allocation model for a large complex system of water resources by considering both water supply and river ecological benefits. The water supply benefit is defined as the minimum water deficit for different water users, while the ecological benefit involves making the reservoir release as close as possible to the natural streamflow. To solve this problem, the combination of decomposition-coordination (DC) and discrete differential dynamic programming (DDDP) methods were proposed. The proposed methods first decomposed a large system with multi-objective programming into subsystems, and the optimal solution of each subsystem was accomplished by the DDDP method to solve the system efficiently. Then the subsystems' solutions were coordinated to figure out the near global optimal solution. The proposed models were tested in the Lingui and Yongfu County, Guilin City in China. Results show that the optimal reservoir release is close to the natural flow regime and there is a slight water deficit ratio in both level years. The water supply objective is more sensitive to the system model compared with the ecological objective, and the result of water allocation is optimized when the reservoir release is as close as possible to the natural flow based on the minimum water deficit. The proposed system model could facilitate sustainable water use and provide technical support for water resources management in economic development.
Keywords:
optimal water allocation model; large complex system; system analysis technique; decomposition-coordination method; discrete differential dynamic programming; sustainable water use
Author Contributions
Y.T., Z.D. conceived and designed the study with support from all authors. Z.Z. and L.H. collected the data; C.X. and Z.D. developed the water resources system model; Y.T. calculated and analyzed the data and completed the manuscript.
Funding
This paper was financially supported by National key research and development program (No.2016YFC0401306) and Guangxi Hydraulic Engineering Project (No. ghzx15039G).
Acknowledgments
The authors are grateful to Changjiang Institute of Survey, Planning, Design and Research for providing valuable economic and hydrological data. The authors are also grateful to the insight and views of the reviewers and editors.
Conflicts of Interest
The authors declare no conflict of interest.
Abbreviations
| | |
| --- | --- |
| TWD | Total water demand |
| TWS | Total water supply |
| TWDR | Total water deficit ratio |
| Q | Actual reservoir release |
| QN | Natural streamflow |
| V | Actual reservoir storage |
| W | Water quantity of sub-area |
| WS | Water supply only from reservoir |
| WEVP | Surface evaporation of reservoir |
| QB | Basic ecological flow |
| WR | Water recession |
| WIF | Intermediate flow |
Appendix A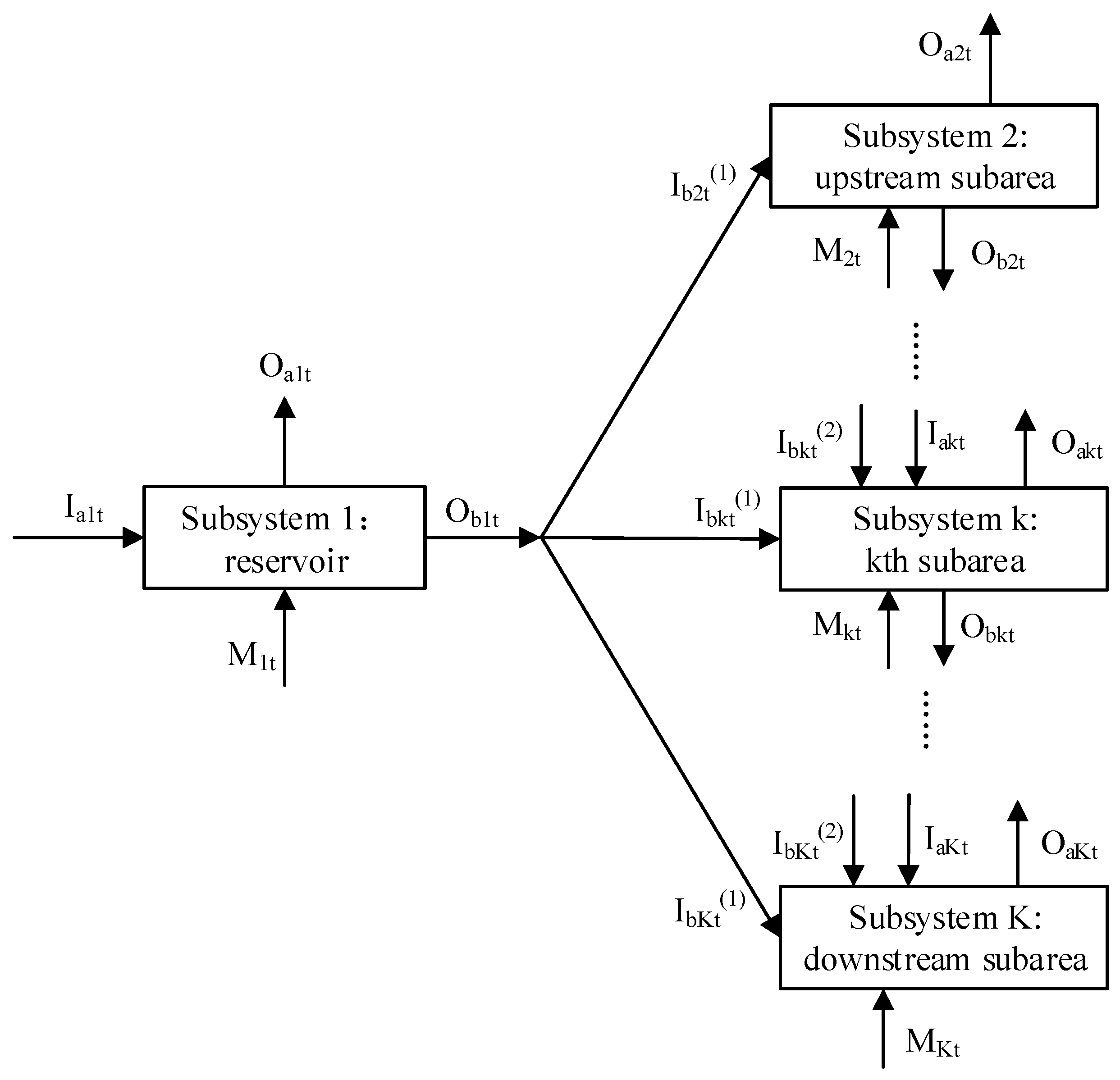 Parameters
Corresponding Meanings
Iakt
Individual input of subsystem

k

at

t

th time step
Oakt
Individual output of subsystem

k

at

t

th time step
Ibkt
Intermidiate input of subsystem

k

at

t

th time step
Obkt
Intermidiate output of subsystem

k

at

t

th time step
Mkt
Decision variable of subsystem

k

at

t

th time step
Subsystem
Parameter for System Modeling
The Corresponding Parameter for Modeling of Water Resources
The Corresponding Meaning of Parameters
Subsystem 1
Ia1

t

QN

The natural flow income of reservoir
Oa1

t

AAPFD

The extent to which actual release to natural flow, the manifestation of the objective function expressed by

F

2
Ob1

t

Water supply from the reservoir to each sub-area

M

1

t

Q

The actual water release of reservoir
Subsystem

k

Ibkt(1)
Water supply from the reservoir to

k

th sub-area
Ibkt(2)
WIkt
Water income from upstream sub-area(s), equal to the summary of the water recession (

WR

) of upstream sub-area(s)
Iakt
WIFkt
Intermediate water flow between the (

k

− 1)th and

k

th sub-area
Oakt
TWDRk
The total water deficit ratio for

k

th subsystem, the manifestation of the objective function expressed by

F

1
Obkt
WRkt
Water recession of

k

th sub-area
Mkt
The total water supply for

k

th sub-area, including local water, upstream recession and water supply from the reservoir
Notes: (i) The intermediate input in the system (Ibkt) denotes different variables in water resources field. For accuracy, the superscript number (1) and (2) is defined to explain the difference. (1) is the water supply from the reservoir to subarea(s) and (2) is water income from upstream sub-area(s). (ii) For convenience, the serial number of each subsystem included the reservoir, and the sub-areas would not be numbered separately. When

k

only refers to the sub-area in some formulas or equations, its subscript begins with 2.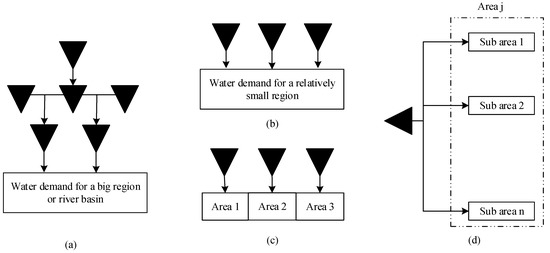 Figure 1. Reservoir topology structure. (a) Mixed-connected; (b) parallel; (c) based on (b), the small region divided into several areas; (d) the topology structure among sub-areas and reservoir.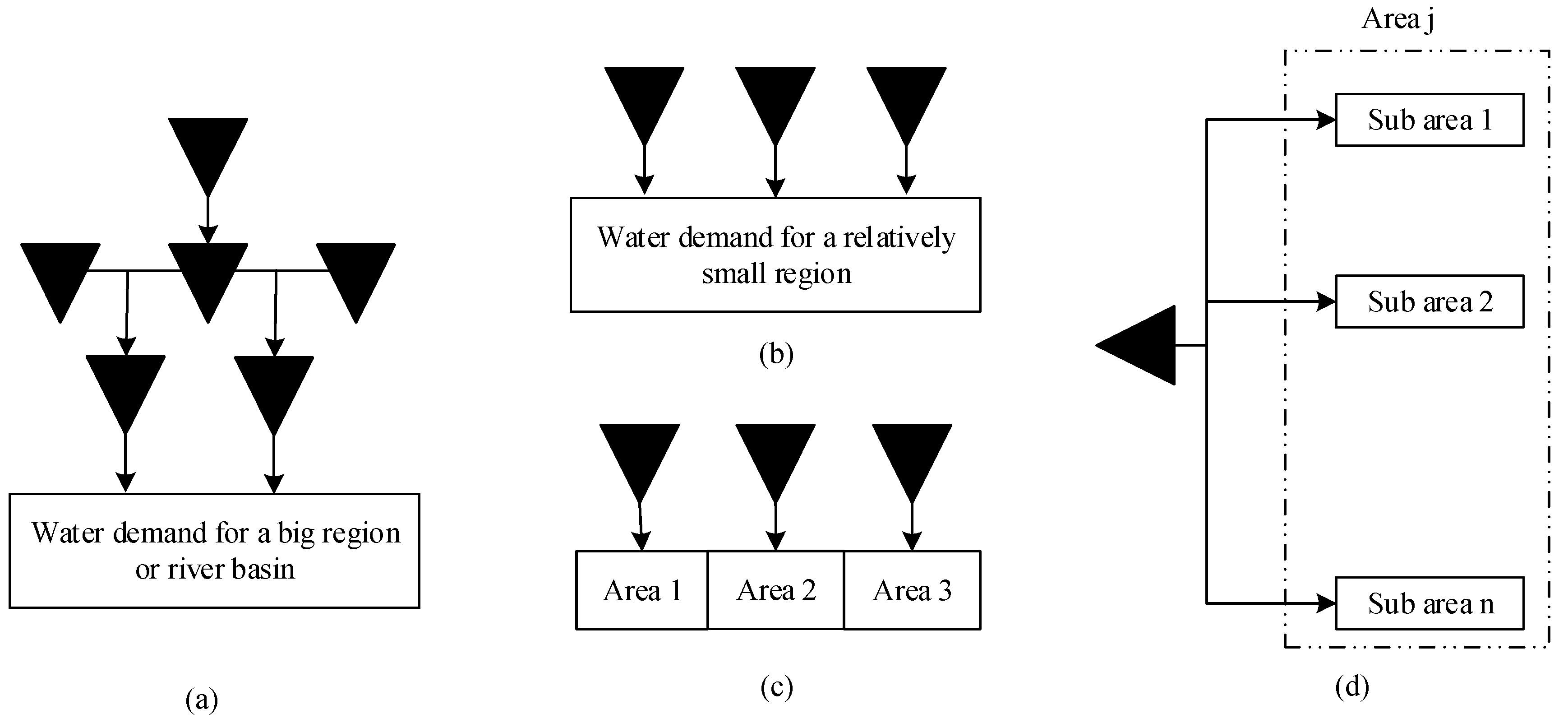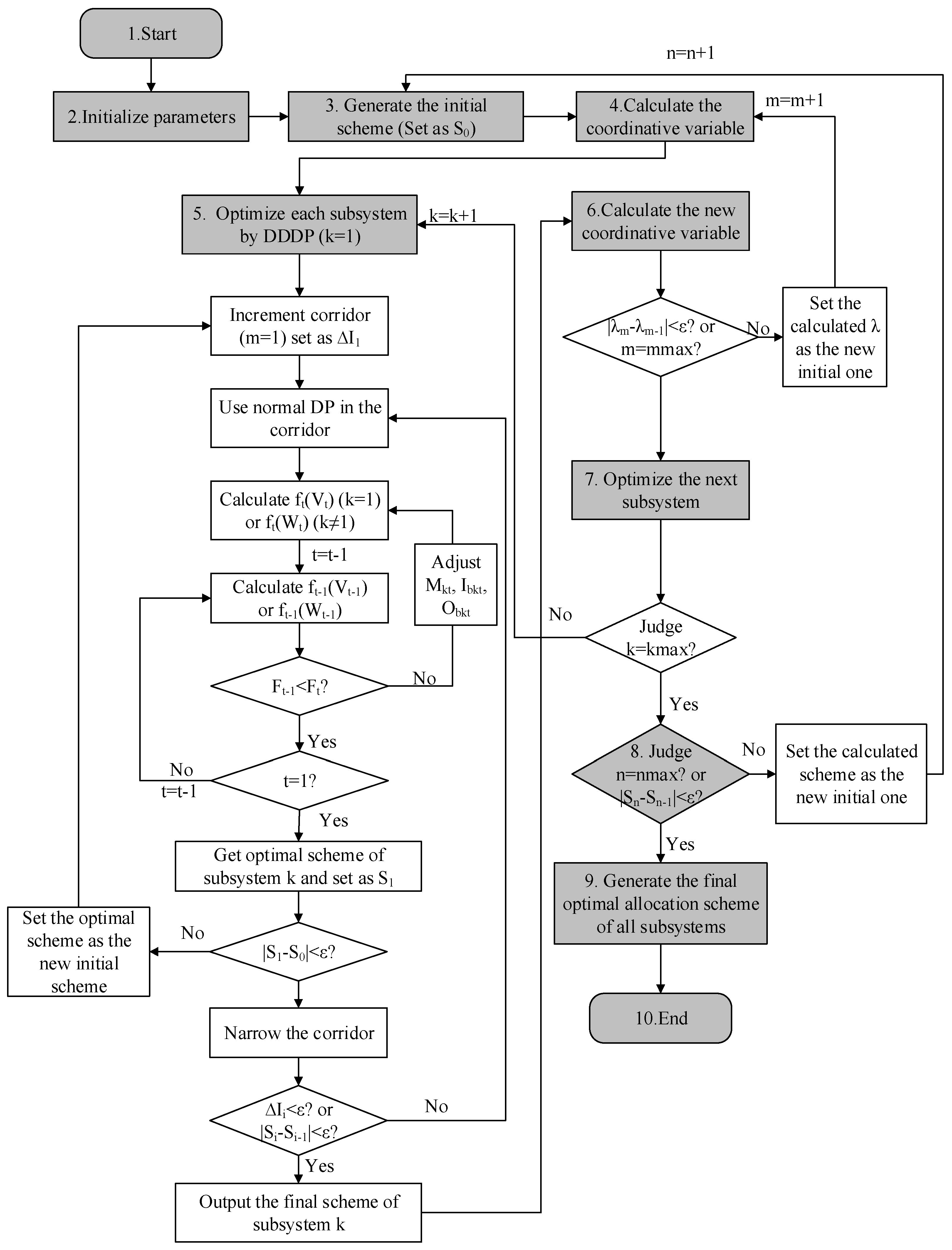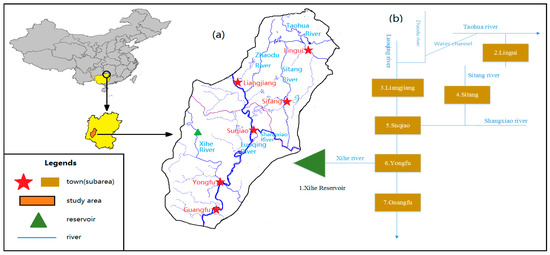 Figure 4. Location and water resources condition of the study area. (a) Actual river system and sub-area (b) the topology structure of rivers and sub-areas.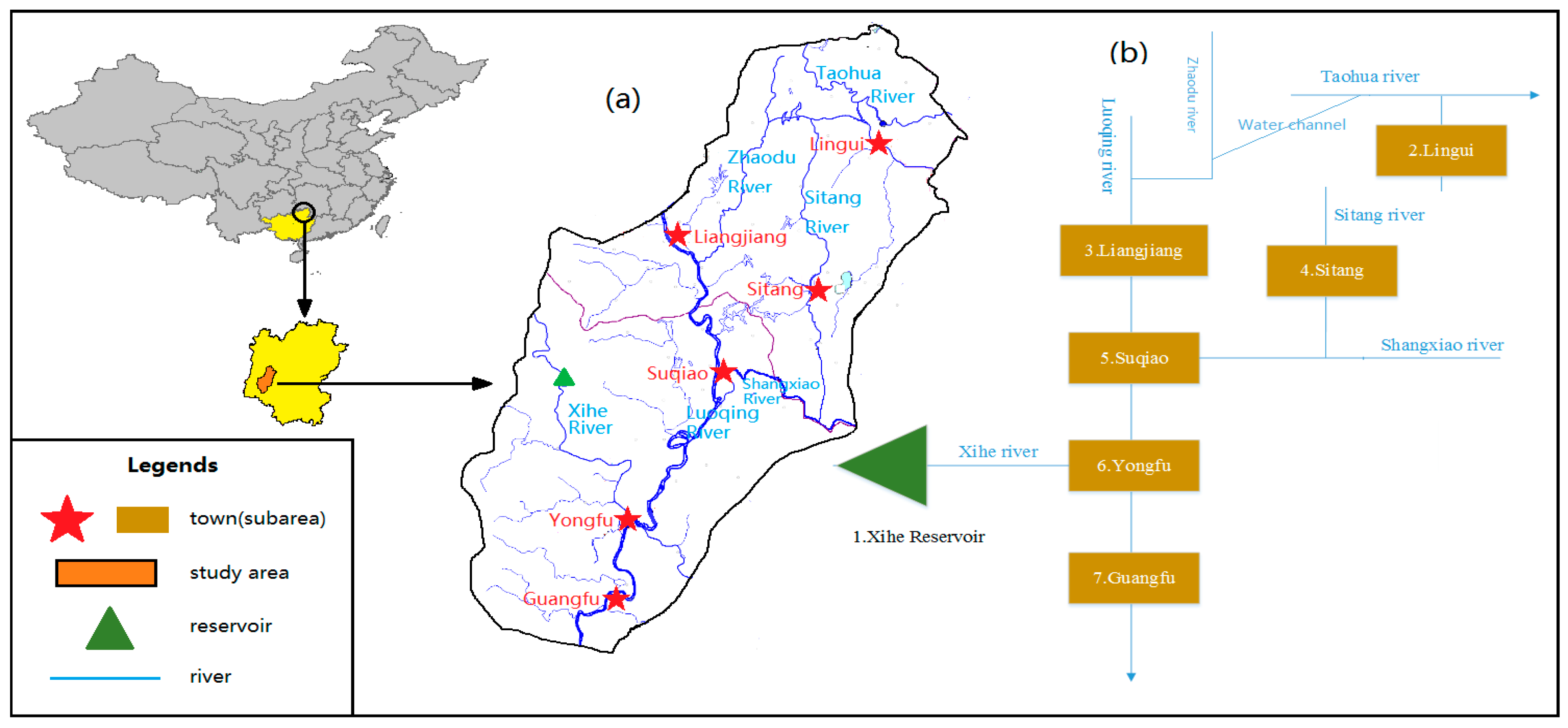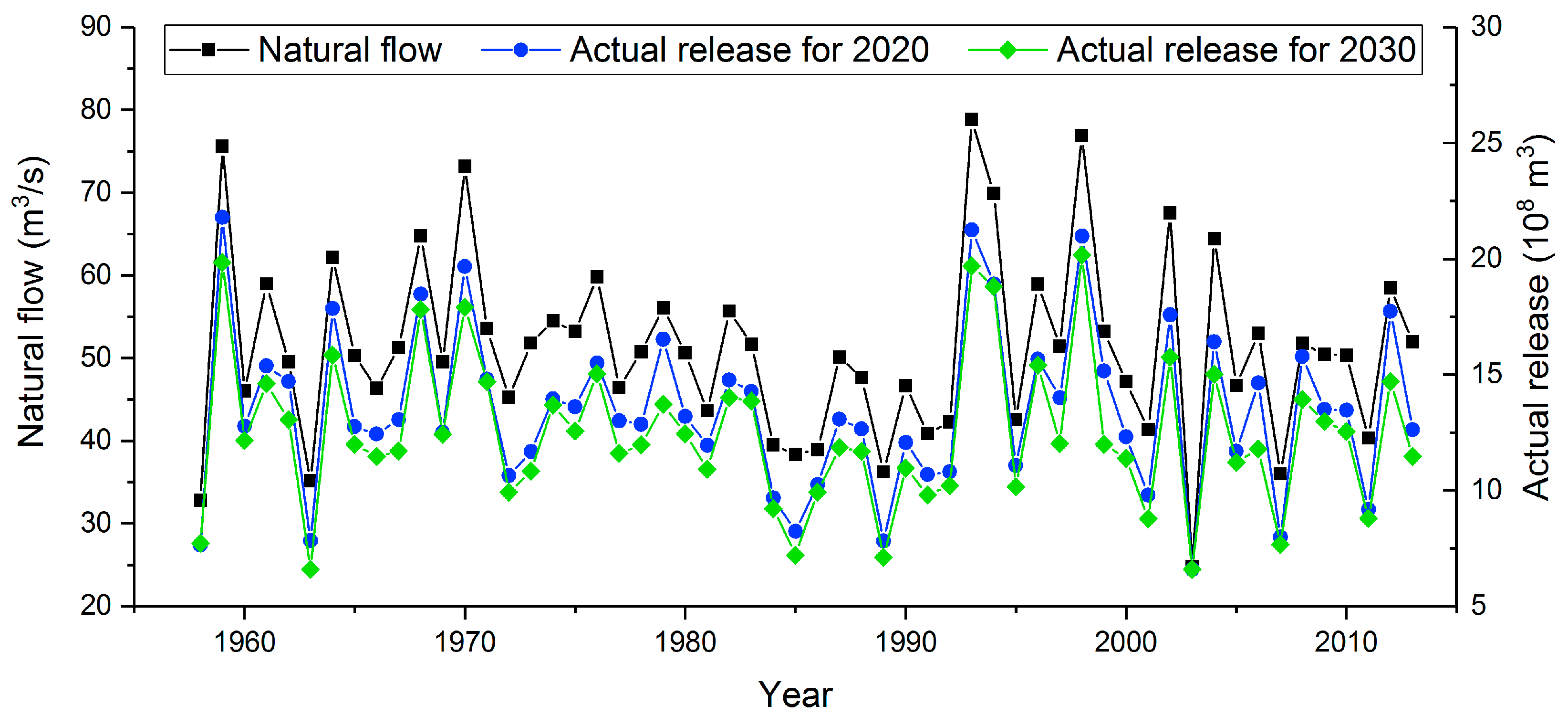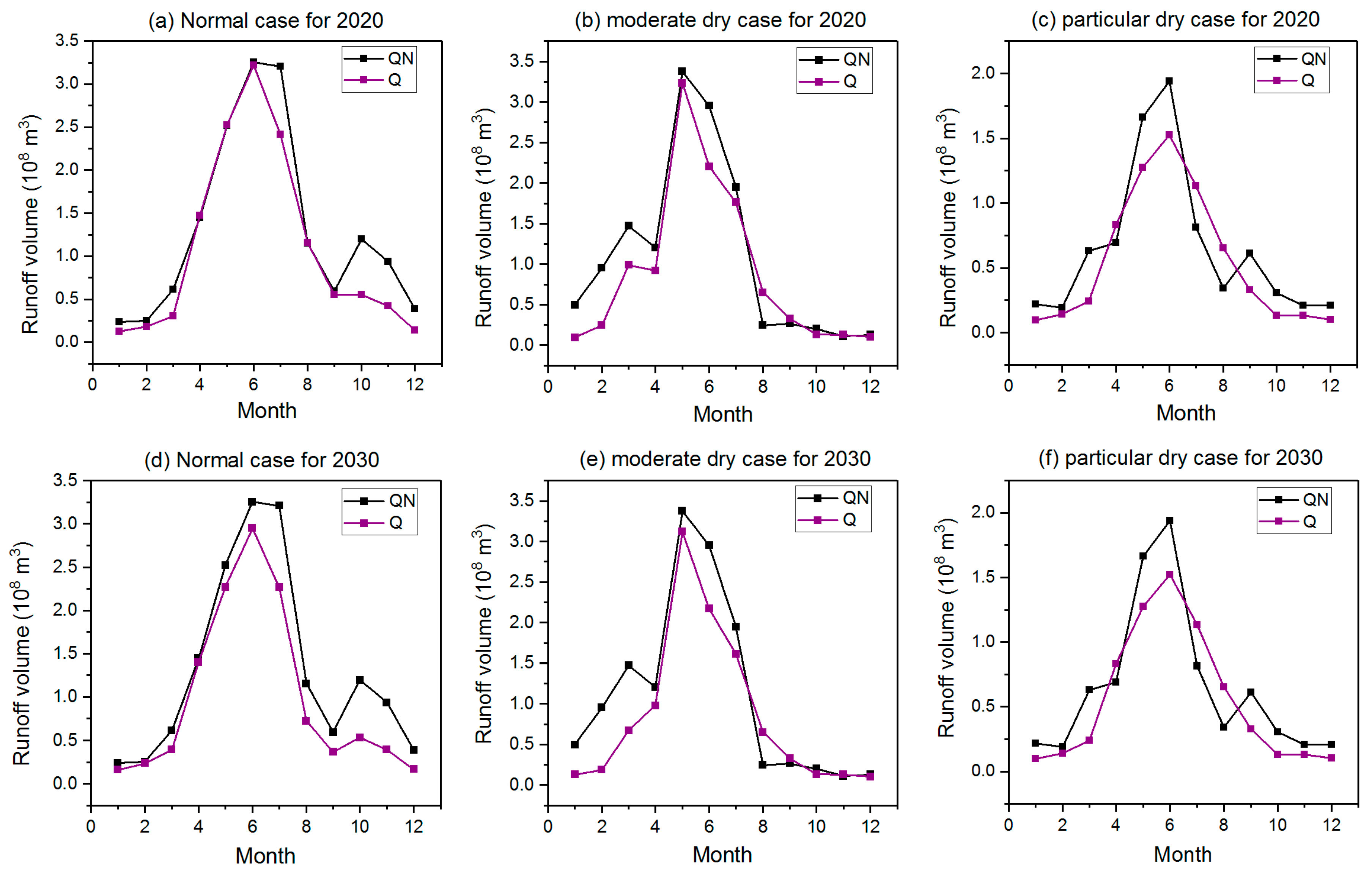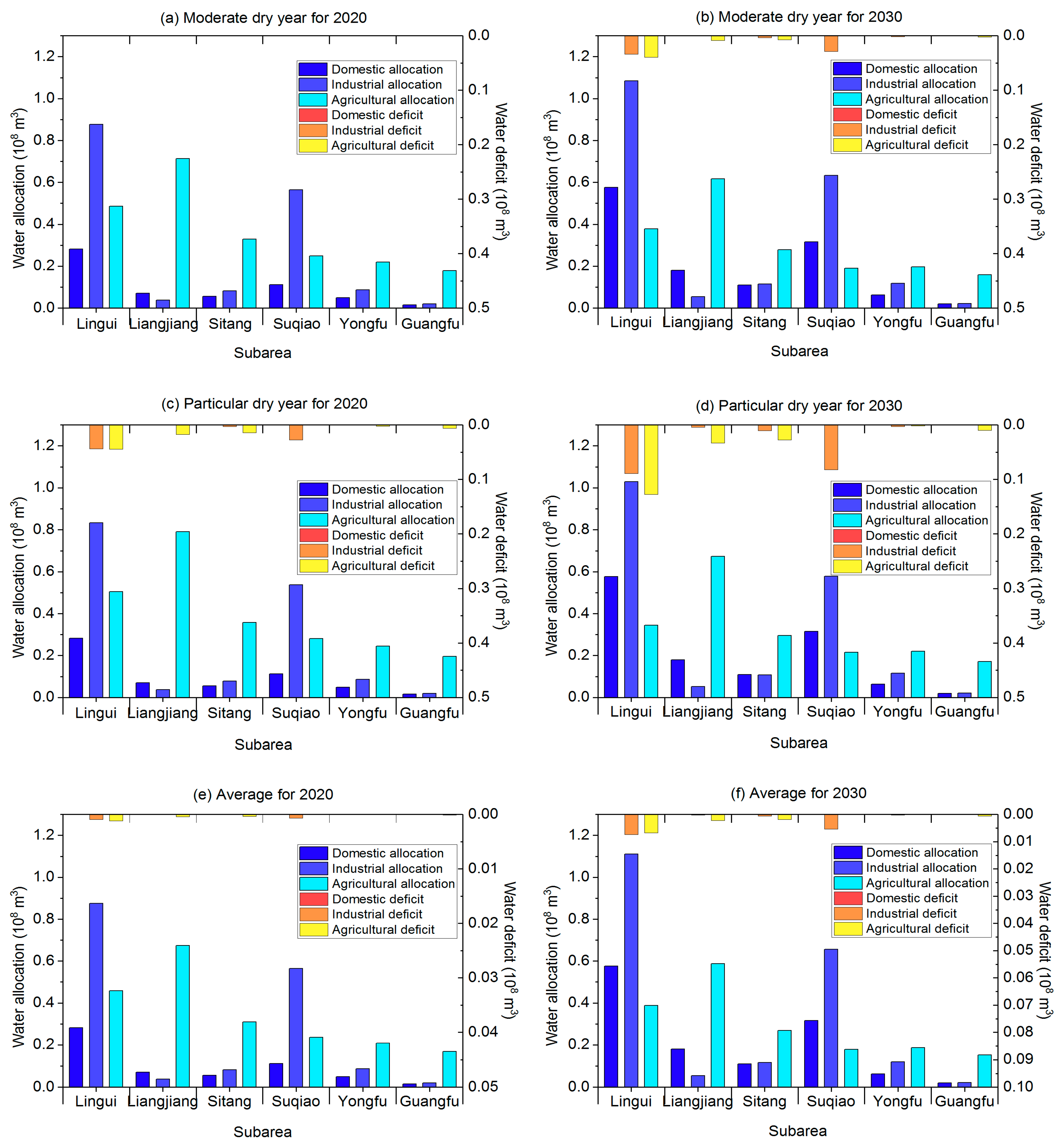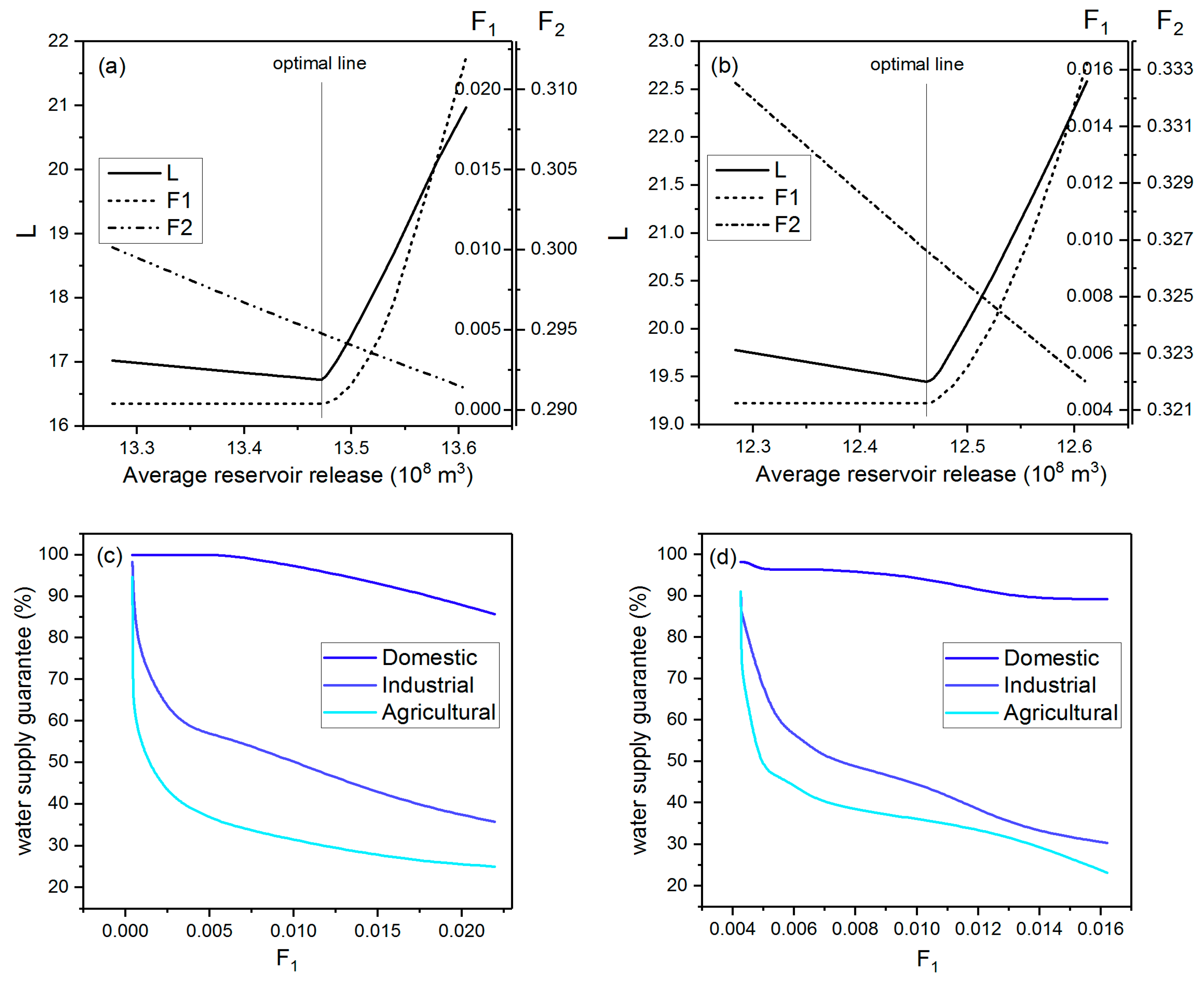 | Level Year | Population/Million | GDP/Million RMB | Domestic Water Demand/108 m3 | Industrial Water Demand/108 m3 |
| --- | --- | --- | --- | --- |
| 2013 | 0.31 | 2.26 | 0.29 | 0.87 |
| 2020 | 0.51 | 5.33 | 0.59 | 1.67 |
| 2030 | 1.09 | 10.35 | 1.26 | 2.10 |
Scenarios
Normal Year
Moderate Dry Year
Particular Dry Year
Total Release

F

2
Total Release

F

2
Total Release

F

2
2020
13.08
0.1848
10.80
0.2384
6.59
0.2803
2030
11.85
0.2214
10.21
0.2768
6.59
0.2803
Scenario
Optimal Reservoir Release for Each Month (108 m3)
Total

F

2
1
2
3
4
5
6
7
8
9
10
11
12
2020
0.26
0.39
0.71
1.55
2.46
3.08
2.17
1.22
0.58
0.39
0.37
0.29
13.47
0.2948
2030
0.23
0.35
0.61
1.41
2.36
2.89
2.04
1.13
0.54
0.33
0.32
0.24
12.46
0.3266
Level Year
Parameters

L

F

1

F

2
Traditional
Optimal
Traditional
Optimal
Traditional
Optimal
2020
33.91
16.72
0.0299
0.0004
0.5094
0.2948
2030
36.67
19.45
0.0445
0.0043
0.5094
0.3266

© 2019 by the authors. Licensee MDPI, Basel, Switzerland. This article is an open access article distributed under the terms and conditions of the Creative Commons Attribution (CC BY) license (http://creativecommons.org/licenses/by/4.0/).