Open Access This article is
freely available
re-usable
Article
Long-Term Water Quality Changes as a Result of a Sustainable Restoration—A Case Study of Dimictic Lake Durowskie
1
Department of Water Protection, Faculty of Biology, Adam Mickiewicz University, Umultowska 89, 61-614 Poznań, Poland
2
Department of Hydrobiology, Faculty of Biology, Adam Mickiewicz University, Umultowska 89, 61-614 Poznań, Poland
*
Author to whom correspondence should be addressed.
Received: 18 February 2019 / Accepted: 22 March 2019 / Published: 25 March 2019
Abstract
:
Nature-based solutions in lake restoration enable gradual ecosystem reconstruction without drastic and expensive intervention. Sustainable lake restoration involves limited external interference strong enough to initiate and maintain positive changes in the ecosystem. It was introduced in Lake Durowskie, an urban, flow-through lake situated in Western Poland, using hypolimnetic aeration, phosphorus precipitation with small doses of chemicals and biomanipulation in 2009, and is continued until today. Oxygen conditions in the lake hypolimnion after initial deterioration were gradually improved, and finally a shortening of the duration and range of oxygen deficits was observed. Nitrogen transformations were induced in the hypolimnion by water aeration as well, reducing ammonium N (30% during 2013–2017 in comparison to 2008) and increasing nitrates (90% in 2013–2017 in comparison to 2008). Phosphorus content was diminished (19% during 2015–2017 in relation to 2008 for SRP) due to effective iron-binding and a smaller amount of fresh organic matter being decomposed. Its reduction was related to lower phytoplankton biomass, expressed in a decrease of chlorophyll-a concentrations (55% reduction during 2013–2017 in comparison to 2008) and an increase in water transparency (two-fold during 2013–2017 in relation to 2008) throughout the nine years of treatment. A long-term restoration program, based on non-aggressive, multiple in-lake techniques was applied and, despite the lack of a reduction in total external loading, was able to suppress progressive eutrophication.
Keywords:
biomanipulation; chlorophyll-a; hypolimnion aeration; nutrients; phosphorus inactivation
1. Introduction
It is estimated that almost a half of European lakes remain below the good ecological state (GES), required by the Water Framework Directive [
1
] as necessary to achieve in the coming years [
2
]. It is therefore essential for them to take protective and/or restoration measures to fulfill this obligation. However, the costs of restoration are too high to be implemented on a large scale, thus only a small number of lakes are currently under recovery treatment [
3
]. A new approach to lake restoration is urgently needed, using internal mechanisms of ecosystems to support the return to good ecological status. Traditional methods of lake restoration, consisting of a one-off, very intense interference of the ecosystem, bring only a short-term water quality improvement [
4
,
5
]. Meanwhile, nature-based solutions enable gradual ecosystem reconstruction without drastic and expensive human intervention. This term has been adopted by International Union for Conservation of Nature, to name all actions undertaken to "protect, sustainable manage, and restore natural or modified ecosystems (…) simultaneously providing human well-being and biodiversity benefits". It has a multidimensional potential, covering different human activities, including restoration of degraded ecosystems. As "nature-based", the restoration shall be site-specific, applied at landscape scale and maintain biodiversity (
www.iucn.org
). Such ecological approach is represented by sustainable lake restoration, which involves limited external interference, but strong enough to initiate and then maintain positive changes in the ecosystem [
6
]. Water quality improvement leads to increase of biodiversity (ecological benefits) and to social benefits as well, by means of increasing safety for local communities using lake water for drinking/recreation/fish production.
Several methods are usually used at the same time to limit the effectiveness of feedbacks coming from the lake ecosystem to maintain its current degraded state [
6
]. Some nature-based solutions are used in Polish lakes, contributing to sustainable restoration, such as phosphorus inactivation using small precisely calculated doses of native chemical compounds, e.g., magnesium chloride and/or iron sulfate, deep water oxygenation using wind aerators, biomanipulation with predatory fish fry stocking, enrichment of water overlying the sediments with nitrates from the tributaries, increasing the redox potential of the sediment–water interphase and activating the denitrification process [
7
,
8
,
9
,
10
,
11
].
It is taken for granted in lake restoration manuals that the maximum limitation of external nutrient loading is crucial prior to the commencement of restoration [
12
,
13
]. In many cases, however, radical and rapid elimination of the external loads is not possible, especially in the case of non-point sources related to agriculture. Even a change in the way of farming or the use of biogeochemical barriers requires years for the system to be developed and the nutrient reserves in the soil to be reduced. Waiting for a decrease of loading from the catchment results in the persistence of hypereutrophy in a lake, hence the application of restoration measures after this time would be much more difficult than at the beginning, when the ecosystem resilience "remembers" the state before degradation [
14
,
15
]. Application of several years of sustainable restoration at the beginning of deterioration can easily check ecosystem degradation and maintain good lake water quality.
Lake Durowskie is an example of a gradual improvement in the water quality of inflowing riverine waters. The city of Gołańcz, situated in the upper part of the lake catchment, was equipped with a modern wastewater treatment plant; nevertheless, nutrients deposited in the bottom sediments of lakes in the course of the Struga Gołaniecka are still exerting a strong impact on this river as well as on the water quality of Lake Durowskie. The aim of the local authorities was to recover and maintain a good ecological status of the lake, despite the continuous flow of excessive external loads of nutrients, primarily to preserve the ecosystem services of this lake. The goal of the studies conducted during 2008–2017 was to assess whether sustainable, inexpensive restoration can stop the progressive degradation and restore good water quality, enabling safe recreation for the local community. Additionally, long-term studies were able to determine the longevity of restoration results, usually unattainable for traditional restoration methods.
2. Materials and Methods
2.1. Study Site
Lake Durowskie is an urban lake situated in the Wielkopolska Region (Western Poland) in the city of Wągrowiec (17°12'1'' E, 52°49'6'' N). This dimictic, flow-through, postglacial ribbon-type lake is located in the course of River Struga Gołaniecka, which is a tributary of the River Wełna (River Odra basin). This watercourse, with total length of 28 km, supplies Lake Durowskie with nutrients from the catchment, including a cascade of hypereutrophic lakes situated above (i.e., Lakes Kobyleckie, Bukowieckie, Grylewskie and Laskownickie). The lake surface area is 143 ha, maximum depth 14.6 m, mean depth 4.6 m and volume 11,322,900 m
3
. Maximum length is 4340 m, whilst the length of the shoreline is 10,515 m [
9
]. The lake is surrounded by forests in the northern part, and by urban areas in the south, thus recreational pressure (swimming, sailing, and angling) is severe. A promenade connecting the recreational centers runs along the whole eastern and southern shore line. There are numerous piers for fishing and jetties along the beaches and marinas. The total catchment surface of Durowskie Lake is 236.1 km
2
(covered mainly by rural areas). The adjacent catchment area reaches 1581 ha, 58.3% being occupied by farmlands, 33.5% by forests and 8.2% by urban areas [
16
].
Progressive eutrophication of Durowskie Lake was observed at the turn of 20th and 21st century, with summer water blooms dominated by cyanobacteria, low transparency, oxygen depletion and the presence of hydrogen sulfide in deeper layers of the water column. Therefore, sustainable restoration was begun in 2009 using three methods: (i) hypolimnetic water aeration with the use of two wind-driven aerators; (ii) phosphorus inactivation in the water column using low doses of iron sulfate (PIX type coagulant) and magnesium chloride; and (iii) biomanipulation, based on pike and pikeperch fry stocking to increase the contribution of predatory fish in the lake ichthyofauna. Aerators were installed in two parts of the lake, one in the deepest part adjacent to the city, the second one at a 12 m depth in the part surrounded by forest [
6
] (
Figure 1
). The operation of aerators was based on oxygenation of the hypolimnetic water above the surface of the lake and its re-delivery to the bottom after oxygenation [
17
]. The small doses, i.e., 4–15 kg of iron sulfate per ha, used for restoration did not coagulate the suspended solids, but inactivated orthophosphates in the water column. The treatment was repeated 3–5 times during the vegetation season, eliminating P from the water column. Pike stocking was conducted irregularly, with a greater quantity of fry in 2011, i.e., 100,000 specimens. The highest amount of pikeperch fry was introduced in 2010, namely 114,000 specimens [
6
].
2.2. Methods
Sampling was conducted monthly from April 2008 to December 2017. Water samples prior to the restoration (2008) were taken at Station I only, while during restoration (2009–2017) at two stations and from the inflow of the Struga Gołaniecka. Both lake stations were located near the aerators: Station I at the deepest place (14.6 m) in the southern part of the lake, while Station II in the northern part at a depth of 12.0 m. Samples for the physicochemical and biological analyses were taken from epi-, meta- and hypolimnion, i.e., at Station I from a depth of 1 m, 7 m and 12 m, while at Station II from a depth of 1 m, 5 m and 8 m. Field measurements (water temperature, oxygen concentration, water saturation with oxygen, conductivity and pH) were conducted using a YSI 556 MPS-meter. Water transparency was measured with a Secchi disc. The concentrations of ammonium nitrogen (N-NH
4
), nitrate nitrogen (N-NO
3
), nitrite nitrogen (N-NO
2
), organic nitrogen (Norg), orthophosphates (SRP) and total phosphorus (TP) were analyzed with the spectrophotometric method according to Polish standards [
18
]. Concentration of chlorophyll-a was analyzed after filtration through Whatman GF/C filters using the spectrophotometric method with acetone extraction [
19
], and suspended solids using the weighting method.
Basic statistical calculations were made using STATISTICA version 10.0 software. The non-parametric Kruskall–Wallis test (K-W test) was used to determine the significance of value changes throughout the analyzed period. To relate the environmental variables in riverine and lake waters, a redundancy analysis was carried out using CANOCO 4.5 software.
3. Results
3.1. The Quality of Durowskie Lake Waters
3.2. The Quality of River Struga Gołaniecka Waters
Spring and summer were characterized by higher water temperature (maximum over 25 °C) and pH (over 8), lower oxygen concentration (usually less than 10 mgO
2
L
−1
) and conductivity (less than 600 μS cm
−1
). During winter the temperature fell to ca. 1 °C and oxygen content reached maximum values (usually over 15 mgO
2
L
−1
,
Table 2
).
A decreasing tendency throughout the research period was noted for chlorophyll-a concentration (K-W test,
p
< 0.05). Maximum values during 2009–2010 were over 80 mg m
−3
, decreasing to ca. 50 mg m
−3
during 2011–2014, and finally to less than 30 mg m
−3
during 2016–2017.
Ammonium N concentration increased in winter each year, reaching ca. 2 mgN-NH
4
L
−1
(maximally 3.03 mgN-NH
4
L
−1
in 2013), while in the vegetation season it diminished to 0.5–1.0 mgN-NH
4
L
−1
. A slight decrease was noted during the analyzed period, although it was not statistically significant. Nitrate N fluctuated, showing two distinct maxima in 2011 and 2017 and a smaller third in 2013, exciding 10, 8 and 5 mgN-NO
3
L
−1
, respectively. Its concentrations were low in other years, less than 1.7 mgN-NO
3
L
−1
. These peaks influenced TN concentrations. Medians were usually 2.6–3.7 mgN L
−1
, but sometimes exceeded 5 mgN L
−1
(2011, 2013, and 2017), together with maximum annual values (
Table 2
). A slight, statistically significant (K-W test,
p
< 0.05) decrease of organic N was also noted.
SRP and TP concentration fluctuated in the River Struga Gołaniecka over time. First, it increased during 2010–2013, and decreased in the following years. This tendency was statistically significant (K-W test,
p
< 0.01) in the case of SRP, while for TP an increase was noted (K-W test,
p
< 0.05), especially during 2015–2017. Maximum SPR concentrations reached almost 0.070 mgP L
−1
in 2012, while TP—0.200 mgP L
−1
in 2017.
4. Discussion
Freshwater ecosystems are characterized by both top-down (TD) and bottom-up (BU) regulation, as nutrients play an important limiting role for primary production [
20
] and higher trophic levels may also influence the lower ones through trophic cascade [
21
]. A combination of both these pervasive ways of ecosystem productivity control occurs in every lake and might be applied in water quality management [
22
]. Sustainable lake restoration links the reduction of nutrient concentrations with the chemical method, supported by water aeration (BU), and biomanipulation, aiming to change fish fauna, influencing the plankton community (TD). Combining the "classic" in-lake restoration methods, i.e., biological and physicochemical, into a consistent restoration program increases the chance of success; nevertheless, it is still quite uncommon. Single cases, mainly from European lakes [
23
], have proved that such an approach results in water quality improvement, both in shallow and in deep lakes. The Lake Durowskie case study follows this approach and is an example of long-term lake restoration, applying multiple methods on a non-aggressive level, harmless to biota.
5. Conclusions
Combining physicochemical and biological methods of lake restoration in a sustainable, cost-effective manner in an urban, dimictic, flow-through lake resulted in water quality improvement. Both nitrogen and phosphorus concentrations decreased over the course of nine years of treatment aimed at bottom-up (nutrient reduction) and top-down (biomanipulation) control of primary production. The changes in water chemistry influenced biota, especially planktonic communities, which was manifested in increased Secchi depth and lower chlorophyll-a concentrations. Diminished fresh organic matter deposition influenced mineral nutrients in deep water layers. Nitrogen transformations were also induced in the hypolimnion by water aeration, decreasing ammonium N and increasing nitrates as the oxygen conditions were slightly improved. At the same time, the duration and range of oxygen depletion zones were reduced. The long-term restoration program, based on non-aggressive, multiple in-lake techniques applied despite the lack of total external loading reduction, allowed the progressive eutrophication to be suppressed. However, it is essential that the program is continued throughout the following years in the light of predicted climate changes as well as potential variability in the amount of future external loading. Together with the in-lake restoration, monitoring actions shall be conducted, involving some remote systems as well, to map the chlorophyll-a and water transparency, allowing more rapid reaction to water quality deterioration by means of phosphorus precipitation.
Author Contributions
Conceptualization, R.D. and R.G.; Methodology and investigation, R.D., K.K.M., B.M., S.C., and R.G.; Writing—original draft preparation, R.D.; Writing—review and editing, R.G.; and Formal analysis, A.K.
Funding
This research received financial support from the Wągrowiec Municipality.
Acknowledgments
The authors would like to thank to Robert Kippen for the proofreading.
Conflicts of Interest
The authors declare no conflict of interest.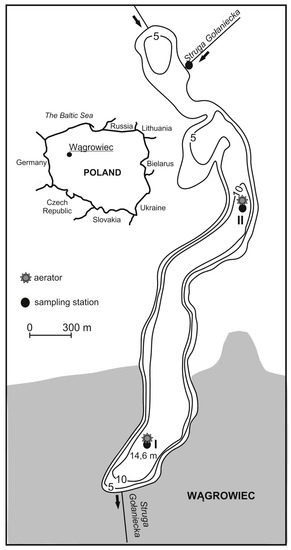 Figure 1. The location of sampling stations and aerators on Lake Durowskie and sampling station on River Struga Gołaniecka.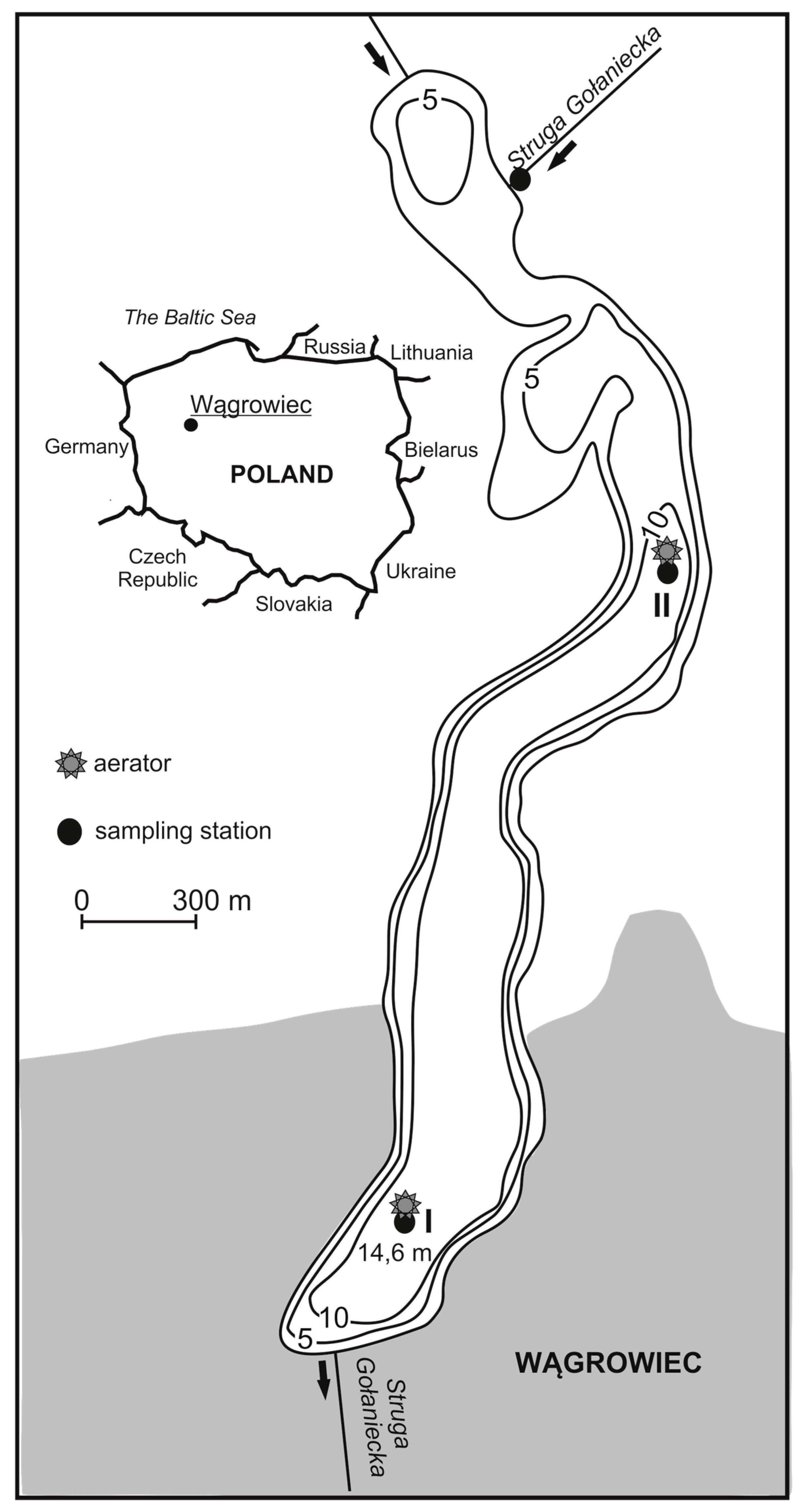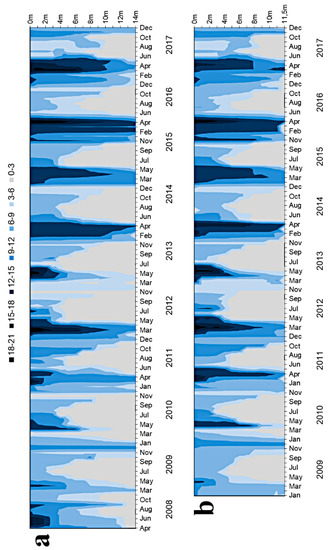 Figure 2. Changes of oxygen concentration (in mgO2 L−1) in Lake Durowskie waters in 2008–2017 at: Station I (a); and Station II (b).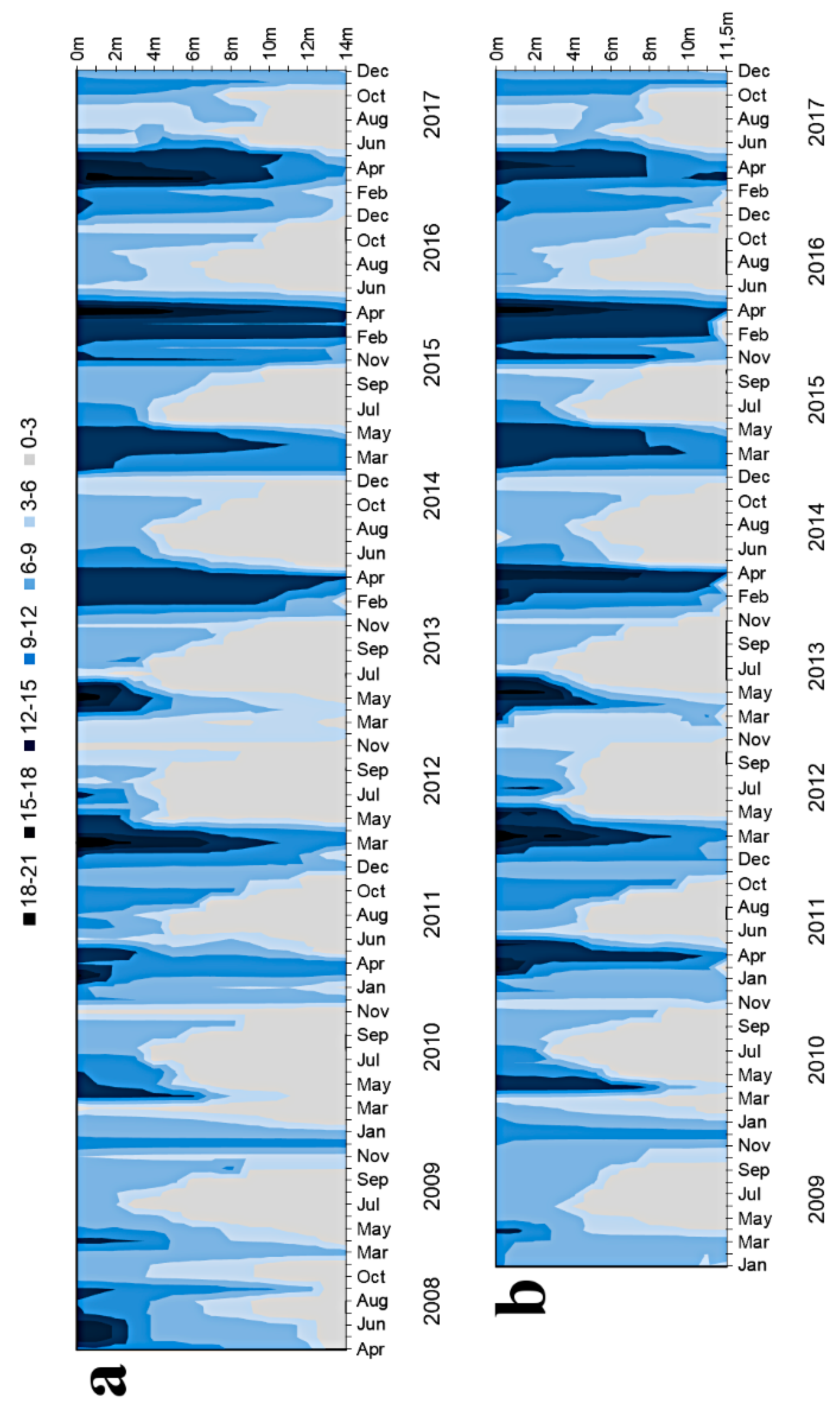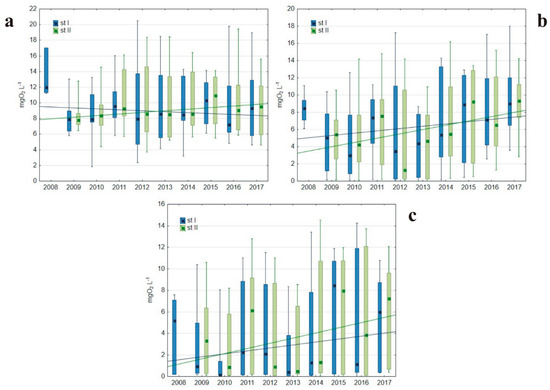 Figure 3. Box plot with min-max concentrations of oxygen in selected water layers at both stations representing: epilimnion (a); metalimnion (b); and hypolimnion (c). The lines indicate trendlines for each station.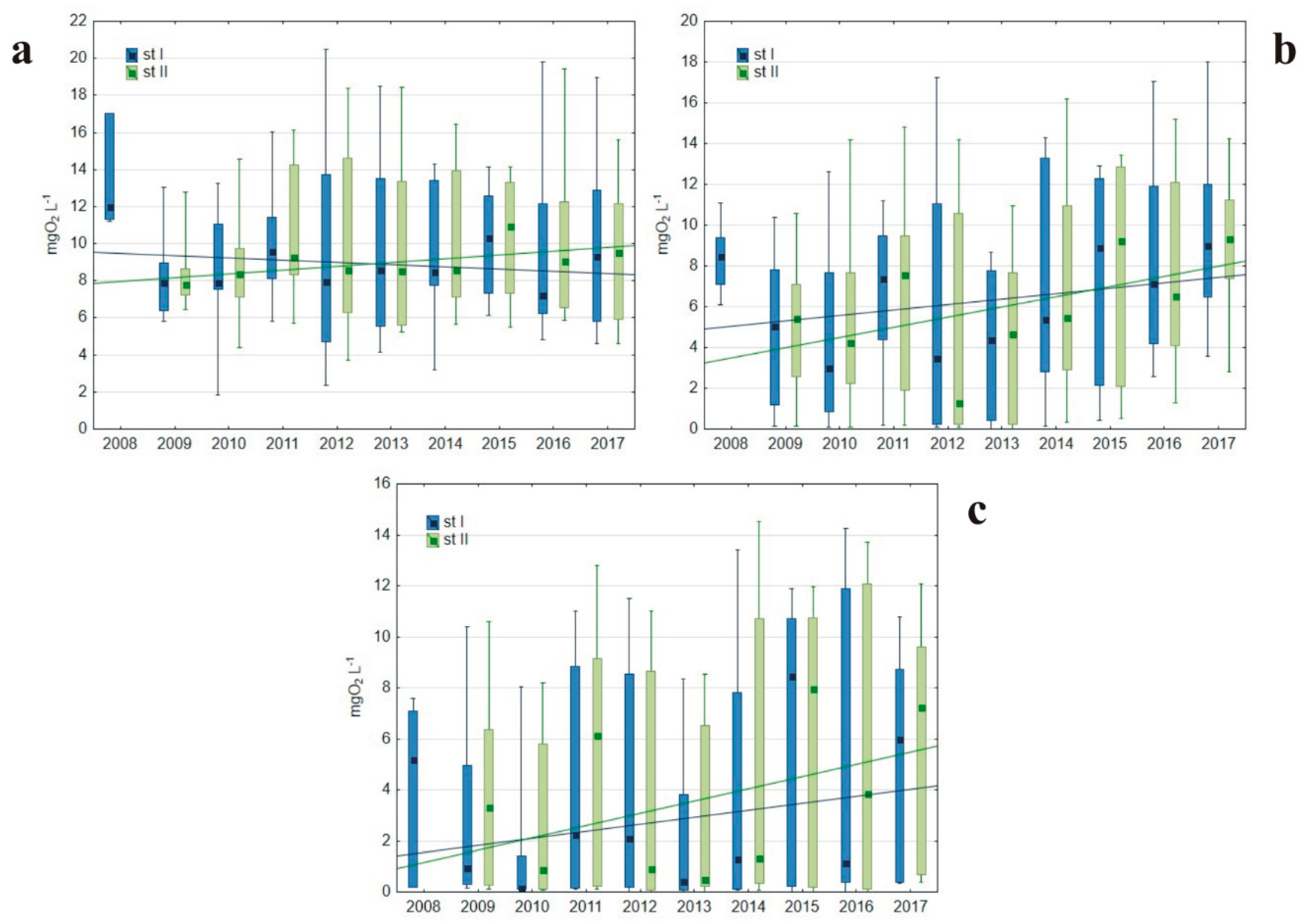 Figure 4. Box plot with min-max of pH in selected water layers representing epilimnion, metalimnion and hypolimnion at both stations. The lines indicate trendlines for each layer.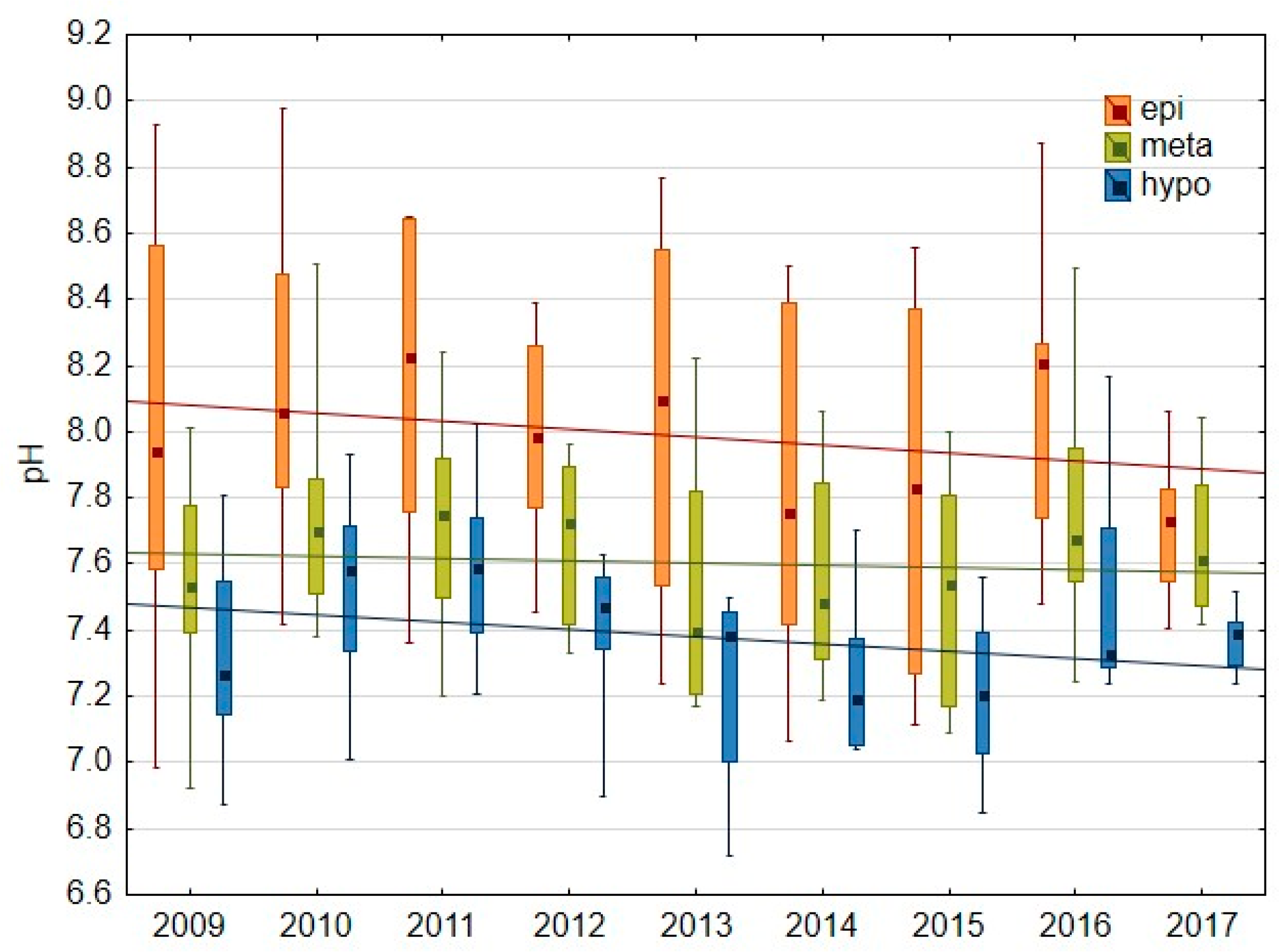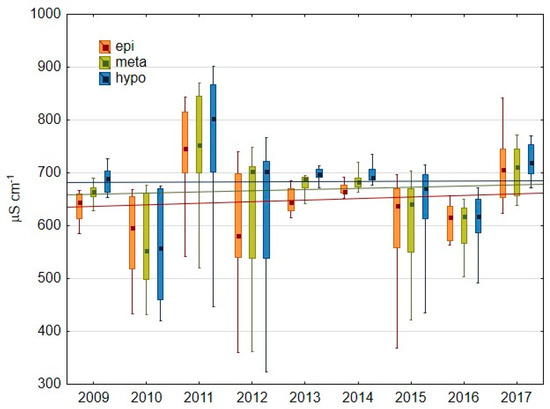 Figure 5. Box plot with min-max of conductivity in selected water layers representing epilimnion, metalimnion and hypolimnion at both stations. The lines indicate trendlines for each layer.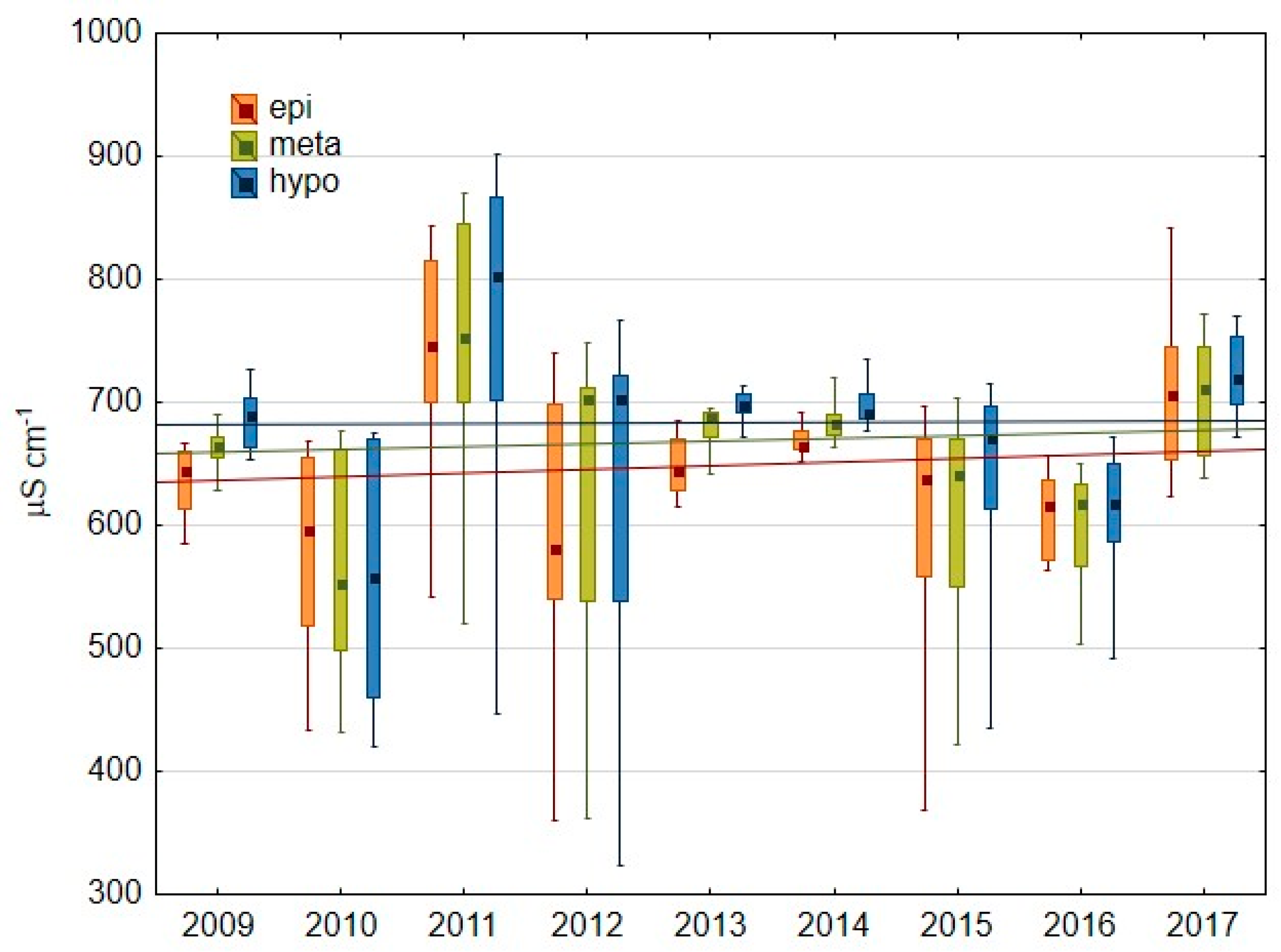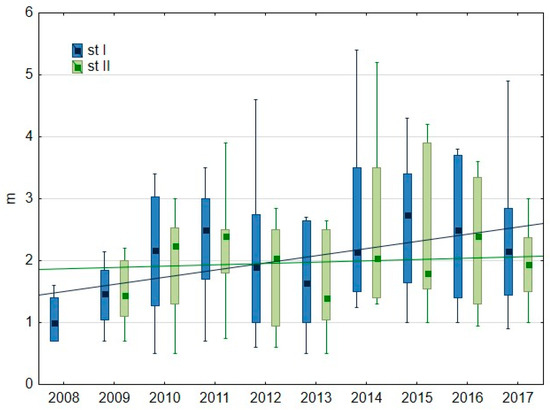 Figure 6. Box plot with min-max of Secchi depth in Lake Durowskie at both stations. The lines indicate trendlines for each station.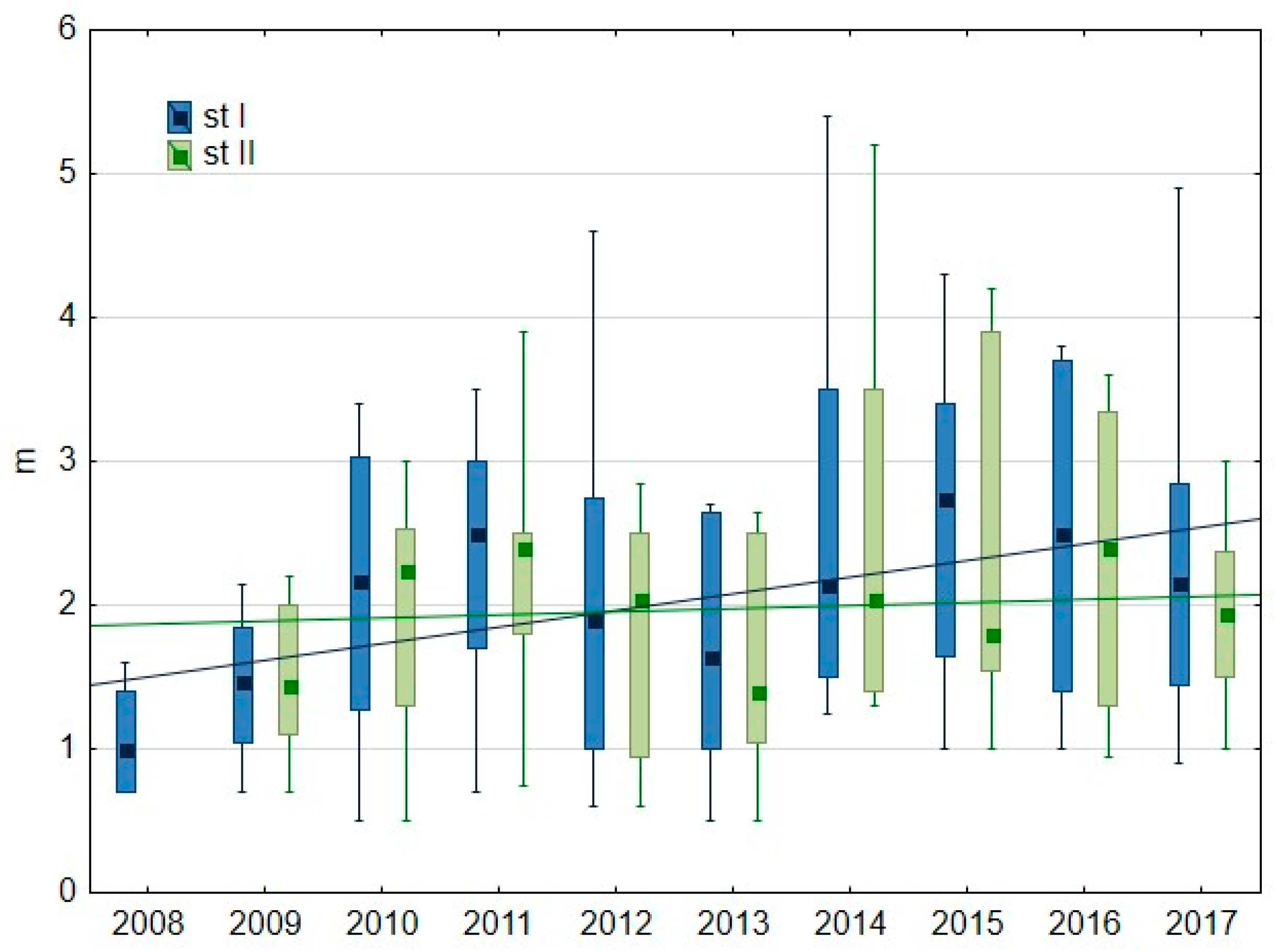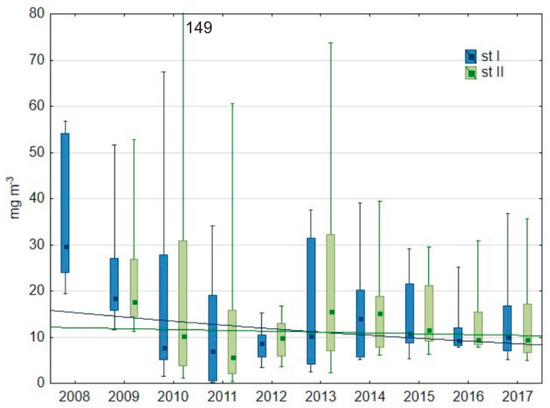 Figure 7. Box plot with min-max of chlorophyll-a in epilimnion at both stations I. The lines indicate exponential trendlines for each station.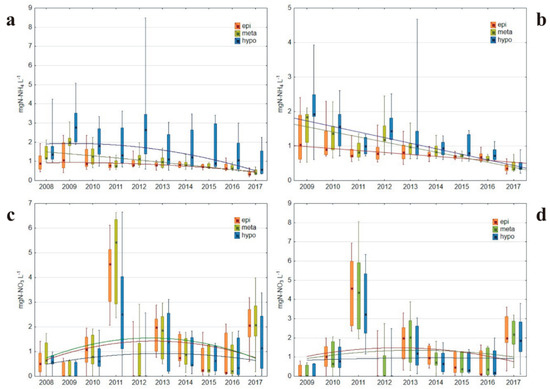 Figure 8. Box plot with min-max of mineral nitrogen compounds in selected water layers: ammonium N at Station I (a) and Station II (b); and nitrate nitrogen at Station I (c) and Station II (d). The lines indicate binomial trendlines for water layers in (a,c,d), and linear trend in (b).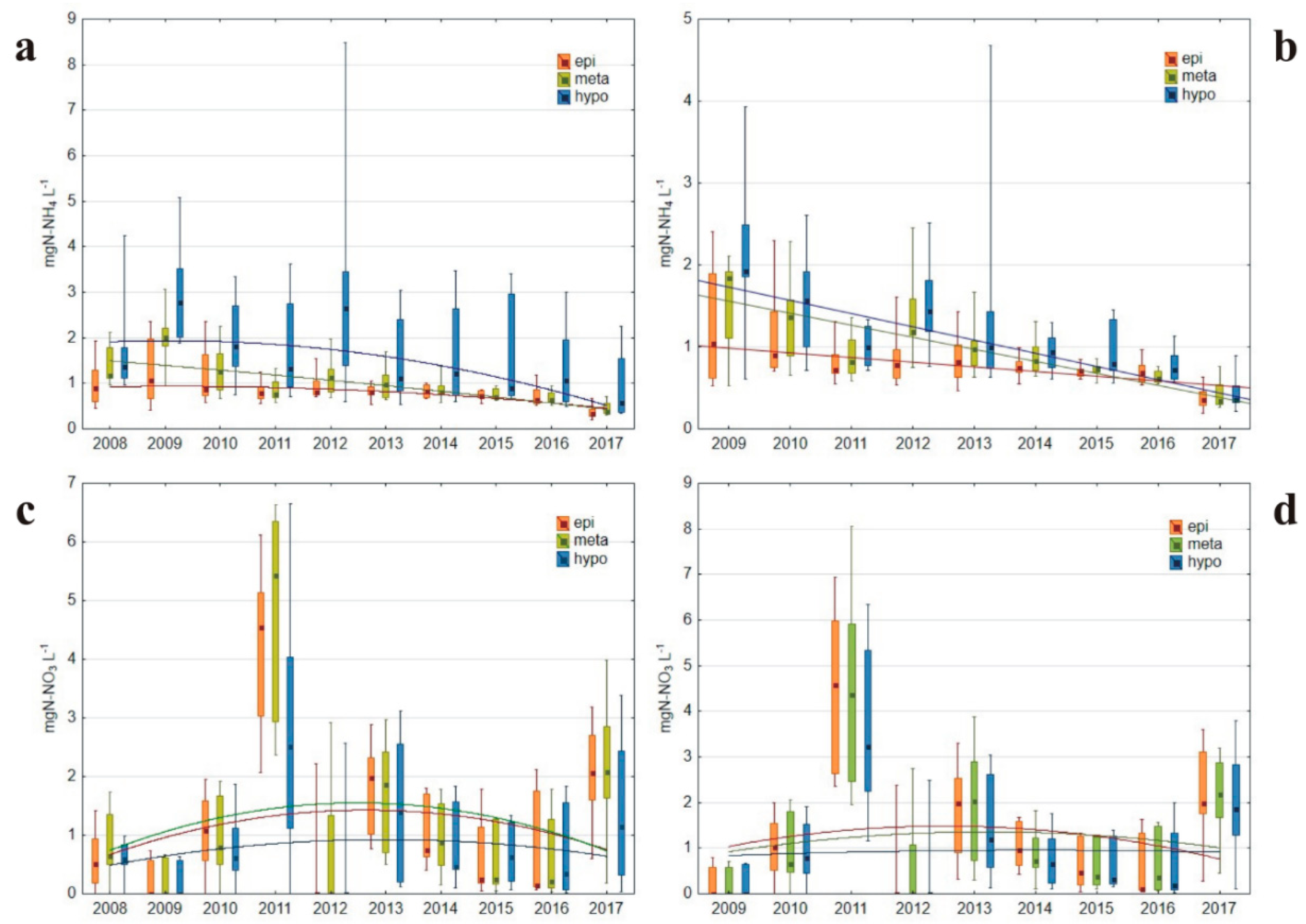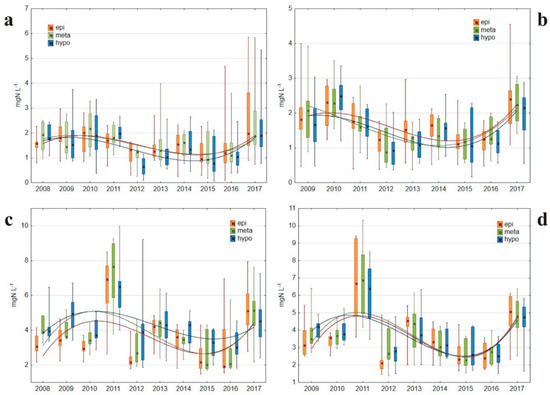 Figure 9. Box plot with min-max of nitrogen compounds in selected water layers: organic N at Station I (a) and Station II (b); and total N at Station I (c) and Station II (d). The lines indicate polynomial trendlines for water layers.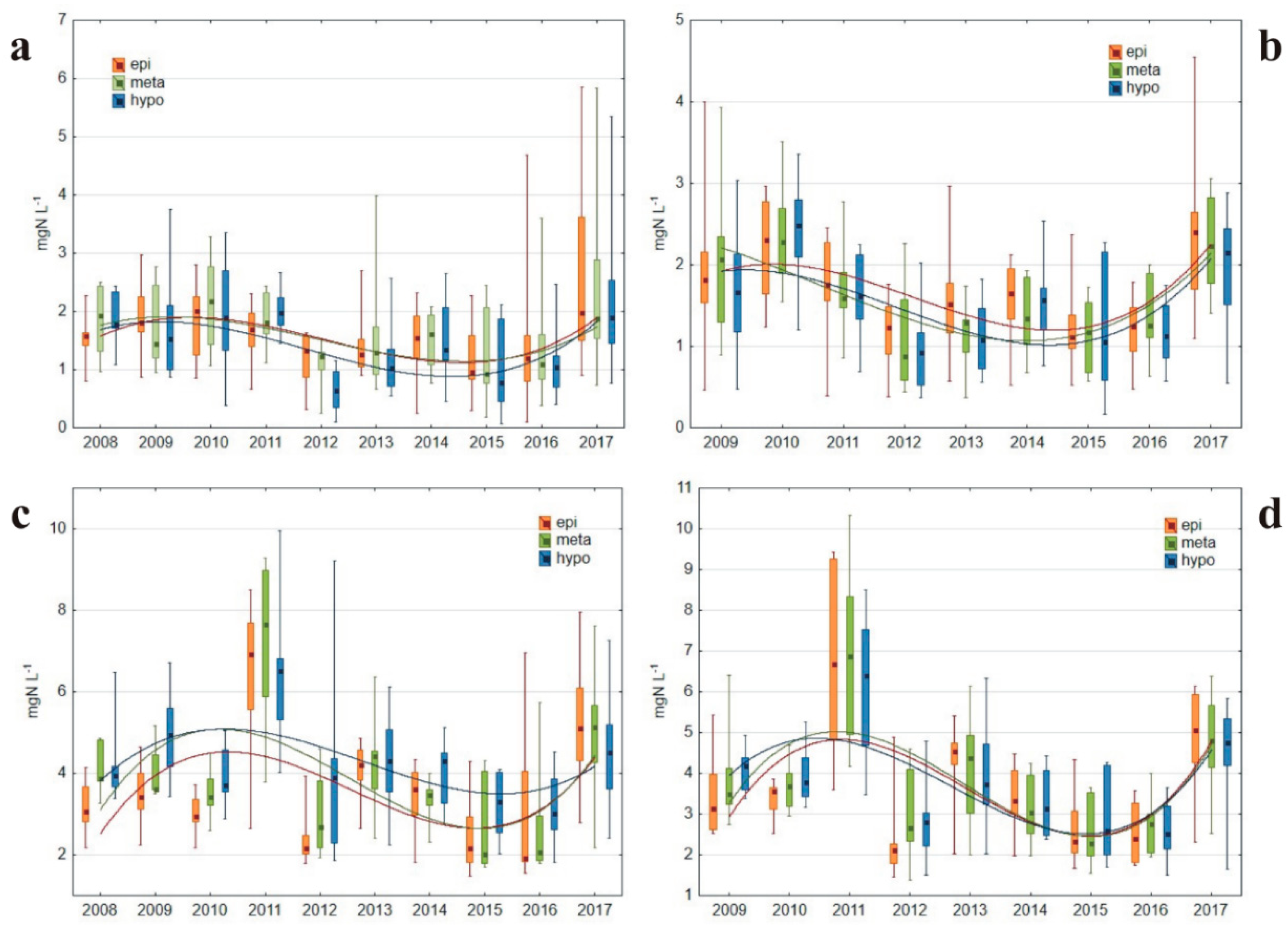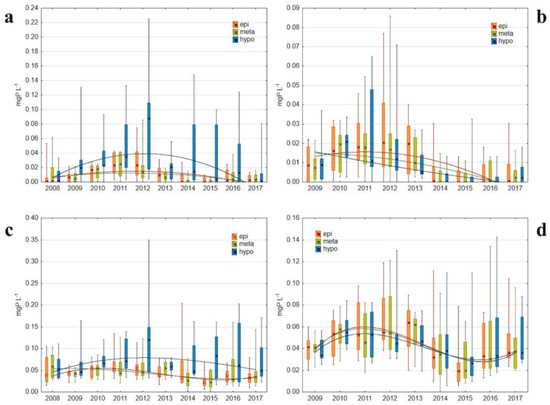 Figure 10. Box plot with min-max of phosphorus compounds in selected water layers: SRP at Station I (a) and Station II (b); and total P at Station I (c) and Station II (d). The lines indicate binomial trendlines for water layers at a and b, and polynomial trendlines for water layers at c and d.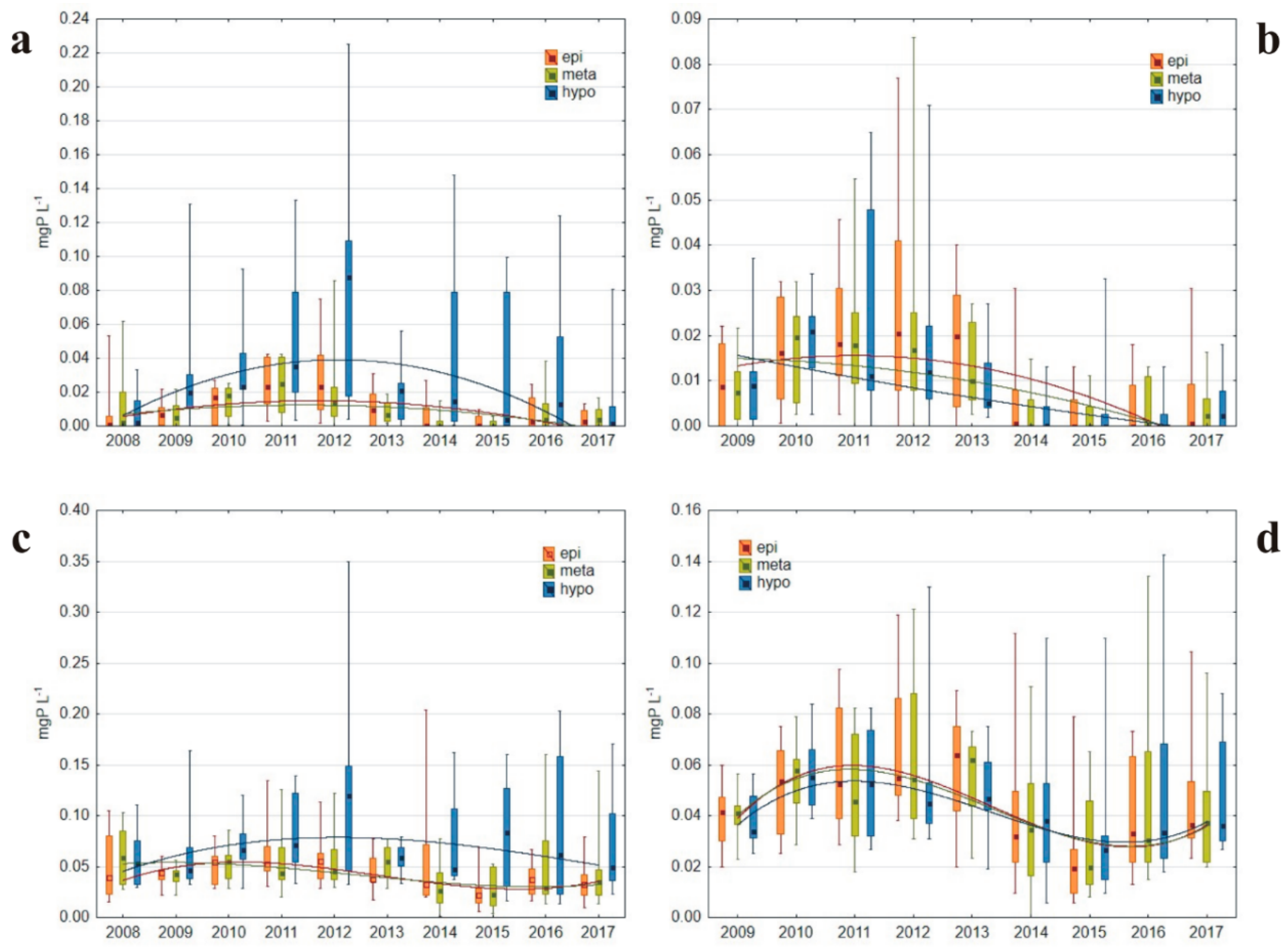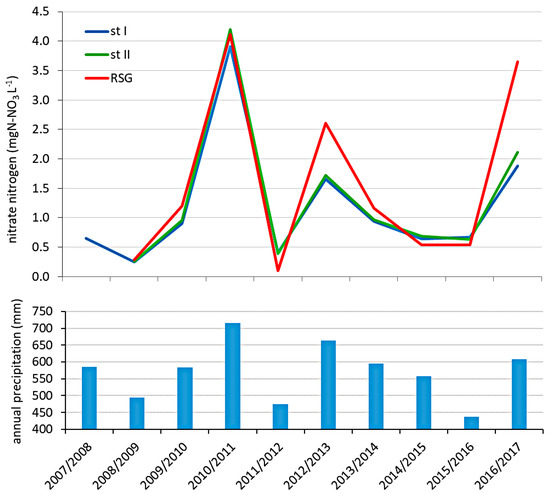 Figure 11. The dependence of nitrate concentrations at Station I, II and River Struga Gołaniecka (RSG) on the sum of annual precipitation from the previous year (first year on horizontal axis).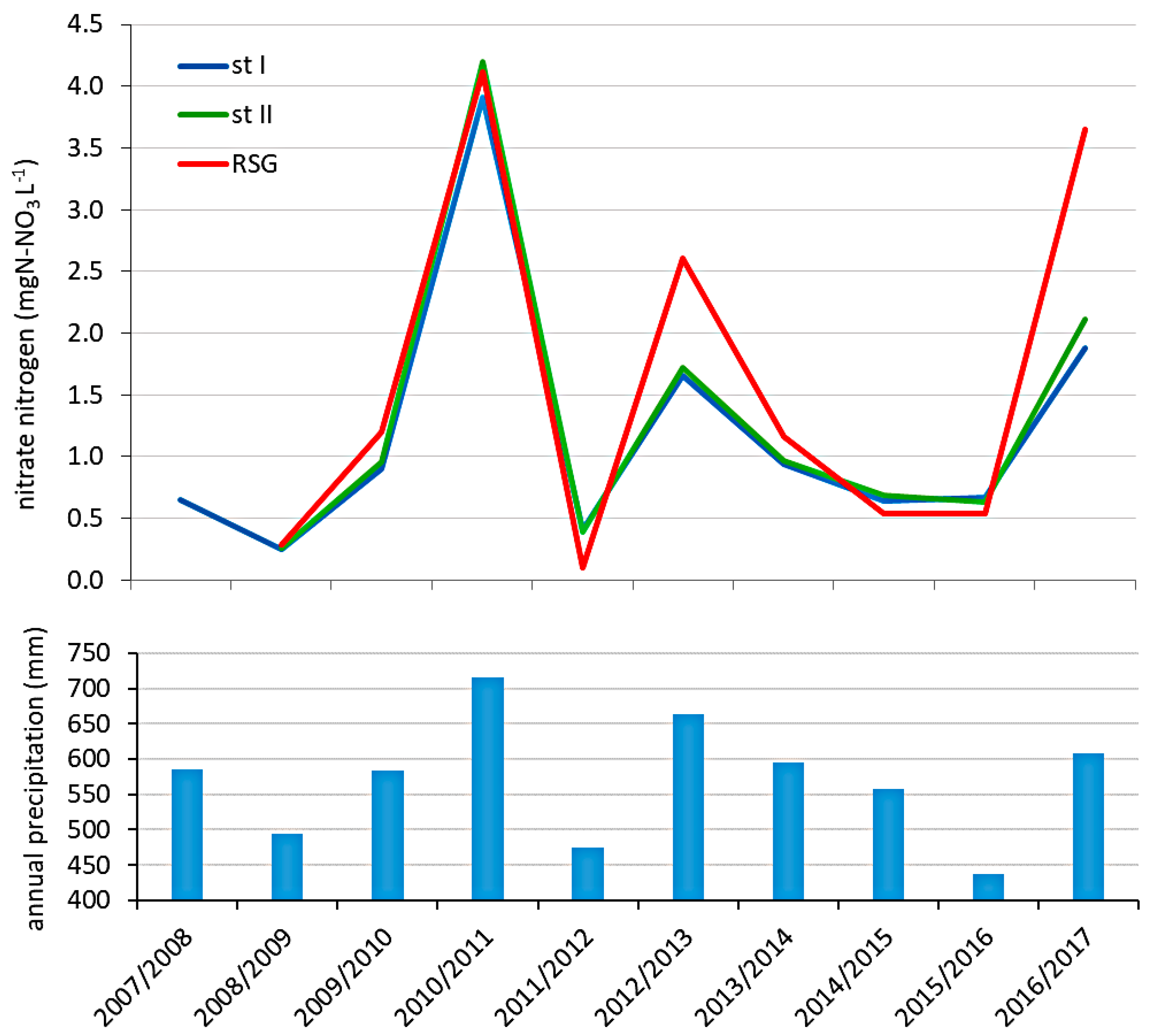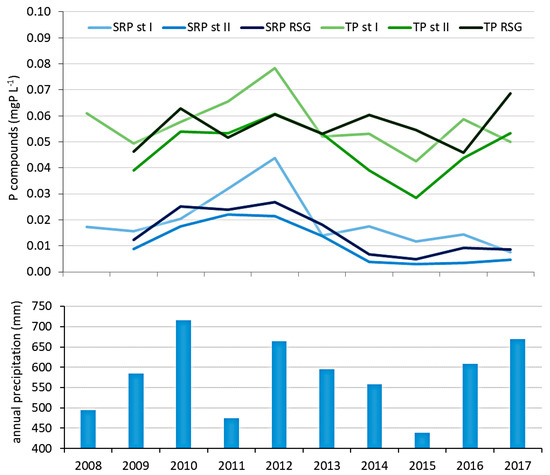 Figure 12. The dependence of SRP and TP concentrations in lake water at both stations on the content in River Struga Gołaniecka (RSG) and annual precipitation.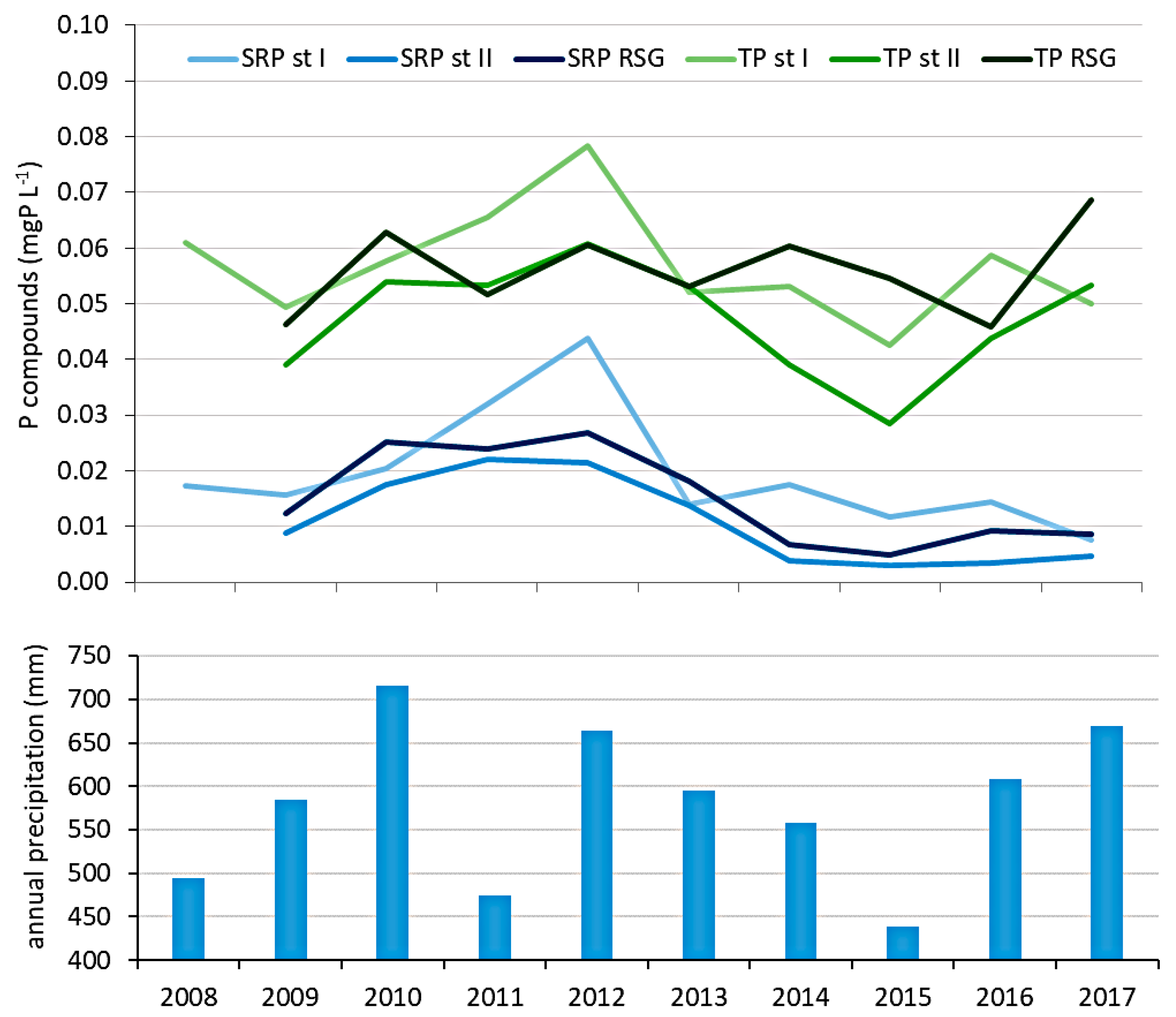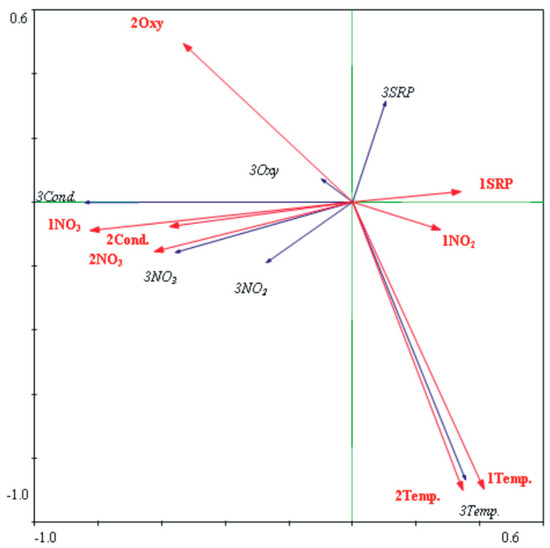 Figure 13. RDA biplot illustrating the influence of the River Struga Gołaniecka (Nos. 3) on mean values of water quality variables in the depth profile of the lake at Station I (Nos. 1) and Station II (Nos. 2).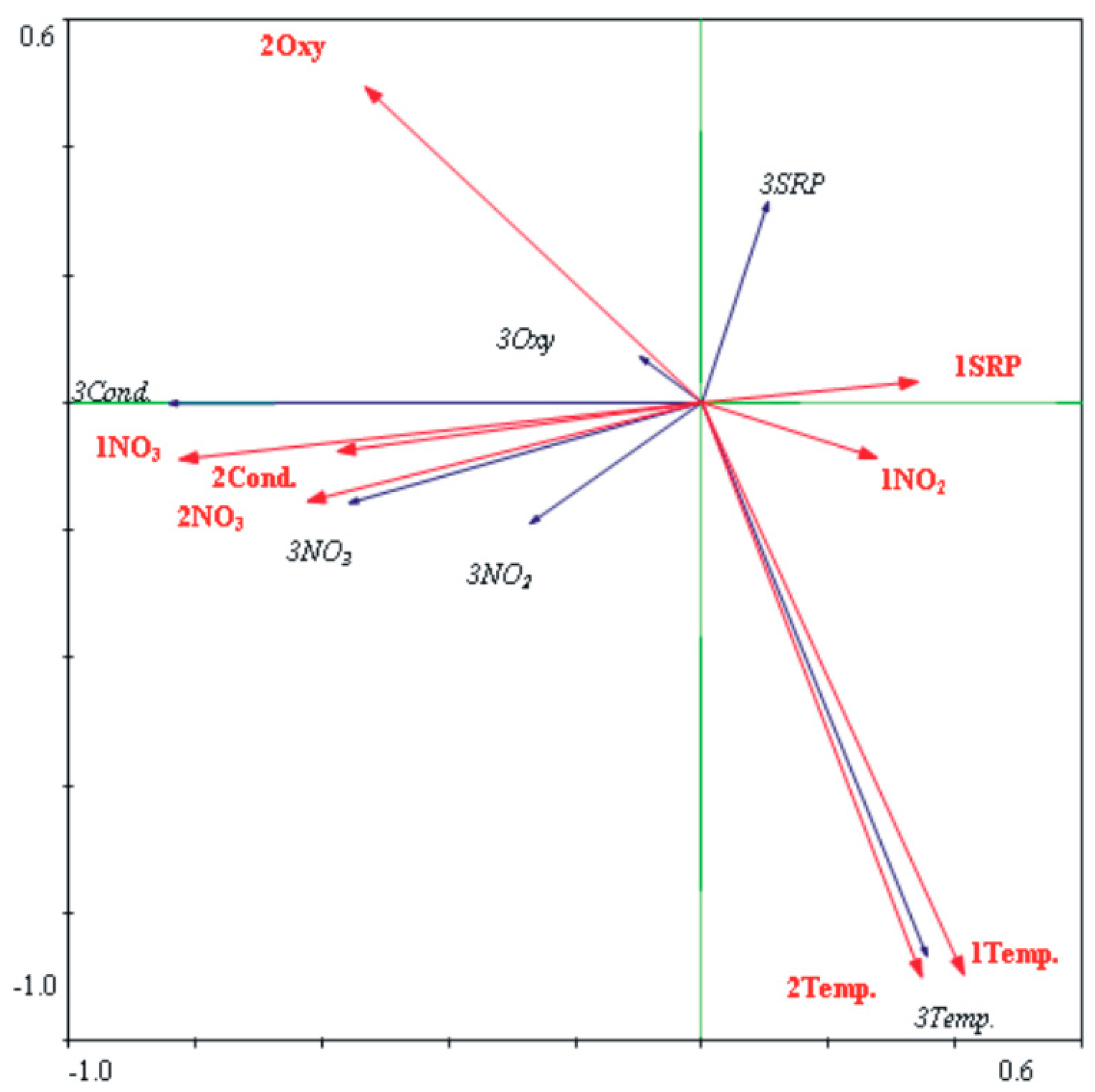 Table 1. Range of individual thermal layers of water in subsequent years of research (m) and mean water temperature in the period June–August (°C) at two stations compared to the average air temperature in the same period (°C).
Range of Water Layers (m)
2008
2009
2010
2011
2012
2013
2014
2015
2016
2017
Station I
epi temp.
0–4 19.4
0–4
20.3
0–3
20.9
0–3
20.8
0–2
22.5
0–3
21.3
0–3
20.9
0–3
20.0
0–3
23.1
0–3
20.9
meta
temp.
5–8
11.6
5–8
13.0
4–6
13.9
4–7
13.6
3–6
16.4
4–7
12.5
4–8
13.1
4–8
14.0
4–7
14.1
4–7
12.9
hypo
temp.
9–14
8.1
9–14
6.3
7–14
6.8
8–14
6.6
7–14
8.2
8–14
5.9
9–14
6.9
9–14
7.5
8–14
6.9
8–14
7.7
Station II
epi
temp.
na
0–4
20.9
0–2
20.7
0–3
21.2
0–2
23.4
0–2
21.7
0–3
20.5
0–3
19.6
0–3
23.1
0–4
20.2
meta
temp.
na
5–7
13.4
3–6
14.6
4–6
15.3
3–6
16.3
3–6
15.4
4–6
14.1
4–6
15.3
4–6
14.3
5–6
12.2
hypo
temp.
na
8–12
7.0
7–12
7.6
7–12
7.7
7–12
8.4
7–12
7.1
7–12
8.1
7–12
8.5
7–12
7.5
7–12
8.5
Mean air temperature 1
18.9
18.3
19.2
18.7
18.6
19.2
18.9
19.6
18.9
18.7
na, not applicable; 1 data from Poznań-Ławica Airport (weatheronline.com).

Table 2. The variability of medians and maximum values of water quality characteristics in the River Struga Gołaniecka flowing into Lake Durowskie.
Parameter
2009
2010
2011
2012
2013
2014
2015
2016
2017
temperature
(°C)
13.3
22.1
9.8
27.1
7.8
22.2
10.8
25.6
15.4
25.7
15.2
25.5
10.0
20.9
12.8
23.9
11.0
21.4
oxygen
(mgO2 L−1)
8.2
17.7
9.7
16.1
10.7
17.5
9.5
15.9
10.5
16.2
9.7
16.8
11.0
13.9
7.6
18.3
9.7
15.7
pH
8.3
9.2
8.4
9.0
8.5
8.6
8.0
8.8
8.3
8.9
8.1
8.6
7.7
8.5
8.2
8.9
7.8
8.4
conductivity
(μS cm−1)
685
791
587
744
716
903
566
792
700
796
710
746
647
715
598
687
820
859
chlorophyll-a
(mg m−3)
26.5
88.9
41.9
51.8
8.1
54.7
25.3
38.0
18.6
47.8
26.5
45.2
28.9
38.5
19.5
30.3
19.6
28.6
ammonium N
(mgN-NH4 L−1)
0.99
2.59
1.24
2.76
0.88
2.26
1.03
3.03
1.02
1.79
0.91
2.07
0.86
2.37
0.97
1.93
0.54
1.22
nitrates
(mgN-NO3 L−1)
0
0.88
0.77
3.04
2.82
10.51
0
1.00
2.44
5.57
1.22
2.72
0.34
1.26
0.19
1.62
2.94
8.08
organic N
(mgN L−1)
1.6
3.9
2.0
3.5
1.8
3.2
1.4
1.8
1.1
3.6
1.7
2.2
1.2
2.3
1.3
1.7
2.0
3.7
TN
(mgN L−1)
3.7
5.2
3.7
4.1
5.7
11.8
2.5
4.1
5.7
7.2
4.4
5.0
2.6
4.6
2.7
4.3
5.6
11.1
SRP
(mgP L−1)
0.011
0.025
0.025
0.058
0.023
0.056
0.022
0.069
0.019
0.029
0.003
0.020
0.004
0.011
0.006
0.039
0.007
0.022
TP
(mgP L−1)
0.050
0.072
0.061
0.122
0.046
0.080
0.049
0.121
0.046
0.101
0.027
0.067
0.030
0.175
0.028
0.125
0.048
0.200

© 2019 by the authors. Licensee MDPI, Basel, Switzerland. This article is an open access article distributed under the terms and conditions of the Creative Commons Attribution (CC BY) license (http://creativecommons.org/licenses/by/4.0/).