Decline of Fine Suspended Sediments in the Madeira River Basin (2003–2017)
1
Postgraduation Program CLIAMB, Instituto Nacional de Pesquisas da Amazônia (INPA)—Universidade do Estado do Amazonas (UEA), Ave. André Araújo, 2936, Manaus CEP 69060-001, Brazil
2
Instituto Geofísico del Perú (IGP), Calle Badajoz 169, Urb. Mayorazgo IV etapa, Ate, Lima 15012, Peru
3
Univ. Grenoble Alpes, IRD, CNRS, Grenoble INP, Insitut des Géosciences de l'Environnement (IGE, UMR 5001), 38000 Grenoble, France
4
Instituto de Hidráulica e Hidrología (IHH), Universidad Mayor de San Andrés, Casilla 699, Campus Universitario, Calle 30 Cota Cota, La Paz 15000, Bolivia
5
Instituto Hondureño de Ciencias de la Tierra (IHCIT), Universidad Nacional Autónoma de Honduras (UNAH), Ciudad Universitaria, Boulevard Suyapa, Tegucigalpa 11101, Honduras
6
Laboratorie de Météorologie Dynamique (LMD), Institut Pierre Simon Laplace (IPSL), Sorbone Université, Univ Paris 06, 75252 Paris, France
7
Géosciences Environnement Toulouse—GET (Centre national de la Recherche Scientifique—CNRS, Institut de Recherche pour le Développement—IRD, Université Paul Sabatier—UPS), Observatoire Midi-Pyrénées—OMP, 14 rue Edouard Belin, 31400 Toulouse, France
8
Departamento de Geociências, Universidade Federal do Amazonas (UFAM), Ave. General Rodrigo Otávio, Jordão Ramos 6200, Campus Universitário, Coroado I, Manaus CEP 69077-000, Brazil
*
Author to whom correspondence should be addressed.
Received: 29 November 2018 / Revised: 1 March 2019 / Accepted: 5 March 2019 / Published: 12 March 2019
Abstract
The Madeira River is the second largest Amazon tributary, contributing up to 50% of the Amazon River's sediment load. The Madeira has significant hydropower potential, which has started to be used by the Madeira Hydroelectric Complex (MHC), with two large dams along the middle stretch of the river. In this study, fine suspended sediment concentration (FSC) data were assessed downstream of the MHC at the Porto Velho gauging station and at the outlet of each tributary (Beni and Mamoré Rivers, upstream from the MHC), from 2003 to 2017. When comparing the pre-MHC (2003–2008) and post-MHC (2015–2017) periods, a 36% decrease in FSC was observed in the Beni River during the peak months of sediment load (December–March). At Porto Velho, a reduction of 30% was found, which responds to the Upper Madeira Basin and hydroelectric regulation. Concerning water discharge, no significant change occurred, indicating that a lower peak FSC cannot be explained by changes in the peak discharge months. However, lower FSCs are associated with a downward break in the overall time series registered at the outlet of the major sediment supplier—the Beni River—during 2010.
View Full-Text
►

▼

Figures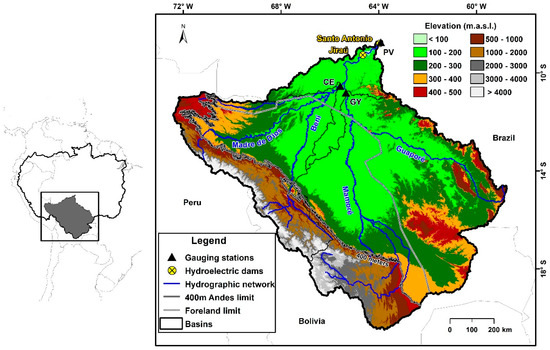 Figure 1
This is an open access article distributed under the
Creative Commons Attribution License
which permits unrestricted use, distribution, and reproduction in any medium, provided the original work is properly cited (CC BY 4.0).

Share & Cite This Article
MDPI and ACS Style
Ayes Rivera, I.; Armijos Cardenas, E.; Espinoza-Villar, R.; Espinoza, J.C.; Molina-Carpio, J.; Ayala, J.M.; Gutierrez-Cori, O.; Martinez, J.-M.; Filizola, N. Decline of Fine Suspended Sediments in the Madeira River Basin (2003–2017). Water 2019, 11, 514.
Note that from the first issue of 2016, MDPI journals use article numbers instead of page numbers. See further details here.
Related Articles
Comments
[Return to top]