Open Access This article is
freely available
re-usable
Article
Bio-Removal of Methylene Blue from Aqueous Solution by
Galactomyces geotrichum
KL20A
1
Grupo de Fotoquímica y Fotobiología, Universidad del Atlántico, Puerto Colombia 81007, Colombia
2
Faculty of Bioscience and Technology for Food, Agriculture and Environment, University of Teramo, Via R. Balzarini 1, 64100 Teramo, Italy
*
Author to whom correspondence should be addressed.
Received: 23 October 2018 / Accepted: 7 January 2019 / Published: 6 February 2019
Abstract
:
The conventional treatments used to remove dyes produced as a result of different industrial activities are not completely effective. At times, some toxic by-products are generated, affecting aquatic ecosystems. In this article, an efficient use of microorganisms is presented as a biodegradation technique that is a safe environmental alternative for the benefit of aquatic life. A strain of the yeast
Galactomyces geotrichum
KL20A isolated from Kumis (a Colombian natural fermented milk) was used for Methylene Blue (MB) bioremoval. Two parameters of the bioremediation process were studied at three different levels: initial dye concentration and growth temperature. The maximum time of MB exposure to the yeast was 48 h. Finally, a pseudo-first-order model was used to simulate the kinetics of the process. The removal percentages of MB, by action of
G. geotrichum
KL20A were greater than 70% under the best operating conditions and in addition, the kinetic simulation of the experimental results indicated that the constant rate of the process was 2.2 × 10
-2
h
−1
with a half time for biotransformation of 31.2 h. The cytotoxicity test based on the hemolytic reaction indicated that by-products obtained after the bioremoval process reached a much lower percentage of hemolysis (22%) compared to the hemolytic activity of the negative control (100%). All of these results suggest that the strain has the capacity to remove significant amounts of MB from wastewater effluents.
Keywords:
bioremediation; dyes;
Galactomyces geotrichum
; methylene blue
1. Introduction
Most of the industrial effluents in developed countries have a high load of xenobiotic compounds, such as dyes. These compounds are recalcitrant, difficult to biodegrade, and toxic to aquatic species, animals, and human beings. Most of the dyes used in the textile industry are stable, resistant to biological, physical, and chemical treatments, implying that their complete removal is difficult. Due to their high solubility in water, they cause contamination in local aquatic systems when they are discharged directly without prior treatment [
1
]. In particular, Azo dyes are the largest synthetic chemical class of dyes that are characterized by the presence of one or more azo bonds (-N=N-). They are used to a great degree in textile, pharmaceutical, leather, food, cosmetic, painting, and large-scale printing industries due to their ease of synthesis and stability [
2
]. MB is an aromatic heterocyclic used in different applications (e.g., medicine [
3
], biological [
4
], and textile industries [
5
]). Currently, MB dye is one of the most commonly used substances for dyeing cotton, wood, and silk [
6
]. The dye is commonly found in industrial wastewater, which causes devastating effects on the environment [
7
]. Given the characteristics of solubility and stability of azo dyes, traditional methods of flocculation, sedimentation, or adsorption are not efficient in the removal of these compounds because they only transfer matter between different phases without effective degradation of the compounds [
8
]. Currently, such physicochemical methods are the most important ones used for the treatment of wastewater produced by the textile industry, resulting in effluents of acceptable quality, while at the same time generating waste products with high levels of toxicity. For this reason, research on the application of biological processes as a method of dye degradation has been intensified in recent years due to the resulting low toxicity. Their high efficiency [
9
,
10
], which is due in part to the inherent capacity of the microorganisms to break down organic pollutants by using them as a source of carbon and energy, or by co-metabolism [
11
,
12
], has also contributed to intensified research. The use of yeasts for the bioremoval of toxic compounds has many advantages in comparison to filamentous bacteria and fungi, since they grow rapidly and have the capacity to adapt and resist unfavorable environments [
13
]. The
Geotrichum
spp. is a filamentous fungus (Phylum Ascomycota, Order Saccharomycetales) that has transparent spores by segmentation of vegetative filaments [
14
].
G. geotrichum
is a holomorphic organism, which means that it presents two forms of reproduction (sexual and asexual): the asexual form of multiplication gives rise to the anamorph (
Geotrichum candidum
) or imperfect state, while the sexual form gives rise to the teleomorph (
G. geotrichum
) or perfect state. These fungal species are capable of alternating a unicellular phase (yeast growth) with another mycelium (hyphae) in response to changes in various environmental factors (nutrients, CO
2
pressure, pH changes, temperature). They are called "dimorphic fungi" and tend to proliferate as yeasts in tissues. However, they assume filamentous forms at room temperature in the environment [
15
]. This fungus is present in diverse habitats. It is found as a component of the natural flora in milk and is used as a ripening agent for cheese. Furthermore, it presents colonies of fast growth (four days of maturation), and of unlimited size.
G. geotrichum
is white and has a moist, yeast-like, appearance, and is easy to obtain. This yeast is characterized by true hyphae, thick (macrosiphonated) forming numerous arthroconidia, hyaline, and rectangular. The absence of blastoconidia differentiates it from the genus
Trichosporon
spp. [
16
]. Their lipases and proteases produce fatty acids and peptides that can be metabolized by other microbial populations, promoting the development of different aromas [
17
].
G. geotrichum
can be considered one of the fungi with a large number of biotechnology applications. In fact, 38% of the publications which refer to this organism mention its capacity to biodegrade toxic compounds and its application in bioremediation processes in the treatment of wastewater for the improvement of the environment [
18
]. For
G. geotrichum
MTCC (registered at Microbial Type Culture Collection and Gene Bank, MTCC) a 100% efficiency in methyl red discoloration was reported after one hour at 30 °C. The composition of malt yeast medium used for decolorization studies was malt extract (3.0 g/L), yeast extract (3.0 g/L), peptone (5.0 g/L), and glucose (10.0 g/L) (pH 7.0) [
19
], while Waghmode et al. reported the decolorization of the azo dye Rubine by
G. geotrichum
MTCC 1360 within 96 h from exposure at 30 °C and pH 7.0 [
20
]. Govindwar et al. also reported a reduction of 86% via discoloration of the RY-84A dye at 50 mg L
−1
after 30 h of exposure [
21
]. Despite extensive studies on different microorganisms for the development of biotechnological applications, this is the first time that removal of MB with
G. geotrichum
KL20A has been reported.
In this work, the removal of MB dye with
G. geotrichum
KL20A was studied in order to search for alternative methods of water treatment that would be environmentally friendly and safe.
3. Results and Discussions
4. Conclusions
The removal of the MB dye at different initial loads (50 ppm, 100 ppm, and 200 ppm) was evaluated using a yeast strain
G. geotrichum
KL20A with an initial concentration of 3.2 × 10
7
cells/mL for a reaction time of 48 h at 25, 30, and 35 °C. Results indicated that the increasing temperature in the study range had a positive effect on the removal process; 76.6% removal was obtained at the highest temperature of 35 °C, with a dye concentration of 50 ppm. On the other hand, the MB concentration had an adverse effect on the removal process. The highest removal percentage was obtained at the lowest MB concentration, as other authors have already demonstrated; this is presumed to be due to intoxication of the microorganism once the concentration increases. The study of kinetics allowed us to calculate the value of the kinetic constant of the MB removal process by
G. geotrichum
KL20A at optimal conditions. The kinetic study yielded a rate constant 2.2 × 10
−2
h
−1
and a half time for biotransformation of 31.2 h. The hemolytic reaction test is considered acceptable and favorable, since the hemolytic activity (% hem) was the lowest percentage reported for the positive control and for the initial MB. It is important to note that the final sample of MB obtained after the yeast treatment is much less cytotoxic (less% hemolysis) compared to the initial MB solution without any yeast treatment, which demonstrated that
G. geotrichum
KL20 was effective to remove MB with a substantial reduction of the cytotoxicity to human erythrocytes.
All of the results confirmed that
G. geotrichum
KL20 can be used for the removal of effluents with MB dye loads, but it would be valuable in future studies to compare the concentrations used here with the concentrations of MB in real streams of wastewater.
Author Contributions
Conceptualization, M.C., C.D.G.-T., W.V. and C.C.-L.; methodology, M.C., C.D.G.-T. and W.V.; validation, M.C., C.D.G.-T. and W.V.; formal analysis, M.C.,C.D.G.-T. and W.V.; M.C.,C.D.G.-T. and W.V.; C.D.G.-T.,W.V. and C.C.-L.; data curation, M.C.,C.D.G.-T. and W.V.; writing—original draft preparation, M.C.,C.D.G.-T. and W.V.; writing—review and editing, M.C.,C.D.G.-T.,W.V. and C.C.-L.; visualization, X.X.; supervision, C.D.G.-T. and W.V.; project administration, C.D.G.-T. and W.V.; funding acquisition, C.D.G.-T.,W.V. and C.C.-L.
Funding
This research was funded by Universidad del Atlántico, First internal call for support for the development of degree work in training research-undergraduate and graduate level 2018.
Acknowledgments
The authors thank to the Faculty of Bioscience and Technology for Food, Agriculture and Environment, University of Teramo for the donation of the strain of
Galactomyces geotrichum
KL20 used in the present study.
Conflicts of Interest
The authors declare no conflict of interest.
Appendix A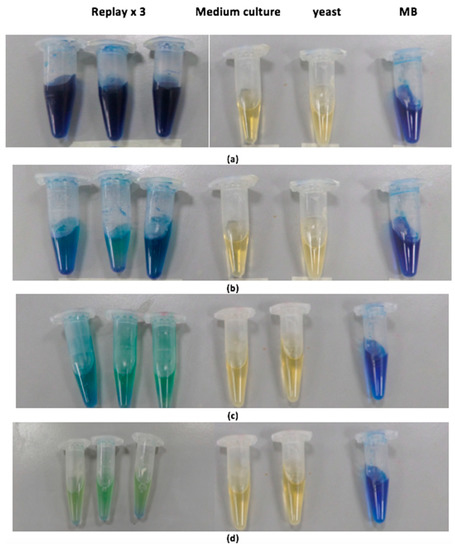 Figure A1.
Tests of biodegradation of MB dye by the action of the yeast
Galactomyces geotrichum
KL20A. (
a
) Time zero hours, (
b
) Time 12 h, (
c
) Time 24 h, (
d
) Time 48 h, (MB concentration was 50 ppm and temperature was 30 °C). The images on the left correspond to replays (×3) of the degradation experiments. The images on the right correspond to the controls used in order of yeast, culture medium (YPD-broth).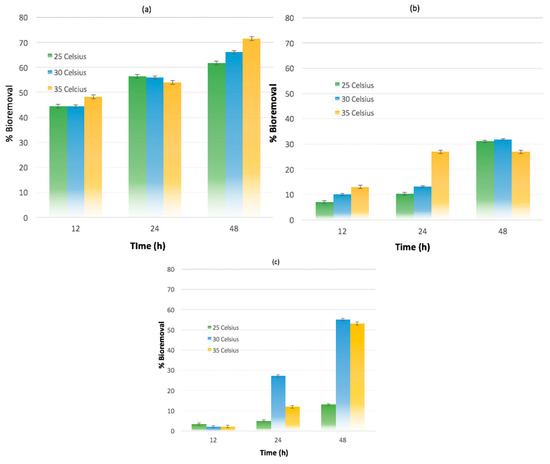 Figure 1.
Removal percentages of MB with initial concentration of (
a
) 50 parts per million (ppm); (
b
) 100 ppm; (
c
) 200 ppm by exposition to yeast
G. geotrichum
KL20A at three different temperatures during the 48 h.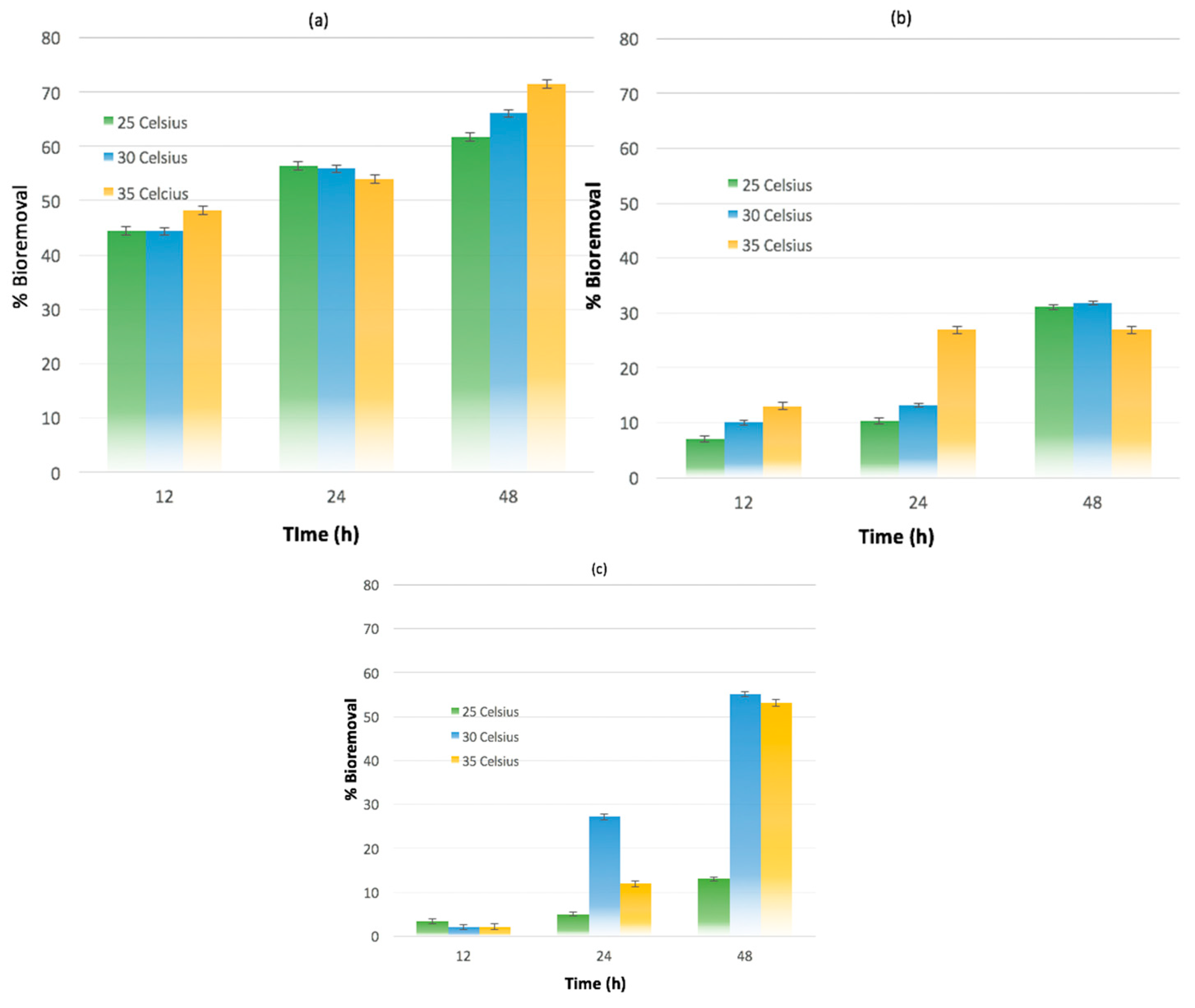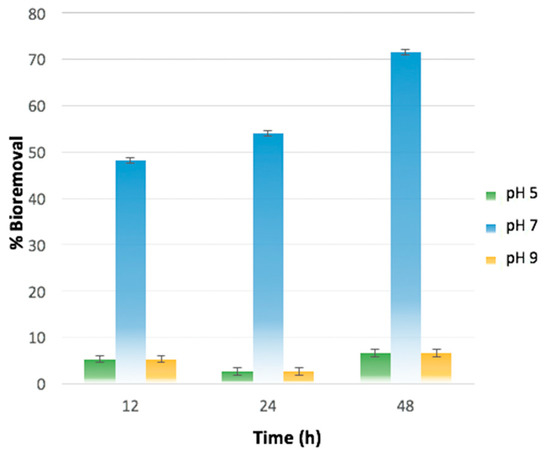 Figure 2. Effect of the pH on the biodegradation of methylene blue (MB) dye at the initial MB concentration (50 ppm), and at the temperature of 35 °C.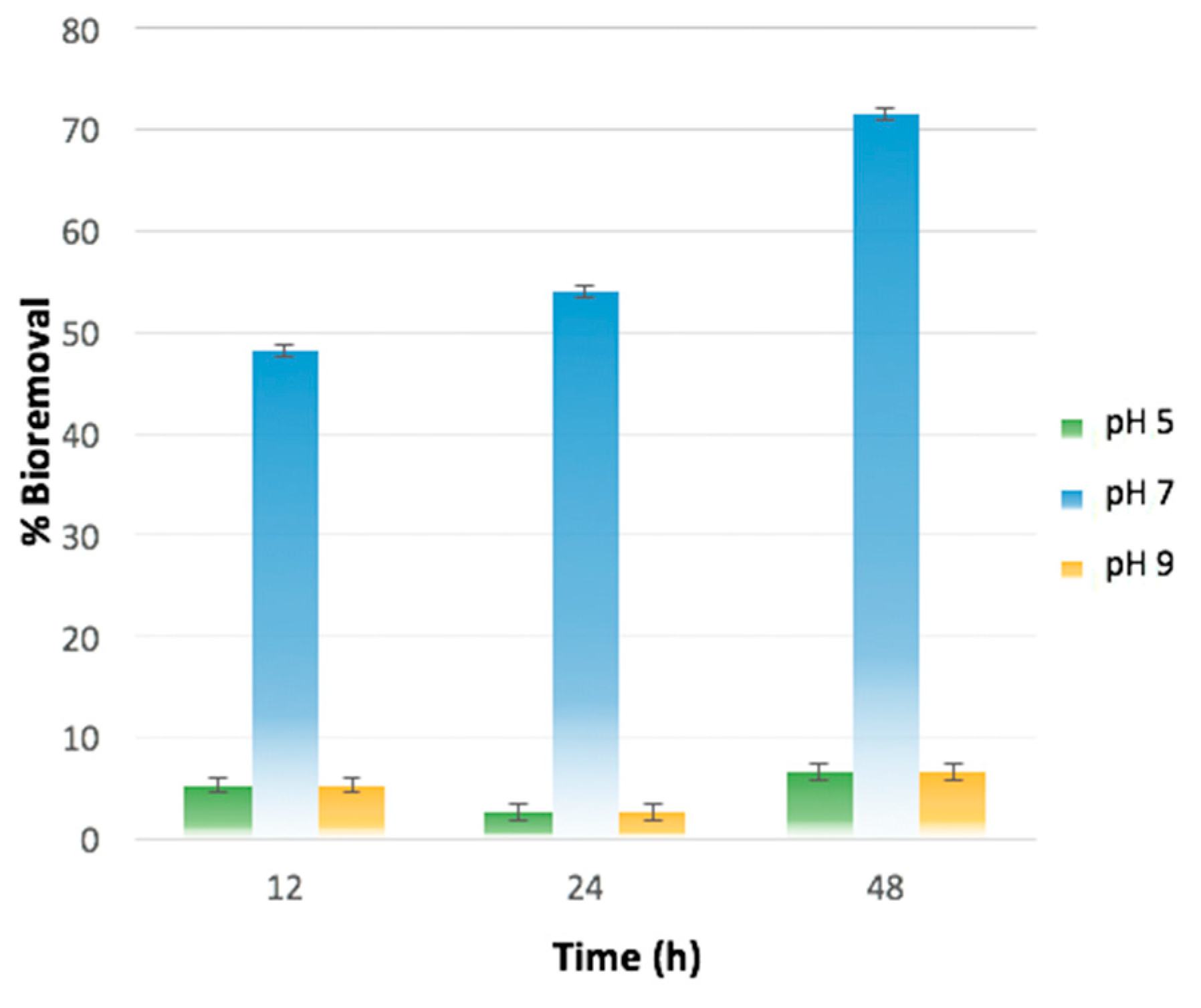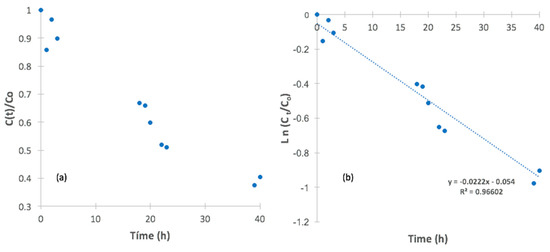 Figure 3.
(
a
) Kinetics of bioremediation of methylene blue (MB) at an initial concentration of 50 ppm per action of the yeast
G. geotrichum
KL20A at 35 °C. (
b
) Model L-H on kinetic data of MB removal for the yeast at an initial concentration of 50 ppm, temperature at 35 °C and pH 7.0.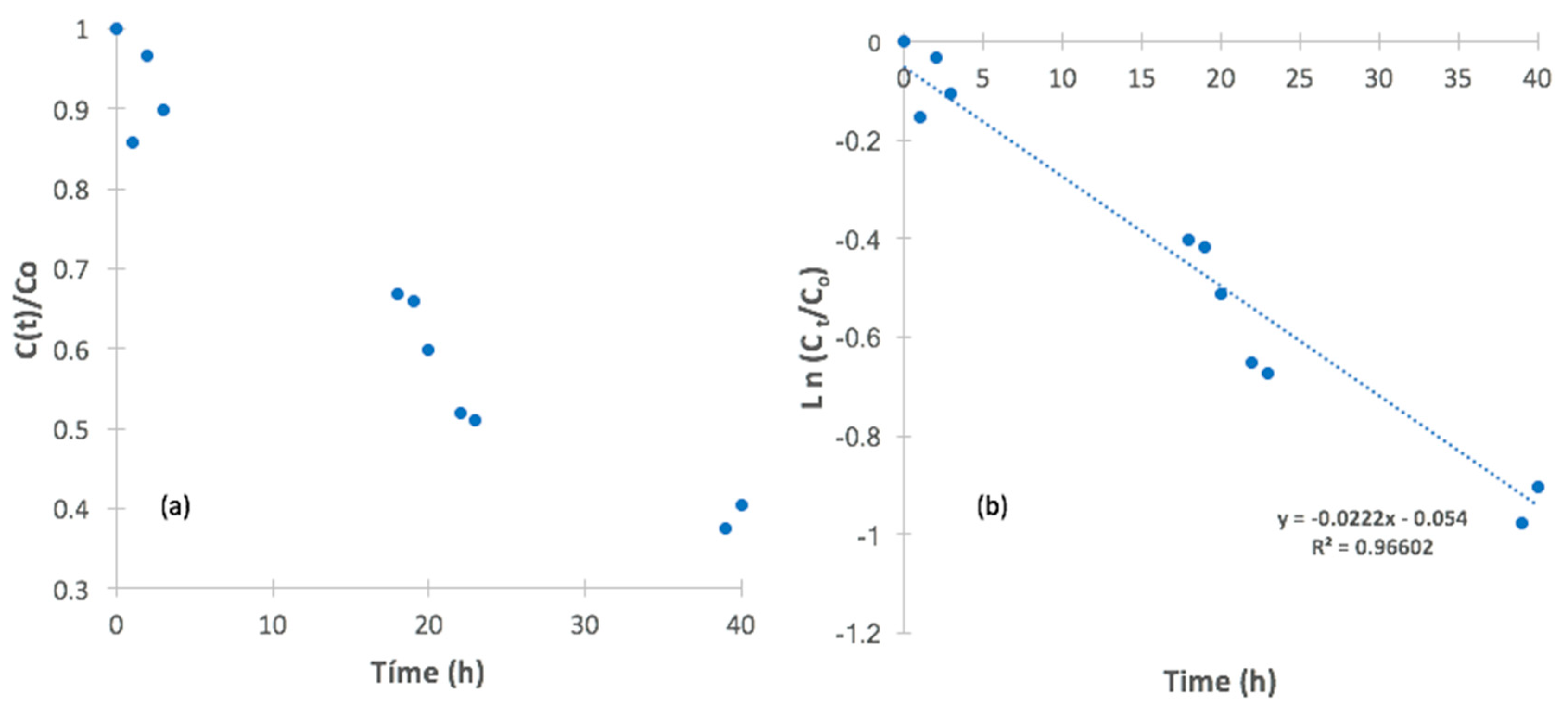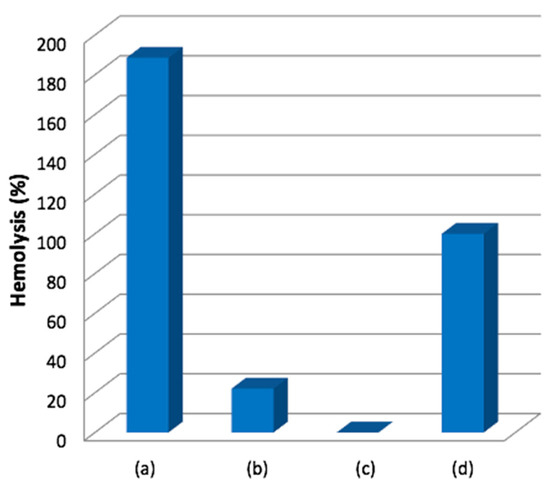 Figure 4. Comparison of hemolytic activity (%) to: (a) methylene blue (MB), (b) yeast extracts obtained from MB removal tests, (c) negative control (phosphate-buffer-treated erythrocytes, PBS) and (d) positive control (Triton-X-100).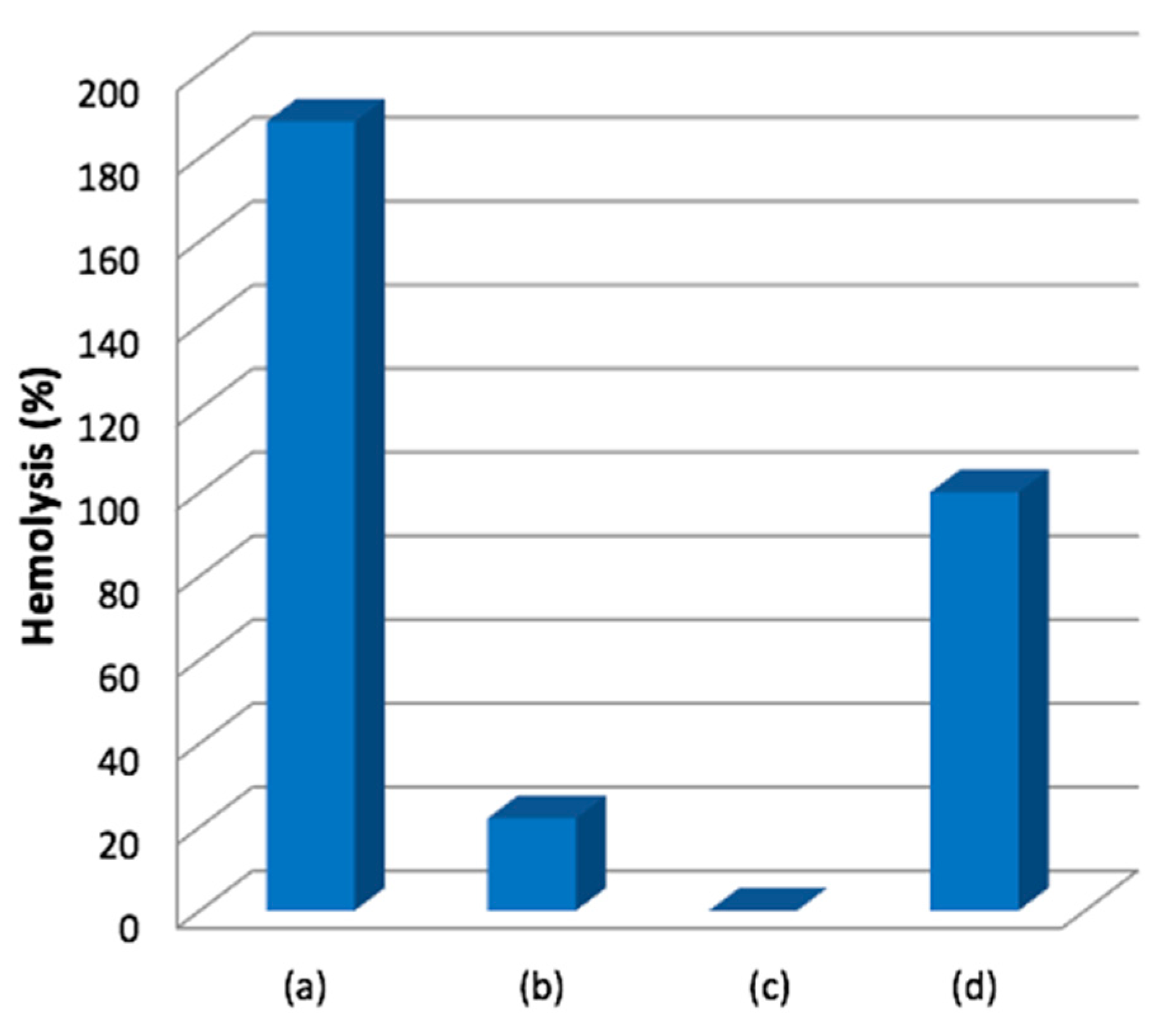 | Variable Factor | Low Level | Medium Level | High Level |
| --- | --- | --- | --- |
| MB * concentration (ppm) | 50 | 100 | 200 |
| Temperature (°C) | 25 | 30 | 35 |

Table 2.
Effect of the initial dye concentration variable and temperature on the percentage (%) in MB bioremediation from data of
Figure 1
.
| Concentration MB (ppm) | 25 °C | 30 °C | 35 °C |
| --- | --- | --- | --- |
| | 9.1 1 | 62.0 | 58.9 |
| 200 | 23.7 | 71.4 | 56.1 |
| | 6.2 | 57.0 | 44.3 |
| | 27.7 | 27.7 | 26.5 |
| 100 | 32.4 | 32.4 | 27.4 |
| | 35.1 | 35.1 | 26.7 |
| | 58.2 | 70.7 | 66.2 |
| 50 | 63.6 | 64.7 | 71.7 |
| | 63.4 | 62.8 | 76.6 |
1 This value corresponds to methylene blue (MB) % bioremoval after 48 h to exposition to

G. geotrichum

KL20A.

Table 3.
Results of analysis of variance (ANOVA) obtained from data of
Figure 1
.
| Origin of Variations | Sum of Squares | Degrees of Freedom | Average of Squares | F-Value | Probability | F-Critical Value |
| --- | --- | --- | --- | --- | --- | --- |
| Sample * | 6132.4 | 2 | 3066.2 | 98.6 | 2.0 × 10−10 | 3.5 |
| Level ** | 1618.5 | 2 | 809.3 | 26.0 | 4.9 × 10−6 | 3.5 |
| Interaction *** | 2586.1 | 4 | 646.5 | 20.8 | 1.5 × 10−6 | 2.9 |
* Factor: This parameter determines if each factor (temperature and BM concentration) had a statistically significant effect on removal percentage; ** Level: This parameter determines if each level (25, 30, and 35 °C for temperature) and (50, 100, and 250 ppm for BM concentration) had a statistically significant effect on removal percentage; *** Interaction: This parameter determines if the interaction between two factors (temperature and MB concentration) had a statistically significant effect on removal percentage.

© 2019 by the authors. Licensee MDPI, Basel, Switzerland. This article is an open access article distributed under the terms and conditions of the Creative Commons Attribution (CC BY) license (http://creativecommons.org/licenses/by/4.0/).