Open Access This article is
freely available
re-usable
Article
The Impact of a Fish Cannery Wastewater Discharge on the Bacterial Community Structure and Sanitary Conditions of Marine Coastal Sediments
1
Department of Natural and Health Sciences, Juraj Dobrila University of Pula, Pula 52100, Croatia
2
Department of Geology, Faculty of Science, University of Zagreb, Zagreb 10000, Croatia
3
Center for Marine Research, Ruđer Bošković Institute, Rovinj 52210, Croatia
*
Author to whom correspondence should be addressed.
Received: 7 November 2019 / Accepted: 3 December 2019 / Published: 5 December 2019
Abstract
:
The effects of fish cannery discharge (FCD) on bacteria in marine coastal sediments were investigated. Redox potentials were measured, and granulometry was determined by wet ASTM sieving, and with the Sedigraph method. Prokaryotic abundance (PA) was determined by epifluorescence microscopy (DAPI staining), and faecal indicator bacteria (FIB) enumerated with the multiple test tube and most probable number method. Total lipids were determined gravimetrically, and sterols analysed by GC/MSD. Bacterial community composition was determined after total DNA isolation, Illumina MiSeq amplification, and SILVAngs processing pipeline. The FCD was rich in lipids, heterotrophic prokaryotes and FIB. The bacterial community of the FCD was dominated by
Firmicutes
and
Gammaproteobacteria
and many potentially pathogenic bacteria. Highly porosusgravelly sands clogged with fish remains transitioned to less permeable sandy muds away from the FCD. All sediments were anoxic with extremely negative potentials around the outfall. High surface PA and FIB spread 300 m from the outfall.
Gammaproteobacteria
and
Deltaproteobacteria
appeared in all sediments.
Sulfurovum
and
Anaerolineaceae
characterized the most polluted locations where gammaproteobacterial Woeseiaceae/JTB255 marine benthic group declined.
Gammaproteobacteria
and
Bacteroidetes
characterized surface sediments, while
Chloroflexi
and
Deltaproteobacteria
prevailed in deeper layers. The FCD enriched sediments in lipids and allochthonous bacteria degrading sanitary quality, lowering the permeability, redox potential, and bacterial diversity.
Keywords:
coastal sediments; fish cannery discharge; faecal indicator bacteria; bacterial community structure; next-generation sequencing; potentially pathogenic bacteria
1. Introduction
Food processing industries, such as fish canneries are a significant source of pollution in the Mediterranean Sea [
1
]. Their effluents contain large amounts of fats, oils, fish remains, ammonia, phosphate, sulphur and often have a high biochemical oxygen demand. The bacterial community of such effluents can be enriched with phyla such as
Bacteroidetes
,
Chloroflexi
,
Thermotogae
,
Synergystetes
, and
Firmicutes
(in a case study of a tuna cannery) which are often characteristic of anaerobic environments [
2
]. Fish cannery discharges can also contain specific bacterial groups able to produce extracellular lipase enzymes that hydrolyze triglycerides and cholesterol [
3
,
4
,
5
,
6
,
7
,
8
]. Moreover, faecal indicator bacteria and various potentially pathogenic genera [
9
] are commonly very abundant in such effluents, indicating their negative impact on the sanitary quality of the receiving environment. In particular, fish and molluscs, when exposed to foreign potentially pathogenic microbes, can display various negative immune responses proteins [
10
,
11
,
12
].
Marine coastal sediments represent a preferential sink for various organic and inorganic contaminants which can affect their biological communities. Since bacteria are the most numerous organisms in sediments and have a crucial role in biogeochemical cycles, is very important to assess the potential impact of certain types of human contamination on their diversity, distribution and abundance. In general, sediment bacteria are prevalently attached to sediment grain surfaces, a vast matrix of inorganic and organic solid surfaces with heterogeneous and complex organic polymers that provide the substrates for their growth [
13
]. Recent studies on bacterial communities in intertidal and sublittoral surfaces by next-generation sequencing of the 16 S rRNA have identified some of the dominant groups within the bacterial assemblages of coastal marine sediments. Those bacterial communities typically include cosmopolitan taxa of
Gamma
- and
Deltaproteobacteria
such as the
Woeseiaceae
/JTB255 marine benthic group and the uncultured deltaproteobacteria Sva0081 sediment group, respectively, which have a multifaceted role in carbon and sulphur cycling [
14
,
15
]. Other benthic taxa that appear in marine coastal and intertidal sediments belong to
Epsilonproteobacteria
,
Chloroflexi
,
Bacteroidetes
,
Planctomycetes
,
Acidobacteria
and
Firmicutes
[
16
,
17
,
18
,
19
]. The distribution and abundance of those dominant members of the bacterial community are correlated to the median grain size of the sediment, to the amount of dissolved oxygen [
19
] and the permeability at the specific site [
20
]. Some researches [
21
,
22
] have also reported that the size and diversity of sediment bacterial communities can be influenced negatively by the presence of wastewaters coming from urban areas, petroleum refineries and shipyards.
In this study, the main aim was to investigate the influence of industrial organic contamination and changes in sediment conditions on bacterial community structure and abundance in surface (0 cm) and subsurface (5 cm) sediments. For this reason, the sediments of a semi-enclosed inlet, (Valdibora bay in the NE-Adriatic), exposed to a fish cannery wastewater were analysed. Besides, since the cannery wastewaters did not receive any treatment, the presence of FIB and PPB was quantified in the effluent and the sediments to assess potential sanitary risk and evaluate the input of allochthonous bacteria to marine sediments.
5. Conclusions
The FCD effluent introduced massive amounts of fatty fish remains, sulphur and allochthonous bacteria to the waters of Valdibora bay. The bacterial community of the effluent was characterized by the presence of
Firmicutes
and
Gammaproteobacteria
that include strains capable of degrading lipids and oxidize sulphide. The presence of high concentrations of FIB and a considerable PPB share in the effluent indicated a potential sanitary threat even though the profiles of faecal sterols and the ratios of FIB excluded a human faecal contribution. The influence of the FCD effluent on the sediment in the proximity of the outfall manifested as an increased concentration of FIB and lipid content by 1,2 orders of magnitude with respect to the unpolluted station K. The addition of lipids in the area lowered sediment permeability and redox potential. Genera belonging to
Gamma
- and
Deltaproteobacteria
, typically inhabiting sulfidic sediments, were the dominant part of the bacterial community in the sediments of Valdibora bay. The sediment alterations induced by the FCD affected the structure of the bacterial community by increasing the number of sequences related to
Chloroflexi
and
Sulfurovum
whose members are often involved in the degradation and oxidation of recalcitrant sulphur enriched organic matter. In the most polluted sediments, the decrease of the abundant and cosmopolitan member of marine sediments, the JTB255 marine benthic group, suggested its susceptibility to pollution. Apart from organic contamination, the other main factor which appeared to influence the bacterial community was the grain size of sediments. At the stations located in the middle part of the bay, an increase in alpha diversity in surface sediments occurred parallel to a decrease in grain size. However, this change in granulometric composition coupled with the lipid enrichment of the surface sediment reduced sediment permeability and pore water transport to the deeper layers of sediment. This condition was reflected by the bacterial community of the deeper layer as a reduction in bacterial diversity accompanied by a decrease in the relative abundance of sequences related to
Gammaproteobacteria
and
Bacteroidetes
and a relative increase of sequences related to
Chloroflexi
.
Supplementary Materials
The following are available online at
https://www.mdpi.com/2073-4441/11/12/2566/s1
, Figure S1: Rarefaction curves for the effluent (FCD) and sediment samples, Figure S2: Relative abundances of bacterial families, groups and genera of the phylum
Gammaproteobacteria
in effluent (FCD) and sediments, Figure S3: Relative abundances of bacterial families, groups and genera of the phylum
Deltaproteobacteria
in effluent (FCD) and sediments, Table S1: Sequence statistics obtained by SILVAngs pipeline, Table S2: Number of OTUs, richness estimates (Chao1 and Abundance-based Coverage Estimator [ACE] and Shannon's diversity index following the normalisation step.
Author Contributions
Conceptualization, P.P., I.I. and A.B.; methodology, P.P., I.I. and I.F.; software, P.P., I.F. and A.B.; validation, I.I.; formal analysis I.I.; investigation, P.P. and I.F.; resources, P.P. and I.F.; data curation, I.I.; writing-original draft preparation, P.P. and A.B.; writing-review and editing, P.P. and A.B.; visualization, P.P., I.F. and A.B.; supervision I.I.; project administration, P.P.; funding acquisition, P.P.
Funding
This research received no external funding
Acknowledgments
We sincerely thank Mirjana Najdek Dragić for the general support and for the lipid and sterol analysis, and Marino Korlević for the molecular analysis.
Conflicts of Interest
The authors declare no conflicts of interest.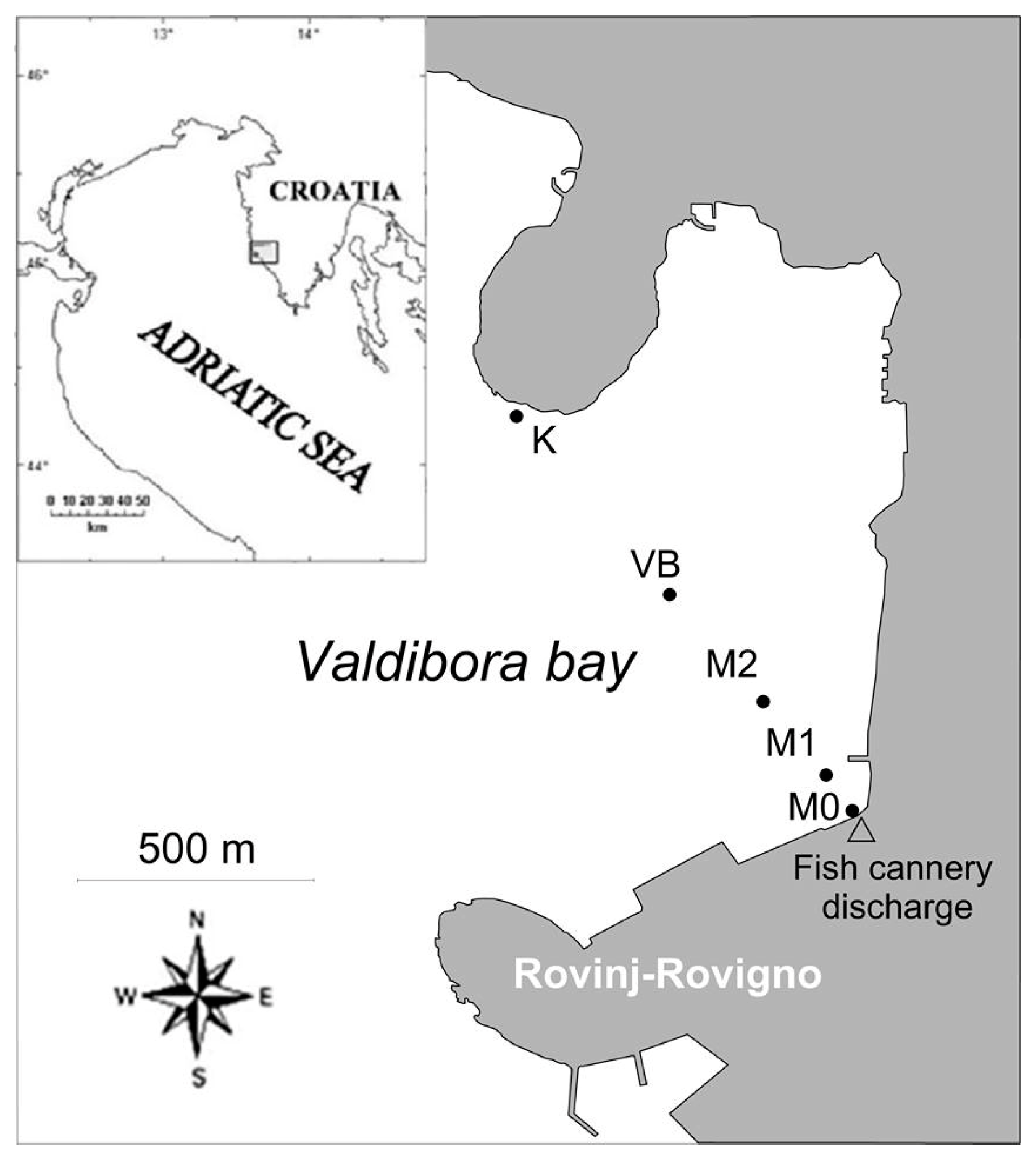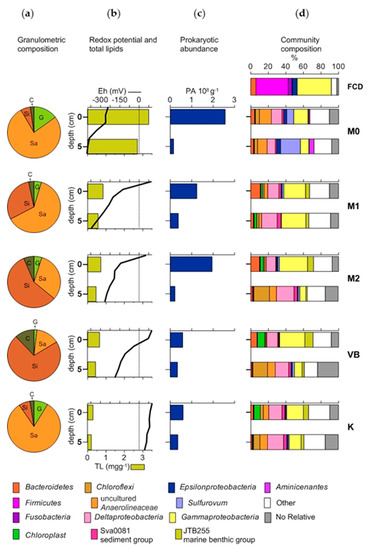 Figure 2. (a) Granulometric composition (G-gravel, Sa-sand, Si-silt, C-clay), (b) redox potential (Eh, mV) and total lipid concentration (TL, mg g−1-dry sediment), (c) abundance of prokaryotes (PA, cells 108 g−1-wet sediment), (d) relative abundances of bacterial phyla in effluent (FCD) and sediment layers based on sequencing of 16 S rRNA genes (V3-V4 region). Only taxa that made up > 10% of total sequences in any given sample are presented.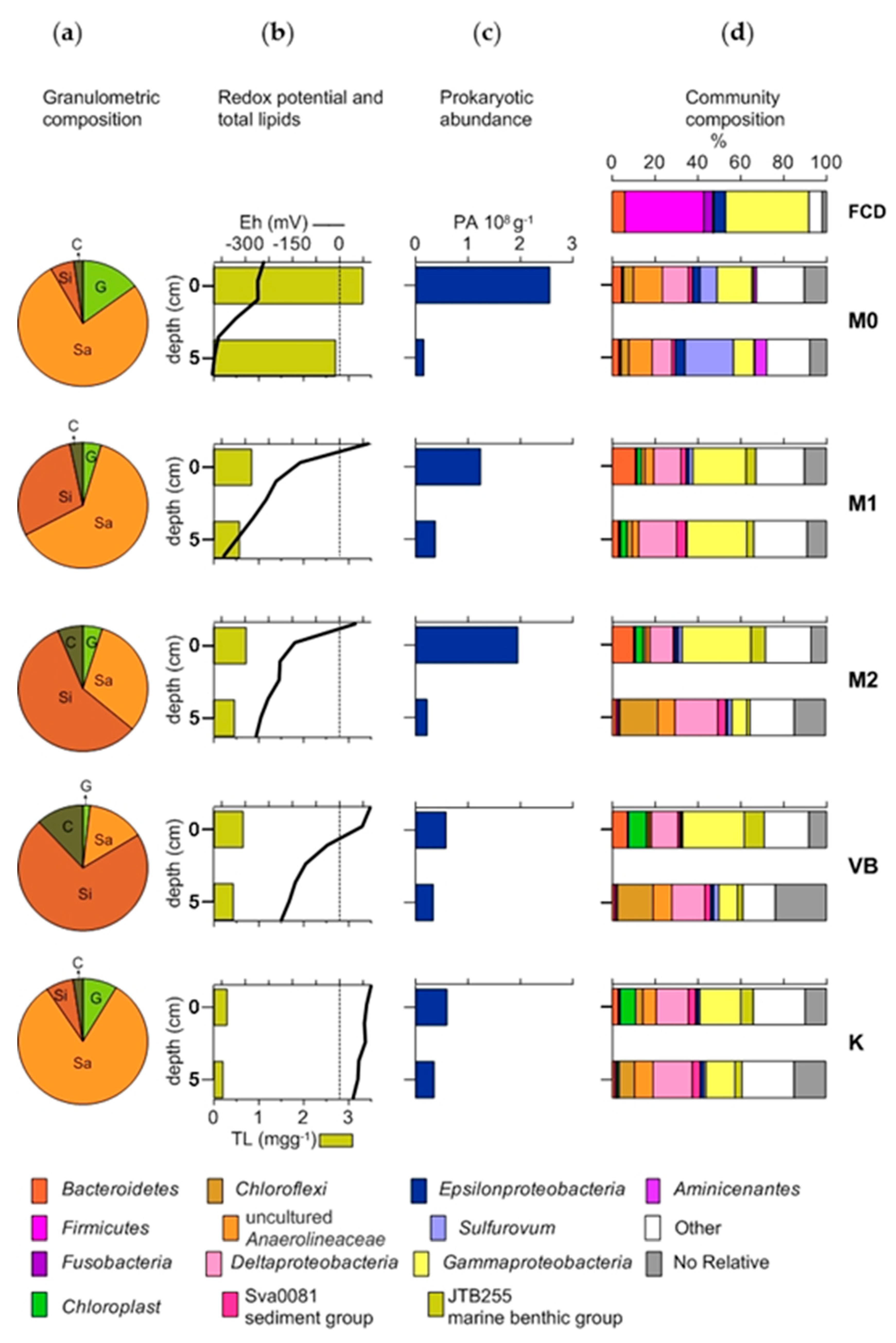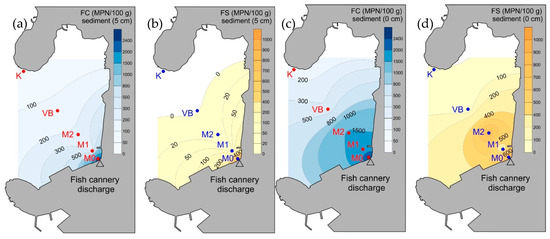 Figure 3. Spatial distribution of faecal. indicator bacteria in sediments: (a) faecal coliforms at 0 cm, (b) faecal streptococci at 0 cm, (c) faecal coliforms at 5 cm, and (d) faecal streptococci at 5 cm.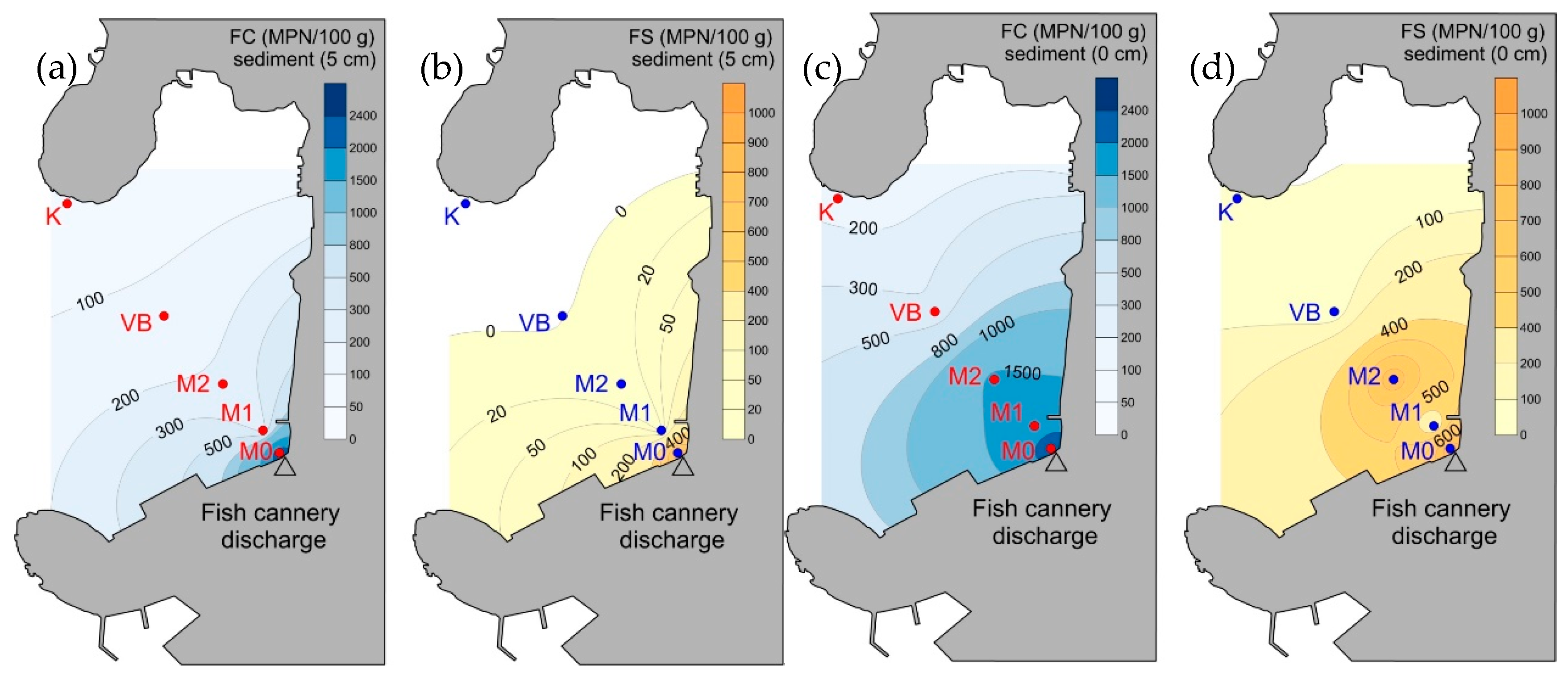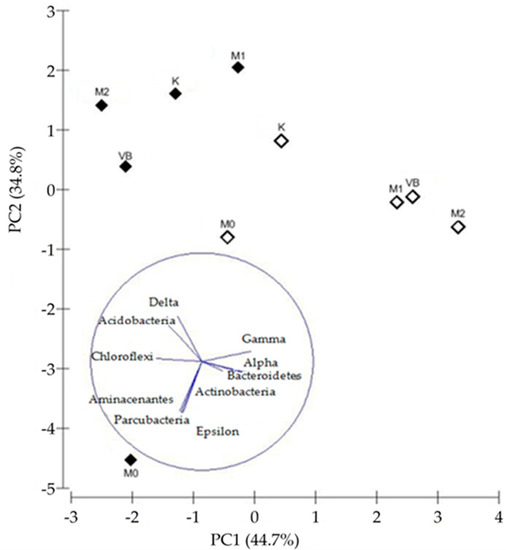 Figure 4. Principal coordinates analysis (PCoA) ordination of a Bray-Curtis dissimilarity matrix based on the overall dataset of maximum successful sequencing depth by SILVAngs (15 most abundant taxa were presented as vectors) showing differences in bacterial community structures of surface (open diamonds) and deeper (black diamonds) sediments in Valdibora bay.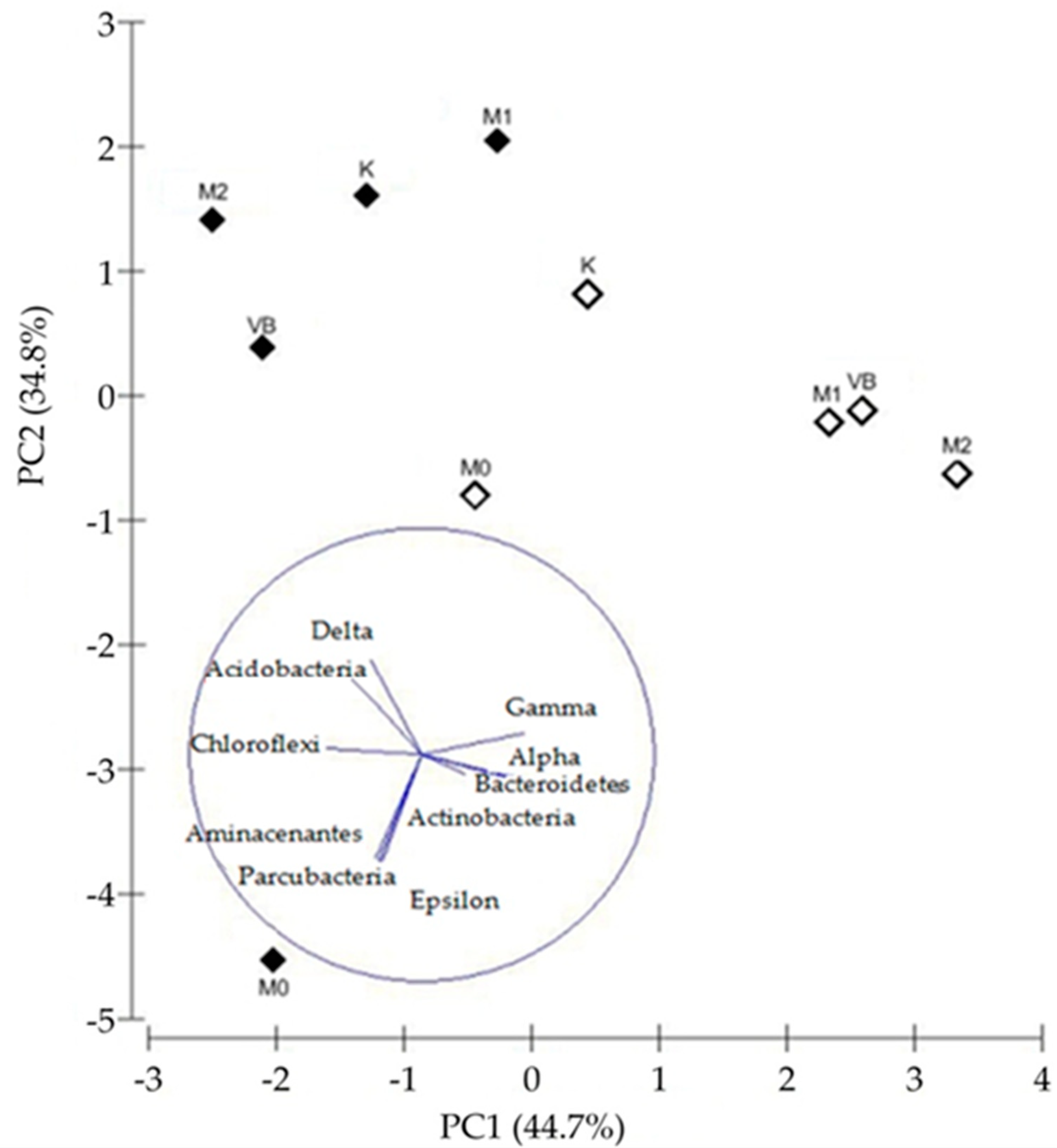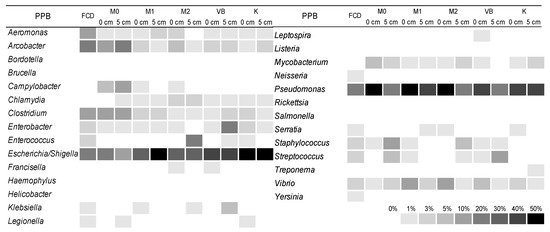 Figure 5. Relative abundances (percentage of a specific pathogenic genus in total identified pathogenic bacteria) of potentially pathogenic bacterial genera in the effluent (FCD) and sediment layers.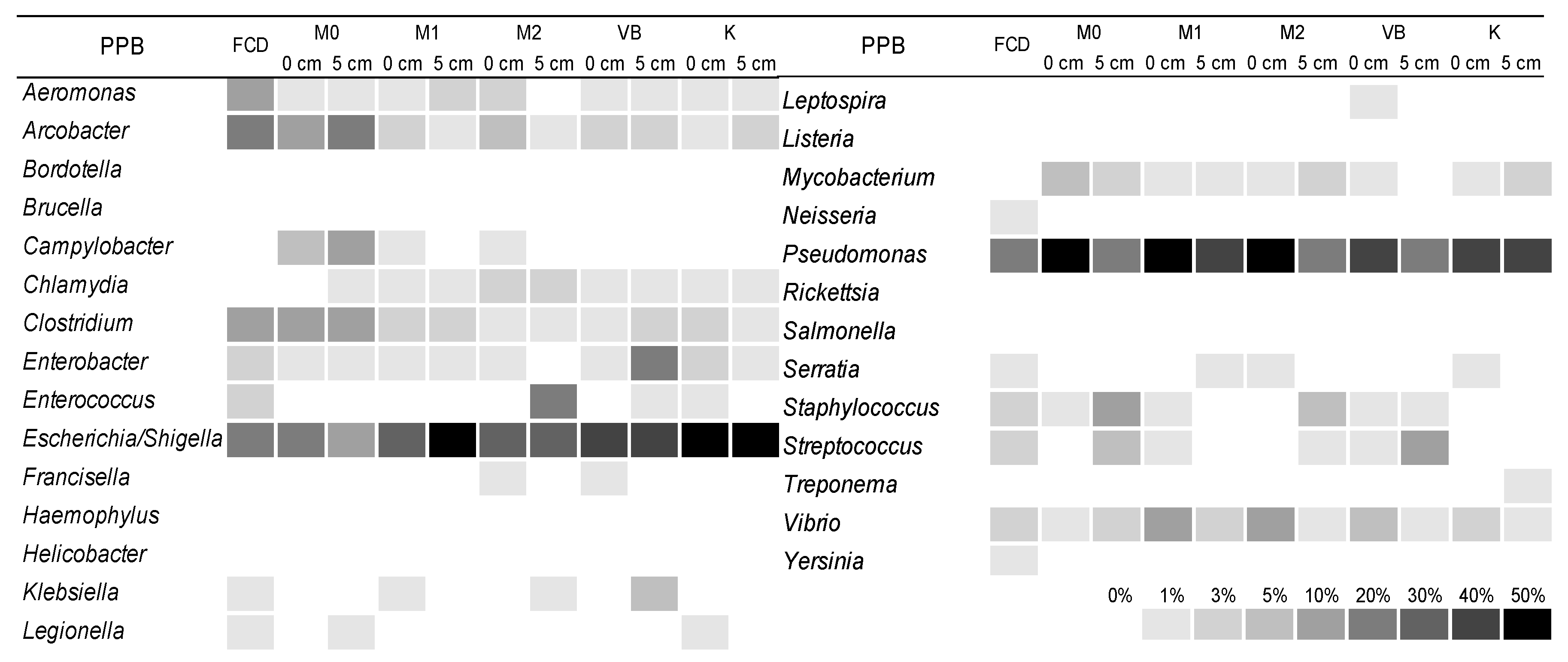 Table 1. Type, median grain size (dg) and permeability (k) of sediments in the research area gS-gravelly sand, (g)mS-slightly gravelly muddy sand and (g)sM-slightly gravelly sandy mud.
| Station. | Sediment Type | dg (µm) | k (m2) |
| --- | --- | --- | --- |
| M0 | gS | 816.4 | 4.83 × 10−10 |
| M1 | (g)mS | 103.9 | 7.83 × 10−12 |
| M2 | (g)sM | 48.3 | 1.69 × 10−12 |
| VB | (g)sM | 26.7 | 5.16 × 10−13 |
| K | gS | 682.4 | 3.38 × 10−10 |

Table 2. Concentrations of the main sterols: coprostanol (COP), cholesterol (CHL) and β-sitosterol (β-SITin the FCD effluent (E) and sediment in Valdibora bay. The concentrations of sterols for effluent and sediment are expressed in μg L−1 and μg g−1, respectively.
Sample
Station
Core Section (cm)
COP
CHL
β-SIT
Effluent
FCD
1.86
1230.20
247.83
Sediment
M0
0
7.58
29.92
2.14
5
5.53
27.86
1.49
M1
0
0.68
2.37
0.47
5
0.28
0.49
2.65
M2
0
0.31
1.17
0.48
5
0.09
0.41
0.25
VB
0
0.10
0.68
0.25
5
0.05
0.26
0.33
K
0
0.09
0.32
0.22
5
nd
0.32
nd

© 2019 by the authors. Licensee MDPI, Basel, Switzerland. This article is an open access article distributed under the terms and conditions of the Creative Commons Attribution (CC BY) license (http://creativecommons.org/licenses/by/4.0/).