Uptake of Sb(V) by Nano Fe3O4-Decorated Iron Oxy-Hydroxides
1
Analytical Chemistry Laboratory, Department of Chemical Engineering, Aristotle University of Thessaloniki, 54124 Thessaloniki, Greece
2
EcoResources P.C., 55131 Kalamaria, Thessaloniki, Greece
3
Department of Physics, Aristotle University of Thessaloniki, 54124 Thessaloniki, Greece
4
Institut de Ciència de Materials de Barcelona, Campus Universitat Autònoma de Barcelona, 08193 Bellaterra, Spain
*
Author to whom correspondence should be addressed.
Received: 15 December 2018 / Revised: 10 January 2019 / Accepted: 15 January 2019 / Published: 21 January 2019
Abstract
The presence of antimony in water remains a major problem for drinking water technology, defined by the difficulty of available adsorbents to comply with the very low regulation limit of 5 μg/L for the dominant Sb(V) form. This study attempts to develop a new class of water adsorbents based on the combination of amorphous iron oxy-hydroxide with Fe
3
O
4
nanoparticles and optimized to the sufficient uptake of Sb(V). Such a Fe
3
O
4
/FeOOH nanocomposite is synthesized by a two-step aqueous precipitation route from iron salts under different oxidizing and acidity conditions. A series of materials with various contents of Fe
3
O
4
nanoparticles in the range 0–100 wt % were prepared and tested for their composition, and structural and morphological features. In order to evaluate the performance of prepared adsorbents, the corresponding adsorption isotherms, in the low concentration range for both Sb(III) and Sb(V), were obtained using natural-like water. The presence of a reducing agent such as Fe
3
O
4
results in the improvement of Sb(V) uptake capacity, which is found around 0.5 mg/g at a residual concentration of 5 μg/L. The intermediate reduction of Sb(V) to Sb(III) followed by Sb(III) adsorption onto FeOOH is the possible mechanism that explains experimental findings.
View Full-Text
►

▼

Figures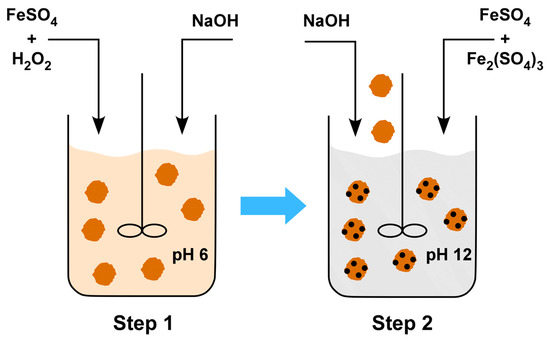 Figure 1
This is an open access article distributed under the
Creative Commons Attribution License
which permits unrestricted use, distribution, and reproduction in any medium, provided the original work is properly cited (CC BY 4.0).

Share & Cite This Article
MDPI and ACS Style
Simeonidis, K.; Kalaitzidou, K.; Kaprara, E.; Mitraka, G.; Asimakidou, T.; Balcells, L.; Mitrakas, M. Uptake of Sb(V) by Nano Fe3O4-Decorated Iron Oxy-Hydroxides. Water 2019, 11, 181.
Note that from the first issue of 2016, MDPI journals use article numbers instead of page numbers. See further details here.
Related Articles
Comments
[Return to top]