Open Access This article is
freely available
re-usable
Article
Spatial Downscaling of Satellite Precipitation Data in Humid Tropics Using a Site-Specific Seasonal Coefficient
1
Geoscience and Digital Earth Centre, Research Institute of Sustainability and Environment, Universiti Teknologi Malaysia, Skudai, Johor Bharu 81310, Malaysia
2
Department of Geoinformation, Faculty of Geoinformation & Real Estate, Universiti Teknologi Malaysia, Skudai, Johor Bharu 81310, Malaysia
3
Faculty of Urban Environmental Sciences, Tokyo Metropolitan University, 1-1 Minami Osawa, Hachioji, Tokyo 192-0397, Japan
4
Graduate School for International Development and Cooperation, Hiroshima University, 1-5-1 Kagamiyama, Higashihiroshima 739-8529, Japan
*
Author to whom correspondence should be addressed.
Received: 11 February 2018 / Accepted: 26 March 2018 / Published: 31 March 2018
Abstract
:
This paper described the development of a spatial downscaling algorithm to produce finer grid resolution for satellite precipitation data (0.05°) in humid tropics. The grid resolution provided by satellite precipitation data (>0.25°) was unsuitable for practical hydrology and meteorology applications in the high hydrometeorological dynamics of Southeast Asia. Many downscaling algorithms have been developed based on significant seasonal relationships, without vegetation and climate conditions, which were inapplicable in humid, equatorial, and tropical regions. Therefore, we exploited the potential of the low variability of rainfall and monsoon characteristics (period, location, and intensity) on a local scale, as a proxy to downscale the satellite precipitation grid and its corresponding rainfall estimates. This study hypothesized that the ratio between the satellite precipitation and ground rainfall in the low-variance spatial rainfall pattern and seasonality region of humid tropics can be used as a coefficient (constant value) to spatially downscale future satellite precipitation datasets. The spatial downscaling process has two major phases: the first is the derivation of the high-resolution coefficient (0.05°), and the second is applying the coefficient to produce the high-resolution precipitation map. The first phase utilized the long-term bias records (1998–2008) between the high-resolution areal precipitation (0.05°) that was derived from dense network of ground precipitation data and re-gridded satellite precipitation data (0.05°) from the Tropical Rainfall Measuring Mission (TRMM) to produce the site-specific coefficient (SSC) for each individual pixel. The outcome of the spatial downscaling process managed to produce a higher resolution of the TRMM data from 0.25° to 0.05° with a lower bias (average: 18%). The trade-off for the process was a small decline in the correlation between TRMM and ground rainfall. Our results indicate that the SSC downscaled method can be used to spatially downscale satellite precipitation data in humid, tropical regions, where the seasonal rainfall is consistent.
Keywords:
rainfall; monsoon; high resolution; TRMM
4. Discussion
Despite the promising outcomes of this study, there were a few limitations. First was the requirement of a large rain gauge dataset. Because the downscaling coefficient was eventually derived by correcting the bias factors at a smaller grid, it is necessary to have as large a rain gauge network as possible. This could be a limitation for hydrological data conflict areas (HDCS). An HDCS is an area which has experienced one or more of these conflicts: sparse rain gauges, missing rain gauge data, inefficient data sharing policies, or ineffective data management. The second limitation was whether the downscaling coefficient could be used for other satellite precipitation data besides TRMM. Hypothetically, it can be used, but a further investigation is needed.
Anticipating the second and third limitations by testing the usability of the coefficient on other satellite precipitation data, and excluding samples that affected by ENSO, could be future work in to improve this study. In an effort to further localize the satellite precipitation data, utilizing the role of topographic control as a proxy variable is promising. This is especially true for high-altitude regions in the tropics. In addition, experimenting with the similar downscaling procedures at a higher temporal scale (i.e., weekly) could be worthwhile, because the rainfall in humid tropics is highly dynamic.
5. Conclusions
We tested the hypothesis that higher-resolution data on historical bias records for low-variance seasonal monsoon rainfall can be used to spatially downscale TRMM satellite precipitation data. The use of the site-specific coefficient successfully transformed the initial TRMM satellite precipitation data resolution from 0.25° to 0.05°, with smaller errors and increased similarity with the ground rainfall pattern. With the availability of the SSC, the downscaling of the future satellite precipitation data can be done without any ground reference or rain gauge data. However, it caused a small decline in the temporal correlation. The simplistic and effective procedure described in this study can be applied to spatially downscale satellite precipitation data in regions with low variability in seasonal rainfall in the humid tropics.
Acknowledgments
The authors would like to thanks all the stakeholders and respective agencies, particularly the Department of Irrigation and Drainage for their support regarding the in-situ data. Our utmost gratitude goes to Universiti Teknologi Malaysia and Ministry of Higher Education for supporting this study through the research grants (QJI30000.2727.02K83 and QJ130000.2427.04G12).
Author Contributions
Mazlan Hashim provides the datasets including the required supporting geoinformation software needed for the analyses; S. Numata, H. Matsuyama and T. Hosaka cooperated in designing and improving the concept of the research project and related processes; Mohd Rizaludin Mahmud conceived the research project, conducted the data processing and analysis. All the authors participated actively in preparing and reviewing the manuscript; moderated by Mohd Rizaludin Mahmud.
Conflicts of Interest
The authors declare no conflicts of interest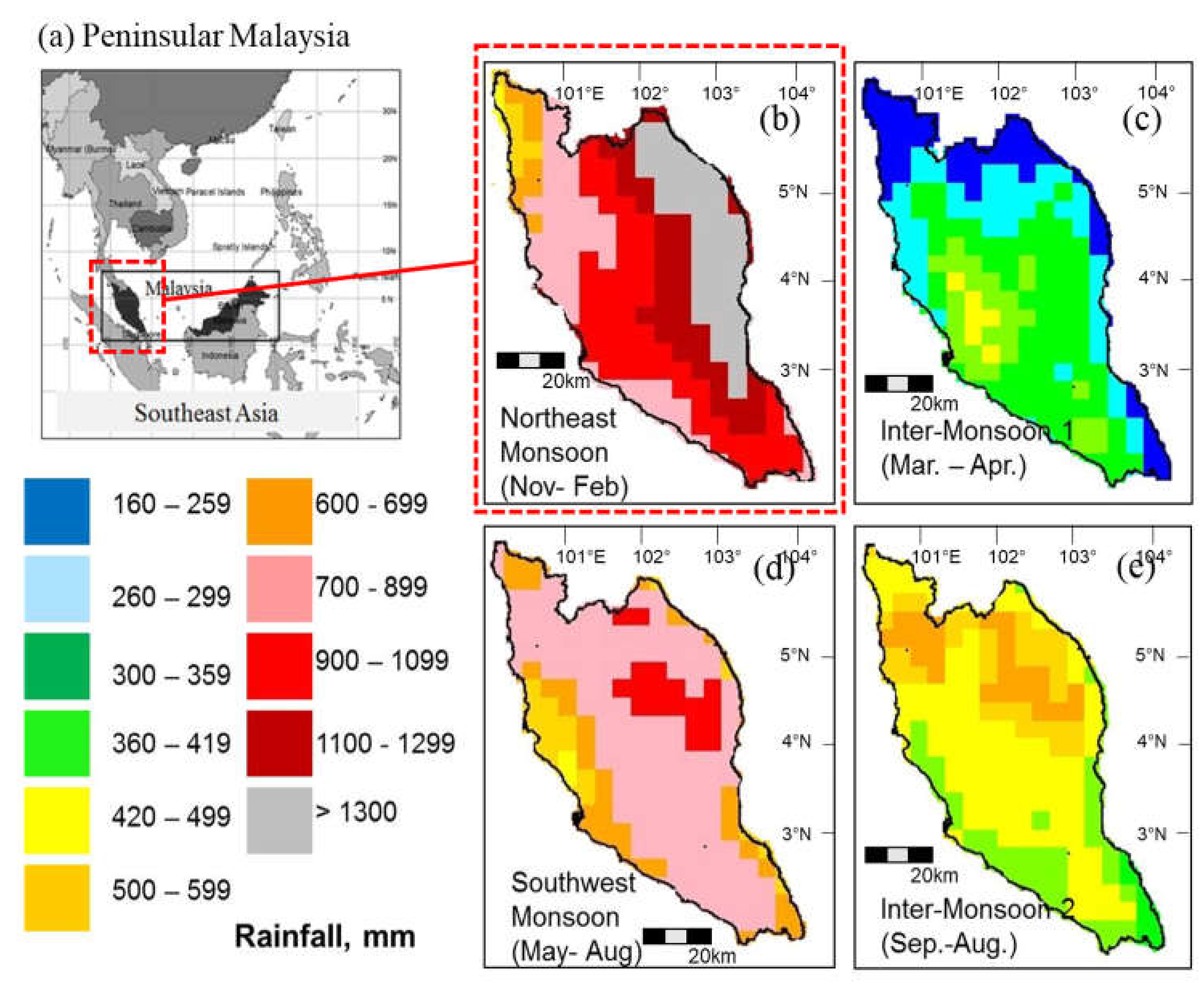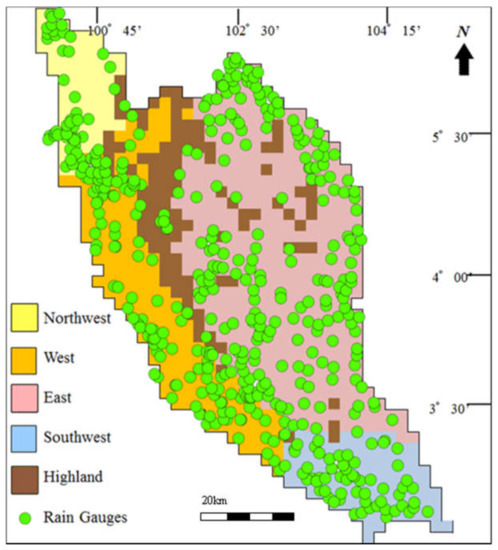 Figure 2. Rain gauge distribution in Peninsula Malaysia and rainfall zones (based on seasonal and intensity).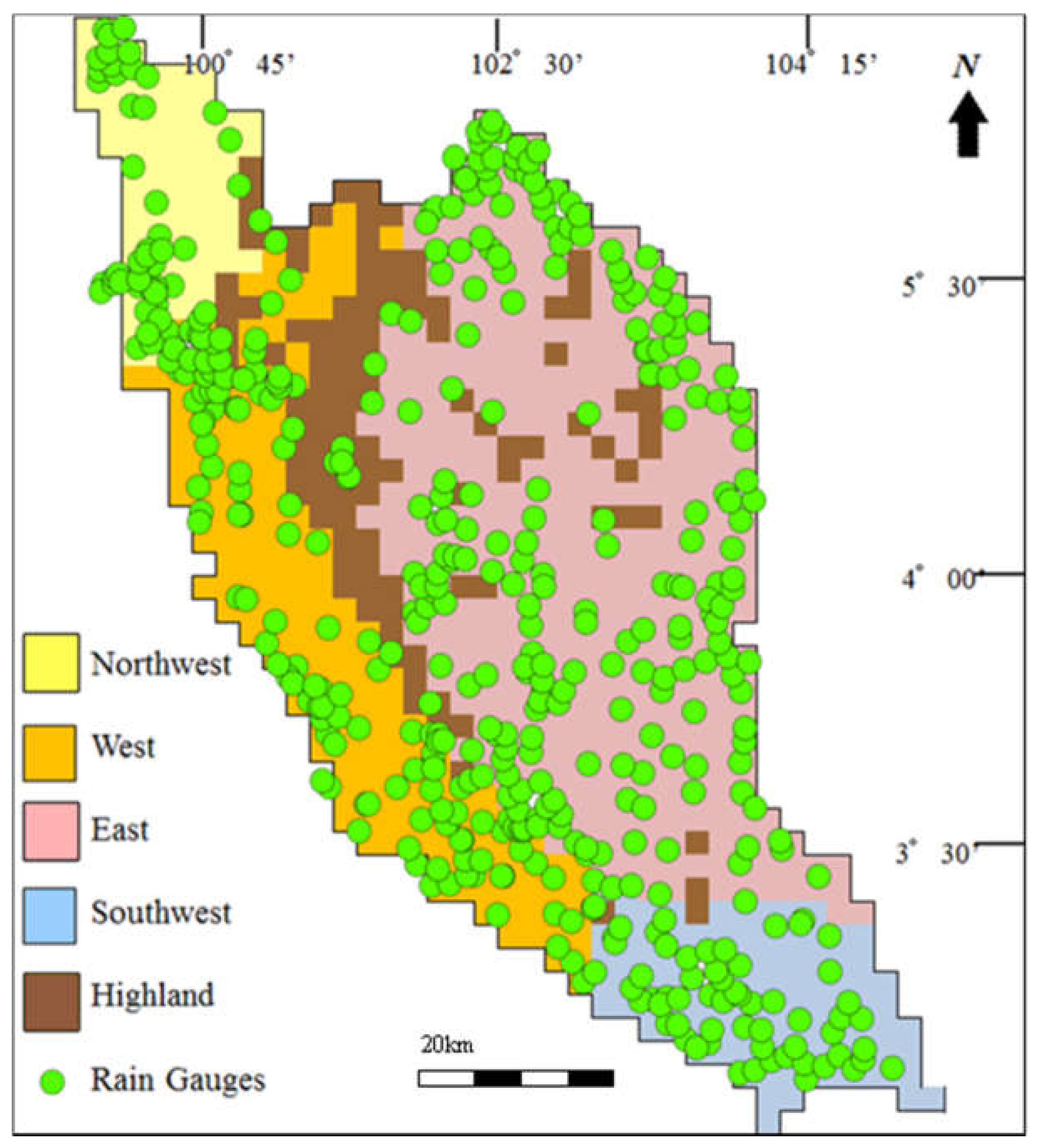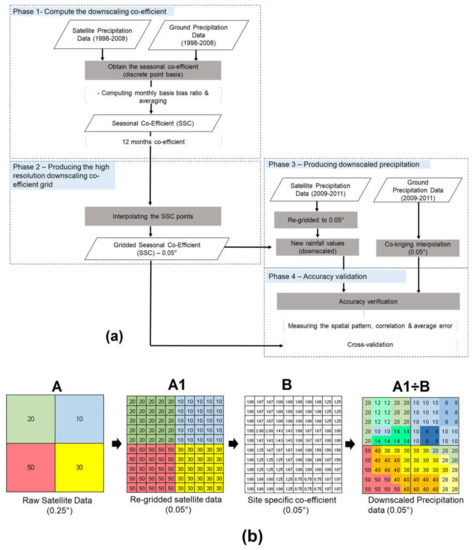 Figure 3. (a) Overall methodology. (b) Methodological flowchart of the spatial downscaling process—generating the high resolution precipitation data.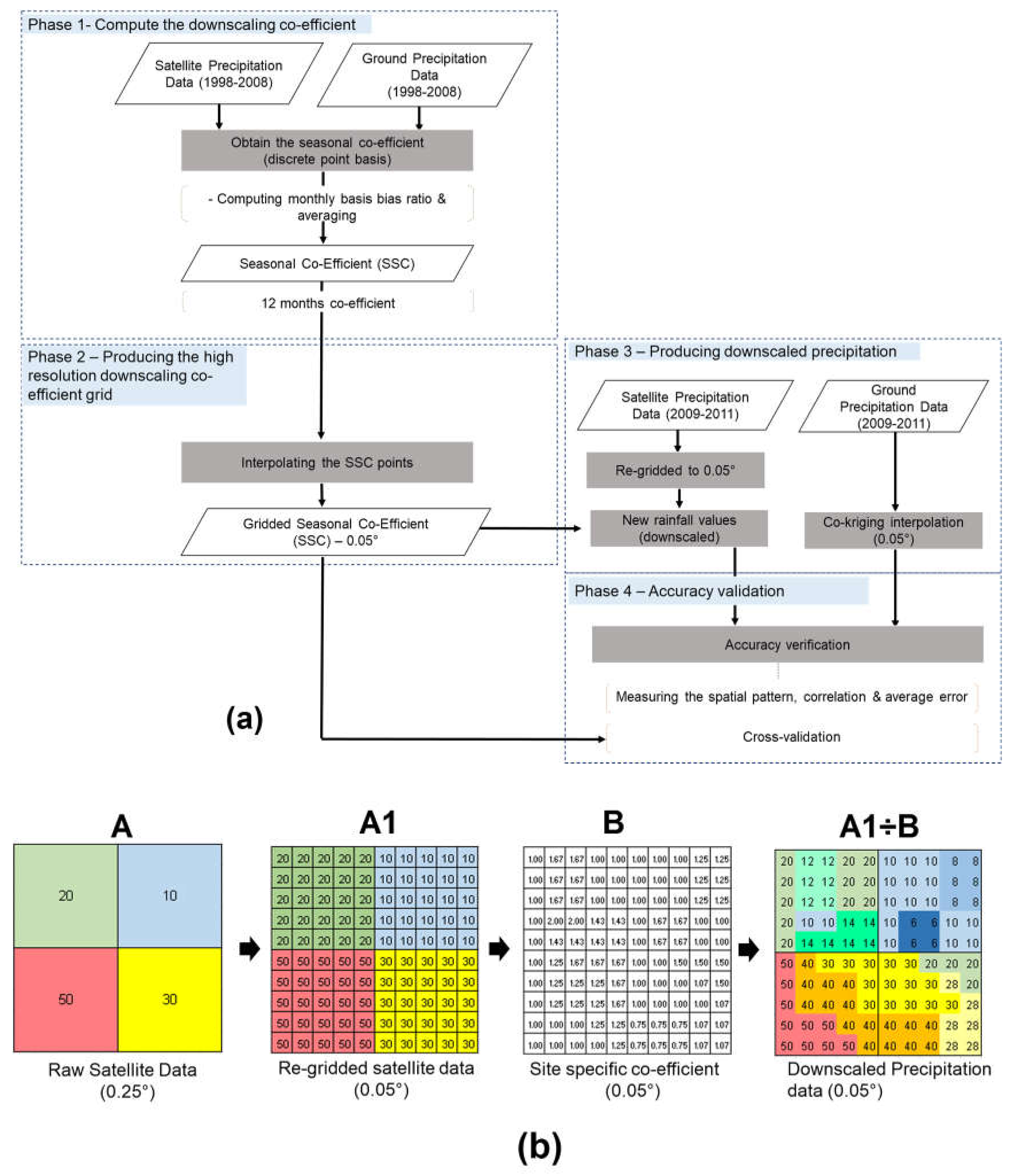 Figure 4. Time series between the ground areal rainfall, raw TRMM, and the SSC-downscale product from 2009–2011.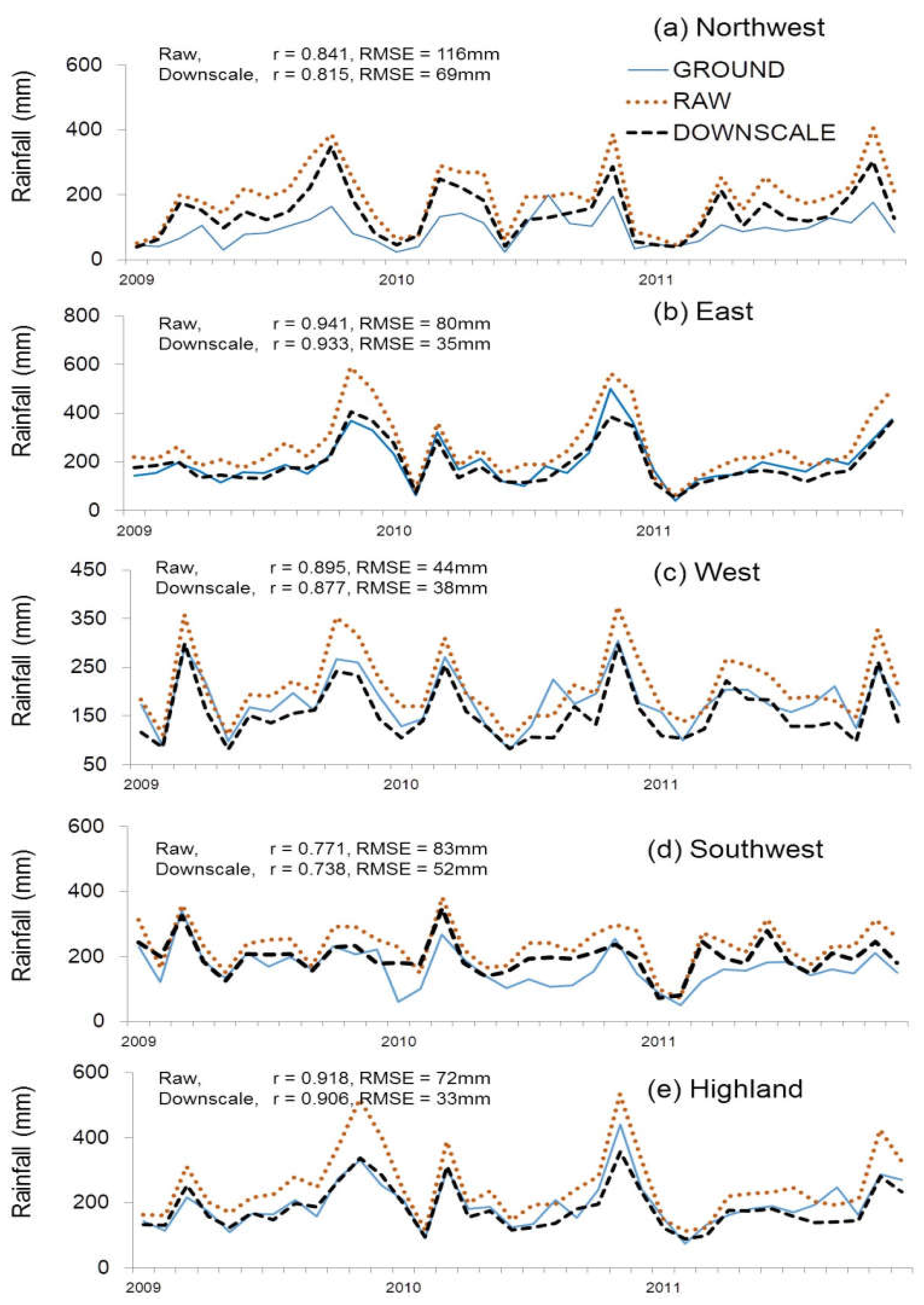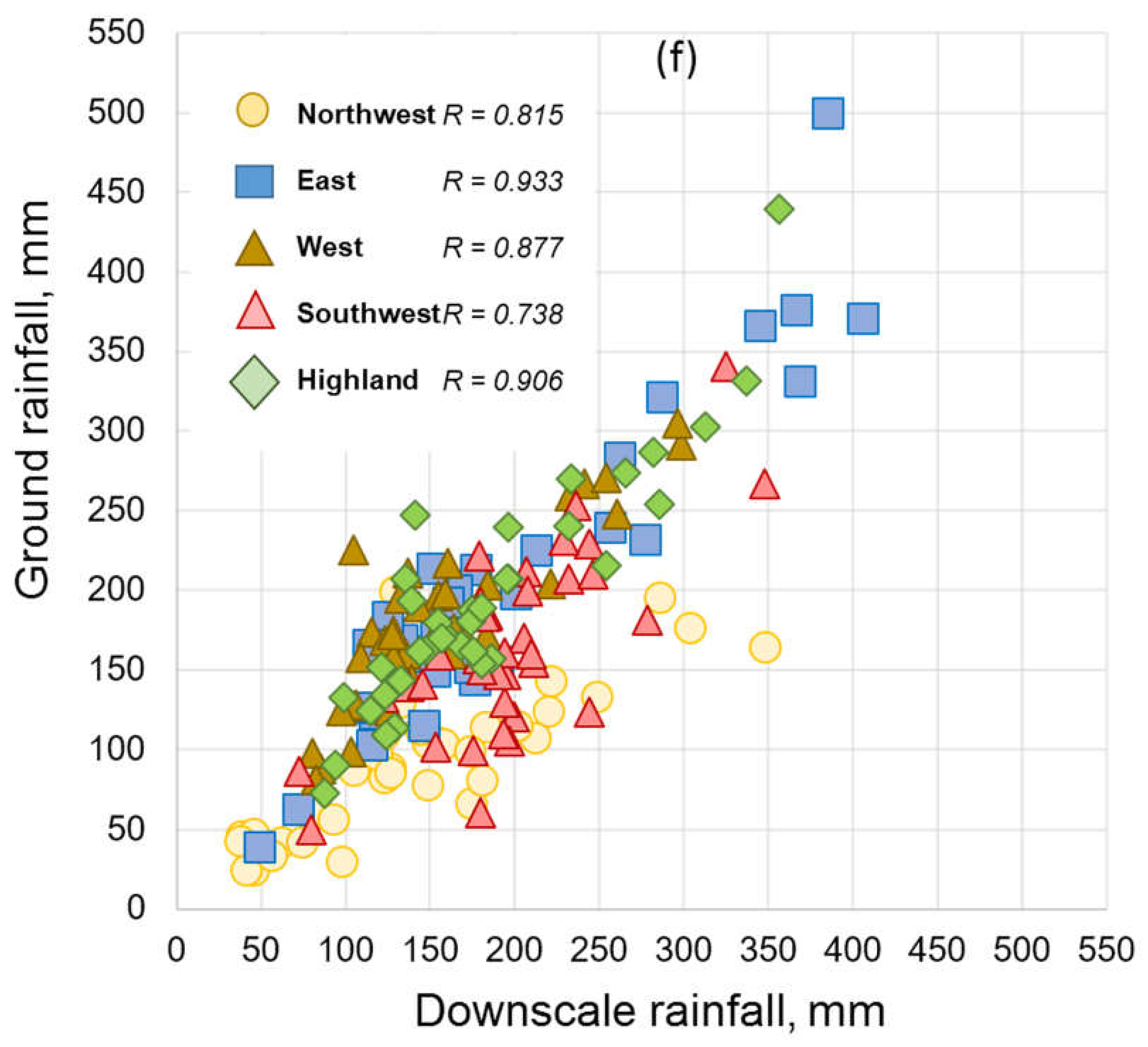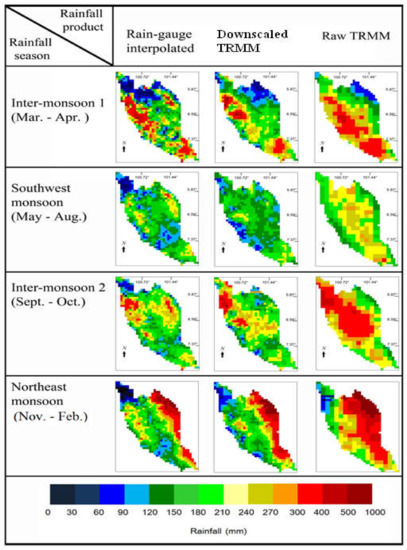 Figure 5. Seasonal rainfall maps of Peninsular Malaysia, from the interpolated rain gauge, site-specific coefficient-downscaled TRMM product, and raw TRMM product.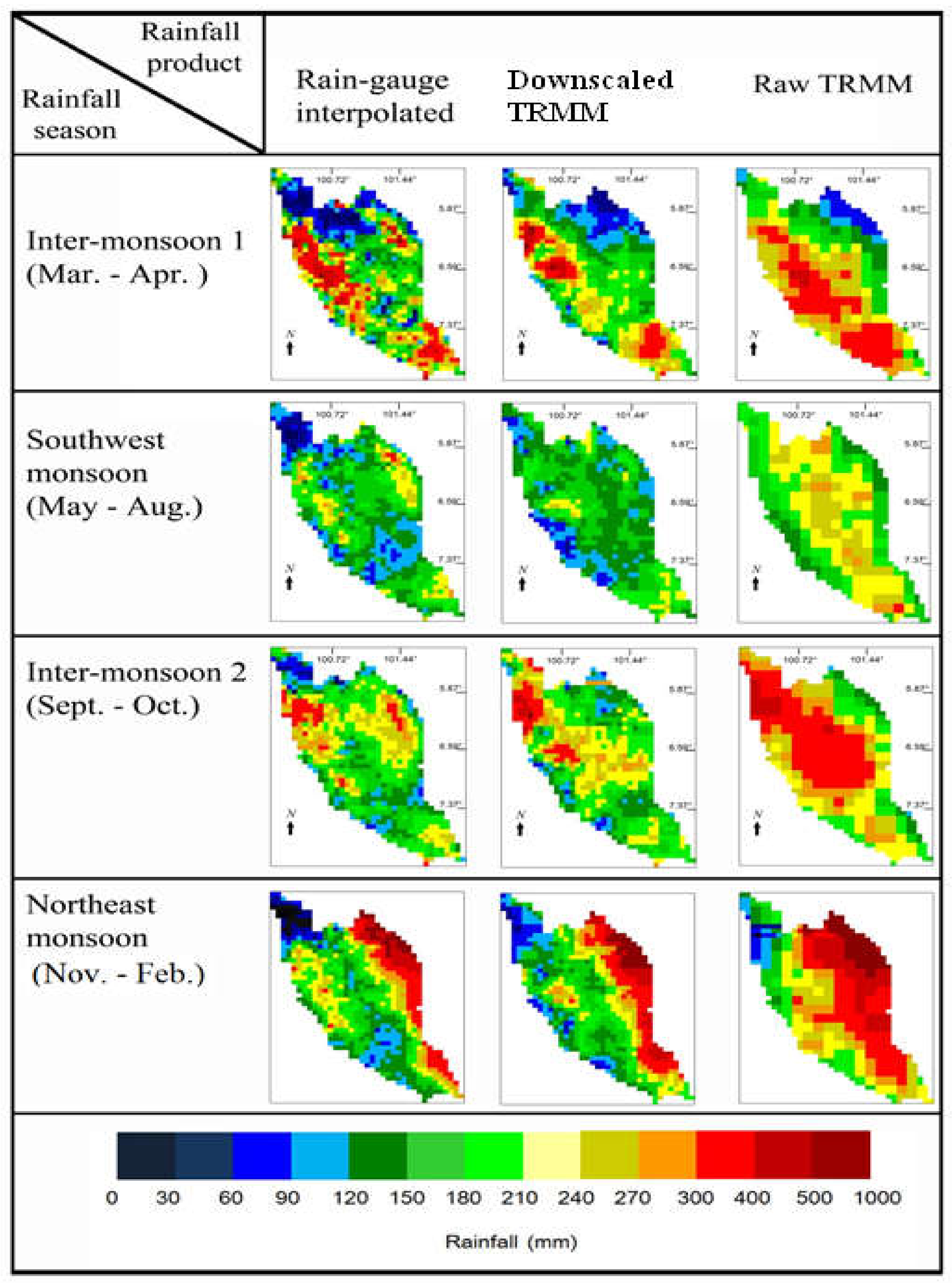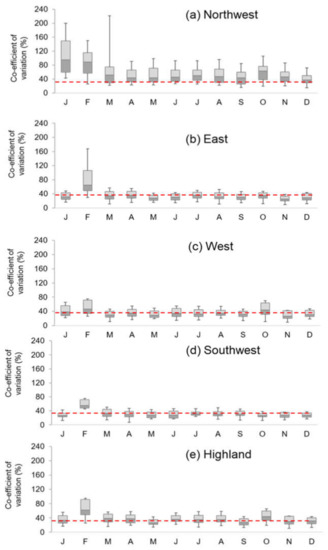 Figure 6. Coefficient of variance of the historical bias record, from the satellite and ground areal rainfall. The red line represents 35%, the threshold value for low variance.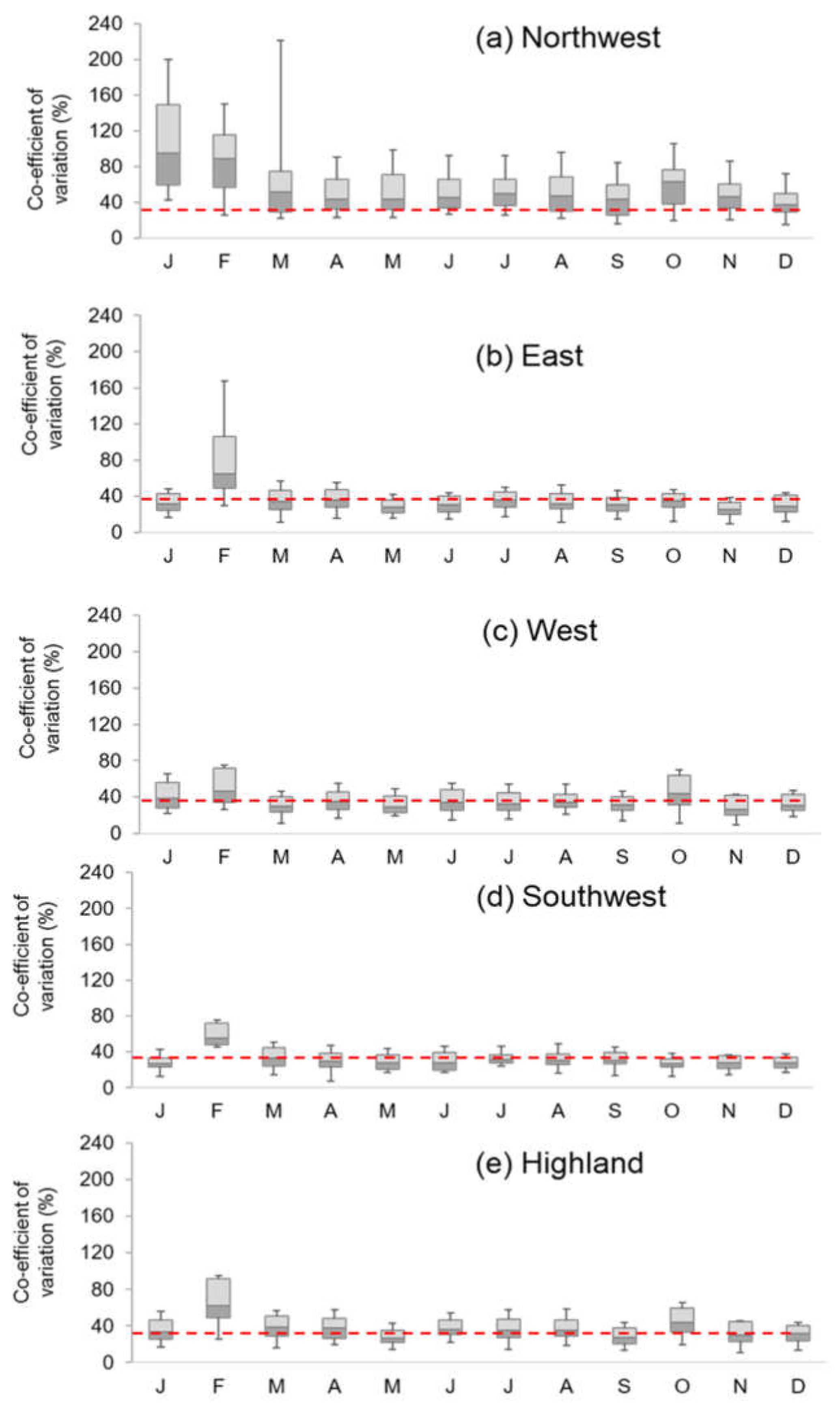 Table 1. Bias ratio comparison between raw Tropical Rainfall Measuring Mission (TRMM) data and site-specific coefficient (SSC)-downscaled product.
Region
2009
2010
2011
Average Bias Ratio Reduction Capacity (%)
Average SSC Ratio *
Raw
SSC
Raw
SSC
Raw
SSC
Northwest
3.14
2.01
3.59
1.52
2.70
1.30
94
1.6
East
2.70
1.70
1.60
1.03
1.34

0.86

49
1.2
West
1.28

0.83

1.39

0.85

1.35

0.84

53
0.8
Southwest
1.45
1.09
2.16
1.57
1.72
1.31
31
1.3
Highland
1.04

0.97

1.43

0.91

1.35

0.85

41
0.9
* 1.0 is perfect ratio, >1.0 is a satellite overestimate, <1.0 is a satellite underestimate. The numbers in italics represent underestimate cases.

Table 2. Spatial autocorrelation of Moran's I value (transformed into a Z-score) of the interpolated rain gauge data (reference), raw TRMM, and the downscaled TRMM data.
Monsoon Season
Rain Gauge-Interpolated (a)
SSC-Downscale TRMM (b)
Raw TRMM (c)
Differences (%)
(‖a − b‖/a) × 100
(‖a − c‖/a) × 100
NEM
36.75
35.35
37.22
3.8
1.3
IM1
33.80
33.49
36.14
0.9
6.9
SWM
33.81
33.50
31.44
0.9
7.0
IM2
34.73
33.49
30.74
3.6
11.5

Table 3. Comparison between the SSC-downscale product and other satellite precipitation products. N represents northwest, E is east, W is west, S is southwest, and H is highland.
Satellite Precipitation Products *
Grid Size (Deg.)
Ratio
N
E
W
S
H
TRMM V7—SSC
0.05
2.2
0.9
0.8
1.5
0.8
GsMAP
0.10
1.5
1.4
19.8
0.9
1.0
PERSIANN
0.25
15.0
1.8
43.5
1.9
1.4
CMORPH
0.25
10.6
1.8
20.5
2.0
1.3
CPC
0.50
21.0
1.9
23.7
1.4
0.8
GPCP
1.00
27.0
25.0
24.0
24.0
23.0
CMAP
2.50
15.0
1.8
43.5
1.9
1.4
* GsMAP: Global Satellite Mapping of Precipitation, PERSIANN: Precipitation Estimation from Remotely Sensed Information using Artificial Neural Networks, CMORPH: CPC Morphing Technique, CPC: Climate Prediction Centre Precipitation, GPCP: Global Precipitation Climatology Project, CMAP: CPC Merged Analysis of Precipitation.

Table 4. Cross-validation analysis of the interpolated data. This evaluates the effect of interpolation to the derived site-specific coefficient. Zero percentage means that the interpolation has no effect to the value of the coefficient.
Monsoon Season
Cross-Validation Metrics
MPE (%)
NEM (November–January)
5
IM1 (March–April)
3
SWM (May–August)
3
IM2 (September–October)
4
Average
4

Table 5. Ground areal rainfall (2009–2011). This result determines the effects of interpolation process to the ground areal rainfall, which was used in verifying the downscaled rainfall data from 2009–2011. Zero percentage of mean percentage error (MPE) means the interpolation process had no effect. RMSE is used in determining the quantitative effect of the interpolation in a standard unit (millimeters).
Monsoon Season
Cross-Validation Metrics
Average Ground Rainfall (mm)
RMSE (mm)
MPE (%)
NEM (November–January)
24
13
200
IM1 (March–April)
13
8
115
SWM (May–August)
11
9
118
IM2 (September–October)
21
10
176
Average
17
10
152

© 2018 by the authors. Licensee MDPI, Basel, Switzerland. This article is an open access article distributed under the terms and conditions of the Creative Commons Attribution (CC BY) license (http://creativecommons.org/licenses/by/4.0/).