Prospects for Improving Irrigated Agriculture in Southern Africa: Linking Water, Energy and Food
1
Centre for Transformative Agricultural and Food Systems, School of Agricultural, Earth and Environmental Sciences, University of KwaZulu-Natal, P/Bag X01, Scottsville, Pietermaritzburg 3209, South Africa
2
Water Research Commission, 4 Daventry Street, Lynnwood Manor, Pretoria 0081, South Africa
3
International Water Management Institute (IWMI-SA), 141 Cresswell St, Weavind Park, Silverton, Pretoria 0184, South Africa
4
School of Engineering, University of KwaZulu-Natal, P/Bag X01, Scottsville, Pietermaritzburg 3209, South Africa
*
Author to whom correspondence should be addressed.
Received: 14 November 2018 / Revised: 28 November 2018 / Accepted: 12 December 2018 / Published: 19 December 2018
Abstract
Increasing agricultural productivity has always been a prominent feature on the regional agenda due to a high incidence of food and nutrition insecurity. This review assessed the current status of irrigated agriculture in southern Africa from a water–energy–food (WEF) nexus perspective. Gaps and opportunities for improving irrigated agriculture within the context of the WEF nexus were also assessed in terms of the feasible limits to which they can be exploited. Southern Africa faces water scarcity, and climate projections show that member states will face increased physical and/or economic water scarcity by as early as 2025, which will have negative impacts on water, energy and food production. Recurrent droughts experienced across the region reaffirm the sensitive issues of food and energy insecurity as well as water scarcity. Projections of an increasing population within the region indicate increased water, energy and food demand. With agriculture already accounting for about 70% of water withdrawals, increasing the area under irrigation will place additional demand on already strained energy grids and scarce water resources. This poses the question—is increasing irrigated agriculture a solution to improving water access, food security and energy supply? While there are prospects for increasing the area under irrigation and subsequent improvement in agricultural productivity, adopting a WEF nexus approach in doing so would mitigate trade-offs and unintended consequences. Consideration of the WEF nexus in integrated resources planning and management eliminates the possibilities of transferring problems from one sector to other, as it manages synergies and trade-offs. While it is acknowledged that improving water productivity in irrigated agriculture could reduce water and energy use while increasing yield output, there is a need to decide how such savings would then be reallocated. Any intervention to increase the irrigated area should be done in the context of a WEF nexus analytical framework to guide policy and decision-making. Technical planning should evolve around the WEF nexus approach in setting targets, as WEF nexus indicators would reveal the performance and impact of proposed interventions on any of the three WEF nexus components.
View Full-Text
►

▼

Figures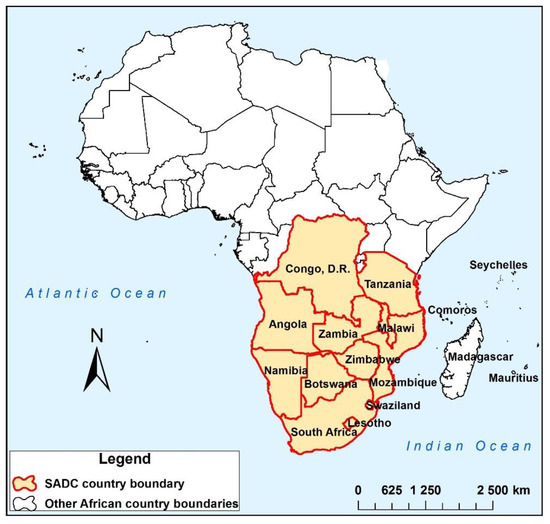 Figure 1
This is an open access article distributed under the
Creative Commons Attribution License
which permits unrestricted use, distribution, and reproduction in any medium, provided the original work is properly cited (CC BY 4.0).

Share & Cite This Article
MDPI and ACS Style
Mabhaudhi, T.; Mpandeli, S.; Nhamo, L.; Chimonyo, V.G.P.; Nhemachena, C.; Senzanje, A.; Naidoo, D.; Modi, A.T. Prospects for Improving Irrigated Agriculture in Southern Africa: Linking Water, Energy and Food. Water 2018, 10, 1881.
Note that from the first issue of 2016, MDPI journals use article numbers instead of page numbers. See further details here.
Related Articles
Comments
[Return to top]