The Influence of Karst Aquifer Mineralogy and Geochemistry on Groundwater Characteristics: West Bank, Palestine
1
Hydrogeology Department, Institute of Geology, Geophysics and Mineralogy, Ruhr University Bochum, Universitätsstr. 150, 44801 Bochum, Germany
2
Department of Geography, Birzeit University, P.O. Box 14, Ramallah, Palestine
*
Author to whom correspondence should be addressed.
Received: 31 October 2018 / Revised: 4 December 2018 / Accepted: 7 December 2018 / Published: 11 December 2018
Abstract
This work reports, for the first time, the mineralogical and geochemical characteristics of karst aquifers in the Central West Bank (CWB) catchment in Palestine. It provides an integrated study approach by correlating the geochemistry of the lithology and hydrochemical data of groundwater samples. Mineralogical analysis showed that all of the samples were dominantly composed of either calcite CaCO
3
(5–100 wt. %) or dolomite CaMg(CO
3
)
2
(4–100 wt. %), with minor amounts of quartz and feldspar, which is supported by the inorganic carbon content (9–13 wt. %) and hydrochemical composition of the spring water samples. The whole-rock geochemical data indicated that the samples have low contents of trace elements and transition metals. In contrast, the concentrations of alkaline earth elements (Mg, Ca, Sr, Ba) and Mn were high in the rock and groundwater samples. Generally, the trace elements of rock samples with concentrations >10 ppm included Sr (17–330 ppm), Mn (17–367 ppm), Ba (2–32 ppm), W (5–37 ppm), Cr (3–23 ppm), Zn (1.7–28 ppm), V (4–23 ppm), and Zr (1–22 ppm), while the concentrations of all the other trace elements was below 10 ppm. Ionic ratios and hierarchical cluster analysis (HCA) suggested that the chemical evolution of groundwater was mainly related to the geogenic (rock–water) interaction in the study area. This is clear in the alkaline earth elements (Mg, Ca, Sr, Ba) ratios, especially regarding the Sr values. The calcite rock samples had higher Sr (mean 160 ppm,
n
= 11) than those of the dolomite rocks (mean 76 ppm,
n
= 9).
View Full-Text
►

▼

Figures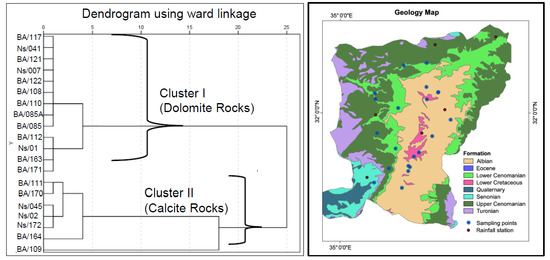 Graphical abstract
This is an open access article distributed under the
Creative Commons Attribution License
which permits unrestricted use, distribution, and reproduction in any medium, provided the original work is properly cited (CC BY 4.0).

Share & Cite This Article
MDPI and ACS Style
Jebreen, H.; Banning, A.; Wohnlich, S.; Niedermayr, A.; Ghanem, M.; Wisotzky, F. The Influence of Karst Aquifer Mineralogy and Geochemistry on Groundwater Characteristics: West Bank, Palestine. Water 2018, 10, 1829.
Note that from the first issue of 2016, MDPI journals use article numbers instead of page numbers. See further details here.
Related Articles
Comments
[Return to top]