Understanding the Burial and Migration Characteristics of Deep Geothermal Water Using Hydrogen, Oxygen, and Inorganic Carbon Isotopes
1
Institute of Resources & Environment, Henan Polytechnic University, Jiaozuo 454000, China
2
Collaborative Innovation Center of Coalbed Methane and Shale Gas for Central Plains Economic Region, Jiaozuo 454000, China
3
Institute of China PingMeiShenMa Group, Pingdingshan 467000, China
4
School of Surveying and Land Information Engineering, Henan Polytechnic University, Jiaozuo 454000, China
5
Office of Water Conservation in Kaifeng, Kaifeng 475002, China
*
Author to whom correspondence should be addressed.
Received: 28 October 2017 / Revised: 15 December 2017 / Accepted: 19 December 2017 / Published: 22 December 2017
Abstract
Geothermal water samples taken from deep aquifers within the city of Kaifeng at depths between 800 and 1650 m were analyzed for conventional water chemical compositions and stable isotopes. These results were then combined with the deuterium excess parameter (d value), and the contribution ratios of different carbon sources were calculated along with distributional characteristics and data on the migration and transformation of geothermal water. These results included the conventional water chemical group, hydrogen, and oxygen isotopes (δD-δ
18
O), dissolved inorganic carbon (DIC) and associated isotopes (δ
13
C
DIC
). The results of this study show that geothermal water in the city of Kaifeng is weakly alkaline, water chemistry mostly comprises a HCO
3
-Na type, and the range of variation of δD is between −76.12‰ and −70.48‰, (average: −74.25‰), while the range of variation of δ
18
O is between −11.08‰ and −9.41‰ (average: −10.15‰). Data show that values of d vary between 1.3‰ and 13.3‰ (average: 6.91‰), while DIC content is between 91.523 and 156.969 mg/L (average: 127.158 mg/L). The recorded range of δ
13
C
DIC
was between −10.160‰ and −6.386‰ (average: −9.019‰). The results presented in this study show that as depth increases, so do δD and δ
18
O, while d values decrease and DIC content and δ
13
C
DIC
gradually increase. Thus, δD, δ
18
O, d values, DIC, and δ
13
C
DIC
can all be used as proxies for the burial characteristics of geothermal water. Because data show that the changes in d values and DIC content are larger along the direction of geothermal water flow, so these proxies can be used to indicate migration. This study also shows demonstrates that the main source of DIC in geothermal water is CO
2
thathas a biological origin in soils, as well as the dissolution of carbonate minerals in surrounding rocks. Thus, as depth increases, the contribution of soil biogenic carbon sources to DIC decreases while the influence of carbonate dissolution on DIC increases.
View Full-Text
►

▼

Figures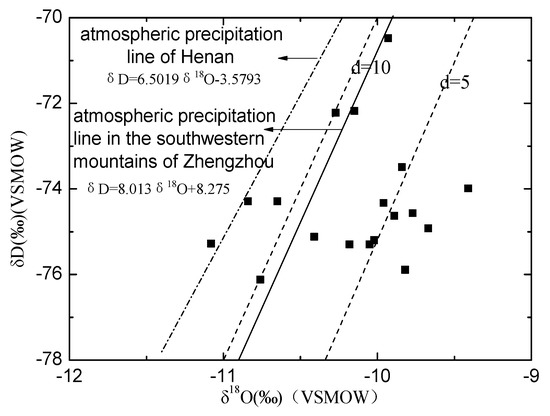 Figure 1
This is an open access article distributed under the
Creative Commons Attribution License
which permits unrestricted use, distribution, and reproduction in any medium, provided the original work is properly cited (CC BY 4.0).

Share & Cite This Article
MDPI and ACS Style
Wang, X.; Qiao, W.; Chen, J.; Liu, X.; Yang, F. Understanding the Burial and Migration Characteristics of Deep Geothermal Water Using Hydrogen, Oxygen, and Inorganic Carbon Isotopes. Water 2018, 10, 7.
Note that from the first issue of 2016, MDPI journals use article numbers instead of page numbers. See further details here.
Related Articles
Comments
[Return to top]