The Hot-Dry-Windy Index: A New Fire Weather Index
1
Department of Atmospheric & Hydrologic Sciences, St. Cloud State University, 720 4th Avenue South, St. Cloud, MN 56301, USA
2
Northern Research Station, U.S. Forest Service, 3101 Technology Blvd., Suite F, Lansing, MI 48910, USA
3
Pacific Northwest Research Station, U.S. Forest Service, 400 N 34th Street, Suite 201, Seattle, WA 98103, USA
4
Southern Research Station, U.S. Forest Service, 320 Green Street, Athens, GA 30602, USA
*
Author to whom correspondence should be addressed.
Received: 13 April 2018 / Revised: 6 July 2018 / Accepted: 16 July 2018 / Published: 19 July 2018
Abstract
Fire weather indices are commonly used by fire weather forecasters to predict when weather conditions will make a wildland fire difficult to manage. Complex interactions at multiple scales between fire, fuels, topography, and weather make these predictions extremely difficult. We define a new fire weather index called the Hot-Dry-Windy Index (HDW). HDW uses the basic science of how the atmosphere can affect a fire to define the meteorological variables that can be predicted at synoptic-and meso-alpha-scales that govern the potential for the atmosphere to affect a fire. The new index is formulated to account for meteorological conditions both at the Earth's surface and in a 500-m layer just above the surface. HDW is defined and then compared with the Haines Index (HI) for four historical fires. The Climate Forecast System Reanalysis (CFSR) is used to provide the meteorological data for calculating the indices. Our results indicate that HDW can identify days on which synoptic-and meso-alpha-scale weather processes can contribute to especially dangerous fire behavior. HDW is shown to perform better than the HI for each of the four historical fires. Additionally, since HDW is based on the meteorological variables that govern the potential for the atmosphere to affect a fire, it is possible to speculate on why HDW would be more or less effective based on the conditions that prevail in a given fire case. The HI, in contrast, does not have a physical basis, which makes speculation on why it works or does not work difficult because the mechanisms are not clear.
View Full-Text
►

▼

Figures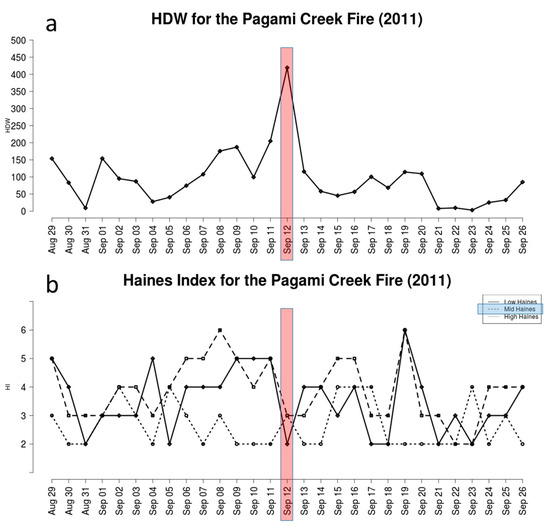 Figure 1
This is an open access article distributed under the
Creative Commons Attribution License
which permits unrestricted use, distribution, and reproduction in any medium, provided the original work is properly cited (CC BY 4.0).

Share & Cite This Article
MDPI and ACS Style
Srock, A.F.; Charney, J.J.; Potter, B.E.; Goodrick, S.L. The Hot-Dry-Windy Index: A New Fire Weather Index. Atmosphere 2018, 9, 279.
Note that from the first issue of 2016, MDPI journals use article numbers instead of page numbers. See further details here.
Related Articles
Comments
[Return to top]