Seasonal Variation of Aerosol Size Distribution Data at the Puy de Dôme Station with Emphasis on the Boundary Layer/Free Troposphere Segregation
1
Laboratoire de Météorologie Physique, UMR6016, Université Clermont Auvergne-CNRS, 4 avenue Blaise Pascal, 63178 Aubière, France
2
Laboratoire d'Optique Atmosphérique, UMR 8518, Université de Lille, 59000 Lille, France
3
Observatoire de Physique du Globe de Clermont Ferrand, UMS 833, Université Clermont Auvergne-CNRS, 4 avenue Blaise Pascal, 63178 Aubière, France
4
Unité de Recherche EGFEM, Faculté des Sciences, Université Saint Joseph, BP 17-5208-Mar Mikhaël, Beyrouth-1104 2020, Liban
*
Authors to whom correspondence should be addressed.
Received: 26 April 2018 / Revised: 20 June 2018 / Accepted: 22 June 2018 / Published: 26 June 2018
(This article belongs to the Section
Aerosols
)
Abstract
Aerosol particles are important due to their direct and indirect impacts on climate. Within the planetary boundary layer (BL), these particles have a relatively short lifetime due to their frequent removal process by wet deposition. When aerosols are transported into the free troposphere (FT), their atmospheric lifetime increases significantly, making them representative of large spatial areas. In this work, we use a combination of in situ measurements performed at the high altitude PUY (Puy de Dôme, 45°46′ N, 2°57′ E, 1465 m a.s.l) station, together with LIDAR profiles at Clermont-Ferrand for characterizing FT conditions, and further characterize the physical properties of aerosol in this poorly documented area of the atmosphere. First, a combination of four criteria was used to identify whether the PUY station lies within the FT or within the BL. Results show that the PUY station is located in BL with frequencies ranging from 50% during the winter, up to 97% during the summer. Then, the classification is applied to a year-long dataset (2015) of particle size distribution data to study the differences in particle physical characteristics (size distribution) and black carbon (BC) concentrations between the FT and the BL. Although BC, Aitken, and the accumulation mode particles concentrations were higher in the BL than in the FT in winter and autumn, they were measured to be higher in the FT compared to BL in spring. No significant difference between the BL and the FT concentrations was observed for the nucleation mode particles for all seasons, suggesting a continuous additional source of nucleation mode particles in the FT during winter and autumn. Coarse mode particle concentrations were found higher in the FT than in the BL for all seasons and especially during summer. This indicates an efficient long-range transport of large particles in the FT from distant sources (marine and desert) due to higher wind speeds in the FT compared to BL. For FT air masses, we used 204-h air mass back-trajectories combined with boundary layer height estimations from ECMWF ERA-Interim to assess the time they spent in the FT since their last contact with the BL and to evaluate the impact of this parameter on the aerosol properties. We observed that even after 75 h without any contact with the BL, FT aerosols preserve specific properties of their air mass type.
View Full-Text
►

▼

Figures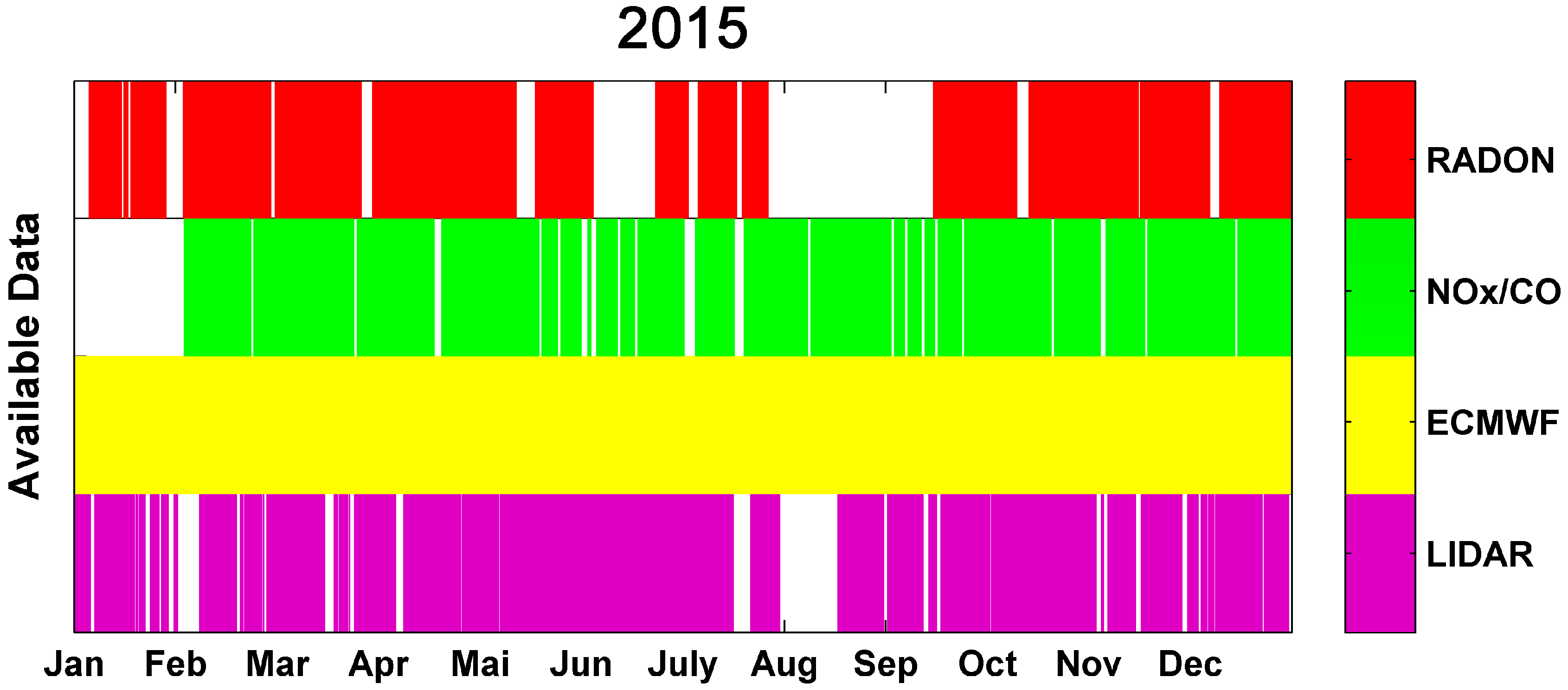 Figure 1
This is an open access article distributed under the
Creative Commons Attribution License
which permits unrestricted use, distribution, and reproduction in any medium, provided the original work is properly cited (CC BY 4.0).

Share & Cite This Article
MDPI and ACS Style
Farah, A.; Freney, E.; Chauvigné, A.; Baray, J.-L.; Rose, C.; Picard, D.; Colomb, A.; Hadad, D.; Abboud, M.; Farah, W.; Sellegri, K. Seasonal Variation of Aerosol Size Distribution Data at the Puy de Dôme Station with Emphasis on the Boundary Layer/Free Troposphere Segregation. Atmosphere 2018, 9, 244.
Note that from the first issue of 2016, MDPI journals use article numbers instead of page numbers. See further details here.
Related Articles
Comments
[Return to top]