Dust-Associated Airborne Microbes Affect Primary and Bacterial Production Rates, and Eukaryotes Diversity, in the Northern Red Sea: A Mesocosm Approach
1
Earth and Planetary Sciences, University of California, Santa Cruz, CA 95060, USA
2
Israel Oceanographic and Limnological Research, National Institute of Oceanography, 3108000 Haifa, Israel
3
The Interuniversity Institute for Marine Sciences of Eilat, POB 469, 88103 Eilat, Israel
4
Department of Ecology, Evolution and Behavior-Alexander Silberman Institute of Life Sciences, Hebrew University of Jerusalem, 91904 Jerusalem, Israel
5
Institute of Biophysics, CNR, 56124 Pisa, Italy
6
Institute of Marine Science, University of California, Santa Cruz, CA 95060, USA
*
Author to whom correspondence should be addressed.
Received: 17 June 2019 / Revised: 25 June 2019 / Accepted: 26 June 2019 / Published: 28 June 2019
Abstract
The northern Red Sea (NRS) is a low-nutrient, low-chlorophyll (LNLC) ecosystem with high rates of atmospheric deposition due to its proximity to arid regions. Impacts of atmospheric deposition on LNLC ecosystems have been attributed to the chemical constituents of dust, while overlooking bioaerosols. Understanding how these vast areas of the ocean will respond to future climate and anthropogenic change hinges on the response of microbial communities to these changes. We tested the impacts of bioaerosols on the surface water microbial diversity and the primary and bacterial production rates in the NRS, a system representative of other LNLC oceanic regions, using a mesocosm bioassay experiment. By treating NRS surface seawater with dust, which contained nutrients, metals, and viable organisms, and "UV-treated dust" (which contained only nutrients and metals), we were able to assess the impacts of bioaerosols on local natural microbial populations. Following amendments (20 and 44 h) the incubations treated with "live dust" showed different responses than those with UV-treated dust. After 44 h, primary production was suppressed (as much as 50%), and bacterial production increased (as much as 55%) in the live dust treatments relative to incubations amended with UV-treated dust or the control. The diversity of eukaryotes was lower in treatments with airborne microbes. These results suggest that the airborne microorganisms and viruses alter the surface microbial ecology of the NRS. These results may have implications for the carbon cycle in LNLC ecosystems, which are expanding and are especially important since dust storms are predicted to increase in the future due to desertification and expansion of arid regions.
View Full-Text
►

▼

Figures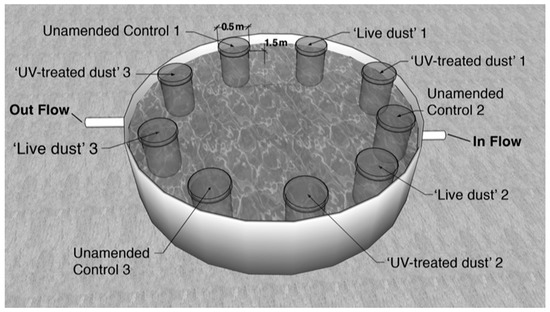 Figure 1
This is an open access article distributed under the
Creative Commons Attribution License
which permits unrestricted use, distribution, and reproduction in any medium, provided the original work is properly cited (CC BY 4.0).

Share & Cite This Article
MDPI and ACS Style
Mescioglu, E.; Rahav, E.; Frada, M.J.; Rosenfeld, S.; Raveh, O.; Galletti, Y.; Santinelli, C.; Herut, B.; Paytan, A. Dust-Associated Airborne Microbes Affect Primary and Bacterial Production Rates, and Eukaryotes Diversity, in the Northern Red Sea: A Mesocosm Approach. Atmosphere 2019, 10, 358.
Note that from the first issue of 2016, MDPI journals use article numbers instead of page numbers. See further details here.
Related Articles
Comments
[Return to top]