Open Access This article is
freely available
re-usable
Article
Source Apportionment of PM2.5 and of its Oxidative Potential in an Industrial Suburban Site in South Italy
1
Institute of Atmospheric Sciences and Climate, ISAC-CNR, Str. Prv. Lecce-Monteroni km 1.2, 73100 Lecce, Italy
2
Institute of Atmospheric Sciences and Climate, ISAC-CNR, Via Piero Gobetti, 101 40129 Bologna, Italy
3
Institute for the Dynamics of Environmental Processes, IDPA-CNR, Via Torino, 155-30172 Venezia Mestre, Italy
4
Department of Environmental Sciences, Informatics and Statistics, Ca' Foscari University of Venice, Via Torino 155, 30172, Venice, Italy
*
Author to whom correspondence should be addressed.
Received: 16 October 2019 / Accepted: 27 November 2019 / Published: 29 November 2019
Abstract
:
Some studies suggested a role of the atmospheric particulate matter (PM) and of its oxidative potential (OP) in determining adverse health effects. Several works have focused on characterisation of source contributions to PM OP, mainly using three approaches: correlation between OP and chemical markers of specific sources; use of OP as input variable in source apportionment with receptor models; and multi-linear regression (MLR) between OP and source contributions to PM obtained from receptor models. Up to now, comparison of results obtained with different approaches on the same dataset is scarce. This work aims to perform a OP study of PM2.5 collected in an industrial site, located near a biogas production and combustion plant (in southern Italy), comparing different approaches to investigate the contributions of the different sources to OP. The PM2.5 samples were analysed for determining ions, metals, carbonaceous components, and OP activity with the DTT (dithiotreitol) assay. Results showed that OP normalised in volume (DTTV) is correlated with carbonaceous components and some ions (NO3−, and Ca2+) indicating that PM of combustion, secondary, and crustal origin could contribute to the OP activity. The source apportionment, done with the Environmental Protection Agency (EPA)—Positive Matrix Factorization (PMF5.0) model, identified six sources: secondary sulphate; biomass burning; industrial emissions; crustal; vehicle traffic and secondary nitrate; and sea spray. A MLR analysis between the source's daily contributions and the daily DTTV values showed a reasonable agreement of the two approaches (PMF and MLR), identifying the biomass burning and the vehicle traffic and secondary nitrate as the main sources contributing to DTTV activity.
Keywords:
biogas plant; PM oxidative potential; source apportionment; positive matrix factorization; multi-linear regression
1. Introduction
Several studies worldwide have identified particulate matter (PM), and especially its fine fraction, as a critical parameter responsible for adverse health effects [
1
,
2
,
3
]. Although the toxic effects of PM have been correlated with some chemical and physical properties, the toxicity mechanisms are not yet fully known. Some studies [
1
,
4
,
5
] suggested that several adverse health effects could be due to the oxidative potential (OP) of particulate matter, which leads to high concentrations of reactive oxygen species (ROS), chemical species capable of causing damage at the cellular level. Particularly, these ROS trigger an oxidative stress response involving several proinflammatory cascades that ultimately result in pathology [
6
,
7
]. For this reason, in the international scientific community, the OP of atmospheric particulate has started to be considered as a general indicator of risks for human health due to atmospheric particulate matter [
8
]. Thus, several studies were focused to develop/apply biological and chemical assays to quantify the oxidative potential of atmospheric aerosol and cellular oxidative stress response [
9
] leading to a variety of cellular [
10
,
11
] and acellular methods to evaluate OP ([
12
] and references therein). Acellular assays are faster and less resource-demanding compared to cellular assays, allowing the collection of reasonably large data sets in different locations that could be used in statistical analyses [
12
]. One common acellular test is the dithiothreitol (DTT) assay, which analyses the rate of DTT depletion catalysed by chemical species present in the PM [
13
]. Particularly, DTT is a surrogate for the cellular oxidant, such as nicotinamide adenine dinucleotide (NADH) or nicotinamide adenine dinucleotide phosphate (NADPH), which reduces oxygen to the superoxide anion (O
2
−
). Overall, the rate of O
2
−
generation catalysed by PM is measured evaluating the rate at which DTT is consumed, depending on the concentration of redox-active species in PM.
This study is focused on the water soluble DTT activity of fine aerosol (PM
2.5
). The properties of water soluble urban aerosol are relevant for epidemiologists and policy makers [
14
,
15
,
16
,
17
]. Moreover, some researches established that the water-soluble DTT activity is linked to adverse health impacts of PM [
18
,
19
,
20
,
21
]. The water soluble OP is thought to involve compounds that, because of their solubility, can be readily absorbed and transported by the body and involved in acute oxidative stress episodes, such as those associated with respiratory and cardiovascular ailments [
8
].
Summarising the results from studies focused on the correlation of OP and chemical composition of PM, it is possible to conclude that components having a strong redox activity are: metals such as Fe, Cu, Mn, and V [
22
,
23
,
24
], water-soluble organic carbon (WSOC) [
16
,
25
,
26
,
27
,
28
], elemental carbon (EC) [
13
,
25
,
29
], organic carbon (OC) [
25
,
30
,
31
], and polycyclic aromatic hydrocarbons (PAH
S
) [
13
,
32
,
33
]. Instead, several other components, including secondary inorganic ions that may contribute significantly to PM mass concentrations, do not have strong correlation with OP [
34
].
During recent years, several studies [
12
,
34
,
35
,
36
,
37
,
38
] investigated the contribution of atmospheric sources of PM to OP suggesting that this could provide useful information to effectively reduce emissions from sources that release PM with greater potential toxicity. The main approaches used in the literature to estimate source contributions to OP are essentially three. The first is linear or multi-linear (MLR) regression between OP and concentrations of the different chemical species looking at tracers of specific sources [
27
,
39
,
40
,
41
,
42
]. This is essentially a qualitative approach that could give information regarding the sources influencing OP. The second is the quantitative analysis performed applying MLR to the outputs of receptor models regressing contributions of PM sources against measured OP values. Receptor models used are principal component analysis (PCA) [
21
,
43
,
44
], chemical mass balance (CMB) [
8
,
33
,
34
,
43
,
45
], and positive matrix factorization (PMF) [
35
,
46
,
47
]. In the third approach, the measured OP values are included as input in the PMF receptor model [
36
]. In some cases, results coming from application of different receptor models are compared [
34
,
36
,
43
], however, up to now no comparison has been done among results obtained by application of MLR and the use of OP values as input for the PMF model.
This work aims to perform a study of OP of the water-soluble fraction of PM2.5 collected at an industrial site located near a biogas plant in the background area of Sarno territory (Campania region, South of Italy) and to estimate the contribution of PM2.5 sources to the measured oxidative potential. Contributions to OP obtained with MLR applied to the outputs (contributions to PM2.5) of EPA-Positive Matrix Factorization (PMF5) receptor model will be compared to the contributions obtained directly using OP as input in the PMF5 run.
2. Experimental
2.1. Measurement Site Description and Sampling Campaign
The area investigated is located in the municipality of the town of Sarno (in Campania, southern Italy), about 1.5 km from the industrial area and 4–5 km from the town (
Figure 1
). The measurement site (coordinates 40°50′14′' N–14°34′49′' E) is located about 1.5 km from the access to the Caserta-Salerno motorway (A30) and at 100 m from the delimitation of a biogas production (from agricultural wastes) and combustion plant (electrical power of 999 kWe, thermal power of 1069 kWt). The plant covers an area of 12500 m
2
, and the cogeneration engine has a continuous operation of 24 h/day and discharges the flue gases through a chimney 10 m tall having an internal diameter of 27 cm.
The measurement campaign was performed between 30/01/2018 and 28/03/2018, using a low-volume (2.3 m
3
/h) sequential PM
2.5
sampler (Zambelli Explorer Plus) equipped with quartz fibre filters (Whatmann, diameter 47 mm). The filters were heated, before use, for 2 h at 700 °C in order to reduce carbon contamination [
48
]. After sampling they were storage refrigerated (at 4 °C) until the laboratory analysis.
2.2. Gravimetric and Chemical Analysis
The concentration of PM
2.5
on the sampled filters was evaluated with the gravimetric method using an analytical microbalance (Sartorious Cubis, ± 1 μg). The uncertainty in the evaluation of daily PM
2.5
concentrations was variable between 1 and 1.6 μg/m
3
with an average value of about 10% [
49
]. The daily PM
2.5
samples were chemically analysed in order to evaluate the concentrations of elemental carbon (EC), organic carbon (OC), of the main water-soluble ions, and of the main metals.
The EC and OC analyses were done with a Sunset carbon analyser (Sunset Laboratory Inc., OR, USA) operating with the EUSAAR2 protocol (thermo-optical method) [
50
] on single punch (1 cm
2
) obtained from ¼ of filter. The analyser was calibrated using standard sucrose solution (2.198 g/l of carbon in water, CPAchem Ltd., Stara Zagora, Bulgaria). Concentrations obtained from collected samples were corrected by subtracting the average levels measured in blank filters. The average uncertainty of the determination of OC was estimated at 5% while that for EC was 10% [
51
].
A quarter of filter was used to extract the water-soluble fraction of aerosol (30 min in an ultrasonic bath). Aliquots of the extracts were used for the determination of the major ions using two DIONEX ICS_2000 chromatographs: one dedicated to the analysis of cations and one to that of anions. Anions were separated using an IonPac AS11 2 mm × 250 mm column with KOH as an eluent in gradient mode. Cations were separated using an IonPac CS16 3 mm × 250 mm column using an MSA solution as eluent in gradient mode. The average concentrations obtained in collected samples were corrected using measurements done on blank filters.
Another aliquot of each extract was used for the analysis of the oxidative potential of the PM by using the dithiotreitol (DTT) assay [
13
,
52
]. The extracts were buffered with 0.5 mL of phosphate buffer 0.5 M at pH = 7.4 for the assay. Reagents used were: DTT 10 mM prepared in 0.5 M phosphate buffer stored at 0 °C, 10% trichloroacetic acid (TCA) prepared in Milliq, tris(hydroxymethyl)aminomethane (TRIS) 0.4 M buffer at pH 8.9 in ethylenediaminetetraacetic acid (EDTA) 20 mM, 5,5'-dithiobis (2-nitrobenzoic acid) (DTNB) 10 mM in 0.5 M phosphate buffer. The reaction was carried out in vials (obscured) in a bath at 37 °C. Aliquots were taken from the vials at regular intervals of 5 min and the absorbance was measured, after stopping the reaction, using a TIDAS E UV-vis spectrophotometer (J&M Analytik AG, Essingen, Germany). The consumption of DTT over time was determined through a linear fitting of the absorbance versus time. The depletion rate of DTT, opportunely corrected using results obtained in field blanks, was used to determine OP value as DTT-activity normalized in terms of sampled air volume (DTT
V
) or in terms of mass of collected aerosols (DTT
M
).
The analysis of metal content was carried out by mineralization of ¼ of each filter and successive analysis using an ICP-QMS (inductively coupled plasma-quadrupole mass spectrometry, ICP-QMS 7500I, Agilent Technologies, Santa Clara, CA, USA). Mineralization was done with a microwave (Ethos1-Milestone) and a mixture of ultrapure acids: 6mL of HNO3, 3 mL of H2O2, and 1mL of HF (Romil® UPA). The temperature program for microwave filter mineralization consists of a ramp during which the solutions are brought from room temperature to 190 °C in 25 min, and an isothermal during which the temperature of 190 °C is maintained for 15 min. The solutions obtained from microwave mineralization were then diluted to 50 mL with fully deionized ultrapure water (18 MΩ cm−1 resistivity) produced using the Purelab Ultra system (Elga, High Wycombe, UK). The ICP-MS was calibrated using the multi-elemental standard solution IMS-102 (10 µg/l, Ultrascientific, Santa Clara, CA, USA). The calibration curves had R2 = 0.999 for arsenic and R2 = 1 for all other elements. A standard reference material was used at known concentrations (NIST 1648a) to evaluate recoveries that ranged between 90% and 100%. The concentration of the elements was obtained subtracting that found in blanks. Concentrations lower or comparable with blanks or lower than the method detection limit (MDL) were replaced with MDL/2.
2.3. Source Apportionment Approach
The PM
2.5
chemical composition was used for source apportionment based on the positive matrix factorization (EPA-PMF5.0) receptor model that uses the Multilinear Engine (ME-2). This is widely used in scientific literature to evaluate the contribution of specific sources to atmospheric aerosol [
53
,
54
,
55
]. Concentrations and uncertainties from the chemical analysis were used directly as input to PMF. The input variables were classified using the signal-to-noise (S/N) criteria and also considering the percentage of data above the detection limit as a complementary criterion [
56
,
57
,
58
]. The species OC, EC, NH
4
+
, K
+
, DMA (dimethylamine), Mg
2+
, Ca
2+
, Cl
−
, NO
3
−
, Mn, and Ni were classified as strong variables; the species Na
+
, SO
4
2−
, Oxa, Al, Cr, Fe, Co, Zn, Pb, and Tl were classified as weak variables and, consequently, the model uses these variables with tripled uncertainties. The PM
2.5
was categorized as "total variable". The final dimension of the input matrix was [48 × 22] and it respects the limits defined by Henry et al. [
59
], where the minimum required number of samples in order to obtain a statistically stable factor analysis is:
where S is the number of species considered.
Two PMF5 runs were done, the first without using DTT
V
in the input dataset (this run is referred throughout the paper as "without DTT
V
") and the second including DTT
V
(in nmol/min·m
3
) and its uncertainty among the model input variables (this run is referred throughout the paper as "with DTT
V
"). In both cases, the uncertainties on the factor profiles and on source contributions were obtained using the bootstrap method [
60
].
After the PMF study, a MLR analysis was also performed. The multi-linear regression analysis has been performed between the daily contributions of the sources identified by the PMF (using the dataset without DTTV) and the daily measured DTTV values (as the dependent variable), in order to have an independent estimate of the source contributions to OP. The MLR has been performed using the XLSTAT tool and imposing the intercept equal to zero.
3. Results and Discussion
4. Conclusions
A study of the contribution of PM2.5 sources to the OP evaluated using the DTT assay in an industrial site located near a biogas production and combustion plant is reported. Two approaches are used and compared: the first is to include DTTV in the input of the receptor model EPA PMF5 and the second is to use a multi-linear regression (MLR) for estimating the source contributions to OP. The main conclusions of this study are summarized as follows:
During the measurement period the average concentration of PM2.5 was 16.3 µg/m3. The carbonaceous material represents 33.8%; water-soluble ions represent a total of 32.4%, and the analysed metals represent about 8.8% of PM2.5.

The correlations between some of the chemical species investigated indicate possible contributions to the PM2.5 concentrations from biomass burning; marine aerosol; crustal and industrial sources.

The DTTV and DTTM levels detected at Sarno are comparable or slightly lower than the levels observed for PM2.5 in other Italian, European, and USA cities.

The DTTV showed a good correlation with carbonaceous components as possible origin of the source combustion processes. Other correlations were observed with NO3−, Ca2+, and, to a lower extent NH4+, K+, and Pb.

The PMF5 model identified six sources contributing to PM2.5: biomass burning, 32.8 ± 1.4%; secondary sulphate, 19.7 ± 2.4%; vehicle traffic and secondary nitrate, 17.0 ± 3.9%; crustal, 14.7 ± 2.1%; sea spray, 12.9 ± 2.3%; and industrial (primary) emissions, 5.4 ± 2.3%. Introducing the DTTV as input variable does not change significantly these results.

Contributions of sources to DTTV were estimated using two independent approaches: a MLR analysis performed between measured DTTV and output of the PMF; a PMF run including DTTV in the input variables. The two approaches gave a similar trend with negligible contribution of sulphate and larger contributions of combustion sources: biomass burning and road traffic. Major differences were observed for crustal and marine sources that are larger using MLR.

Comparison of daily DTTV reconstruction with the two approaches shows a better agreement with a lower scattering in the data with the PMF "with DTTV" approach compared to MLR.

In general, the contributions to DTTV and PM2.5 are not correlated for all sources: The industrial factor has the smallest contribution to PM2.5 but shows a contribution to DTTV that is greater than that of secondary sulphate which has a larger contribution to PM2.5 and a negligible contribution to DTTV.
These results provide further evidences that combustion sources (biomass burning and traffic emissions) are the major contributors to the OPDTT activity of PM. At the site analysed, the PMF seems to show a good ability, even better than using external MLR approach, in investigating the contribution of the PM sources on the OP activity, despite the differences in the units of measurement of the variables considered (OP activity and chemical species); however, further investigations are needed in different conditions to confirm this result.
Author Contributions
Conceptualization, D.C. (Daniele Contini), and F.B.; methodology, D.C. (Daniela Cesari), P.D.N., S.D., and A.G.; data collection, D.C. (Daniela Cesari), F.M.G., and E.M.; chemical analysis E.M., F.M., F.V., and M.R.; writing—original draft preparation, D.C. (Daniela Cesari); writing—review and editing, all authors.
Funding
The authors gratefully acknowledge that this research was funded by the Sarno Municipality, grant number 4614.
Acknowledgments
Authors wish to thank Mr. Antonio Sorrentino for hosting our instruments in his property.
Conflicts of Interest
The authors declare no conflict of interest.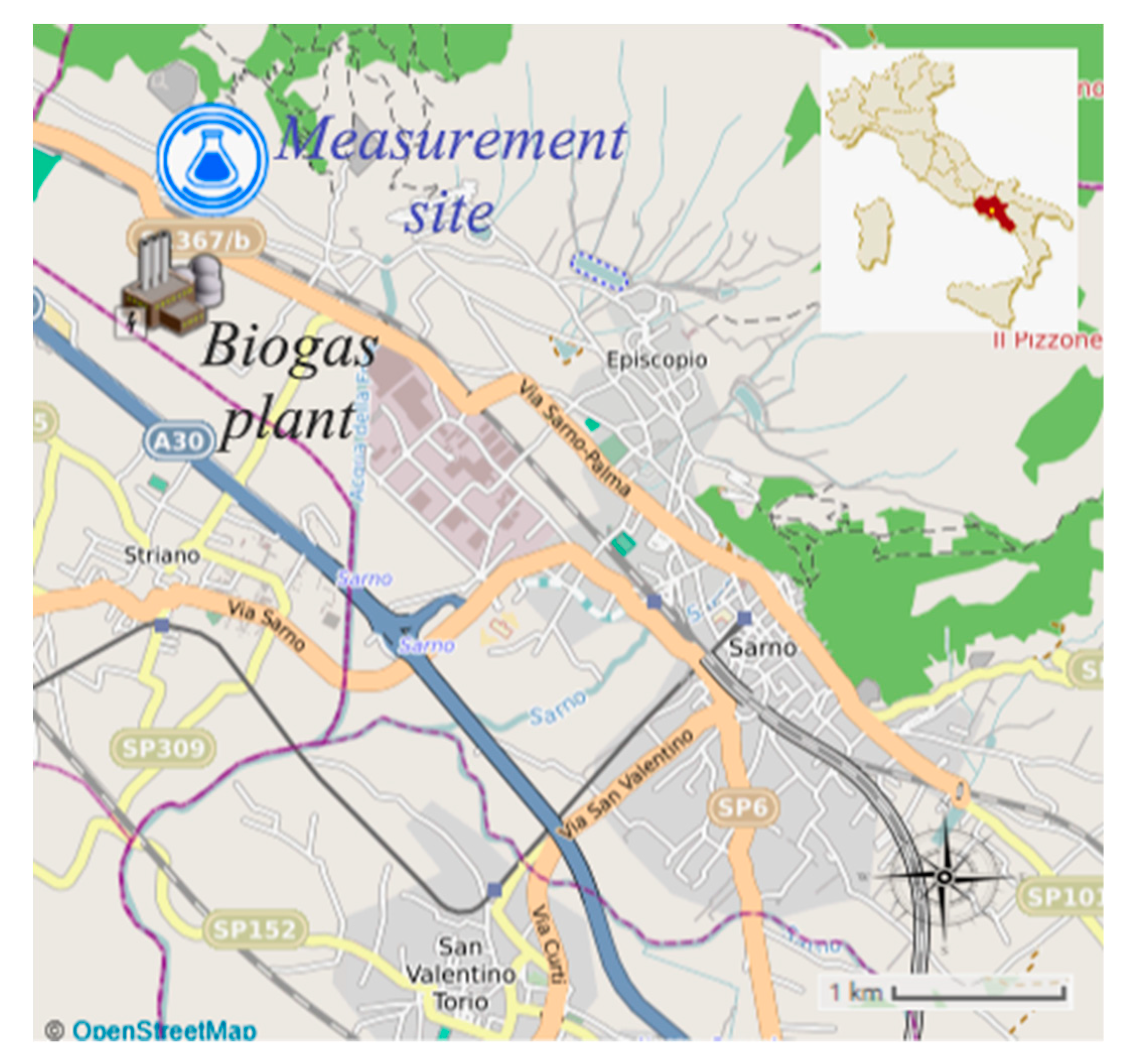 Figure 2. (a) Comparison of the daily sum of the NH4+ and Ca2+ concentrations and the sum of NO3− and SO42− in PM2.5. (b) Comparison daily concentrations of OC and K+ in PM2.5.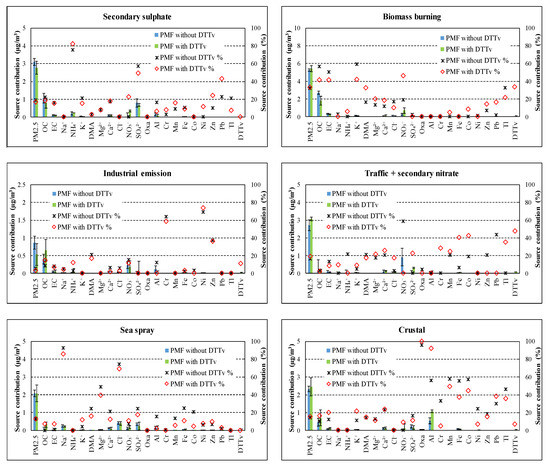 Figure 3. Comparison of source chemical profiles obtained by datasets "with DTTV" and "without DTTV".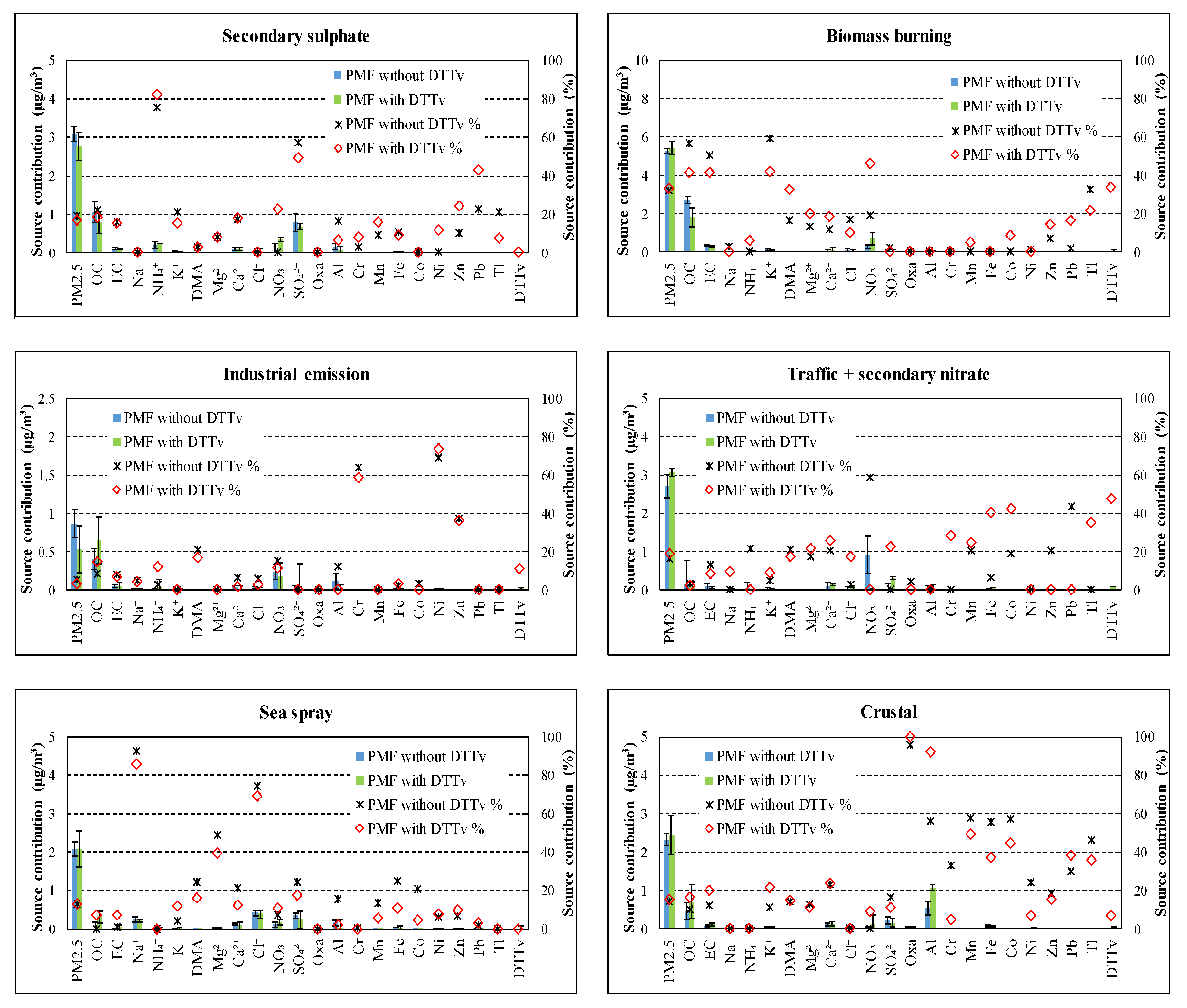 Figure 4. Comparison of source contributions obtained by datasets "with DTTV" and "without DTTV" in absolute (a) and relative (b) terms.


Figure 5. (a) PMF reconstructed vs. measured oxidative potential (OP) of fine aerosol; (b) MLR reconstructed vs. measured OP of fine aerosol; (c) PMF reconstructed OP vs. MLR reconstructed OP.


Figure 6. Comparison of source contributions to DTTV obtained using the two approaches, PMF with DTTV and MLR in absolute (a) and relative (b) terms.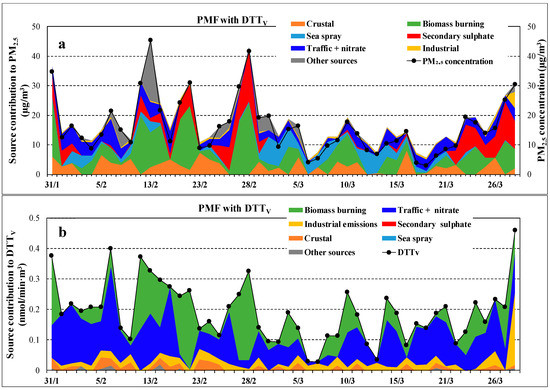 Figure 7. Time series of source contributions to PM2.5 (a) and to DTTV (b) activity obtained by PMF "with DTTV" approach. The figure includes measured PM2.5 concentrations (black marks).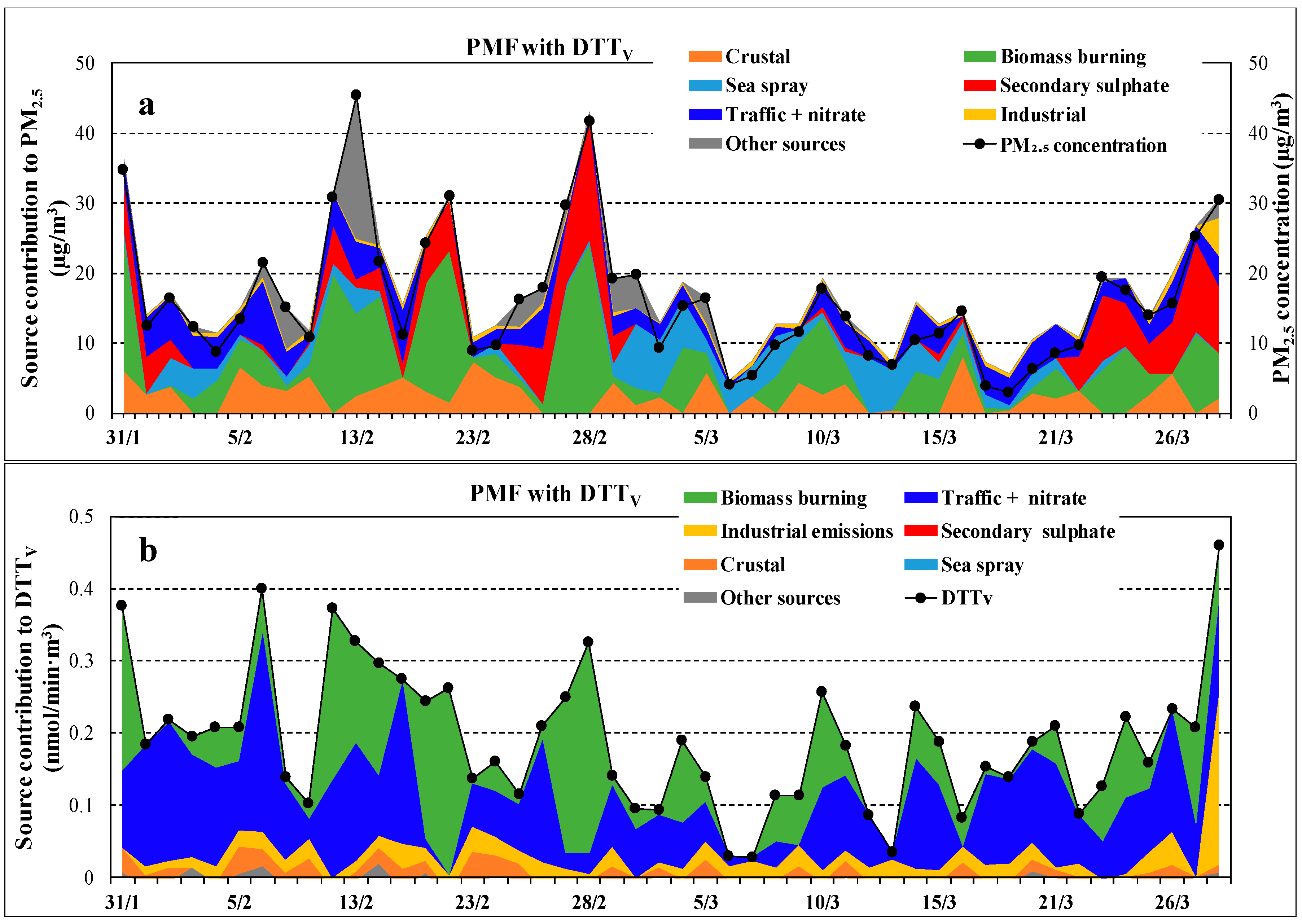 Table 1. Average and median concentrations of particulate matter (PM)2.5 and chemical species detected together with inter-quartile ranges and standard deviations.
Species
Average St. Dev. (µg/m3)
Median Range 25–75th (µg/m3)
Species
Average St. Dev. (ng/m3)
Median Range 25–75th (ng/m3)
PM2.5
16.26
1.14
Al
1036.9
727.15
9.53
9.69–19.43
838.6
412.82–1289.01
OC
4.79
3.60
Cr
3.37
1.83
3.74
2.69–5.70
4.63
0.80–3.20
EC
0.70
0.53
Mn
4.33
3.02
0.51
0.39–0.84
3.83
0.80–3.20
Na+
0.28
0.14
Fe
324.0
113.74
0.32
0.06–0.39
759.1
55.45–235.85
NH4+
0.29
0.10
Co
0.17
0.09
0.38
0.01–0.48
0.16
0.07–0.29
K+
0.23
0.19
Ni
19.57
15.90
0.20
0.12–0.29
21.57
13.42–20.56
DMA
0.003
0.001
Zn
26.0
18.02
0.007
0.0005–0.002
25.6
9.76–33.97
Mg2+
0.07
0.07
Pb
4.59
3.48
0.02
0.05–0.08
3.72
1.88–6.63
Ca2+
0.57
0.57
Tl
0.05
0.02
0.20
0.46–0.69
0.07
0.01–0.07
NO3−
1.56
1.14
Cl-
560.0
410.0
1.22
0.79–1.91
420.0
270.0–640.0
SO42−
1.48
1.17
Oxa
64.9
53.7
0.95
0.69–2.13
62.2
0.05–101.7

Table 2. Comparison between dithiothreitol (DTT)V and DTTM measured in PM2.5 collected in this work and in other sites of Italy, Europe, and USA.
Location Site
Site
DTTV (nmol/min·m3)
DTTM (pmol/min·µg)
Sarno, IT
current study
Urban background
0.19 (±0.10)
11.67 (±8.43)
Lecce (ECO), IT [30]
Urban background
0.40 (±0.26)
14.5 (±7.6)
Bologna, IT [66]
Urban
Range: 0.3–1.7
-
Athens, GR [21]
Urban background
0.33 (±0.20)
27.9 (±14.4)
Netherlands [67]
Urban background
1.4
Range: 30–80
Farm
2.7
-
Traffic
1.7
-
Traffic
3.3
-
Atlanta, GA [37]
Near road
0.23
24.9
Urban
0.33
37.6
Traffic
0.32
33.2
Rural
0.28
36.1
Los Angeles, CA [41]
Urban
0.62 (±0.21)
7.3 (±1.6)
San Joaquin Valley, CA [23]
Rural
-
23
Fresno, CA [68]
Urban
-
39
Rome [69]
Urban and urban background
0.23
(0.11–0.34)
-

Table 3. Multi-linear regression (MLR) analysis results and parameters indicating the goodness of the fit produced by the model for each source.
Source
Β Coefficients
Standard Error

p

-value
Lower 95%
Upper 95%
Biomass burning
0.008
0.002
<0.0001
0.005
0.012
Industrial emission
0.037
0.008
<0.0001
0.022
0.053
Crustal
0.017
0.004
<0.0001
0.009
0.025
Traffic and secondary nitrate
0.017
0.003
<0.0001
0.010
0.024
Sea spray
0.010
0.004
0.014
0.002
0.019

© 2019 by the authors. Licensee MDPI, Basel, Switzerland. This article is an open access article distributed under the terms and conditions of the Creative Commons Attribution (CC BY) license (http://creativecommons.org/licenses/by/4.0/).