Investigation of Precise Molecular Mechanistic Action of Tobacco-Associated Carcinogen 'NNK' Induced Carcinogenesis: A System Biology Approach
1
Department of Biosciences, Himalayan Institute of Medical Sciences, Swami Rama Himalayan University, Dehradun 248016, India
2
School of Biotechnology, Gautam Buddha University, Greater Noida 201310, India
3
Department of Biotechnology, TERI School of Advanced Studies, 10, Institutional Area, Vasant Kunj, New Delhi 110070, India
4
Research and PhD Cell, Swami Rama Himalayan University, Dehradun 248016, India
5
Department of Radiotherapy, Cancer Research Institute, Himalayan Institute of Medical Sciences, Swami Rama Himalayan University, Dehradun 248016, India
6
Research and Scientific Studies Unit, College of Nursing and Allied Health Sciences, Jazan University, Jazan 45142, Saudi Arabia
7
Department of EMS, College of Applied Medical Sciences, Jazan University, Jazan 45142, Saudi Arabia
8
Amity Institute of Molecular Medicine & Stem Cell Research, Amity University, Noida, Uttar Pradesh 201303, India
9
Department of Applied Physics, Aalto University, 00076 Espoo, Finland
*
Author to whom correspondence should be addressed.
Received: 14 June 2019 / Revised: 22 July 2019 / Accepted: 24 July 2019 / Published: 26 July 2019
Abstract
Cancer is the second deadliest disease listed by the WHO. One of the major causes of cancer disease is tobacco and consumption possibly due to its main component, 4-(methylnitrosamino)-1-(3-pyridyl)-1-butanone (NNK). A plethora of studies have been conducted in the past aiming to decipher the association of NNK with other diseases. However, it is strongly linked with cancer development. Despite these studies, a clear molecular mechanism and the impact of NNK on various system-level networks is not known. In the present study, system biology tools were employed to understand the key regulatory mechanisms and the perturbations that will happen in the cellular processes due to NNK. To investigate the system level influence of the carcinogen, NNK rewired protein–protein interaction network (PPIN) was generated from 544 reported proteins drawn out from 1317 articles retrieved from PubMed. The noise was removed from PPIN by the method of modulation. Gene ontology (GO) enrichment was performed on the seed proteins extracted from various modules to find the most affected pathways by the genes/proteins. For the modulation, Molecular COmplex DEtection (MCODE) was used to generate 19 modules containing 115 seed proteins. Further, scrutiny of the targeted biomolecules was done by the graph theory and molecular docking. GO enrichment analysis revealed that mostly cell cycle regulatory proteins were affected by NNK.
View Full-Text
►

▼

Figures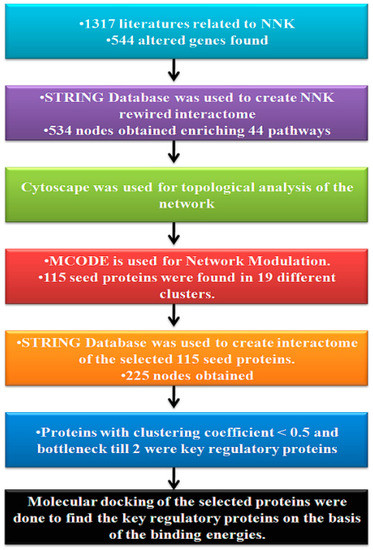 Figure 1
This is an open access article distributed under the
Creative Commons Attribution License
which permits unrestricted use, distribution, and reproduction in any medium, provided the original work is properly cited (CC BY 4.0).

Share & Cite This Article
MDPI and ACS Style
Anukriti; Dhasmana, A.; Uniyal, S.; Somvanshi, P.; Bhardwaj, U.; Gupta, M.; Haque, S.; Lohani, M.; Kumar, D.; Ruokolainen, J.; Kesari, K.K. Investigation of Precise Molecular Mechanistic Action of Tobacco-Associated Carcinogen 'NNK' Induced Carcinogenesis: A System Biology Approach. Genes 2019, 10, 564.
Note that from the first issue of 2016, MDPI journals use article numbers instead of page numbers. See further details here.
Related Articles
Comments
[Return to top]