Sperm Proteome Analysis and Identification of Fertility-Associated Biomarkers in Unexplained Male Infertility
1
American Center for Reproductive Medicine, Cleveland Clinic, Cleveland, OH 44195, USA
2
Center of Excellence in Genomic Medicine Research, King Abdulaziz University, Jeddah 21589, Saudi Arabia
3
Department of Medical Laboratory Technology, Faculty of Applied Medical Sciences, King Abdulaziz University, Jeddah 21589, Saudi Arabia
4
South African National Bioinformatics Institute (SANBI), SA Medical Research Council Bioinformatics Unit, University of the Western Cape, Private Bag X17, Bellville, Cape Town 7535, South Africa
*
Author to whom correspondence should be addressed.
Received: 25 April 2019 / Revised: 2 July 2019 / Accepted: 8 July 2019 / Published: 11 July 2019
Abstract
Up to 30% of men with normal semen parameters suffer from infertility and the reason for this is unknown. Altered expression of sperm proteins may be a major cause of infertility in these men. Proteomic profiling was performed on pooled semen samples from eight normozoospermic fertile men and nine normozoospermic infertile men using LC-MS/MS. Furthermore, key differentially expressed proteins (DEPs) related to the fertilization process were selected for validation using Western blotting. A total of 1139 and 1095 proteins were identified in normozoospermic fertile and infertile men, respectively. Of these, 162 proteins were identified as DEPs. The canonical pathway related to free radical scavenging was enriched with upregulated DEPs in normozoospermic infertile men. The proteins associated with reproductive system development and function, and the ubiquitination pathway were underexpressed in normozoospermic infertile men. Western blot analysis revealed the overexpression of annexin A2 (ANXA2) (2.03 fold change;
P
= 0.0243), and underexpression of sperm surface protein Sp17 (SPA17) (0.37 fold change;
P
= 0.0205) and serine protease inhibitor (SERPINA5) (0.32 fold change;
P
= 0.0073) in men with unexplained male infertility (UMI). The global proteomic profile of normozoospermic infertile men is different from that of normozoospermic fertile men. Our data suggests that SPA17, ANXA2, and SERPINA5 may potentially serve as non-invasive protein biomarkers associated with the fertilization process of the spermatozoa in UMI.
View Full-Text
►

▼

Figures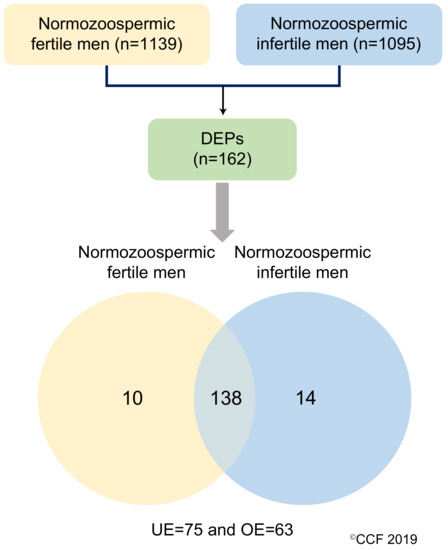 Figure 1
This is an open access article distributed under the
Creative Commons Attribution License
which permits unrestricted use, distribution, and reproduction in any medium, provided the original work is properly cited (CC BY 4.0).

Share & Cite This Article
MDPI and ACS Style
Panner Selvam, M.K.; Agarwal, A.; Pushparaj, P.N.; Baskaran, S.; Bendou, H. Sperm Proteome Analysis and Identification of Fertility-Associated Biomarkers in Unexplained Male Infertility. Genes 2019, 10, 522.
Note that from the first issue of 2016, MDPI journals use article numbers instead of page numbers. See further details here.
Related Articles
Comments
[Return to top]