Defining the Clinical, Molecular and Ultrastructural Characteristics in Occipital Horn Syndrome: Two New Cases and Review of the Literature
1
Center for Medical Genetics Ghent, Ghent University Hospital, 9000 Ghent, Belgium
2
Department of Dermatology, Ghent University Hospital, 9000 Ghent, Belgium
3
Department for Biomedical Molecular Biology, Ghent University, 9000 Ghent, Belgium
4
VIB Center for Inflammation Research, 9000 Ghent, Belgium
5
Ghent University Expertise Centre for Transmission Electron Microscopy and VIB BioImaging Core, 9000 Ghent, Belgium
6
Department of Urology, Ghent University Hospital, 9000 Ghent, Belgium
7
Department of Orthopedic Surgery, Ghent University Hospital, 9000 Ghent, Belgium
8
Center for Medical Genetics, University of Antwerp/Antwerp University Hospital, Antwerp, Belgium
*
Author to whom correspondence should be addressed.
Received: 28 June 2019 / Revised: 10 July 2019 / Accepted: 11 July 2019 / Published: 12 July 2019
Abstract
Occipital horn syndrome (OHS) is a rare connective tissue disorder caused by pathogenic variants in ATP7A, encoding a copper transporter. The main clinical features, including cutis laxa, bony exostoses, and bladder diverticula are attributed to a decreased activity of lysyl oxidase (LOX), a cupro-enzyme involved in collagen crosslinking. The absence of large case series and natural history studies precludes efficient diagnosis and management of OHS patients. This study describes the clinical and molecular characteristics of two new patients and 32 patients previously reported in the literature. We report on the need for long-term specialized care and follow-up, in which MR angiography, echocardiography and spirometry should be incorporated into standard follow-up guidelines for OHS patients, next to neurodevelopmental, orthopedic and urological follow-up. Furthermore, we report on ultrastructural abnormalities including increased collagen diameter, mild elastic fiber abnormalities and multiple autophagolysosomes reflecting the role of lysyl oxidase and defective ATP7A trafficking as pathomechanisms of OHS.
View Full-Text
►

▼

Figures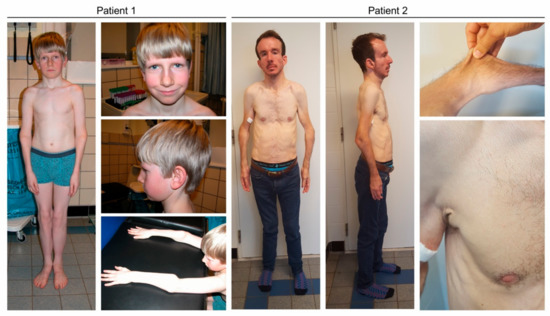 Figure 1
This is an open access article distributed under the
Creative Commons Attribution License
which permits unrestricted use, distribution, and reproduction in any medium, provided the original work is properly cited (CC BY 4.0).

Share & Cite This Article
MDPI and ACS Style
Beyens, A.; Van Meensel, K.; Pottie, L.; De Rycke, R.; De Bruyne, M.; Baeke, F.; Hoebeke, P.; Plasschaert, F.; Loeys, B.; De Schepper, S.; Symoens, S.; Callewaert, B. Defining the Clinical, Molecular and Ultrastructural Characteristics in Occipital Horn Syndrome: Two New Cases and Review of the Literature. Genes 2019, 10, 528.
Note that from the first issue of 2016, MDPI journals use article numbers instead of page numbers. See further details here.
Related Articles
Comments
[Return to top]