Mitochondrial Introgression, Color Pattern Variation, and Severe Demographic Bottlenecks in Three Species of Malagasy Poison Frogs, Genus
Mantella
1
CIBIO Research Centre in Biodiversity and Genetic Resources, InBIO, Universidade do Porto, Rua Padre Armando Quintas, N° 7, 4485-661 Vairão, Portugal
2
School of Biosciences, Cardiff University, Sir Martin Evans Building, Museum Avenue, Cardiff CF10 3AX, UK
3
Mention Zoologie et Biodiversité Animale, Faculté des Sciences, Université d'Antananarivo, BP 906, Antananarivo 101, Madagascar
4
Zoological Institute, Technische Universität Braunschweig, Mendelssohnstr. 4, 38106 Braunschweig, Germany
*
Author to whom correspondence should be addressed.
Received: 6 February 2019 / Revised: 9 April 2019 / Accepted: 15 April 2019 / Published: 23 April 2019
Abstract
Madagascar is a biodiversity hotspot particularly rich in amphibian diversity and only a few charismatic Malagasy amphibians have been investigated for their population-level differentiation. The
Mantella madagascariensis
group is composed of two rainforest and three swamp forest species of poison frogs. We first confirm the monophyly of this clade using DNA sequences of three nuclear and four mitochondrial genes, and subsequently investigate the population genetic differentiation and demography of the swamp forest species using one mitochondrial, two nuclear and a set of nine microsatellite markers. Our results confirm the occurrence of two main mitochondrial lineages, one dominated by
Mantella aurantiaca
(a grouping supported also by our microsatellite-based tree) and the other by
Mantella crocea
+
Mantella milotympanum
. These two main lineages probably reflect an older divergence in swamp
Mantella
. Widespread mitochondrial introgression suggests a fairly common occurrence of inter-lineage gene flow. However, nuclear admixture seems to play only a limited role in this group, and the analyses of the
RAG-1
marker points to a predominant incomplete lineage sorting scenario between all five species of the group, which probably diverged relatively recently. Our demographic analyses show a common, severe and recent demographic contraction, inferred to be in temporal coincidence with the massive deforestation events that took place in the past 1000 years. Current data do not allow to conclusively delimit independent evolutionary units in these frogs, and we therefore refrain to suggest any taxonomic changes.
View Full-Text
►

▼

Figures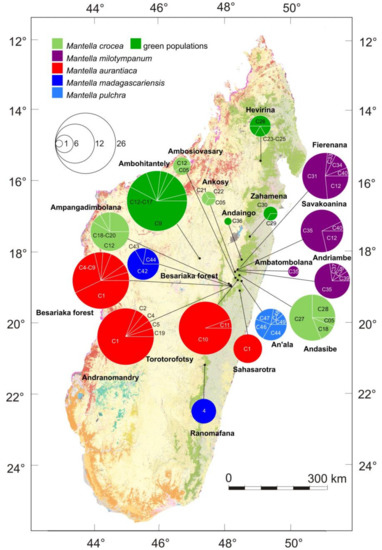 Figure 1
This is an open access article distributed under the
Creative Commons Attribution License
which permits unrestricted use, distribution, and reproduction in any medium, provided the original work is properly cited (CC BY 4.0).

Share & Cite This Article
MDPI and ACS Style
Crottini, A.; Orozco-terWengel, P.; Rabemananjara, F.C.E.; Hauswaldt, J.S.; Vences, M. Mitochondrial Introgression, Color Pattern Variation, and Severe Demographic Bottlenecks in Three Species of Malagasy Poison Frogs, Genus Mantella. Genes 2019, 10, 317.
Note that from the first issue of 2016, MDPI journals use article numbers instead of page numbers. See further details here.
Related Articles
Comments
[Return to top]