The Biochemical Role of the Human NEIL1 and NEIL3 DNA Glycosylases on Model DNA Replication Forks
1
Biomedical Research Centre, School of Environment and Life Sciences, Peel Building, University of Salford, Salford M5 4NT, UK
2
Chemical Biology, Diagnostics and Therapeutics Group, Chemistry Faculty, University of Southampton, Southampton SO17 1BJ, UK
3
Sbarro Institute for Cancer Research and Molecular Medicine, Center for Biotechnology, College of Science and Technology, Temple University, Philadelphia, PA 19122, USA
4
Cancer Research Centre, Department of Molecular and Clinical Cancer Medicine, University of Liverpool, 200 London Road, Liverpool L3 9TA, UK
*
Author to whom correspondence should be addressed.
†
These authors contributed equally to this work.
Received: 11 March 2019 / Revised: 15 April 2019 / Accepted: 17 April 2019 / Published: 23 April 2019
Abstract
Endonuclease VIII-like (NEIL) 1 and 3 proteins eliminate oxidative DNA base damage and psoralen DNA interstrand crosslinks through initiation of base excision repair. Current evidence points to a DNA replication associated repair function of NEIL1 and NEIL3, correlating with induced expression of the proteins in S/G2 phases of the cell cycle. However previous attempts to express and purify recombinant human NEIL3 in an active form have been challenging. In this study, both human NEIL1 and NEIL3 have been expressed and purified from
E. coli
, and the DNA glycosylase activity of these two proteins confirmed using single- and double-stranded DNA oligonucleotide substrates containing the oxidative bases, 5-hydroxyuracil, 8-oxoguanine and thymine glycol. To determine the biochemical role that NEIL1 and NEIL3 play during DNA replication, model replication fork substrates were designed containing the oxidized bases at one of three specific sites relative to the fork. Results indicate that whilst specificity for 5- hydroxyuracil and thymine glycol was observed, NEIL1 acts preferentially on double-stranded DNA, including the damage upstream to the replication fork, whereas NEIL3 preferentially excises oxidized bases from single stranded DNA and within open fork structures. Thus, NEIL1 and NEIL3 act in concert to remove oxidized bases from the replication fork.
View Full-Text
►

▼

Figures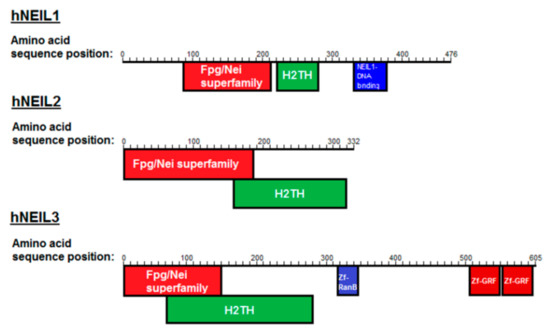 Figure 1
This is an open access article distributed under the
Creative Commons Attribution License
which permits unrestricted use, distribution, and reproduction in any medium, provided the original work is properly cited (CC BY 4.0).

Share & Cite This Article
MDPI and ACS Style
Albelazi, M.S.; Martin, P.R.; Mohammed, S.; Mutti, L.; Parsons, J.L.; Elder, R.H. The Biochemical Role of the Human NEIL1 and NEIL3 DNA Glycosylases on Model DNA Replication Forks. Genes 2019, 10, 315.
Note that from the first issue of 2016, MDPI journals use article numbers instead of page numbers. See further details here.
Related Articles
Comments
[Return to top]