Open Access This article is
freely available
re-usable
Review
Meeting the Challenge of Eliminating Chronic Hepatitis B Infection
1
Victorian Infectious Diseases Reference Laboratory, Royal Melbourne Hospital at the Peter Doherty Institute for Infection and Immunity, Melbourne 3000, Australia
2
Department of Microbiology and Immunology, University of Melbourne at the Peter Doherty Institute for Infection and Immunity, Melbourne 3000, Australia
3
Directorate, Peter Doherty Institute for Infection and Immunity, Melbourne 3000, Australia
4
University of South Florida, Tampa, FL 33612, USA
5
Romark Laboratory, Tampa, FL 33607, USA
6
Global Virus Network, Baltimore, MD 21201-1009, USA
7
INSERM Unit 1052—Cancer Research Center of Lyon, 69000 Lyon, France
*
Author to whom correspondence should be addressed.
Received: 14 December 2018 / Accepted: 1 February 2019 / Published: 1 April 2019
Abstract
:
Over 257 million people live with chronic hepatitis B virus (HBV) infection and there is no known cure. The effective preventative vaccine has no impact on existing infection. Despite the existence of drugs which efficiently suppress viral replication, treatment is usually life-long and finite therapies that cure HBV infection are urgently required. However, even if such therapies were available today, it is unlikely they would reach all of those who need it most, due to chronic hepatitis B (CHB) being largely undiagnosed across the globe and to the dire need for health systems promoting access to therapy. Considerable challenges to developing and implementing an effective HBV cure remain. Nonetheless, important advances towards a cure are being made, both in the development of a multitude of new therapeutic agents currently undergoing clinical trials, and through the establishment of a new global initiative dedicated to an HBV cure, ICE-HBV, that is working together with existing organisations to fast-track an HBV cure available to all.
Keywords:
ICE-HBV; chronic HBV disease; persistence; HBV cure; treatment; current clinical trials
Funding
This research received no external funding.
Conflicts of Interest
The authors declare no conflict of interest.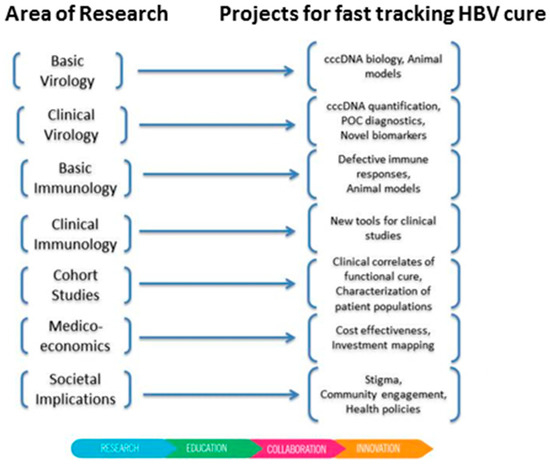 Figure 1. Current and future International Coalition to Eliminate Hepatitis B (ICE-HBV) projects to fast-track a hepatitis B virus (HBV) cure.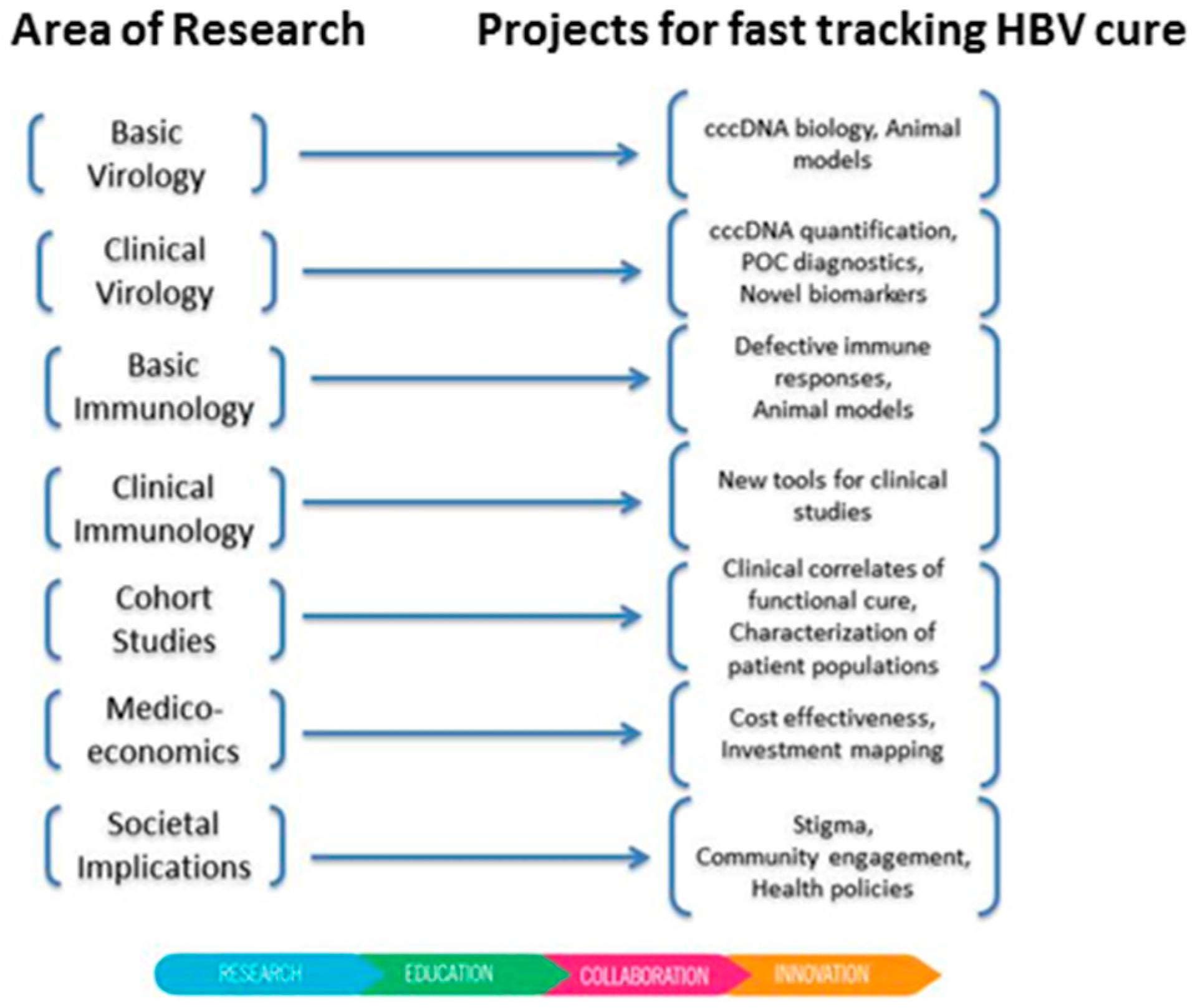 Approach
Name/Type
Company
Status
Silencing HBV RNAs
RNAi gene silencer (1.0)
Arrowhead Pharma
NCT03365947 (R)
HBV Locked Nucleic Acid (LNA) RO7062931
Roche
NCT03038113 (R) NCT03505190 (R)
SiRNA VIR-2218
Alnylam and Vir Biotech
NCT03672188 (R)
Liquid nano-particle (LNP) RNAi (ARB-1462)
Arbutus Biopharma
Phase 2 (IMPACT study)
Antisense Molecules
IONIS-HBVRx (GSK3228836) (GSK33389404)
IONIS/GSK
NCT02981602 (R) NCT03020745 (R)
Entry inhibitor
Myrcludex B
Myr-pharma
NCT02888106 Recruiting hepatitis delta virus HDV/HBV coinfected patients
Capsid Inhibitors
GLS4
HEC Pharma
NCT03638076 (R)
JNJ 56136379
Janssen Sciences
NCT03439488 (R) NCT03361956 (R)
ABI-H0731
Assembly Biosciences
NCT03714152 (R)
RO7049389
Roche
NCT 02952924 (R) NCT 03570658 (R) NCT 03717064 (A)
AB-506
Arbutus Biopharma
Phase 1a studies completed
HBsAg Inhibitors
REP 2139/2165
Replicor, Canada
NCT02565719 (A) NCT02876419 (A)
TLR7 Antagonist
JNJ-64794964 (AL-034)
Janssen Sciences
NCT03285620 (R)
RO7020531
Roche
NCT02956850 (R) NCT03530917 (R)
TLR8 Antagonist
GS-9688
Gilead, USA
NCT03615066 (R)
Innate Immune Activators
Inarigavir RIG-I agonist (also an HBV replication inhibitor).
Springbank Pharmaceuticals
NCT02751996 (R)
Immune Therapy
HBsAg monoclonal antibody
Green Cross
NCT03519113 (R)
Therapeutic DNA Vaccine
JNJ-64300535
Janssen Sciences
NCT03463369 (R)
Undisclosed
RO7239958
Roche
NCT03762681 Not yet recruiting

© 2019 by the authors. Licensee MDPI, Basel, Switzerland. This article is an open access article distributed under the terms and conditions of the Creative Commons Attribution (CC BY) license (http://creativecommons.org/licenses/by/4.0/).