Knockdown of Cytochrome P450 Genes
Gh_D07G1197

and

Gh_A13G2057

on Chromosomes D07 and A13 Reveals Their Putative Role in Enhancing Drought and Salt Stress Tolerance in

Gossypium hirsutum

1

State Key Laboratory of Cotton Biology/Institute of Cotton Research, Chinese Academy of Agricultural Science (ICR, CAAS), Anyang, Henan 455000, China

2

School of Biological and Physical sciences (SBPS), Main campus, Jaramogi Oginga Odinga University of Science and Technology (JOOUST), P.O Box 210-40601, Bondo 210-40601, Kenya

3

Research Base in Anyang Institute of Technology, State Key Laboratory of Cotton Biology/Anyang Institute of technology, State key laboratory of cotton R.P, Anyang, Henan 455000, China

*

Authors to whom correspondence should be addressed.

Received: 8 January 2019 / Revised: 9 March 2019 / Accepted: 12 March 2019 / Published: 18 March 2019
Abstract
We identified 672, 374, and 379
CYPs
proteins encoded by the
CYPs
genes in
G
ossypium
hirsutum, G
ossypium
raimondii
, and
G
ossypium
arboreum
, respectively. The genes were found to be distributed in all 26 chromosomes of the tetraploid cotton, with chrA05, chrA12, and their homeolog chromosomes harboring the highest number of genes. The physiochemical properties of the proteins encoded by the
CYP450
genes varied in terms of their protein lengths, molecular weight, isoelectric points (pI), and even grand hydropathy values (GRAVY). However, over 99% of the cotton proteins had GRAVY values below 0, which indicated that the majority of the proteins encoded by the
CYP450
genes were hydrophilic in nature, a common property of proteins encoded by stress-responsive genes. Moreover, through the RNA interference (RNAi) technique, the expression levels of
Gh_D07G1197
and
Gh_A13G2057
were suppressed, and the silenced plants showed a higher concentration of hydrogen peroxide (H
2
O
2
) with a significant reduction in the concentration levels of glutathione (GSH), ascorbate peroxidase (APX), and proline compared to the wild types under drought and salt stress conditions. Furthermore, the stress-responsive genes 1-Pyrroline–5-Carboxylate Synthetase (
GhP5CS),
superoxide dismutase (
GhSOD
), and myeloblastosis (
GhMYB
)
were downregulated in VIGS plants, but showed upregulation in the leaf tissues of the wild types under drought and salt stress conditions. In addition,
CYP450
-silenced cotton plants exhibited a high level of oxidative injury due to high levels of oxidant enzymes, in addition to negative effects on CMS, ELWL, RLWC, and chlorophyll content The results provide the basic foundation for future exploration of the proteins encoded by the
CYP450
genes in order to understand the physiological and biochemical mechanisms in enhancing drought and salt stress tolerance in plants.
View Full-Text
►

▼

Figures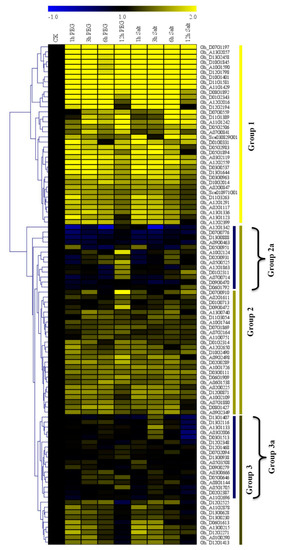 Figure 1
This is an open access article distributed under the
Creative Commons Attribution License
which permits unrestricted use, distribution, and reproduction in any medium, provided the original work is properly cited (CC BY 4.0).

Share & Cite This Article
MDPI and ACS Style
Magwanga, R.O.; Lu, P.; Kirungu, J.N.; Dong, Q.; Cai, X.; Zhou, Z.; Wang, X.; Hou, Y.; Xu, Y.; Peng, R.; Agong, S.G.; Wang, K.; Fang, L. Knockdown of Cytochrome P450 Genes Gh_D07G1197 and Gh_A13G2057 on Chromosomes D07 and A13 Reveals Their Putative Role in Enhancing Drought and Salt Stress Tolerance in Gossypium hirsutum. Genes 2019, 10, 226.
Note that from the first issue of 2016, MDPI journals use article numbers instead of page numbers. See further details here.
Related Articles
Comments
[Return to top]