Functional Comparison of XPF Missense Mutations Associated to Multiple DNA Repair Disorders
1
Departament de Genètica i de Microbiologia, Universitat Autònoma de Barcelona, 08028 Barcelona, Spain
2
Centro de Investigación Biomédica en Red de Enfermedades Raras (CIBERER), 08028 Barcelona, Spain
3
Institute of Medical and Molecular Genetics (INGEMM), Hospital Universitario La Paz, 28029 Madrid, Spain
4
CIBERER, ISCIII, 28029 Madrid, Spain
5
Department of Genetics, Research Institute of Environmental Medicine (RIeM), Nagoya University, Nagoya, Japan/Department of Human Genetics and Molecular Biology, Graduate School of Medicine, Nagoya University, Nagoya 464-0805, Japan
6
Genetics Department Institute of Biomedical Research, Hospital de la Santa Creu i Sant Pau, 08025 Barcelona, Spain
*
Authors to whom correspondence should be addressed.
Received: 21 December 2018 / Revised: 11 January 2019 / Accepted: 11 January 2019 / Published: 17 January 2019
Abstract
XPF endonuclease is one of the most important DNA repair proteins. Encoded by
XPF
/
ERCC4
, XPF provides the enzymatic activity of XPF-ERCC1 heterodimer, an endonuclease that incises at the 5' side of various DNA lesions. XPF is essential for nucleotide excision repair (NER) and interstrand crosslink repair (ICLR).
XPF
/
ERCC4
mutations are associated with several human diseases: Xeroderma Pigmentosum (XP), Segmental Progeria (XFE), Fanconi Anemia (FA), Cockayne Syndrome (CS), and XP/CS combined disease (XPCSCD). Most affected individuals are compound heterozygotes for
XPF
/
ERCC4
mutations complicating the identification of genotype/phenotype correlations. We report a detailed overview of NER and ICLR functional studies in human XPF-KO (knock-out) isogenic cells expressing six disease-specific pathogenic XPF amino acid substitution mutations. Ultraviolet (UV) sensitivity and unscheduled DNA synthesis (UDS) assays provide the most reliable information to discern mutations associated with ICLR impairment from mutations related to NER deficiency, whereas recovery of RNA synthesis (RRS) assays results hint to a possible role of XPF in resolving R-loops. Our functional studies demonstrate that a defined cellular phenotype cannot be easily correlated to each XPF mutation. Substituted positions along XPF sequences are not predictive of cellular phenotype nor reflect a particular disease. Therefore, in addition to mutation type, allelic interactions, protein stability and intracellular distribution of mutant proteins may also contribute to alter DNA repair pathways balance leading to clinically distinct disorders.
View Full-Text
►

▼

Figures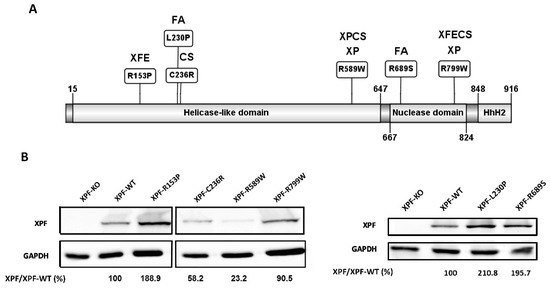 Figure 1
This is an open access article distributed under the
Creative Commons Attribution License
which permits unrestricted use, distribution, and reproduction in any medium, provided the original work is properly cited (CC BY 4.0).

Share & Cite This Article
MDPI and ACS Style
Marín, M.; Ramírez, M.J.; Aza Carmona, M.; Jia, N.; Ogi, T.; Bogliolo, M.; Surrallés, J. Functional Comparison of XPF Missense Mutations Associated to Multiple DNA Repair Disorders. Genes 2019, 10, 60.
Note that from the first issue of 2016, MDPI journals use article numbers instead of page numbers. See further details here.
Related Articles
Comments
[Return to top]