Genomes of Three Closely Related Caribbean Amazons Provide Insight for Species History and Conservation
1
Department of Biology, University of Puerto Rico at Mayaguez, Mayaguez, PR 00680, USA
2
Department of Biology, University of Konstanz, 78464 Konstanz, Germany
3
Theodosius Dobzhansky Center for Genome Bioinformatics, St. Petersburg State University, 199034 St. Petersburg, Russia
4
Department of Genetic Medicine, Weill Cornell Medical College, New York, NY 10021, USA
5
Department of Biological Sciences, Oakland University, 118 Library Drive, Rochester, MI 48309, USA
6
Department of Biological Sciences, Uzhhorod National University, 88000 Uzhhorod, Ukraine
7
Beaumont BioBank, William Beaumont Hospital, Royal Oak, MI 48073, USA
8
Conservation Program of the Puerto Rican Parrot, U.S. Fish and Wildlife Service, Rio Grande, PR 00745, USA
9
The Recovery Program of the Puerto Rican Parrot at the Rio Abajo State Forest, Departamento de Recursos Naturales y Ambientales de Puerto Rico, Arecibo, PR 00613, USA
10
Department of Medicine and Epidemiology, School of Veterinary Medicine, University of California Davis, Davis, CA 95616, USA
11
Program in Individualized Medicine (PrIMe), Pharmacogenomics Laboratory, Department of Veterinary Clinical Sciences, College of Veterinary Medicine, Washington State University, 100 Grimes Way, Pullman, WA 99164, USA
*
Authors to whom correspondence should be addressed.
Received: 15 October 2018 / Revised: 13 December 2018 / Accepted: 8 January 2019 / Published: 16 January 2019
Abstract
Islands have been used as model systems for studies of speciation and extinction since Darwin published his observations about finches found on the Galapagos. Amazon parrots inhabiting the Greater Antillean Islands represent a fascinating model of species diversification. Unfortunately, many of these birds are threatened as a result of human activity and some, like the Puerto Rican parrot, are now critically endangered. In this study we used a combination of de novo and reference-assisted assembly methods, integrating it with information obtained from related genomes to perform genome reconstruction of three amazon species. First, we used whole genome sequencing data to generate a new de novo genome assembly for the Puerto Rican parrot (
Amazona vittata
). We then improved the obtained assembly using transcriptome data from
Amazona ventralis and
used the resulting sequences as a reference to assemble the genomes Hispaniolan (
A. ventralis
) and Cuban (
Amazona leucocephala
) parrots. Finally, we, annotated genes and repetitive elements, estimated genome sizes and current levels of heterozygosity, built models of demographic history and provided interpretation of our findings in the context of parrot evolution in the Caribbean.
View Full-Text
►

▼

Figures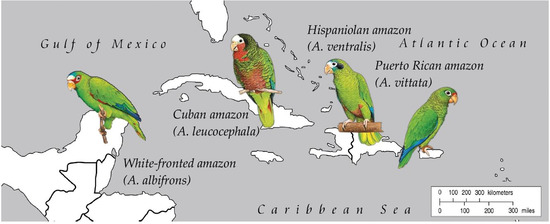 Figure 1
This is an open access article distributed under the
Creative Commons Attribution License
which permits unrestricted use, distribution, and reproduction in any medium, provided the original work is properly cited (CC BY 4.0).

Share & Cite This Article
MDPI and ACS Style
Kolchanova, S.; Kliver, S.; Komissarov, A.; Dobrinin, P.; Tamazian, G.; Grigorev, K.; Wolfsberger, W.W.; Majeske, A.J.; Velez-Valentin, J.; Valentin de la Rosa, R.; Paul-Murphy, J.R.; Guzman, D.S.-M.; Court, M.H.; Rodriguez-Flores, J.L.; Martínez-Cruzado, J.C.; Oleksyk, T.K. Genomes of Three Closely Related Caribbean Amazons Provide Insight for Species History and Conservation. Genes 2019, 10, 54.
Note that from the first issue of 2016, MDPI journals use article numbers instead of page numbers. See further details here.
Related Articles
Comments
[Return to top]