Direct Activation of TRPC3 Channels by the Antimalarial Agent Artemisinin
Leipzig University, Medical Faculty, Rudolf Boehm Institute of Pharmacology and Toxicology, Härtelstraße 16-18, 04107 Leipzig, Germany
*
Author to whom correspondence should be addressed.
Received: 29 November 2019 / Revised: 27 December 2019 / Accepted: 9 January 2020 / Published: 14 January 2020
(1) Background: Members of the TRPC3/TRPC6/TRPC7 subfamily of canonical transient receptor potential (TRP) channels share an amino acid similarity of more than 80% and can form heteromeric channel complexes. They are directly gated by diacylglycerols in a protein kinase C-independent manner. To assess TRPC3 channel functions without concomitant protein kinase C activation, direct activators are highly desirable. (2) Methods: By screening 2000 bioactive compounds in a Ca2+ influx assay, we identified artemisinin as a TRPC3 activator. Validation and characterization of the hit was performed by applying fluorometric Ca2+ influx assays and electrophysiological patch-clamp experiments in heterologously or endogenously TRPC3-expressing cells. (3) Results: Artemisinin elicited Ca2+ entry through TRPC3 or heteromeric TRPC3:TRPC6 channels, but did not or only weakly activated TRPC6 and TRPC7. Electrophysiological recordings confirmed the reversible and repeatable TRPC3 activation by artemisinin that was inhibited by established TRPC3 channel blockers. Rectification properties and reversal potentials were similar to those observed after stimulation with a diacylglycerol mimic, indicating that artemisinin induces a similar active state as the physiological activator. In rat pheochromocytoma PC12 cells that endogenously express TRPC3, artemisinin induced a Ca2+ influx and TRPC3-like currents. (4) Conclusions: Our findings identify artemisinin as a new biologically active entity to activate recombinant or native TRPC3-bearing channel complexes in a membrane-confined fashion.
Author Contributions
Conceptualization, N.U. and M.S.; methodology, N.U.; formal analysis, N.U: and M.S.; investigation, N.U.; resources, M.S.; data curation, N.U. and M.S.; writing—original draft preparation, M.S.; writing—review and editing, N.U. and M.S.; visualization, N.U.; supervision, M.S.; project administration, N.U. and M.S.; funding acquisition, M.S. All authors have read and agreed to the published version of the manuscript.
Funding
This research was funded by the Deutsche Forschungsgemeinschaft, TRR 152, P18 to M.S.
Acknowledgments
We are grateful to Johannes Oberwinkler (Marburg, Germany), and Natalie Tigue and Steve Moore (GlaxoSmithKline, Harlow, UK) for sharing the TRPM3- and TRPA1-expressing cell lines with us.
Conflicts of Interest
The authors declare no conflicts of interest.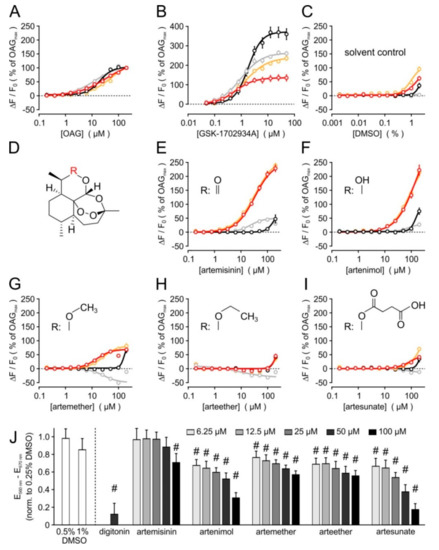 Figure 1.
Concentration response analysis of known and novel TRPC3/TRPC6/TRPC7 activators, and cytotoxicity analysis. The potency and efficacy of various compounds to elicit a [Ca
2+
]
i
response was tested in fluo-4-loaded cell suspensions, applying HEK293 cells that were stably transfected with cDNA plasmids encoding either TRPC3 (red symbols and lines), TRPC6 (black), or TRPC7 (grey). HEK cells that form TRPC3:TRPC6 heteromeric complexes by stably co-expressing TRPC3 and TRPC6 are also included (orange). Concentration–response curves for the indicated known activators (
A
,
B
), and for artemisinin and related compounds (
E
–
I
) are shown. Since 10 mM stock solutions were prepared for all compounds, the corresponding solvent control (
C
) applies to all other data. The common substructure for artemisinin-related compounds (
D
) with the respective substituents R (insets in
E
–
I
) are depicted. Data are aggregated from 4–6 independent experiments performed in duplicate, each, and displayed as means ± S.E. after normalizing the data to the responses elicited by 200 µM OAG at the same day. (
J
) Artemisinin and related compounds were added to parental HEK293 cells in growth medium at the indicated concentrations, incubated for 24 h, and the metabolic activity was assayed with an MTT test. Solvent controls (DMSO) and a positive control (50 µM digitonin) were included, and data were expressed after normalisation to the respective 0.25% DMSO controls. Data represent means ± S.D. of 5–8 experiments; #:
p
< 0.05.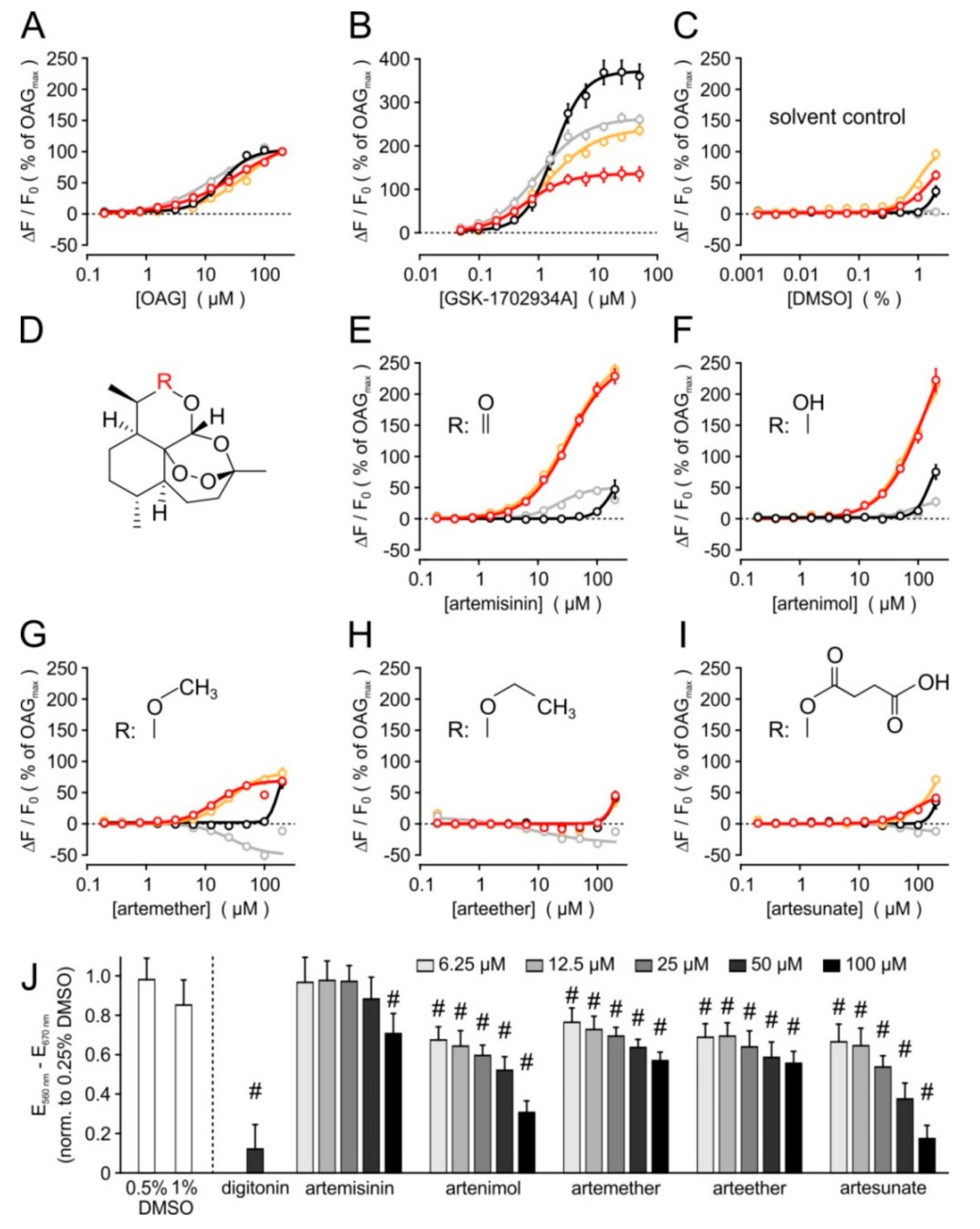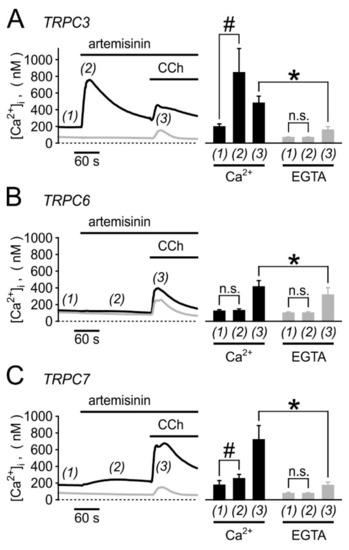 Figure 2.
Microfluorometric single-cell analysis of artemisinin-induced increases in [Ca
2+
]
i
in fura-2-loaded HEK cells stably expressing TRPC3 (
A
), TRPC6 (
B
), or TRPC7 (
C
). Calibrated [Ca
2+
]
i
imaging analysis was performed in cells that overexpressed the indicated TRPC channel during sequential addition of 50 µM artemisinin and 1 mM carbachol (CCh). Experiments were performed either in standard bath solution, containing 1 mM Ca
2+
(black lines and bars), or in a nominally Ca
2+
-free HBS buffer, supplemented with 200 µM EGTA (grey lines and bars). Time courses of averaged responses (left), and statistical analysis of 6–11 independent imaging experiments with means and S.D. (right) are shown. Significant differences (
p
< 0.05, Student´s
t
-test with paired data: #, with unpaired data: *) are marked for the indicated comparisons; n.s.: difference is statistically not significant.
Figure 3.
Effects of acute co-stimulation of HEK
TRPC3-YFP
cells with various concentrations of artemisinin and OAG. Fluo 4-loaded HEK
TRPC3-YFP
cell suspensions were assayed in a fluorescence imaging plate reader during acute co-application of serially diluted artemisinin without (grey symbols and lines) or with OAG added at the indicated fixed concentrations (
A
). (
B
) Similar experiment as in (
A
), but with serially diluted OAG in the absence or presence of the indicated fixed artemisinin concentrations. Data represent means and S.E. (
n
= 4 in two independent experiments).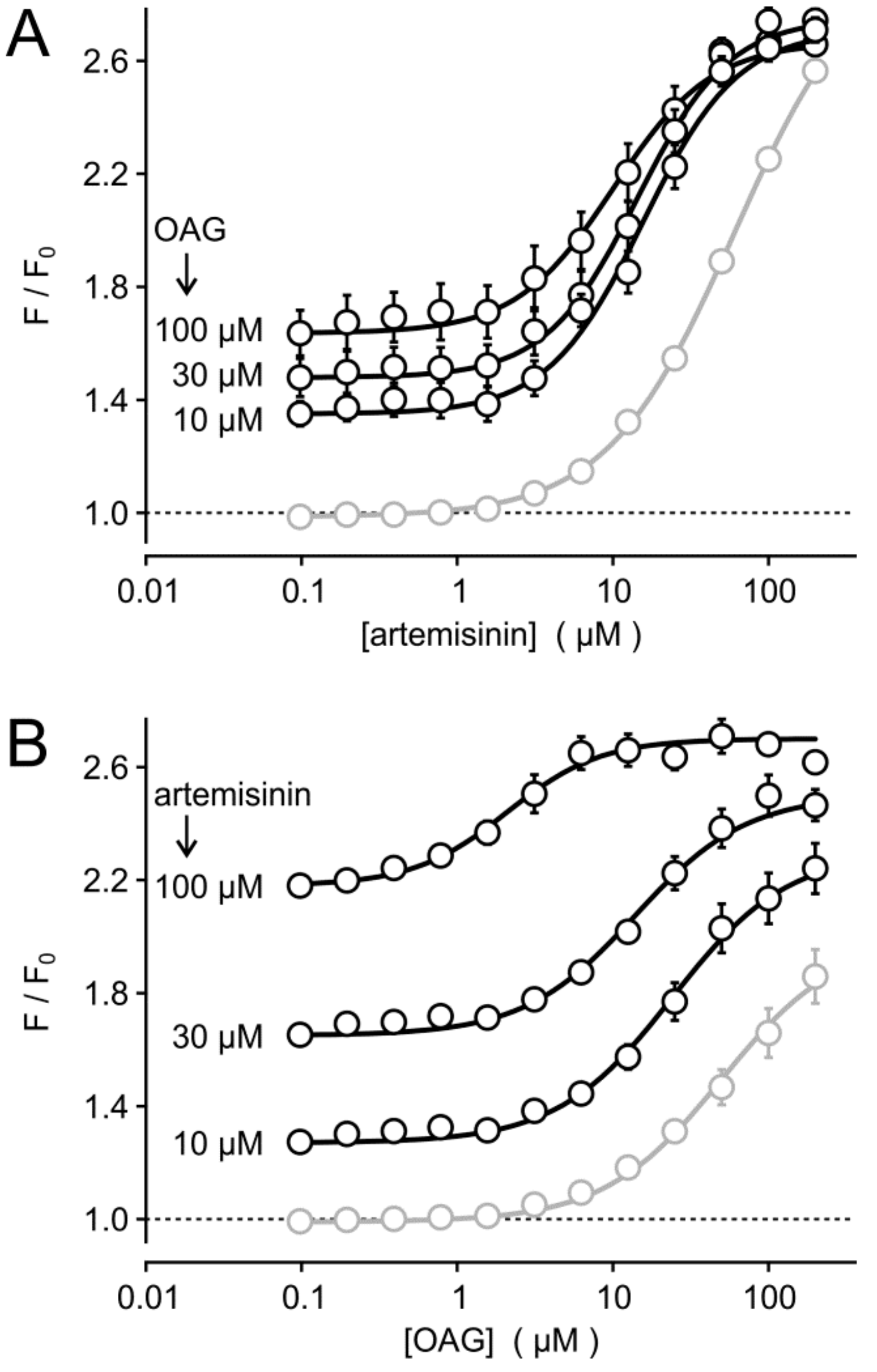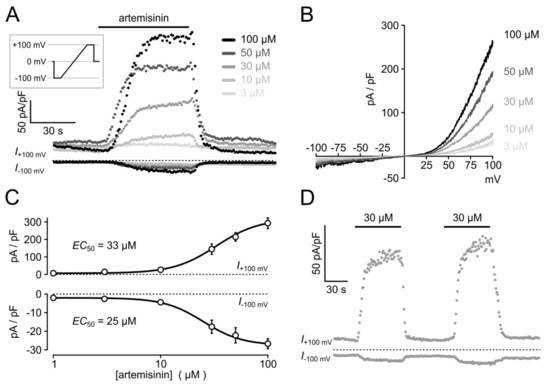 Figure 4. Electrophysiological analysis of artemisinin-induced whole-cell currents in HEKTRPC3-YFP cells. The voltage protocol depicted in the box (duration of 0.8 s) was applied in 1 s intervals, and steady state inward and outward current densities averaged at potentials of –100 or +100 mV as well as voltage ramps (0.4 Vs−1) were extracted from the data. (A) Current densities at +100 and –100 mV, respectively. Data resulting from the application of the indicated concentrations of artemisinin, followed by a wash-out of the activator, are overlaid. (B) Typical examples of I/V curves, recorded close to the respective current peaks in cells exposed to the indicated artemisinin concentrations. (C) Outward and inward current densities were measured in 12–27 cells for each artemisinin concentration, as shown in (A), and aggregated to construct concentration–response curves. The indicated EC50 values for artemisinin-induced outward and inward currents were obtained by fitting a four-parameter Hill equation to the data (respective Hill coefficients: 2.2 and 2.4). (D) Example of ionic currents elicited during repeated application of 30 µM artemisinin to a HEKTRPC3-YFP cell.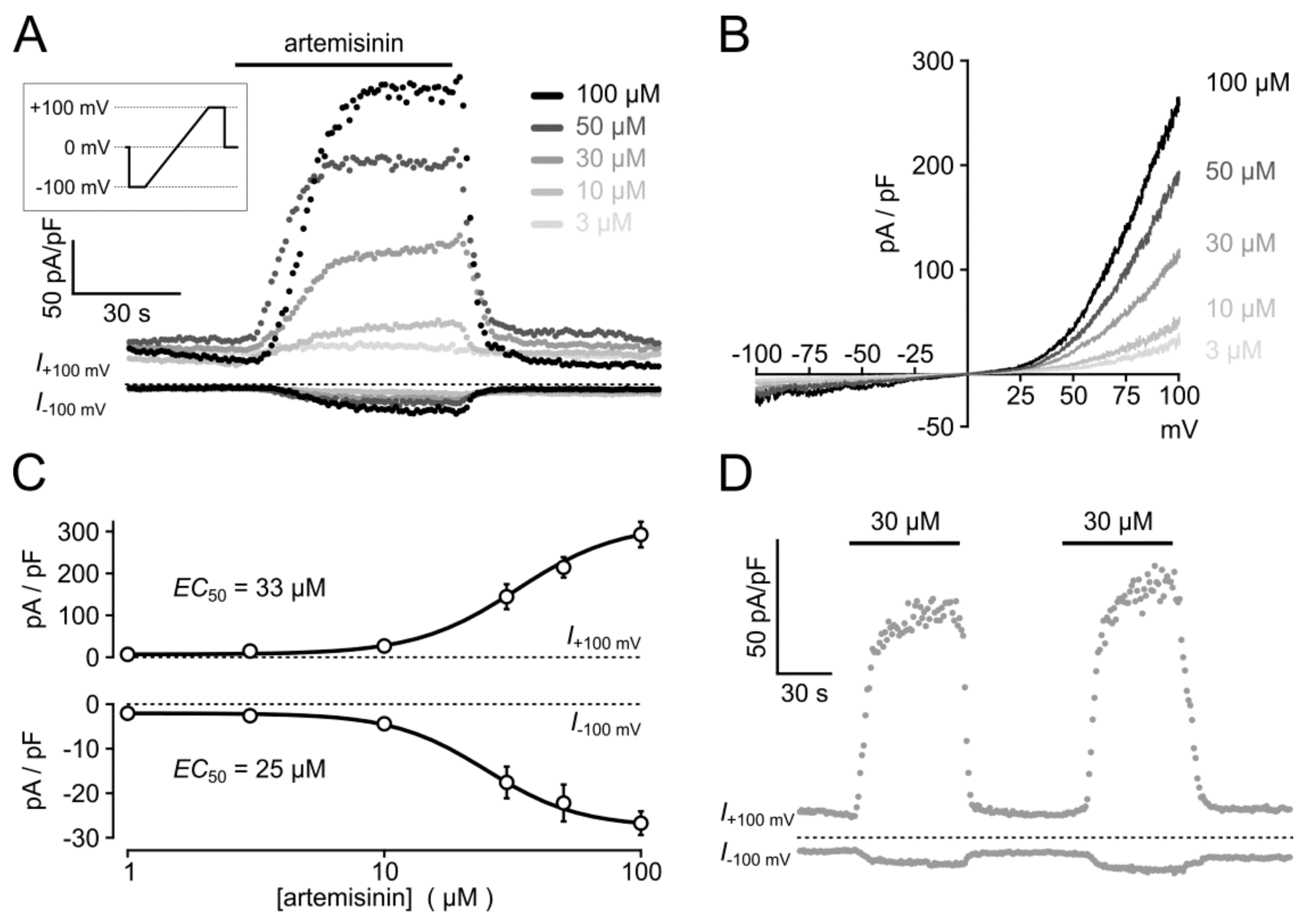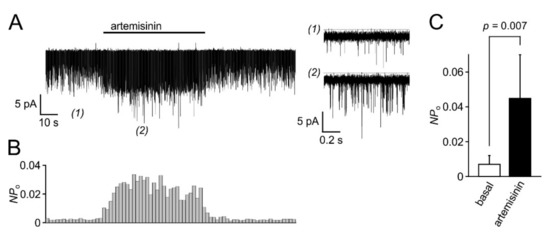 Figure 5.
Channel activity induced by artemisinin in outside-out patches taken from HEK
TRPC3-YFP
cells. Outside-out patches were obtained from HEK
TRPC3-YFP
cells, and ionic currents were continuously recorded at a patch potential of –100 mV. Artemisinin (50 µM) was applied to the bath chamber as indicated by the bar (
A
, left). Short episodes before (1) and during application of artemisinin (2) are re-plotted at higher temporal resolution (right). Note that unitary current amplitudes are hardly discernible due to the very short channel opening events of TRPC3 channels. (
B
) The open probability (
P
o
) for the unknown number
N
of channels in the patch of the experiment shown in (
A
) was calculated over 2 s bins and plotted at the same time scale. (
C
) Aggregated data (means and S.D.) of peak
NP
O
values obtained as shown in (
B
) were obtained from 6 isolated outside-out patches before (basal) and during application of 50 µM artemisinin.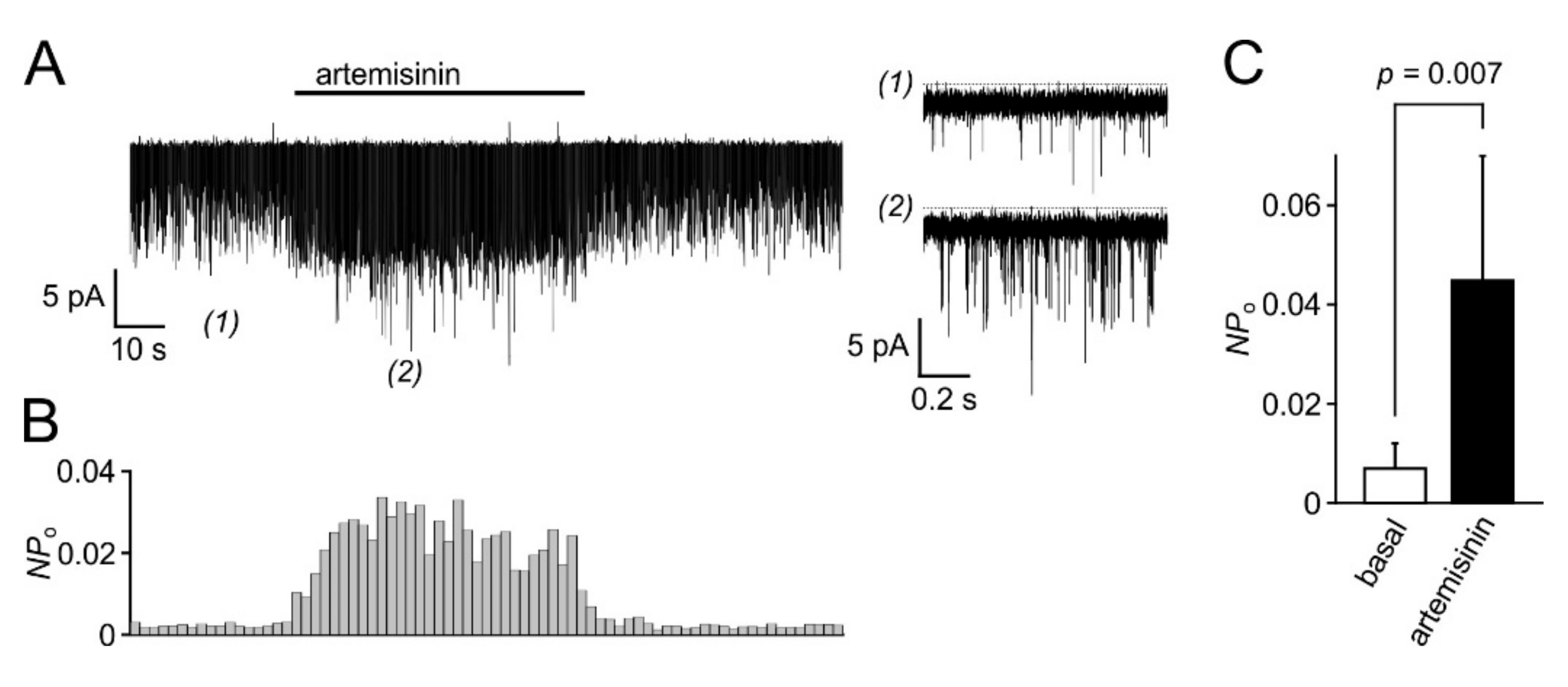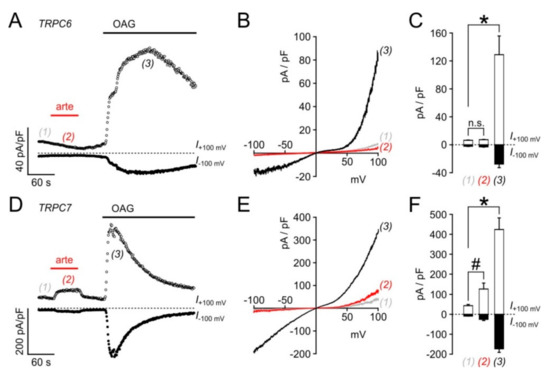 Figure 6.
Effects of artemisinin on ionic currents through TRPC6 and TRPC7. Whole-cell current densities were measured in HEK
TRPC6-YFP
(
A
–
C
) and in HEK
TRPC7-YFP
cells (
D
–
F
) in a similar fashion as shown in
Figure 4
A, during application and wash-out of 100 µM artemisinin (arte). To ascertain that the cells expressed the respective channel, cells were subsequently exposed to 50 µM OAG as indicated by the black bars (
A
,
D
). (
B
,
E
) Current densities during voltage ramps (ranging from −100 to + 100 mV at 400 mV s
−1
) taken at the indicated time points from experiments shown in (
A
,
D
). (
C
,
F
) Current densities before (1), and during (2) exposure to 100 µM artemisinin, and peak current densities reached during stimulation with 50 µM OAG (3) were recorded in 9 cells, each, and depicted as means and S.E. Statistically significant differences were denoted as * and # for the indicated comparisons (
p
< 0.05; Student´s
t
-test with paired data); n.s.: statistically not significant.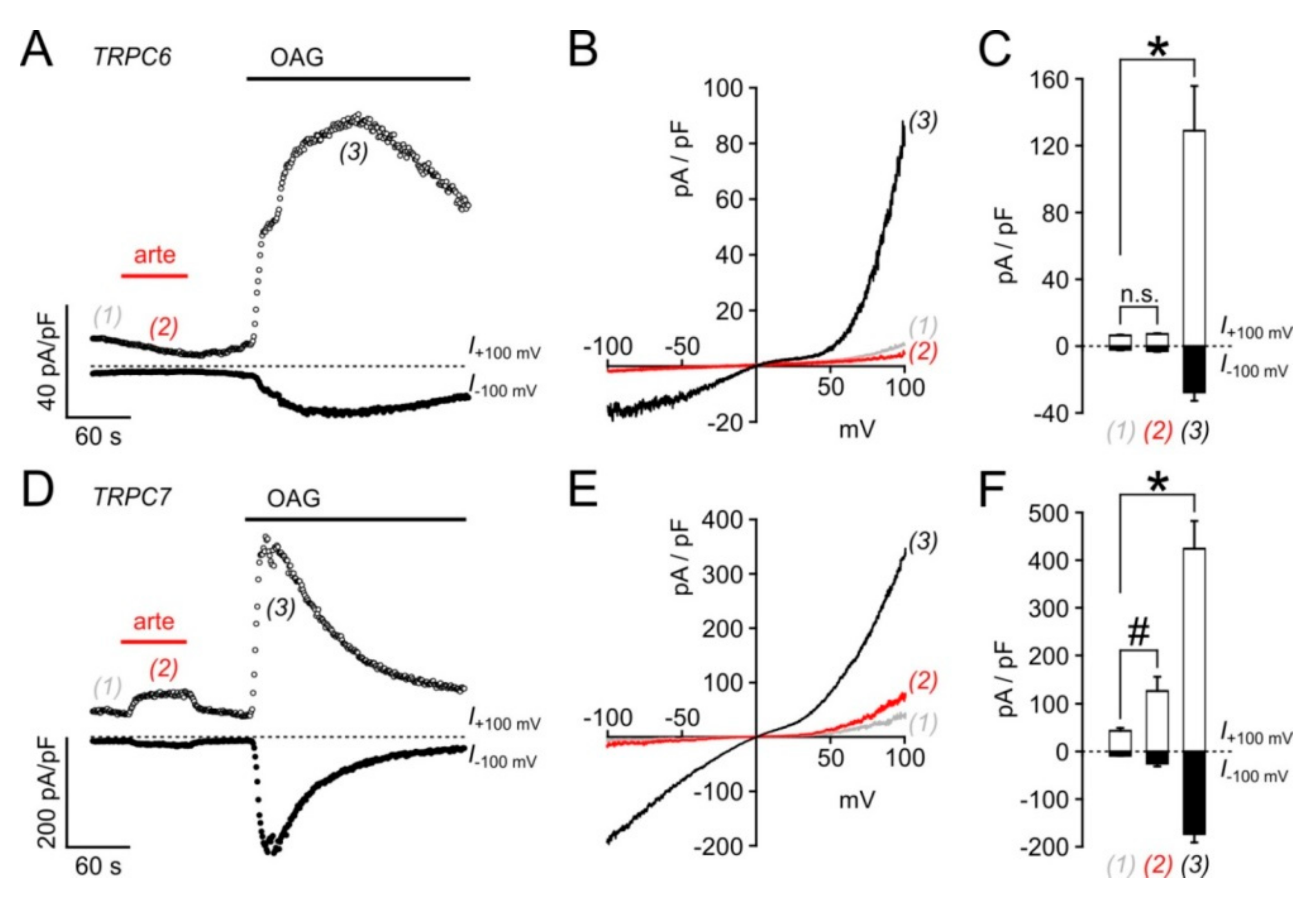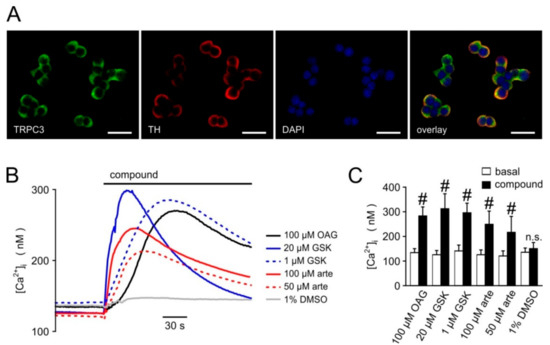 Figure 7.
Expression of TRPC3 and functional responses to TRPC activators in PC12 rat pheochromocytoma cells. (
A
) Immunofluorescence analysis of TRPC3 (green channel) and tyrosine hydroxylase (TH; red channel) expression in PC12 cells. Nuclei were counterstained with DAPI (blue channel). Bars: 20 µm scale. Time course of the [Ca
2+
]
i
(
B
) and averaged basal and peak [Ca
2+
]
i
values (
C
) were recorded by microfluorometric analysis in fura-2-loaded PC12 cells grown on glass coverslips. The cells were challenged with the indicated concentrations of OAG, GSK-1702934A (GSK), and artemisinin (arte) or the final concentration of its solvent (DMSO). Data represent averages (
B
) or means and S.D. (
C
) of 6–12 imaging experiments for each compound. Significant increases compared to the respective basal values are indicated (#:
p
< 0.05; Student´s
t
-test for paired data).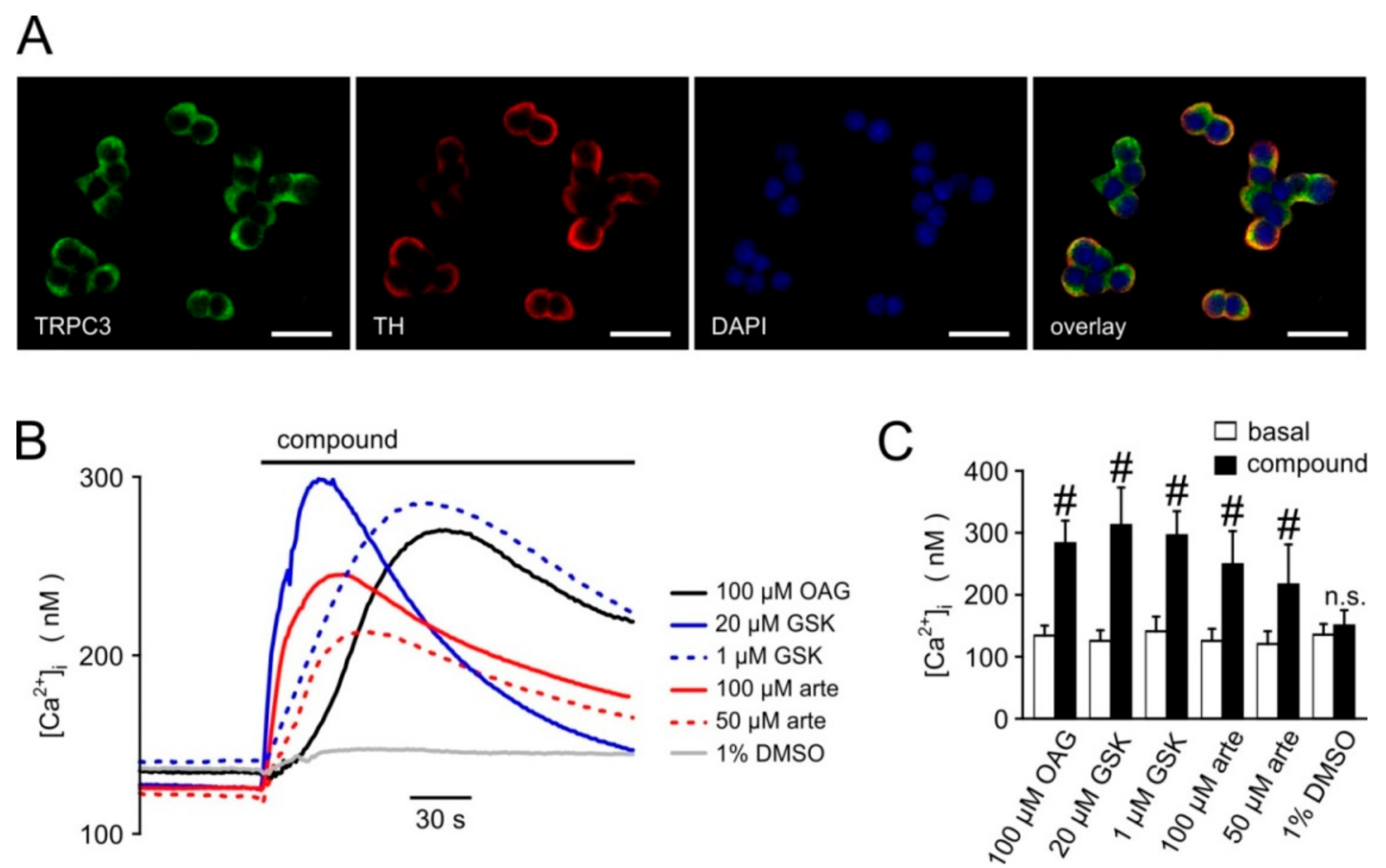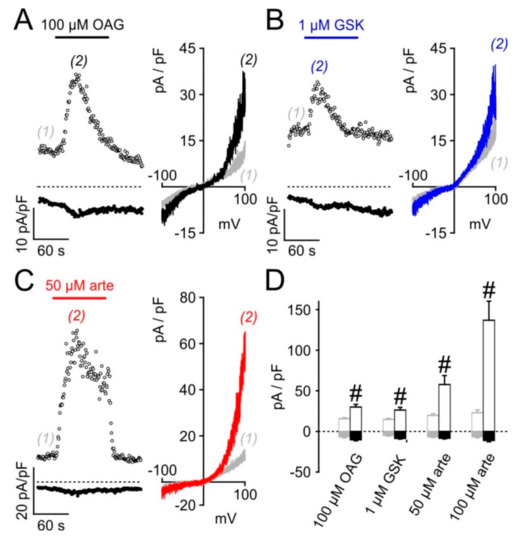 Figure 8.
Electrophysiological whole-cell recordings of artemisinin-induced TRPC3-like currents in PC12 cells. Current densities in PC12 cells were recorded at +100 mV (upper traces) and –100 mV (lower traces) as described in
Figure 4
A during the application of 100 µM OAG (
A
), 1 µM GSK-1702934A (GSK;
B
), or 50 µM artemisinin (arte;
C
). Time courses of current densities (left panels) and I/V curves taken at the indicated time-points (right panels) are depicted. (D) Statistical analysis of outward (open bars) and inward current densities (filled bars) in 11–15 PC12 cells before (grey) and during the exposure to the indicated activators (black). #: statistically significant difference of both outward and inward current densities compared to the respective basal values.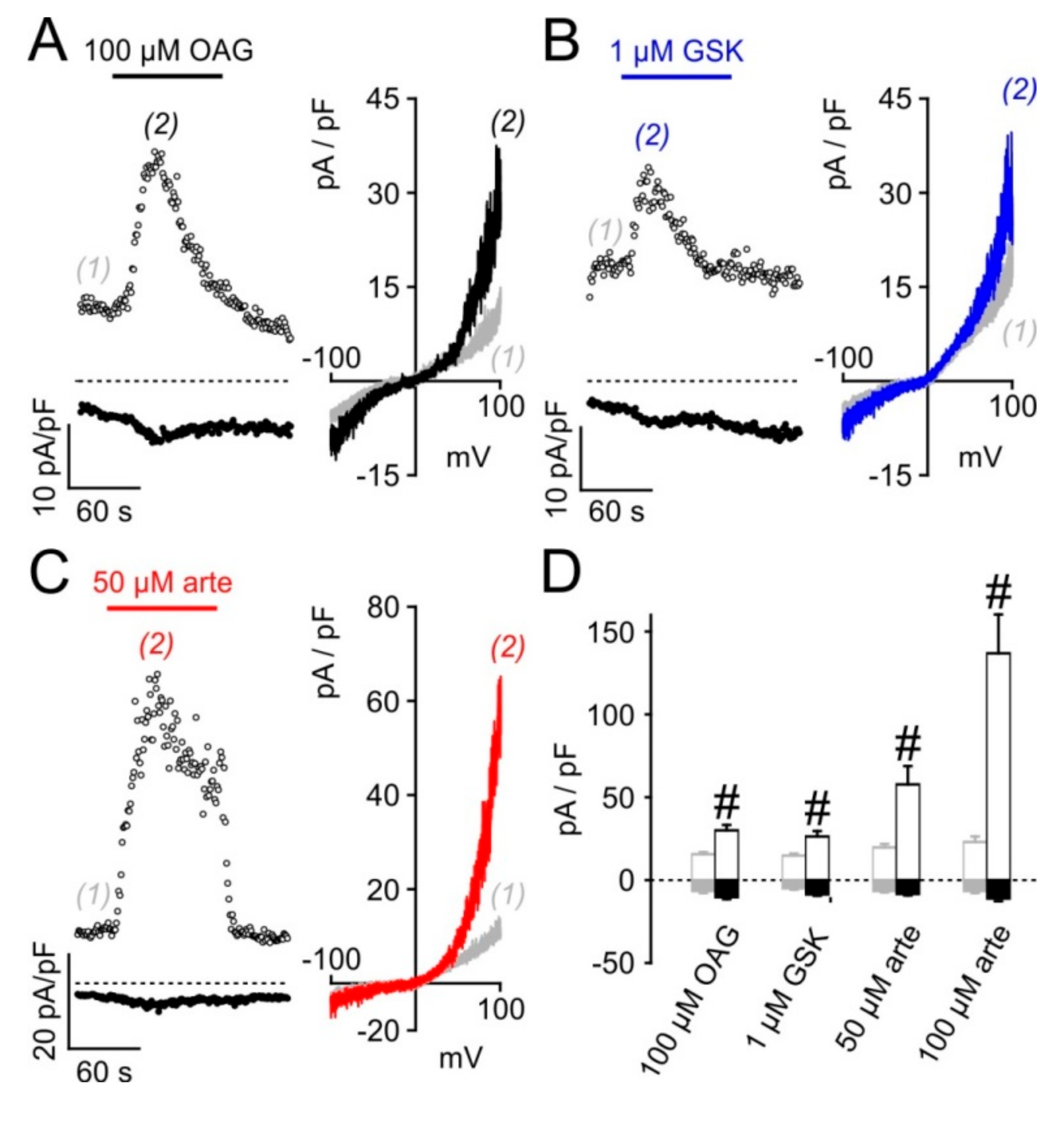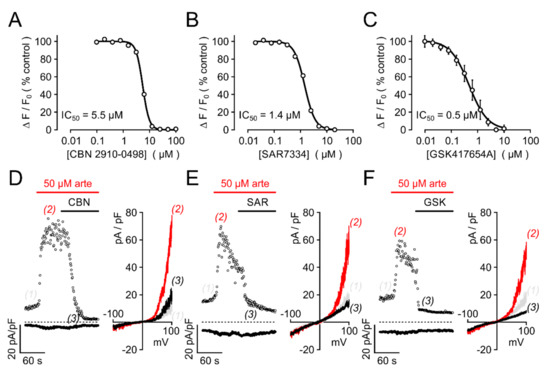 Figure 9.
Artemisinin-induced ionic currents in HEK293 cells and in PC12 cells are sensitive to established TRPC3 inhibitors. (
A
–
C
) Serial dilutions of the indicated inhibitors were applied to HEK
TRPC3-YFP
cells at the indicated final concentrations for 5 min, and responses to acute challenge with 50 µM artemisinin were measured in fluo-4-loaded HEK
TRPC3-YFP
cell suspensions. Concentration–response curves were normalized to responses measured without an inhibitor (controls), and IC
50
values were obtained by fitting a four-parameter Hill equation to the data. Data are compiled from 4–6 independent experiments performed in duplicate, each. (
D
–
F
) Ionic currents in PC12 cells were induced by 50 µM artemisinin and recorded as in
Figure 7
C, but with inhibitors CBN 2910-0948 (CBN, 10 µM;
D
), SAR7334 (SAR, 5 µM;
E
), or GSK417654A (GSK, 5 µM;
F
) added in the continuous presence of artemisinin. Note the markedly accelerated current decay during application of the inhibitors (left panels). Corresponding I/V curves taken at the indicated time points are plotted (right panels).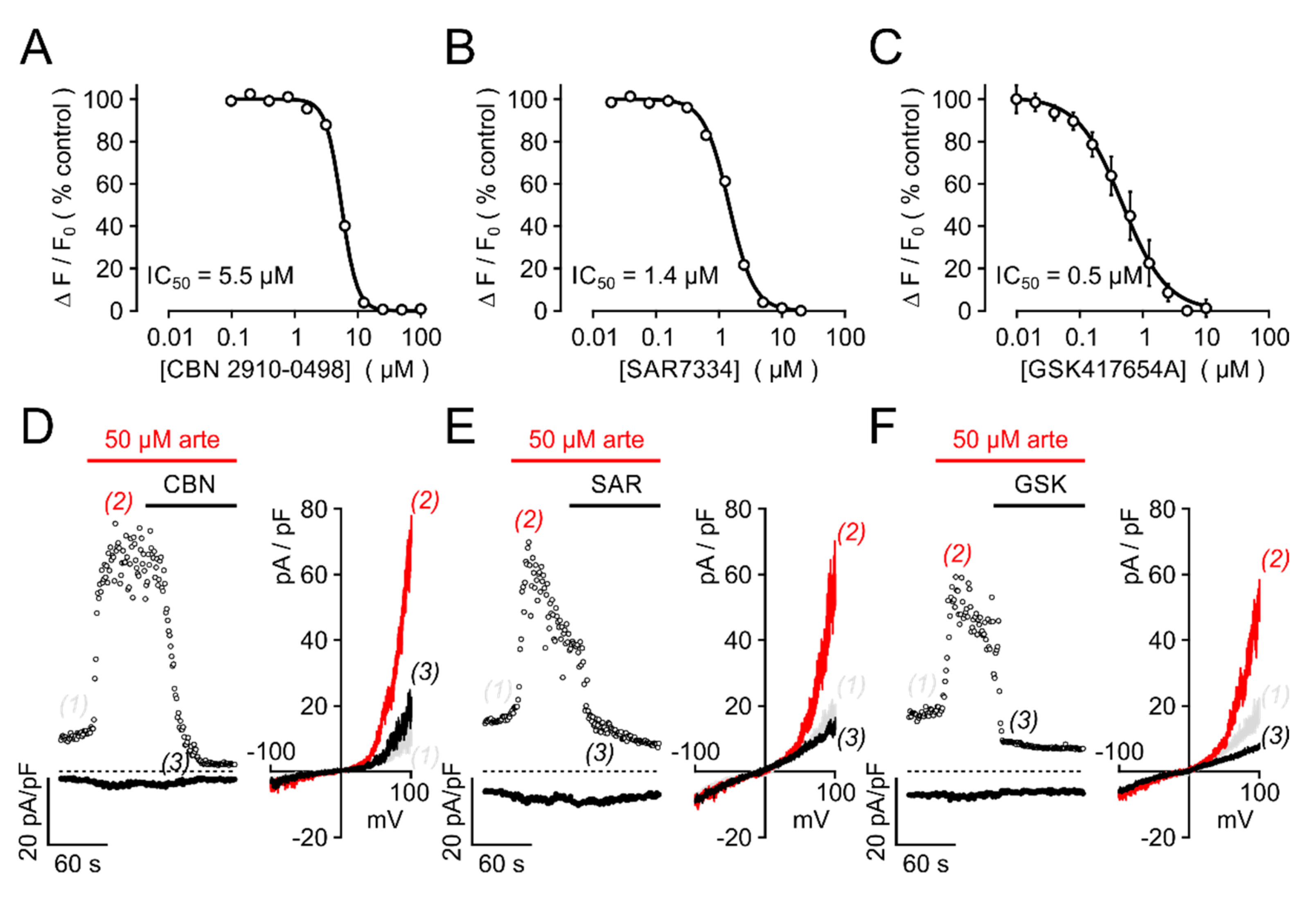 © 2020 by the authors. Licensee MDPI, Basel, Switzerland. This article is an open access article distributed under the terms and conditions of the Creative Commons Attribution (CC BY) license (http://creativecommons.org/licenses/by/4.0/).