Open Access This article is
freely available
re-usable
Review
TRPC Channels: Dysregulation and Ca2+ Mishandling in Ischemic Heart Disease
1
Department of Medical Physiology and Biophysics, Institute of Biomedicine of Seville, University of Seville, 41013 Seville, Spain
2
Biomedical Research Networking Centers of Cardiovascular Diseases (CIBERCV), 28029 Madrid, Spain
3
IdiPAZ Institute for Health Research La PAZ, 28029 Madrid, Spain
4
Department of Stomatology, School of Dentistry, University of Seville, 41009 Seville, Spain
5
Department of Physiology (Cell Physiology Research Group), Institute of Molecular Pathology Biomarkers, University of Extremadura, 10003 Caceres, Spain
†
Débora Falcón and Isabel Galeano Otero contributed equally to this work.

Received: 19 November 2019 / Accepted: 8 January 2020 / Published: 10 January 2020
Abstract
:
Transient receptor potential canonical (TRPC) channels are ubiquitously expressed in excitable and non-excitable cardiac cells where they sense and respond to a wide variety of physical and chemical stimuli. As other TRP channels, TRPC channels may form homo or heterotetrameric ion channels, and they can associate with other membrane receptors and ion channels to regulate intracellular calcium concentration. Dysfunctions of TRPC channels are involved in many types of cardiovascular diseases. Significant increase in the expression of different TRPC isoforms was observed in different animal models of heart infarcts and in vitro experimental models of ischemia and reperfusion. TRPC channel-mediated increase of the intracellular Ca2+ concentration seems to be required for the activation of the signaling pathway that plays minor roles in the healthy heart, but they are more relevant for cardiac responses to ischemia, such as the activation of different factors of transcription and cardiac hypertrophy, fibrosis, and angiogenesis. In this review, we highlight the current knowledge regarding TRPC implication in different cellular processes related to ischemia and reperfusion and to heart infarction.
Keywords:
TRPC channel; Ca
2+
entry; cardiac infarction; cardiac repair
Funding
This research was funded by FEDER funds, by the Spanish Ministry of Economy and Competitiveness "BFU2016-74932-C2-1-P and BFU2016-74932-C2-2-P", by the Institute of Carlos III "PI18/01197", and by the Andalusia Government "PI-0193-2018 and PI-0313-2016".
Conflicts of Interest
The authors declare no conflicts of interest.
Abbreviations
Diacylglycerol (DAG); dominant-negative (dn); endothelial cells (ECs); hypoxia–reoxygenation (H/R); intracellular Ca
2+
concentration ([Ca
2+
]
i
); inositol triphosphate receptors (IP3R); ischemia and reperfusion (I/R); heart failure (HF); knockout (KO); myocardial infarction (MI); neonatal rat ventricular myocytes (NRVM); 1-oleoyl-2-acetyl-
sn
-glycerol (OAG); sarco-endoplasmic reticulum Ca
2+
ATPase (SERCA); sarcoplasmic Na
+
/Ca
2+
exchanger (NCX); transient receptor potential (TRP); thoracic aortic constriction (TAC); vascular endothelial growth factor (VEGF); wild-type (WT).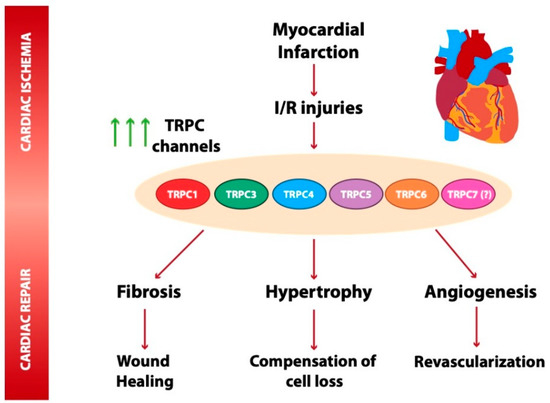 Figure 1.
Scheme summarizing transient receptor potential canonical (TRPC) channel isoforms dysregulated under myocardial infarction (MI) and ischemia and reperfusion. TRPC1, 3, 4, 5, and 6 are upregulated in mouse and rat animal models of MI [
5
,
13
,
71
]. Compelling evidence indicates that TRPC channel overexpression contributes to Ca
2+
entry, mediating the activation of Ca
2+
-sensitive signaling pathways, such as calcineurin–NFAT, a critical pathway involved in apoptosis, cardiac hypertrophy, and fibrosis [
13
,
28
,
55
,
66
,
67
]. TRPC proteins are likely also involved in cardiac repair-related processes. The protective role played by TRPC6 in wound healing is of note [
37
]. Other studies suggested a role of TRPC channels, such as TRPC5, in angiogenesis and revascularization triggered post ischemia [
104
].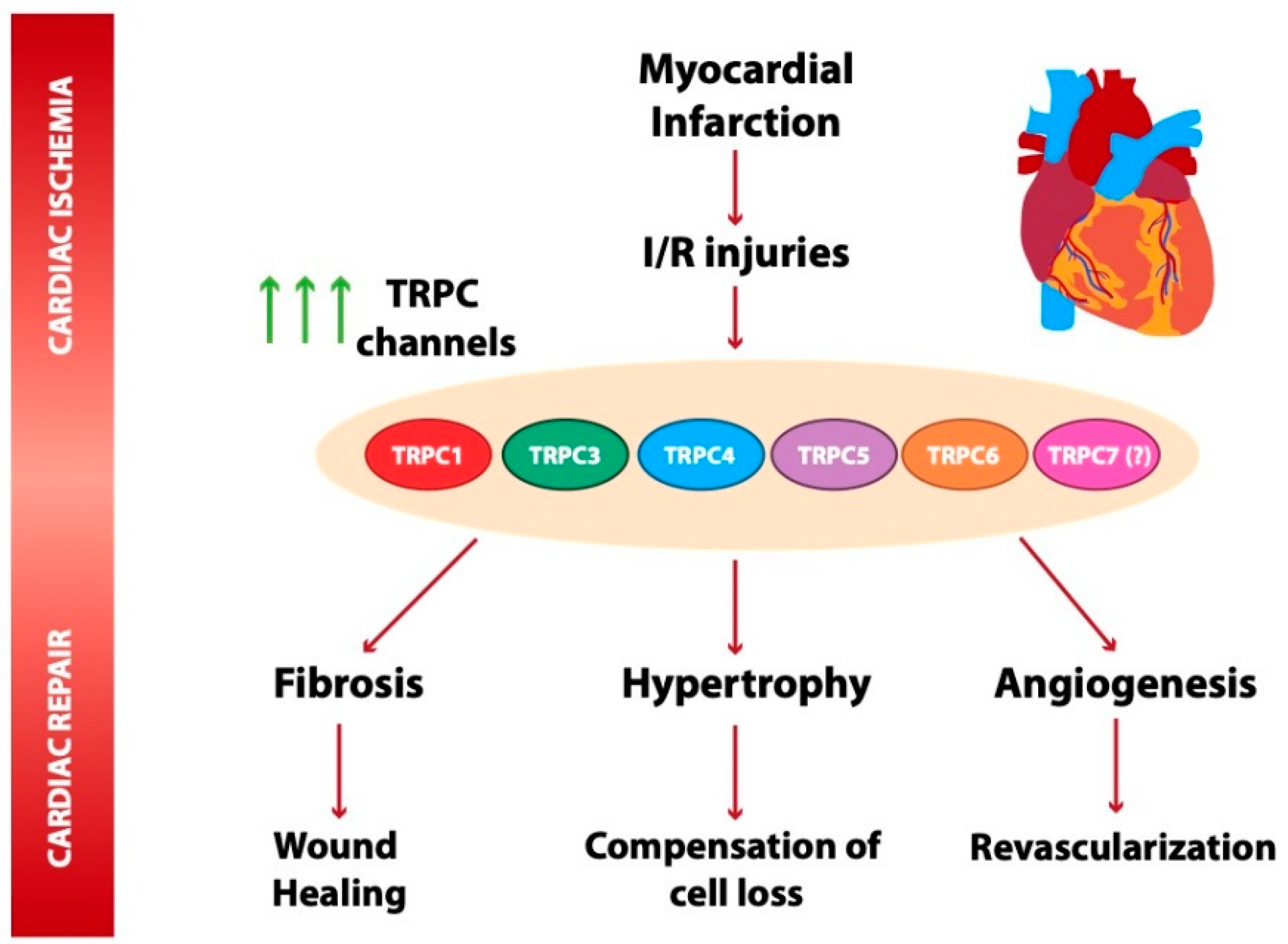 © 2020 by the authors. Licensee MDPI, Basel, Switzerland. This article is an open access article distributed under the terms and conditions of the Creative Commons Attribution (CC BY) license (http://creativecommons.org/licenses/by/4.0/).