Open Access This article is
freely available
re-usable
Review
Understanding Quantitative Circadian Regulations Are Crucial Towards Advancing Chronotherapy
1
HKBU Institute for Research and Continuing Education, Shenzhen 518057, China
2
Institute of Integrated Bioinfomedicine and Translational Science, School of Chinese Medicine, Hong Kong Baptist University, Hong Kong 999077, China
†
These authors contributed equally to this work.

Received: 10 May 2019 / Accepted: 9 August 2019 / Published: 13 August 2019
Abstract
:
Circadian rhythms have a deep impact on most aspects of physiology. In most organisms, especially mammals, the biological rhythms are maintained by the indigenous circadian clockwork around geophysical time (~24-h). These rhythms originate inside cells. Several core components are interconnected through transcriptional/translational feedback loops to generate molecular oscillations. They are tightly controlled over time. Also, they exert temporal controls over many fundamental physiological activities. This helps in coordinating the body's internal time with the external environments. The mammalian circadian clockwork is composed of a hierarchy of oscillators, which play roles at molecular, cellular, and higher levels. The master oscillation has been found to be developed at the hypothalamic suprachiasmatic nucleus in the brain. It acts as the core pacemaker and drives the transmission of the oscillation signals. These signals are distributed across different peripheral tissues through humoral and neural connections. The synchronization among the master oscillator and tissue-specific oscillators offer overall temporal stability to mammals. Recent technological advancements help us to study the circadian rhythms at dynamic scale and systems level. Here, we outline the current understanding of circadian clockwork in terms of molecular mechanisms and interdisciplinary concepts. We have also focused on the importance of the integrative approach to decode several crucial intricacies. This review indicates the emergence of such a comprehensive approach. It will essentially accelerate the circadian research with more innovative strategies, such as developing evidence-based chronotherapeutics to restore de-synchronized circadian rhythms.
Keywords:
circadian rhythms; transcriptional dynamics; molecular clockwork; chronotherapy
1. Introduction
Adapting to the environment across different geophysical locations is a spontaneous tendency of life on the Earth prompted by progressive evolution. Axial rotation of Earth causes day/night cycles around 24-h. This brings periodic fluctuations in light exposure, light intensity, and environmental temperature every day. It influences all organisms immensely in terms of many aspects of their physiology and behavior. To adopt such periodical changes, most organisms have been equipped with internal biological clocks that antedates day and night cycles. It facilitates them to optimize their intrinsic physiological activities and behavior. This inherent phenomenon is termed circadian rhythm. It consists of a self-sustained 24-h rhythm generator, orchestrating the internal oscillators to the external stimuli. Recent studies have suggested that circadian systems in mammals consist of several internal clocks across the entire body [
1
]. These clocks, located in different tissues, are connected to the central clock, known as the suprachiasmatic nucleus (SCN). This systematic network of clocks helps in balancing various physiological processes in the body.
In this review, we have sketched the fundamentals of circadian rhythms, the molecular mechanisms of the clock, and recent advancements. We have also focused on the recent advancements in temporal synchronizations among the master clock and the peripheral clocks over different tissues. Currently, the basis of such synchronizations is not very well elucidated and there are several gaps yet to be addressed. Therefore, we reviewed the panoramic standpoints of the circadian research to consolidate our understanding from molecular level to systems level. In future, such deep understanding would certainly help us in reimagining the potential scopes of chronotherapeutic interventions.
2. Molecular Insights of the Clockwork and the Feedback
Most organisms on Earth exhibit the inherent spontaneous feature to adapt to environmental entrainments differentially. Remarkably, to achieve such adaptability, most of the organisms possess an internal biological clock that predates day and night cycles and facilitates in balancing physiological activities and behavior. This inherent physiological system is known as circadian rhythm [
2
]. The 24-h circadian systems synchronize internal oscillators to external stimuli such as light and temperature, also known as the zeitgebers or timekeepers. This drives temporal orchestrations of multiple physiological processes [
2
].
2.1. The Overview of the Mammalian Circadian Clockwork and Its Regulations
Recently, core molecular mechanisms beyond the rhythmic oscillations have been well defined. This is primarily generated by two interconnected transcription/translation feedback loops (TTFLs) [
2
,
3
,
4
]. These loops operate together to produce robust 24-h rhythmic gene expression patterns. These canonical molecular clockworks include a core set of genes being negatively regulated through the TTFLs (
Figure 1
). In addition, there have been two interconnected TTFLs that have been recognized in mammalian circadian systems—the primary and the secondary TTFLs. The temporal control of the core primary TTFLs was majorly intended by four integral clock-related proteins: two activators (CLOCK and BMAL1) and two repressors (PER and CRY), along with kinases and phosphatases as rate-limiting factors to sustain the closed-loop feedback regulation. The molecular interconnection among those regulators are essential for the circadian clockworks.
2.2. Dynamics of Circadian Transcription/Translation Feedback Loops
Understanding the dynamics of the circadian transcription must provide a robust perception of the clockworks at molecular level. The two major transcriptional activators, CLOCK and BMAL1, form a heterodimeric complex (CLOCK:BMAL1) and are an essential positive regulator for mammalian circadian clockworks. This heterodimer is capable of binding to several thousand sites across the genome in a timely manner [
4
,
5
]. Recruitment of integral clock protein transcriptional repressors, PER1, PER2, CRY1, and CRY2 is facilitated upon CLOCK:BMAL1 heterodimeric complex binds to the consensus E-box DNA motifs [
2
,
4
]. This process usually occurs during the dark phase [
2
,
4
]. The most recent model suggested that cyclical repression of CLOCK:BMAL1 activity by another heterodimeric complex PER:CRY confers the rhythmicity of transcriptional output over ~24-h periodicity, which were further extended beyond CLOCK:BMAL1 target genes through circadian regulation of additional transcription factors and coregulators [
6
]. Also, PER and CRY proteins used to get recruited to other different sites across the genome which are usually enriched for nuclear hormone receptor-binding [
6
,
7
]. This gives PER and CRY control over the transcriptional activities of a diverse array of nuclear hormone receptors [
6
,
7
]. Thus, PER and CRY strongly demonstrate an extensive temporal regulation mediated by different TFs outside the core molecular clock loop. This has also indicated the most plausible mechanism of conveying the temporal cues to the downstream TFs through a rhythmic transcriptional regulation by clock-driven oscillations over the 24-h in a day. PER is used to regulate or limit circadian transcriptional machinery in two different modes: (1) PER facilitates a direct interaction with the CLOCK:BMAL1 to recruit some other components, including epigenetic modulators such as histone deacetylases to repress further transcriptional activation by CLOCK:BMAL1 [
8
]. (2) By interacting with RNA-binding proteins and helicases, PER gets recruited to the termination site of the
Per1
, directing transcriptional termination to limit CLOCK:BMAL1-mediated transcriptions independently [
8
].
A few studies have also suggested CRY as a key player in potential repression of CLOCK:BMAL1 driving the transcriptional activation [
2
,
4
]. Researchers have identified two cryptochromes, CRY1 and CRY2, in mammals. Out of those two, CRY1 has been widely studied. CRY1 alone has been found to sustain circadian rhythms and exhibit a significantly altered expression relative to CRY2. CRY2 is usually encoded by multiple clock-regulated promoter elements [
9
,
10
]. In fact, CRY1 is used to interact with CLOCK:BMAL1 heterodimer autonomously ahead of PER, and is usually found at CLOCK:BMAL1-bound sites in the early morning. Thus, CRY1-mediated transcriptional control to maintain CLOCK:BMAL1-mediated transcriptional activation is used to react as a premier molecular gatekeeper, and is presumed to be more robust, self-sustained, and independent by features. However, a thorough mechanism is not yet explained enough.
In addition to this primary core TTFL, another secondary TTFL clockwork has been recognized. This is generated through transcriptional activation by the retinoid-related orphan receptors (ROR
α
, ROR
β
, and ROR
γ
) [
2
,
11
] and repression by REV-ERB
α
/REV-ERB
β
[
12
,
13
]. This second loop drives rhythmic changes in
Bmal1
transcription and introduces a delay in
Cry1
mRNA expression that counterbalances it from the CLOCK:BMAL1 heterodimer-regulated genes. These rhythmic changes in BMAL1 abundance are not primarily required to drive the core TTFL [
2
]. However, to maintain the circadian timing and timely ticking of the internal clocks, the second TTFL, the ROR/REV TTFL-induced delay in
Cry1
expression is very crucial [
12
,
13
]. It provides an additional layer of fine-tuning of the body clocks to be maintained in a timely manner keeping pace with external cues and internal physiology. Thus, interlocking feedback loops provide robustness against noise and environmental perturbations to maintain accuracy in circadian timing. The existence of these cooperatives also helps to generate phase delays in circadian transcriptional output, which temporally regulates the expression of clock-controlled output genes and other circadian rhythm-related genes for tuning internal physiology [
2
]. Furthermore, there may exist several other modes of transcriptional controls beyond those two primary and secondary clockworks.
2.3. Different Modes of Circadian Transcriptional Regulation
To provide a more holistic overview about the circadian oscillation generation, interestingly, computational biologists and bioinformaticians have identified a few regulatory motifs associated with the clock-specific TFs to explain the circadian transcriptions [
5
,
14
]. Recently, a quantitative viewpoint with the TF-binding occupancy has refreshed the understanding on circadian gene regulations. This influences the degree of rhythmic oscillations over the day [
14
]. Therefore, the research track on the spatio-temporal regulations of the circadian genes may be accelerated through synergistic remodeling of circadian epigenetic landscapes. Besides, several genome-wide studies revealed an interesting fact that both the chromatin remodeling and RNAP-II recruitment are capable of demonstrating a daily rhythmic discrepancy at all actively expressed circadian genes, even if some genes do not undergo vigorous transcriptional variations [
15
,
16
]. Thus, a robust variation in epigenetic circumstances could fund an overall intensification in transcriptions over a specific period within the 24-h day. Thus, the dynamic behaviors of circadian gene expression are highly associated with the tuning of indigenous physiological clock/timing provided by the body's own clock. Therefore, the transcriptional dynamics and variation in transcriptional kinetics over the 24-h a day used to be believed to exert a substantial role in the emergence of rhythmic properties in the mammalian clock [
15
,
16
].
However, a profound direction backing these challenges is that
cis
-acting regulatory elements play a pivotal role in restructuring the kinetics of transcriptional bursts, contributing to the circadian transcriptional variability, and/or noise [
15
,
16
]. This could be achieved through recruitment and retention of general transcriptional machinery and coregulators that facilitate restructuring the local molecular environment. Nevertheless, comprehensively decoding the detailed transcriptional snapshots and other layers of molecular regulations among the core clock and peripheral clocks remained out of reach of prevailing approaches [
2
]. To date, there is neither any strong scientific evidence nor any solid, comprehensive recommendation on this. The suggested tracks are limited by the complexities of more integrative algorithm developments to accommodate different layers of molecular information into a single framework. Also, only the transcriptional mode of control is not enough, and scientists must envisage more molecular complexity to understand full inclusively about circadian rhythms at the dynamic scale. Therefore, probing post-transcriptional and post-translational modifications are also quite important in addition to the transcriptional landscape.
3. Post-Transcriptional and Post-Translational Controls over the Molecular Oscillations
Post-transcriptional and post-translational modifications have been believed to a very important decisive determinant for regulating molecular clockwork/oscillation. Studies have suggested that approximately 80% of mRNA did not exhibit circadian rhythm in their de novo transcription; however, they do demonstrate circadian rhythms in their content [
4
]. This phenomenon states that post-transcriptional regulation certainly plays a critical role in executing circadian rhythmic features [
17
]. Another interesting insight about the emergence of post-translational modifications has been explained well in terms of affecting period length. The first mammalian clock gene,
Tau
, was identified in a mutant hamster exhibiting shortening circadian period [
18
]. This
Tau
possesses a missense mutation at the phosphorylation site of CK1
ϵ
, which also facilitates phosphorylation of many clock proteins, including the CRY and PER [
19
]. Interestingly, the patients with advanced-sleep-phase syndrome, with shorter circadian period length, have been screened to possess a missense mutation at the CK1
ϵ
site in their
Per2
gene [
20
]. Later, studies supported the hypothesis that the shorter period for mutated
Tau
was due to gain-of-function mutation that induced hyperphosphorylation in different sites of the PER2, resulting in shorter molecular oscillation, thus shorter period length [
21
]. It is not only CK1
ϵ
; there are several other kinases that can account for affecting period length [
22
]. Also, different kinds of post-translational modifications are imparted into circadian period maintenance, such as ubiquitination [
23
,
24
], acetylation [
25
], and SUMOylation [
26
].
Additionally, many mutations have been identified against different types of sleep/wake rhythmic disorders [
27
,
28
,
29
]. In recent years, research focus has gained attention towards targeting clock genes underlying mood disorder [
30
,
31
,
32
] and also neurodevelopmental disorders [
33
,
34
,
35
] for therapeutic interventions. Moreover, multiplexed molecular interactions, feedback loops, and signaling systems together offer the stability towards circadian homeostasis. However, intense study is required to comprehensively decode multi-layered mechanisms maintaining the clockwork from the molecules to cells to systems [
36
].
4. Light Entrainment and Synchronization of Biological Clocks
5. The Inter-Relation Among the Core Circadian Pacemaker and the Peripheral Clocks
The circadian system is hierarchically organized with the SCN network-based master pacemaker in the central nervous systems. This is sequentially entrained to the light every day around the 24-h and engages in conducting a distributed network of peripheral clocks across different distal cells and tissues in the body. The master clock is vital for maintenance of the sleep/wake cycle related to dark/light exposure and also essentially maintains many other physiological activities, including learning, rewarding, and neurogenesis. Again, the peripheral clocks are entrained to the master clock. However, during aging, shift work, jet lag, and in any diseased conditions, the peripheral clocks and the master clock become de-synchronized [
56
,
57
,
58
,
59
,
60
,
61
,
62
]. Systematic disruptions of circadian rhythms are associated with impairment of sleep behaviors, and also molecular pathogenesis of different metabolic syndromes, obesity, diabetes, and even cancer.
An interesting perspective on how the multiple peripheral clocks located at distal tissues exert robust controls to their circadian genes' expressions at dynamic scales is challenging to be elucidated (
Figure 3
). However, several microarray experiments suggested wide ranges of transcriptional controls regulating peripheral clocks, coordinating with tissue-specific functions and temporal control [
63
,
64
]. Furthermore, many experiments confirmed that circadian output is primarily controlled at the transcriptional level [
65
]. However, it is quite important to know how these only few components belonging to same molecular architecture are capable of such divergent gene expressions in a tissue-specific manner. Also, the mechanisms beyond their intricated temporal tuning must be enlightened further, as the transcription-driven model alone could not completely explain the divergency of circadian rhythms [
2
,
14
,
66
]. Thus, the smart approach demands more layers of information to be involved in a single model to investigate the complex rhythmic oscillation. Moreover, it has been believed that post-transcriptional, translational, and/or post-translational regulation must have very significant influence towards regulating the circadian output. Recently, many research groups have been engaged in genome-wide studies to examine the temporal recruitment of integral clock proteins, transcriptional machinery, and epigenetic modifications to chromatin structure to determine how the clock confers temporal control over transcriptional output [
4
,
10
,
67
,
68
]. In fact, a few studies stated that most of the circadian changes in mRNA levels may result from post-transcriptional regulation [
4
,
5
,
10
,
14
,
67
,
68
].
However, the all-encompassing mechanistic insights underpinning such divergent circadian gene regulations (transcriptionally and/or post-transcriptionally) are not yet clearly exposed. Simultaneously, another intriguing fact is still unknown, which is how these various levels of regulations and their molecular regulators are synchronized among different tissues to exert circadian controls over physiological activities. It is also important to decode the mechanisms that lead to circadian disruption-related disorders. Hence, a research approach, integrating various high-throughput biological data, may gather deep information from the molecular aspects [
69
]. Moreover, such advancements must augment knowledge linked to circadian biology and physiological outcomes, especially the sleep physiology.
6. Circadian Biology and Human Health
Day-to-day physiological activities, such as regulating sleep patterns, feeding behavior, hormone release, hormonal homeostasis, blood pressure, and body temperature maintenance are greatly influenced by circadian rhythms. Among them, circadian rhythm-associated sleep disorders were found to be linked with many major clinical consequences [
70
,
71
,
72
]. It has become a wide psycho-social and public health issue globally which is linked with various diseases [
73
]. Thus, many researchers are producing different tools and approaches related to chronobiology and pharmacology to modulate the period, phase and amplitude of circadian rhythms to improve human health. The discovery of the self-sustained TTFLs has led to a new paradigm in our understanding of how organisms adapt to daily environmental cues [
74
].
6.1. Influence of the External Factors on Circadian Homeostasis and Diseases
6.2. Effect of the Misalignment of the SCN-Master Clock and Peripheral Clocks on Diseases
The rhythmic oscillations are present not only in the SCN-master clock but also throughout the body. The SCN-driven output produces temporal signals broadcast widely in the different brain regions and peripheral tissues (as discussed in
Section 4
). Cumulatively, they exert broad effects at every level of organization, from genome regulation to control of protein synthesis, cell signaling and many other physiological functions [
75
]. Thus, misalignments of the synchronizations between these SCN-master clock and different tissue-specific peripheral clocks are tightly linked in diseases development across the system (
Figure 4
) [
75
,
121
].
7. Recent Status of the Chronotherapy: A Potential Therapeutic Intervention
However, there is not enough scientific evidence beyond the relational effects of chronotherapeutics in various stages of lifespan, different geographical locations, or ethnic races. In future, the wide range of studies encompassing the scopes of the chronotherapy must be evolved. Also, chronotherapy will become an emerging therapeutic intervention for treating numerous clinical situations related to disturbances of the circadian rhythms.
8. Conclusions and Perspectives
In this review, we have highlighted the fundamental foundations, recent status, progressive advancements, and the potential futuristic indications to better understand the mammalian circadian clockwork, from molecules to systems. Certainly, circadian rhythms are quite complicated and systematic involving thousands of genes and multimodal regulatory layers. Eventually, understanding those deep-layered mechanisms must offer a plausible clue towards understanding the timely coordination of the different clocks. Even though it is tricky, intense, and challenging to establish a strong pathway backing for this synchronization and spatio-temporal dynamics among different clockworks within a living system, the more systematic integrity of different layers of molecular information is required to be studied altogether to understand the complex clockwork comprehensively. Thus, transcriptional, post-transcriptional, translational, post-translational, as well as wide-spectrum histone modifications, and protein–protein interactions must be studied all-inclusively to decode the deep molecular interplay among different layers of regulators for the circadian rhythm dynamics. Also, the detailed mechanistic insights for orchestration of the molecular oscillations from SCN, extra-SCN brain oscillators, and different distal peripheral tissues are yet to be vigorously studied. In addition, tissue-specific entrainments from different internal and external cues also need to be deeply investigated before making a concrete grip to modulate circadian rhythms for therapeutic purposes. Certainly, these deep insights and emerging quantitative strategies must help us to devise innovative therapeutic interventions and more precise, evidence-driven chronotherapeutics to plausibly manipulate the circadian rhythms at the dynamic scale from molecule to systems, thus to treat several disorders associated with circadian disturbances including one of the most neglected public health concerns, sleep disorders.
Author Contributions
Conceptualization, D.C. and H.-L.Z.; Writing—original draft preparation, D.C.; Writing—review and editing, C.W.; Visualization, D.C.; Supervision, C.W. and H.-L.Z.; Project administration, A.-P.L.; Funding acquisition, H.-L.Z. and C.W.
Funding
This research was funded by National Natural Science Foundation of China (31871315), Natural Science Foundation of Guangdong, China (2018A030310693), Shenzhen Science and Technology Innovation Commission of China (JCYJ20170817173139249), General Research Fund from Research Grants Council of Hong Kong (12201818).
Conflicts of Interest
The authors declare no conflict of interest.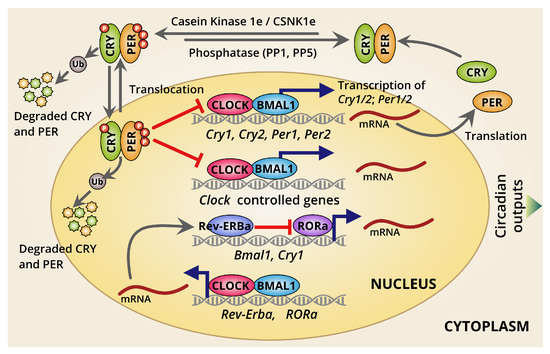 Figure 1.
A typical circadian clockwork involved in mammalian cells. It consists of two clockworks, the primary and the secondary TTFLs. A set of core clock genes in those two TTFLs are essential for producing the 24-h self-sustained indigenous oscillations. The primary TTFL composed of CLOCK, BMAL1, CRY, and PER. The CLOCK:BMAL1 heterodimer induces the clock-controlled genes and CRY and PER act as negative regulators for their own transcriptions. In the secondary TTFL, the
Rev-Erbα
and
RORα
are induced by the CLOCK:BMAL1. Their product ROR
α
counteracts with the primary clock genes.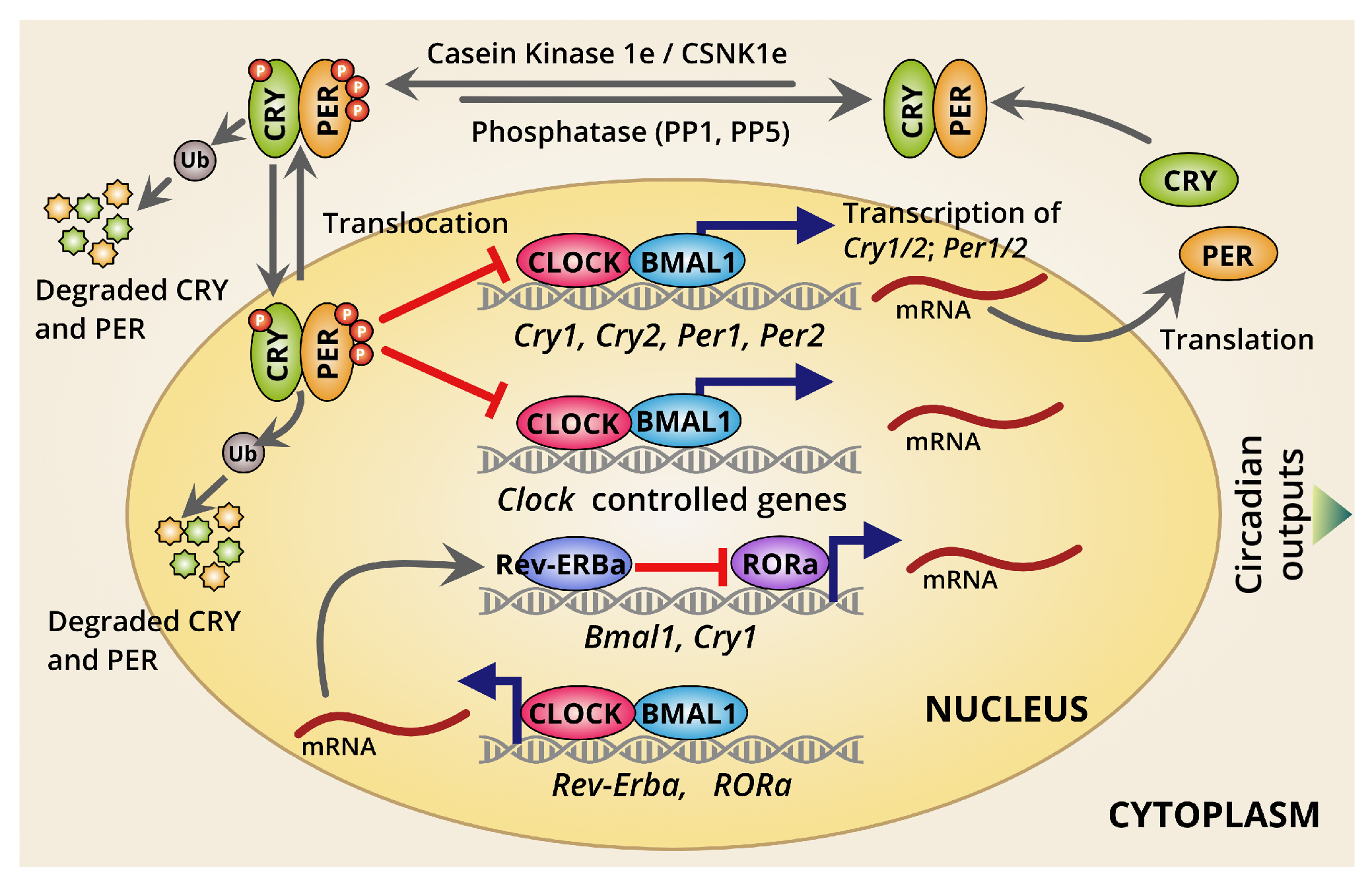 Figure 2.
Schematic representation of the light entrainment and intercellular signal transmissions. The mammalian circadian systems are most sensitive to the light and dark cycles around the 24-h a day. The light serves as the most inevitable external zeitgeber to entrain the mammalian circadian rhythms. Usually, the photic signals from the light sources are received by the ipRGCs and reach the master clock, located at the SCN under the hypothalamus of the brain
via
RHT. In SCN, the primary oscillations are produced and get transmitted to the cellular-molecular level of distal peripheral tissues across the organism's body. Thus, the different tissue-specific circadian outputs are produced. In addition, the locally regulated peripheral rhythms are integrated together to maintain circadian homeostasis, keeping a synchronization to the master clock.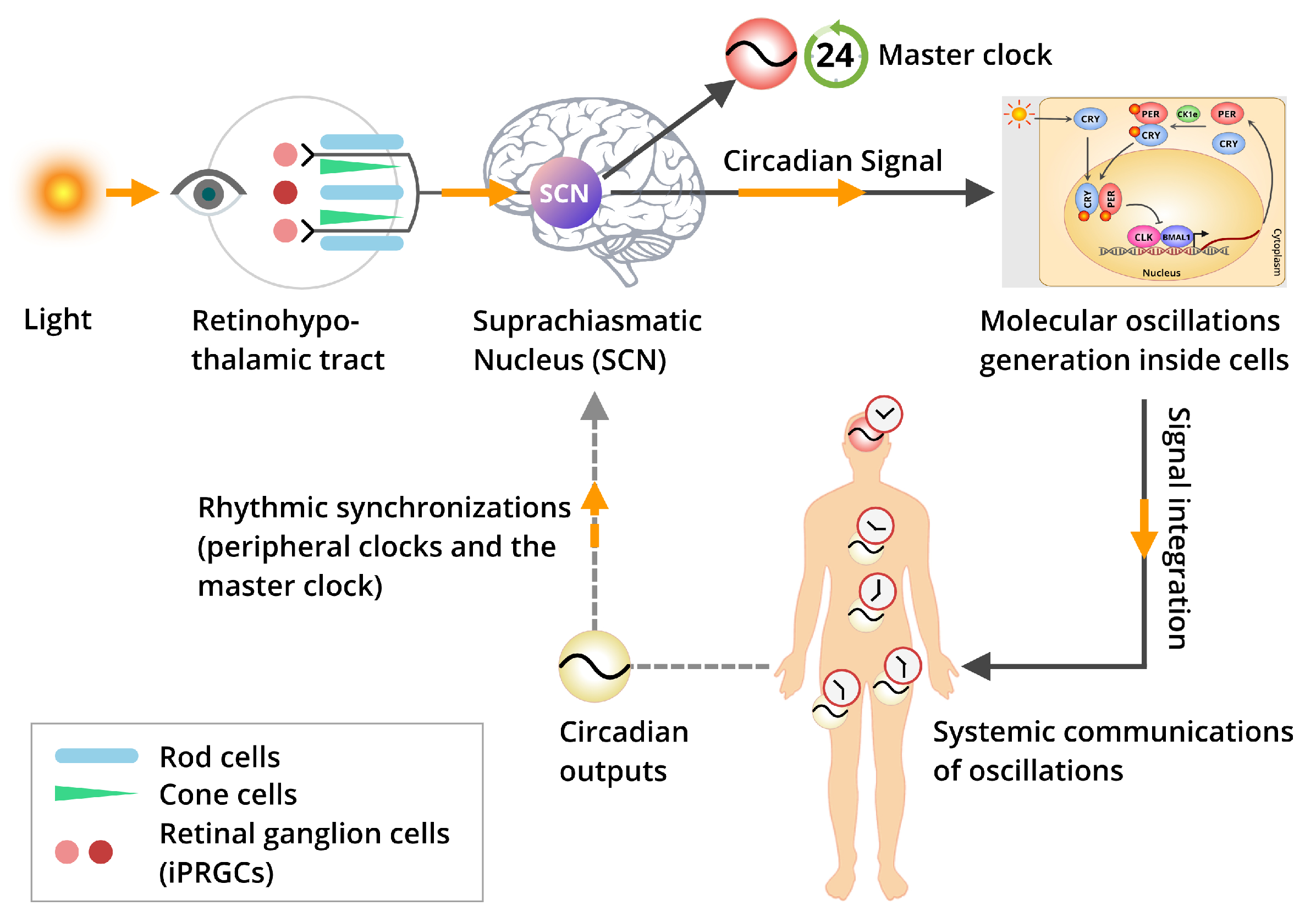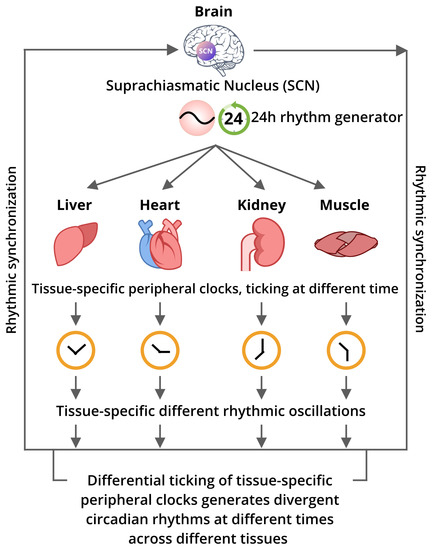 Figure 3. A representative connectome of the master clock and tissue-specific peripheral clocks. The primary rhythmic oscillation that is usually produced at the master clock is transduced to different tissues through the humoral and neural connectivities. The peripheral clocks preserve their own local timing and reproduce differential rhythmic oscillations, and thus differential circadian outputs. There may exist a tricky rhythmic synchronization mechanism among those peripheral clocks with the master pacemaker to establish the circadian homeostasis.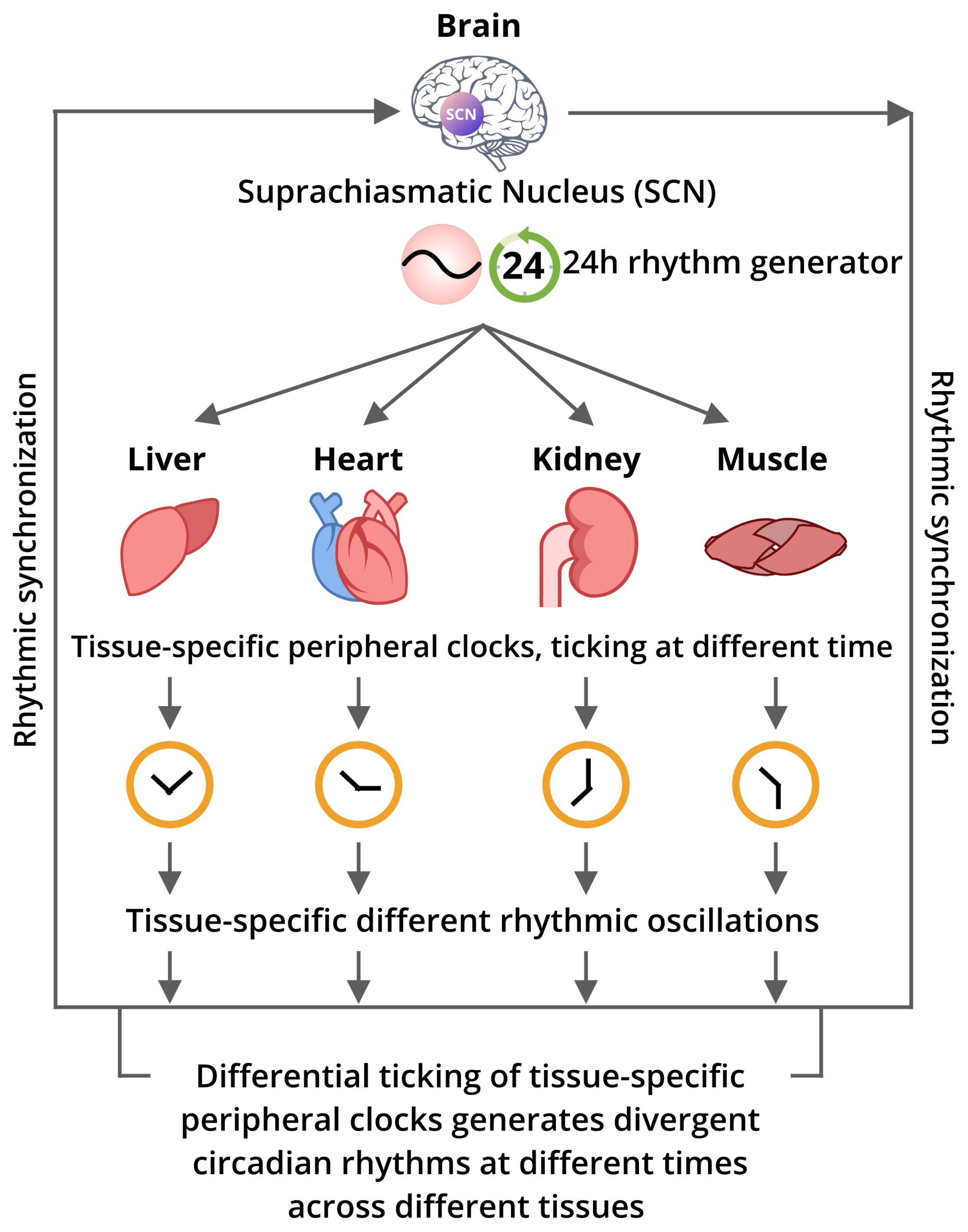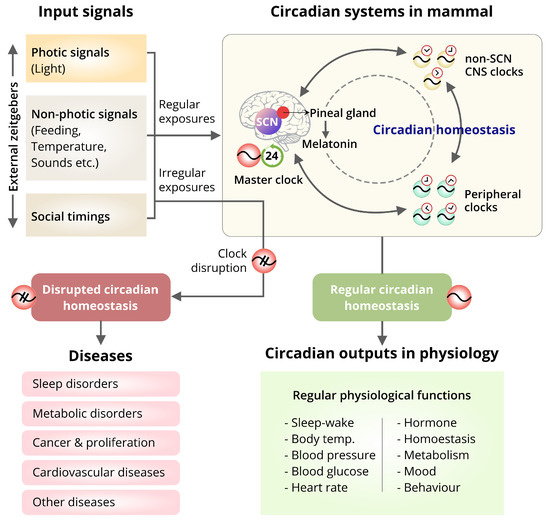 Figure 4. The association of the input signals, circadian homeostasis, and diseases. Intertwining interactions between the circadian clock and diseases are complex, and essentially depend not only on physiological factors alone, but also the influence of the different zeitgebers like, lights, sounds, temperature, feeding behaviors, lifestyles, and social timing received by the individual. Every individual clock needs to be synchronized within the tissue to sustain the stable phase-relationship to render the clock-mediated rhythmic information. The cellular clocks perceive the input signals by responding to the stimuli (input signals), integrate the phases to sense the temporal information and transmit the rhythmic information to other cells (circadian outputs) to adjust the indigenous clock timing with the external cues. This homeostatic mechanism drives the temporal regulations of different physiological functions. Disruption of such homeostasis leads to abnormal physiological activities and develops different diseases.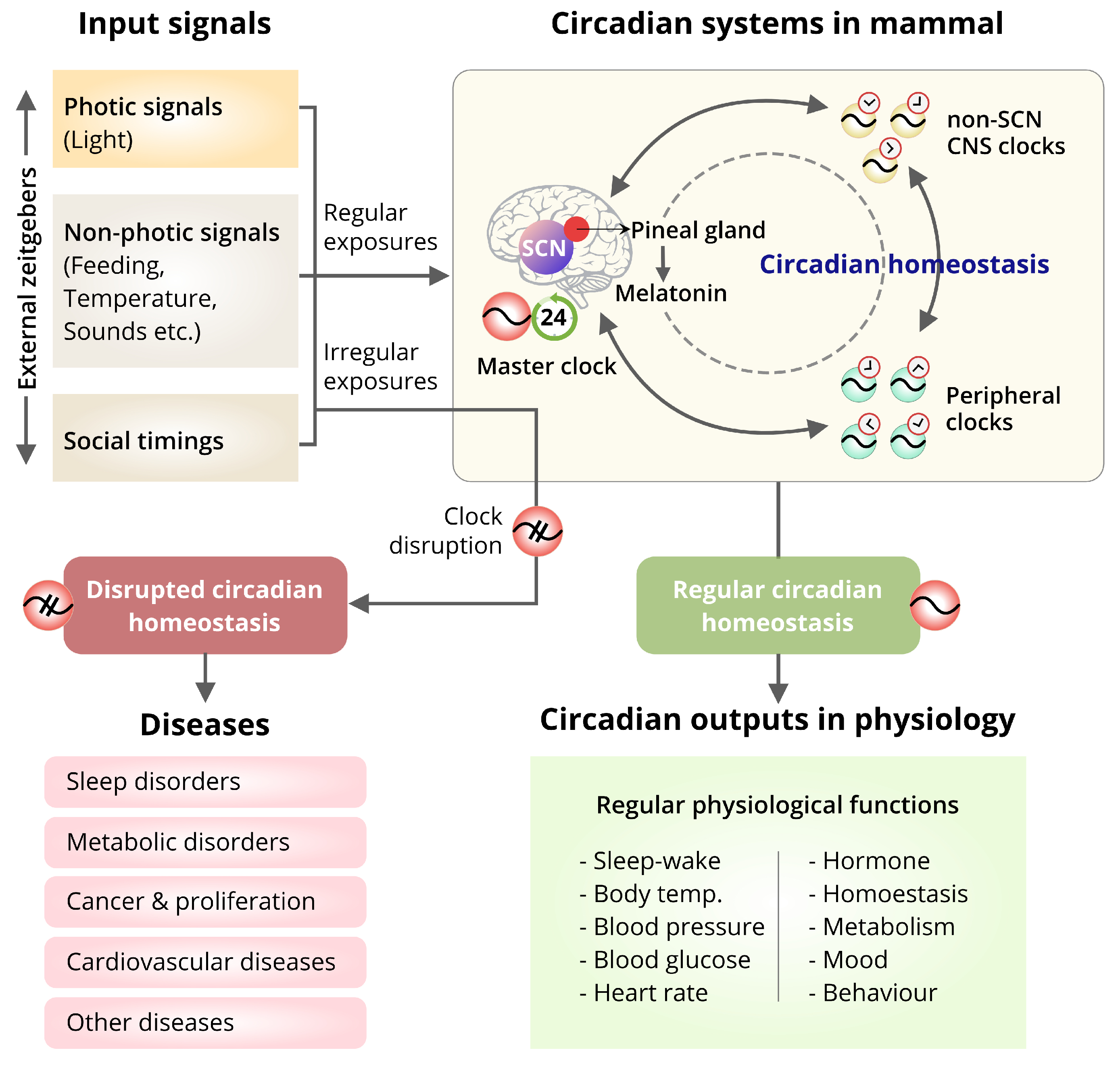 © 2019 by the authors. Licensee MDPI, Basel, Switzerland. This article is an open access article distributed under the terms and conditions of the Creative Commons Attribution (CC BY) license (http://creativecommons.org/licenses/by/4.0/).