Emerging Role of
l

-Dopa Decarboxylase in Flaviviridae Virus Infections

1

Laboratory of Molecular Virology, Hellenic Pasteur Institute (HPI), 11521 Athens, Greece

2

Light Microscopy Unit, Hellenic Pasteur Institute, 11521 Athens, Greece

3

2nd Department of Internal Medicine, Medical School of Athens, Hippokration Hospital, 11521 Athens, Greece

4

Section of Biochemistry and Molecular Biology, Faculty of Biology, National and Kapodistrian University of Athens, 15701 Athens, Greece

*

Author to whom correspondence should be addressed.

Received: 27 May 2019 / Revised: 23 July 2019 / Accepted: 2 August 2019 / Published: 5 August 2019
Abstract
l
-dopa decarboxylase (DDC) that catalyzes the biosynthesis of bioactive amines, such as dopamine and serotonin, is expressed in the nervous system and peripheral tissues, including the liver, where its physiological role remains unknown. Recently, we reported a physical and functional interaction of DDC with the major signaling regulator phosphoinosite-3-kinase (PI3K). Here, we provide compelling evidence for the involvement of DDC in viral infections. Studying dengue (DENV) and hepatitis C (HCV) virus infection in hepatocytes and HCV replication in liver samples of infected patients, we observed a negative association between DDC and viral replication. Specifically, replication of both viruses reduced the levels of DDC mRNA and the ~120 kDa SDS-resistant DDC immunoreactive functional complex, concomitant with a PI3K-dependent accumulation of the ~50 kDa DDC monomer. Moreover, viral infection inhibited PI3K-DDC association, while DDC did not colocalize with viral replication sites. DDC overexpression suppressed DENV and HCV RNA replication, while DDC enzymatic inhibition enhanced viral replication and infectivity and affected DENV-induced cell death. Consistently, we observed an inverse correlation between DDC mRNA and HCV RNA levels in liver biopsies from chronically infected patients. These data reveal a novel relationship between DDC and
Flaviviridae
replication cycle and the role of PI3K in this process.
View Full-Text
►

▼

Figures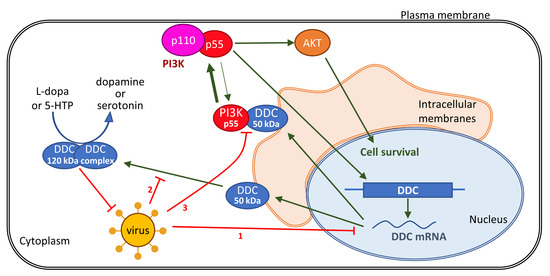 Graphical abstract
This is an open access article distributed under the
Creative Commons Attribution License
which permits unrestricted use, distribution, and reproduction in any medium, provided the original work is properly cited (CC BY 4.0).

Share & Cite This Article
MDPI and ACS Style
Frakolaki, E.; Kalliampakou, K.I.; Kaimou, P.; Moraiti, M.; Kolaitis, N.; Boleti, H.; Koskinas, J.; Vassilacopoulou, D.; Vassilaki, N. Emerging Role of l-Dopa Decarboxylase in Flaviviridae Virus Infections. Cells 2019, 8, 837.
Note that from the first issue of 2016, MDPI journals use article numbers instead of page numbers. See further details here.
Related Articles
Comments
[Return to top]