Vac8 Controls Vacuolar Membrane Dynamics during Different Autophagy Pathways in
Saccharomyces cerevisiae
1
Biochemie Intrazellulärer Transportprozesse, Ruhr-Universität Bochum, 44780 Bochum, Germany
2
Biomedizinische Forschung, Leibniz-Institute for Analytical Sciences (ISAS e.V.), 44139 Dortmund, Germany
*
Author to whom correspondence should be addressed.
Received: 4 May 2019 / Revised: 21 June 2019 / Accepted: 28 June 2019 / Published: 30 June 2019
(This article belongs to the Section
Autophagy
)
Abstract
The yeast vacuole is a vital organelle, which is required for the degradation of aberrant intracellular or extracellular substrates and the recycling of the resulting nutrients as newly available building blocks for the cellular metabolism. Like the plant vacuole or the mammalian lysosome, the yeast vacuole is the destination of biosynthetic trafficking pathways that transport the vacuolar enzymes required for its functions. Moreover, substrates destined for degradation, like extracellular endocytosed cargoes that are transported by endosomes/multivesicular bodies as well as intracellular substrates that are transported via different forms of autophagosomes, have the vacuole as destination. We found that non-selective bulk autophagy of cytosolic proteins as well as the selective autophagic degradation of peroxisomes (pexophagy) and ribosomes (ribophagy) was dependent on the armadillo repeat protein Vac8 in
Saccharomyces cerevisiae
. Moreover, we showed that pexophagy and ribophagy depended on the palmitoylation of Vac8. In contrast, we described that Vac8 was not involved in the acidification of the vacuole nor in the targeting and maturation of certain biosynthetic cargoes, like the aspartyl-protease Pep4 (PrA) and the carboxy-peptidase Y (CPY), indicating a role of Vac8 in the uptake of selected cargoes. In addition, we found that the hallmark phenotype of the
vac8
Δ strain, namely the characteristic appearance of fragmented and clustered vacuoles, depended on the growth conditions. This fusion defect observed in standard glucose medium can be complemented by the replacement with oleic acid or glycerol medium. This complementation of vacuolar morphology also partially restores the degradation of peroxisomes. In summary, we found that Vac8 controlled vacuolar morphology and activity in a context- and cargo-dependent manner.
View Full-Text
►

▼

Figures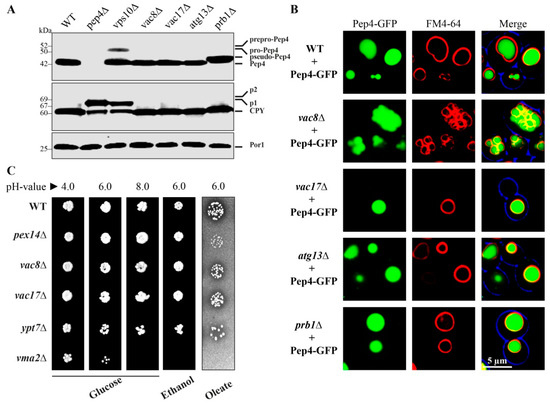 Figure 1
This is an open access article distributed under the
Creative Commons Attribution License
which permits unrestricted use, distribution, and reproduction in any medium, provided the original work is properly cited (CC BY 4.0).

Share & Cite This Article
MDPI and ACS Style
Boutouja, F.; Stiehm, C.M.; Reidick, C.; Mastalski, T.; Brinkmeier, R.; El Magraoui, F.; Platta, H.W. Vac8 Controls Vacuolar Membrane Dynamics during Different Autophagy Pathways in Saccharomyces cerevisiae. Cells 2019, 8, 661.
Note that from the first issue of 2016, MDPI journals use article numbers instead of page numbers. See further details here.
Related Articles
Comments
[Return to top]