Identification of Keratin 23 as a Hepatitis C Virus-Induced Host Factor in the Human Liver
1
Ruhr University Bochum, Faculty of Medicine, Department for Molecular and Medical Virology, 44801 Bochum, Germany
2
Institute of Experimental Virology, Twincore Centre for Experimental and Clinical Infection Research, a joint venture between the Medical School Hannover (MHH) and the Helmholtz Centre for Infection Research (HZI), 30625 Hannover, Germany
3
Department of Pathology, Otto-von-Guericke University of Magdeburg, 39106 Magdeburg, Germany
4
Diagnostic & Research Center for Molecular BioMedicine, Institute of Pathology, Medical University of Graz, 8036 Graz, Austria
5
Department of General, Visceral, Vascular and Transplantation Surgery, Otto-von-Guericke University of Magdeburg, 39106 Magdeburg, Germany
6
Division of Veterinary Medicine, Paul Ehrlich Institute, 63225 Langen, Germany
7
Department of Gastroenterology, Hepatology and Endocrinology, Hannover Medical School, 30625 Hannover, Germany
8
German Center for Infection Research (DZIF), Partner Site Hannover-Braunschweig, 30625 Hannover, Germany
9
Department of Internal Medicine III, University Hospital Aachen, 52074 Aachen, Germany
10
ReMediES, Department of General, Visceral and Transplantation Surgery, Hannover Medical School, 30625 Hannover, Germany
11
Department of Pathology, Neuropathology, and Molecular Pathology, Medical University of Innsbruck, 6020 Innsbruck, Austria
*
Authors to whom correspondence should be addressed.
†
These authors contributed equally to this work.
Received: 9 April 2019 / Revised: 5 June 2019 / Accepted: 15 June 2019 / Published: 18 June 2019
Abstract
Keratin proteins form intermediate filaments, which provide structural support for many tissues. Multiple keratin family members are reported to be associated with the progression of liver disease of multiple etiologies. For example, keratin 23 (KRT23) was reported as a stress-inducible protein, whose expression levels correlate with the severity of liver disease. Hepatitis C virus (HCV) is a human pathogen that causes chronic liver diseases including fibrosis, cirrhosis, and hepatocellular carcinoma. However, a link between KRT23 and hepatitis C virus (HCV) infection has not been reported previously. In this study, we investigated KRT23 mRNA levels in datasets from liver biopsies of chronic hepatitis C (CHC) patients and in primary human hepatocytes experimentally infected with HCV, in addition to hepatoma cells. Interestingly, in each of these specimens, we observed an HCV-dependent increase of mRNA levels. Importantly, the KRT23 protein levels in patient plasma decreased upon viral clearance. Ectopic expression of KRT23 enhanced HCV infection; however, CRIPSPR/Cas9-mediated knockout did not show altered replication efficiency. Taken together, our study identifies KRT23 as a novel, virus-induced host-factor for hepatitis C virus.
View Full-Text
►

▼

Figures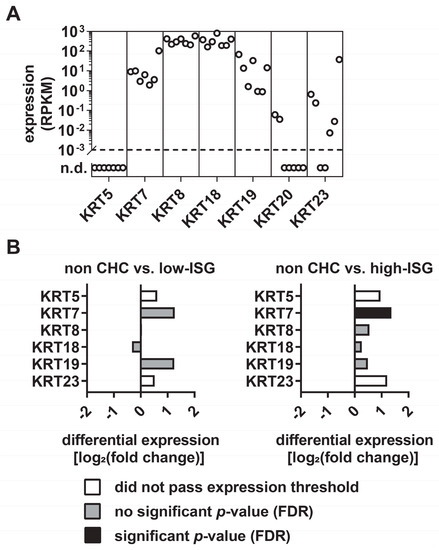 Figure 1
This is an open access article distributed under the
Creative Commons Attribution License
which permits unrestricted use, distribution, and reproduction in any medium, provided the original work is properly cited (CC BY 4.0).

Share & Cite This Article
MDPI and ACS Style
Kinast, V.; Leber, S.L.; Brown, R.J.P.; Vieyres, G.; Behrendt, P.; Eßbach, C.; Strnad, P.; Vondran, F.W.R.; Cornberg, M.; Wex, C.; Pietschmann, T.; Haybaeck, J.; Todt, D.; Steinmann, E. Identification of Keratin 23 as a Hepatitis C Virus-Induced Host Factor in the Human Liver. Cells 2019, 8, 610.
Note that from the first issue of 2016, MDPI journals use article numbers instead of page numbers. See further details here.
Related Articles
Comments
[Return to top]