Open Access This article is
freely available
re-usable
Review
FAIM: An Antagonist of Fas-Killing and Beyond
1
Bioprocessing Technology Institute, Agency for Science, Technology and Research, Singapore 138668, Singapore
2
Department of Physiology, Yong Loo Lin School of Medicine, National University of Singapore, Singapore 117593, Singapore
3
Department of Microbiology and Immunology, Yong Loo Lin School of Medicine, National University of Singapore, Singapore 117545, Singapore
4
School of Biological Sciences, Nanyang Technological University, 60 Nanyang Drive, Singapore 637551, Singapore
*
Author to whom correspondence should be addressed.
Received: 15 May 2019 / Accepted: 30 May 2019 / Published: 4 June 2019
Abstract
:
Fas Apoptosis Inhibitory Molecule (FAIM) is an anti-apoptotic protein that is up-regulated in B cell receptor (BCR)-activated B cells and confers upon them resistance to Fas-mediated cell death.
Faim
has two alternatively spliced isoforms, with the short isoform ubiquitously expressed in various tissues and the long isoform mainly found in the nervous tissues. FAIM is evolutionarily conserved but does not share any significant primary sequence homology with any known protein. The function of FAIM has been extensively studied in the past 20 years, with its primary role being ascribed to be anti-apoptotic. In addition, several other functions of FAIM were also discovered in different physiological and pathological conditions, such as cell growth, metabolism, Alzheimer's disease and tumorigenesis. However, the detailed molecular mechanisms underlying FAIM's role in these conditions remain unknown. In this review, we summarize comprehensively the functions of FAIM in these different contexts and discuss its potential as a diagnostic, prognostic or therapeutic target.
Keywords:
FAIM; B cells; Fas-mediated apoptosis; TCR-mediated apoptosis; metabolism; Alzheimer's disease; Multiple myeloma; Akt; c-FLIP
Author Contributions
J.H. prepared the original draft and reviewed/edited the manuscript. S.X. and K.-P.L. reviewed and edited the manuscript.
Funding
This work was funded by Singapore Agency for Science Technology and Research.
Conflicts of Interest
The authors declare no conflict of interest.
Abbreviations
Aβ, amyloid-β; AD, Alzheimer's disease; ACC, acetyl-CoA carboxylase; Bak, proapoptotic Bcl-2 homologous antagonist/killer; Bax, Bcl-2-associated X protein; BCR, B cell receptor; BIR, baculovirus IAP repeat; Blimp-1, B lymphocyte-induced maturation protein; Caspase, cysteine-aspartic protease; CD40L, CD40 ligand; CDS, coding sequence; c-FLIP, cellular FLICE-inhibitory protein; CTD, C-terminal domain; DISC, death-inducing signalling complex; ERK, extracellular signal–regulated kinase; FABP, fatty acid binding protein; FADD, Fas-associated death domain protein; FAIM, Fas Apoptosis Inhibitory Molecule; FAS, fatty acid synthase; FLICE, FADD-like interleukin-1β-converting enzyme; Grb2, growth factor receptor-bound protein 2; HMGCR, 3-hydroxy-3-methyl-glutaryl-CoA reductase; IGF-1, insulin-like growth factor-1; ID, intellectual disability; IgM, immunoglobulin; IR, insulin receptor; IRF4, interferon regulatory factor 4; IRS, insulin receptor substrates; Mcl-1, myeloid cell factor-1; MGUS, monoclonal gammopathy of undetermined significance; miR, microRNAs; MM, Multiple myeloma; MPDs, myeloproliferative disorders; MSCs, mesenchymal stem cells; NF-κB, nuclear factor kappa-light-chain-enhancer of activated B cells; NGF, nerve growth factor; NGFIB, nerve growth factor IB; NPC, normal plasma cells; NR4A1, nuclear receptor subfamily 4 group A member 1; NTD, N-terminal domain; Nur77, also known as NGFIB or NR4A1; P2 family, P2 myelin protein; PD, Parkinson's disease; PI3-kinase, phosphatidylinositol 3-kinase; RNAi, RNA interference; SCD-1, stearoyl-CoA desaturase 1; SHC, Src-homology/collagen; shRNAi, short hairpin RNAi; SIRT1, silent information regulator 2 homolog 1; SMM, smoldering MM; TCR, T cell receptors; TNF, tumor necrosis factor; TSS, Transcriptional start site; UTRs, untranslated regions; XIAP, X-linked inhibitor of apoptosis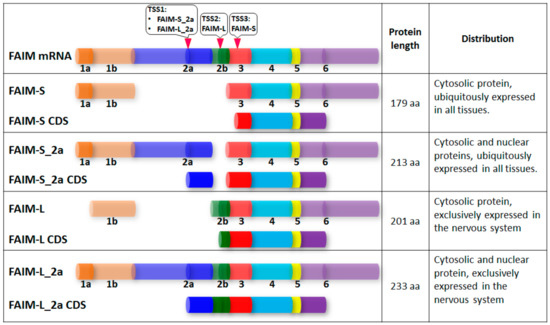 Figure 1. Structure and comparison of four human Fas apoptosis inhibitory molecule (FAIM) isoforms. Schematic representation of FAIM gene structure shown with exon 1a, 1b, 2a, 2b, 3, 4, 5 and 6. In contrast to the 5′ and 3′ untranslated regions (UTRs), coding sequence (CDS) regions are indicated with a darker color. TSS, Transcriptional start site.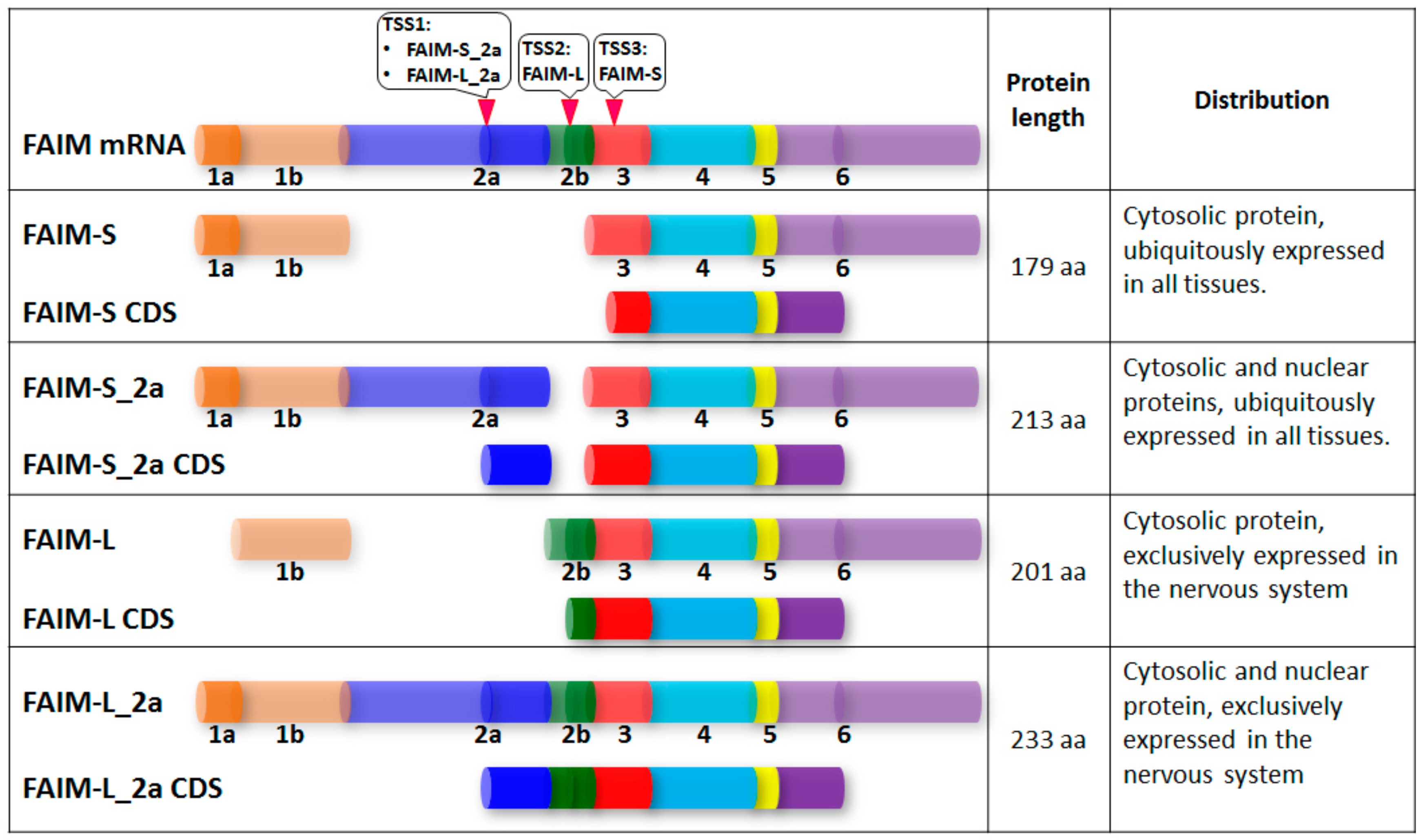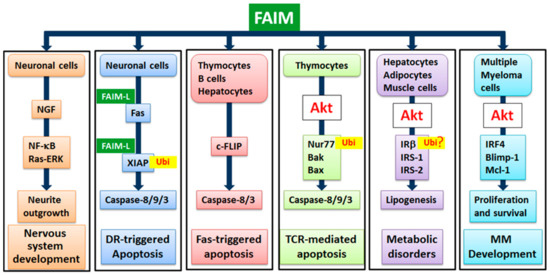 Figure 2. Schematic representation of FAIM's involvement in various signaling pathways and physiological or disease outcomes.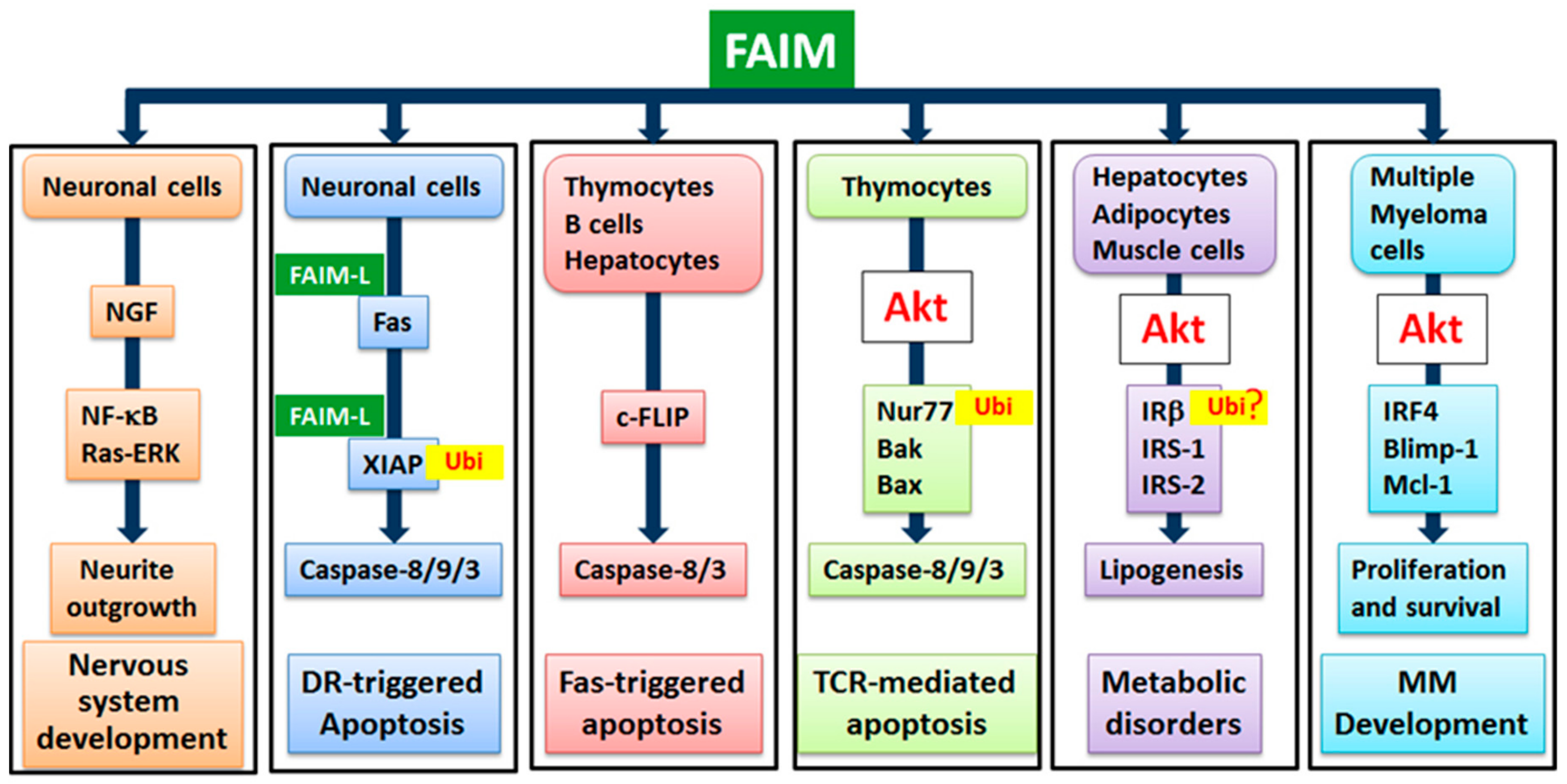 Conditions
Tissue/Cell
FAIM Expression and/or Effects
FAIM's Roles and Mechanisms
Ref.
Multiple myeloma (MM)
IRF4-expressing multiple myeloma cell lines
FAIM was upregulated in IRF4-expressing MM cells.
IRF4-FAIM plays roles in MM progression.
[34]
MM patients and MM cell lines
FAIM expression correlates with poorer survival outcomes of newly diagnosed MM patients treated with stem cell transplantation or relapsed MM patients treated in clinical trials with Bortezomib.
FAIM's diagnostic and prognostic value in MM patients.
[35]

FAIM is required in MM cells for their survival.

FAIM is induced by IGF-1 or IL-6.

FAIM mediates IGF-1 induced Akt activation.

IRF4 upregulation by IGF-1 is mitigated by FAIM-KD or inhibition of Akt.

FAIM-IRF4-Akt forward feedback loop for MM development.
Myeloproliferative diseases (MPD)
CD34 cells and leukocytes from MPD patients
FAIM is elevated in CD34 cells obtained from MPD patients.
FAIM may contribute to MPD pathogenesis.
[43]
Prostate cancer
Prostate cancer patients and PC3 cell line
FAIM is one of miR-133b immediate targets.
FAIM may contribute to prostate tumorigenesis and tissue homeostasis.
[45]
Esophageal cancers
Esophageal squamous cell carcinoma (ESCC) and esophageal adenocarcinoma (EAC) cells
Inhibition of histone deacetylases downregulates FAIM expression.
FAIM is one of various genes regulated by inhibition of histone deacetylases in esophageal cancer cells.
[46]
Obesity and hepatosteatosis
Human and mouse
FAIM defects lead to non-hyperphagic obesity accompanied by hepatosteatosis, adipocyte hypertrophy, dyslipidaemia, hyperglycaemia and hyperinsulinaemia


SREBP-1a and SREBP-1c upregulation

SCD-1, FAS, ACC and HMGCR upregulation

FAIM mediates insulin signaling and plays an essential role in energy homoeostasis.


IRβ, IRS-1 and IRS-2 stability

[27]
Alzheimer's disease (AD)
Human and mouse

FAIM-L was reduced in hippocampal samples from AD patients.

FAIM-L was altered during the progression of BRAAK stages of AD.

TNFα protection against Aβ toxicity was suppressed when the FAIM-L expression level was reduced by RNA interference (RNAi).

FAIM is associated with the progression of AD.
[48]
Intellectual disability
Intellectual disability patients
FAIM is down-regulated in intellectually disabled patients.
Unknown
[51]

© 2019 by the authors. Licensee MDPI, Basel, Switzerland. This article is an open access article distributed under the terms and conditions of the Creative Commons Attribution (CC BY) license (http://creativecommons.org/licenses/by/4.0/).