Fecal Microbiota Transplantation Controls Murine Chronic Intestinal Inflammation by Modulating Immune Cell Functions and Gut Microbiota Composition
1
Department of Experimental Oncology, IEO European Institute of Oncology IRCCS, 20139 Milan, Italy
2
Department of Pathophysiology and Transplantation, Università degli Studi di Milano, 20135 Milan, Italy
3
Department of Oncology and Hemato-oncology, Università degli Studi di Milano, 20135 Milan, Italy
4
Pathology Unit, Fondazione IRCCS Cà Granda, Ospedale Maggiore Policlinico, 20135, Milan, Italy
5
Gastroenterology and Endoscopy Unit, Fondazione IRCCS Cà Granda, Ospedale Maggiore Policlinico, 20135 Milan, Italy
*
Author to whom correspondence should be addressed.
†
Authors have contributed equally.
Received: 17 April 2019 / Revised: 24 May 2019 / Accepted: 27 May 2019 / Published: 28 May 2019
Abstract
Different gastrointestinal disorders, including inflammatory bowel diseases (IBD), have been linked to alterations of the gut microbiota composition, namely dysbiosis. Fecal microbiota transplantation (FMT) is considered an encouraging therapeutic approach for ulcerative colitis patients, mostly as a consequence of normobiosis restoration. We recently showed that therapeutic effects of FMT during acute experimental colitis are linked to functional modulation of the mucosal immune system and of the gut microbiota composition. Here we analysed the effects of therapeutic FMT administration during chronic experimental colitis, a condition more similar to that of IBD patients, on immune-mediated mucosal inflammatory pathways. Mucus and feces from normobiotic donors were orally administered to mice with established chronic Dextran Sodium Sulphate (DSS)-induced colitis. Immunophenotypes and functions of infiltrating colonic immune cells were evaluated by cytofluorimetric analysis. Compositional differences in the intestinal microbiome were analyzed by 16S rRNA sequencing. Therapeutic FMT in mice undergoing chronic intestinal inflammation was capable to decrease colonic inflammation by modulating the expression of pro-inflammatory genes, antimicrobial peptides, and mucins. Innate and adaptive mucosal immune cells manifested a reduced pro-inflammatory profile in FMT-treated mice. Finally, restoration of a normobiotic core ecology contributed to the resolution of inflammation. Thus, FMT is capable of controlling chronic intestinal experimental colitis by inducing a concerted activation of anti-inflammatory immune pathways, mechanistically supporting the positive results of FMT treatment reported in ulcerative colitis patients.
View Full-Text
►

▼

Figures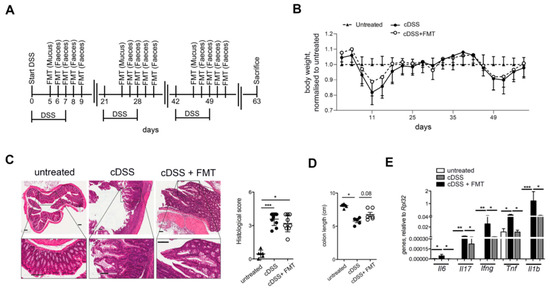 Figure 1
This is an open access article distributed under the
Creative Commons Attribution License
which permits unrestricted use, distribution, and reproduction in any medium, provided the original work is properly cited (CC BY 4.0).

Share & Cite This Article
MDPI and ACS Style
Burrello, C.; Giuffrè, M.R.; Macandog, A.D.; Diaz-Basabe, A.; Cribiù, F.M.; Lopez, G.; Borgo, F.; Nezi, L.; Caprioli, F.; Vecchi, M.; Facciotti, F. Fecal Microbiota Transplantation Controls Murine Chronic Intestinal Inflammation by Modulating Immune Cell Functions and Gut Microbiota Composition. Cells 2019, 8, 517.
Note that from the first issue of 2016, MDPI journals use article numbers instead of page numbers. See further details here.
Related Articles
Comments
[Return to top]