The Reduced Level of Inorganic Polyphosphate Mobilizes Antioxidant and Manganese-Resistance Systems in
Saccharomyces cerevisiae
1
Skryabin Institute of Biochemistry and Physiology of Microorganisms, FRC Pushchino Center for Biological Research of the Russian Academy of Sciences, pr. Nauki 5, Pushchino 142290, Russia
2
Institute for Information Transmission Problems, Russian Academy of Sciences, Bolshoy Karetny per. 19 bld .1, Moscow 127051, Russia
3
Institute of Protein Research, Russian Academy of Sciences, Institutskaya 4, Pushchino 142290, Russia
4
Institute of Physicochemical and Biological Problems of Soil Science, FRC Pushchino Center for Biological Research of the Russian Academy of Sciences, pr. Nauki 2, Pushchino 142290, Russia
5
Vavilov Institute of General Genetics, Russian Academy of Sciences, Gubkina 3, Moscow GSP-1 119991, Russia
6
Engelhardt Institute of Molecular Biology, Russian Academy of Sciences, Vavilova 32, Moscow GSP-1 119991, Russia
7
Institute of Mathematical Problems of Biology RAS—the Branch of Keldysh Institute of Applied Mathematics of Russian Academy of Sciences, Vitkevicha 1, Pushchino 142290, Russia
*
Authors to whom correspondence should be addressed.
Received: 16 April 2019 / Revised: 13 May 2019 / Accepted: 15 May 2019 / Published: 15 May 2019
Abstract
Inorganic polyphosphate (polyP) is crucial for adaptive reactions and stress response in microorganisms. A convenient model to study the role of polyP in yeast is the
Saccharomyces cerevisiae
strain CRN/PPN1 that overexpresses polyphosphatase Ppn1 with stably decreased polyphosphate level. In this study, we combined the whole-transcriptome sequencing, fluorescence microscopy, and polyP quantification to characterize the CRN/PPN1 response to manganese and oxidative stresses. CRN/PPN1 exhibits enhanced resistance to manganese and peroxide due to its pre-adaptive state observed in normal conditions. The pre-adaptive state is characterized by up-regulated genes involved in response to an external stimulus, plasma membrane organization, and oxidation/reduction. The transcriptome-wide data allowed the identification of particular genes crucial for overcoming the manganese excess. The key gene responsible for manganese resistance is
PHO84
encoding a low-affinity manganese transporter: Strong
PHO84
down-regulation in CRN/PPN1 increases manganese resistance by reduced manganese uptake. On the contrary,
PHM7
, the top up-regulated gene in CRN/PPN1, is also strongly up-regulated in the manganese-adapted parent strain. Phm7 is an unannotated protein, but manganese adaptation is significantly impaired in Δ
phm7
, thus suggesting its essential function in manganese or phosphate transport.
View Full-Text
►

▼

Figures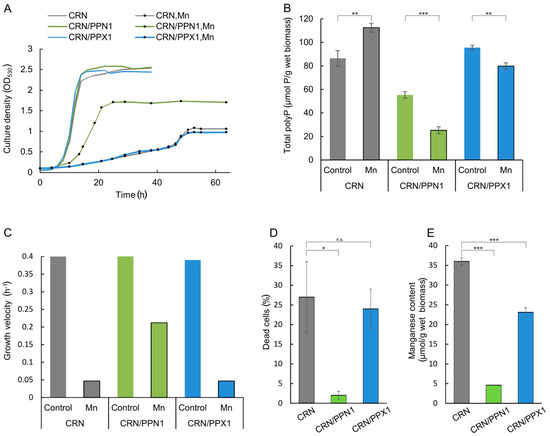 Figure 1
This is an open access article distributed under the
Creative Commons Attribution License
which permits unrestricted use, distribution, and reproduction in any medium, provided the original work is properly cited (CC BY 4.0).

Share & Cite This Article
MDPI and ACS Style
Trilisenko, L.; Zvonarev, A.; Valiakhmetov, A.; Penin, A.A.; Eliseeva, I.A.; Ostroumov, V.; Kulakovskiy, I.V.; Kulakovskaya, T. The Reduced Level of Inorganic Polyphosphate Mobilizes Antioxidant and Manganese-Resistance Systems in Saccharomyces cerevisiae. Cells 2019, 8, 461.
Note that from the first issue of 2016, MDPI journals use article numbers instead of page numbers. See further details here.
Related Articles
Comments
[Return to top]