Open Access This article is
freely available
re-usable
Review
Mitochondrial Flexibility of Breast Cancers: A Growth Advantage and a Therapeutic Opportunity
1
Department of Public Health, University of Naples Federico II, 80131 Naples, Italy
2
Department of Molecular Medicine and Medical Biotechnology, University of Naples Federico II, 80131 Naples, Italy
3
Department of General, Oncological, Bariatric and Endocrine-Metabolic Surgery, University of Naples Federico II, 80131 Naples, Italy
4
Department of Clinical Medicine and Surgery, University of Naples Federico II, 80131 Naples, Italy
*
Authors to whom correspondence should be addressed.
Received: 7 March 2019 / Accepted: 28 April 2019 / Published: 30 April 2019
Abstract
:
Breast cancers are very heterogeneous tissues with several cell types and metabolic pathways together sustaining the initiation and progression of disease and contributing to evasion from cancer therapies. Furthermore, breast cancer cells have an impressive metabolic plasticity that is regulated by the heterogeneous tumour microenvironment through bidirectional interactions. The structure and accessibility of nutrients within this unstable microenvironment influence the metabolism of cancer cells that shift between glycolysis and mitochondrial oxidative phosphorylation (OXPHOS) to produce adenosine triphosphate (ATP). In this scenario, the mitochondrial energetic pathways of cancer cells can be reprogrammed to modulate breast cancer's progression and aggressiveness. Moreover, mitochondrial alterations can lead to crosstalk between the mitochondria and the nucleus, and subsequently affect cancer tissue properties. This article reviewed the metabolic plasticity of breast cancer cells, focussing mainly on breast cancer mitochondrial metabolic reprogramming and the mitochondrial alterations influencing nuclear pathways. Finally, the therapeutic strategies targeting molecules and pathways regulating cancer mitochondrial alterations are highlighted.
Keywords:
breast cancer; tumour microenvironment; mitochondrial reprogramming; oxidative phosphorylation; therapeutic strategies
1. Introduction
In this review, we discuss the role of metabolic reprogramming in breast cancer initiation and progression, focusing on the role of mitochondria in this process. Furthermore, we review recent studies about mitochondrial–nuclear crosstalk and therapeutic strategies targeting breast cancer signals involved in mitochondrial reprogramming.
2. Metabolic Flexibility of Breast Cancers
3. Mitochondrial Reprogramming in Breast Cancer Cells
4. Mitochondrial Retrograde Regulation
5. Therapeutic Strategies Targeting Mitochondrial Alterations
6. Conclusions
Although Warburg proposed that cancer cells have dysfunctional mitochondria and that mitochondrial damage might be the origin of cancer [
14
], several recent findings in cancer metabolism demonstrated that functional mitochondria are essential for cancer cell survival. In fact, most cancer cells not only have functioning mitochondria, but also use mitochondrial respiration to promote tumour growth and progression. In this regard, cancer cells do not inactivate mitochondrial energy metabolism, but rather alter the mitochondrial bioenergetic and biosynthetic state.
The collective evidence presented in this review highlighted the metabolic plasticity of breast cancer that can be considered as a heterogeneous metabolic disease, in which cancer cells may choose the best metabolic program to sustain tumour progression. In this scenario, mitochondria modulate the cancer bioenergetic plasticity that allows tumour cells to adapt and survive in the ever-changing and harsh tumour environment. In response to different microenvironments, hypoxia, or pharmacological stress, breast cancer cells can satisfy their bioenergetic and biosynthetic needs, choosing between glycolysis and OXPHOS and using many mitochondrial metabolic pathways, such as glucose, FAs, and glutamine oxidation [
10
]. Moreover, mitochondrial alterations, through MRR, actively control breast cancer progression by activating and sending oncogenic signals to the nucleus. This results in several changes in nuclear gene expression [
91
] and can lead to breast cancer initiation [
110
], progression, and dissemination towards distant sites [
107
,
118
,
124
,
127
]. Actually, therapeutic strategies targeting mitochondrial alterations in breast cancer cells are gaining increasing attention in oncology. Many agents targeting the specific enzymes involved in the metabolic pathways, such as glycolysis, glutaminolysis and FA synthesis, have been developed or proposed, and have been studied in clinical trials [
156
]. Mitochondria-targeted therapies may improve the pharmacological cancer therapy that is currently used in breast cancer patients, through either re-establishing the physiological anti-tumour function of normal mitochondria or triggering cell death induced by mitochondria [
129
]. However, long-term metabolic therapies targeting only one metabolic pathway could result in a rapid proliferation of resistant cancer cells and become ineffective against cancer. When a specific metabolic route is inhibited, the metabolic flexibility of breast cancer cells leads to the activation of alternative metabolic pathways that allow cancer cells to overcome drug sensitivity and survive. Hence, it could be necessary for the simultaneous use of drugs targeting different metabolic pathways to block the availability of all the bioenergetic sources in order to prevent successfully the metabolic adaptation and the consequent survival of breast cancer cells. On the other hand, we think that therapeutic strategies including compounds directed towards different metabolic pathways could be associated with side effects targeting the energy homeostasis of the organism. Another therapeutic option could be represented by targeting metabolic crosstalk pathways between cancer cells and CAFs that are characterised by a minor metabolic plasticity compared to cancer cells. Indeed, CAFs are metabolically enslaved by cancer cells to sustain tumour growth and nutrients demand [
5
]. Anyway, it is known that new anti-neoplastic therapeutic strategies should be based on the central role of mitochondria in cancer development [
180
,
181
]. Particularly, further investigations are required in order to better understand the molecular mechanisms involved in the mitochondrial reprogramming that influence the metabolic adaptation of cancer cells. Finally, in-depth comprehension regarding the molecular pathways involved in breast cancer metabolic plasticity would lead to developing a successful metabolic therapy that targets the different steps and progression of various breast cancer types.
Author Contributions
Conceptualization, A.A. (Alessandro Arcucci), A.A. (Angelica Avagliano), M.R.R.; Writing—Original Draft Preparation, A.A. (Alessandro Arcucci), A.A. (Angelica Avagliano), M.R.R.; Writing—Review and Editing, A.A. (Alessandro Arcucci), A.A. (Angelica Avagliano), M.R.R., I.B., F.A. and S.M. (Stefania Montagnani); Visualization, A.A. (Antonello Accurso), S.M. (Stefania Masone); Supervision, A.A. (Alessandro Arcucci) and A.A. (Angelica Avagliano); Project Administration, A.A. (Alessandro Arcucci) and M.R.R.; Funding Acquisition, M.R.R.
Funding
This work was supported by the Regione Campania "SATIN" grant 2018-2020.
Conflicts of Interest
The authors declare no conflict of interest.

Figure 1. Classification of breast cancer into three major types based on their immunohistochemical properties and relative prognosis.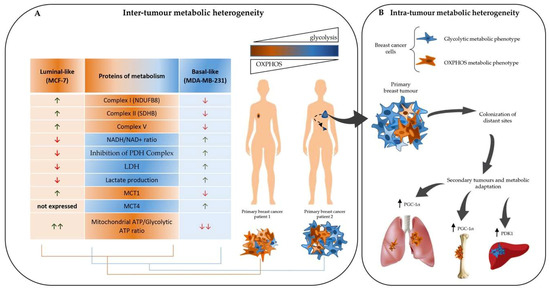 Figure 2. Breast cancer as a heterogeneous metabolic disease. (A) Inter-tumour metabolic heterogeneity refers to the ability of different breast cancer types to exhibit a distinct and preferential metabolic phenotype. MCF-7 cells, belonging to the luminal-like breast cancer subtype, are more dependent on mitochondrial respiration, and reduce lactate dehydrogenase (LDH) expression, and by consequence lactate production. MCF-7 cells increase monocarboxylate transporter 1 (MCT-1) protein levels to import the lactate produced by the tumour microenvironment into the cell. Conversely, the basal-like MDA-MB-231 cells exhibit a more glycolytic phenotype. The lower respiratory rate in MDA-MB-231 cells is associated with a strong decrease in complexes I, II, and V of the electron transport chain (ETC). As a result of dysfunctional Complex I, MDA-MB-231 cells exhibit higher levels of NADH, which in turn inhibits the pyruvate dehydrogenase (PDH) complex. Thus, pyruvate does not enter the tricarboxylic acid (TCA) cycle, but it is mainly converted to lactate by LDH, which is highly expressed in MDA-MB-231 cells. Lactate is efficiently extruded from MDA-MB-231 cells through the monocarboxylate transporter 4 (MCT-4), which is not expressed in MCF-7 cells. (B) Intra-tumour metabolic heterogeneity refers to the presence in the same tumour mass of a heterogeneous cell population displaying different metabolic phenotypes. Breast cancer cells are able to adapt their metabolism, according to several stresses and signals sent by the ever-changing and harsh microenvironment of both primary tumour and metastatic sites. In liver metastasis, breast cancer cells are more glycolytic and express high levels of pyruvate dehydrogenase kinase 1 (PDK1). In bone and lung metastasis, breast cancer cells preferentially use mitochondrial oxidative phosphorylation (OXPHOS) and upregulate peroxisome proliferator-activated receptor gamma coactivator-1 alpha (PGC-1α).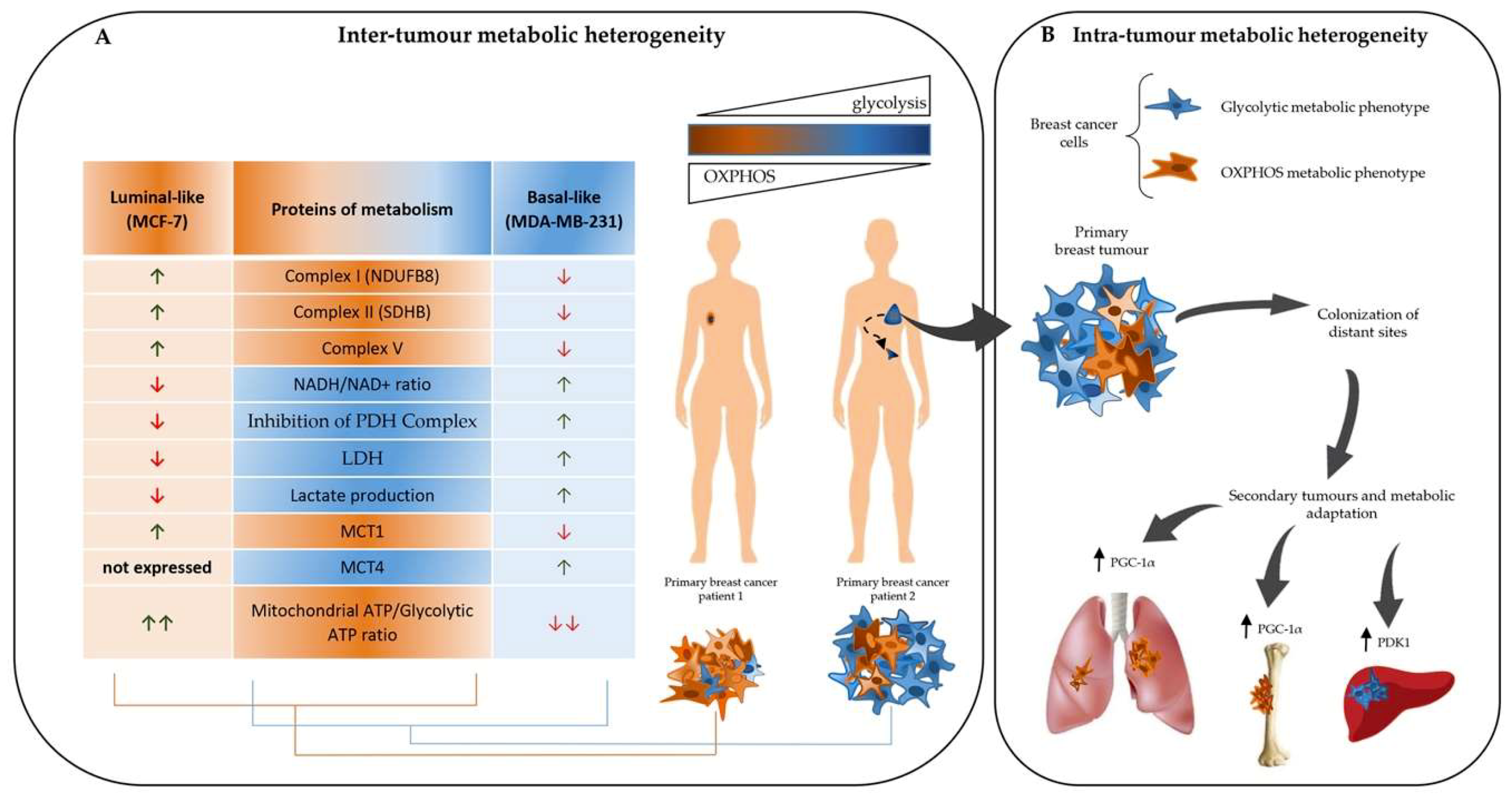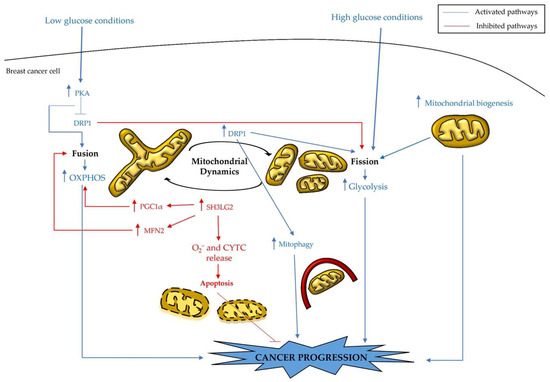 Figure 3. Mitochondrial morphology alterations and metabolic reprogramming. Mitochondrial morphology transitions (from elongated to fragmented, and vice versa) are linked to breast cancer metabolism. In fact, breast cancer cells alter mitochondrial dynamics to adjust their bioenergetics and biosynthetic needs in order to survive in harsh conditions and support tumour progression. In high-nutrient conditions, mitochondria are fragmented and dysfunctional, and energy demand is mainly supported by glycolysis. Dynamin-related protein 1 (DRP1) upregulation in breast cancer cells is associated with fission, glycolysis, and mitophagy. The reduction of mitochondrial number due to mitophagy is restored by an increase in mitochondrial biogenesis. The fission mechanism is also induced in breast cancer by the loss of the tumour suppressor gene, SH3LG2. When overexpressed, endophilin-A1 encoded by the SH3LG2 gene translocates to mitochondria, interacts with PGC-1α and Mitofusin 2 (MFN2), and triggers the mitochondrial fusion network and OXPHOS. Moreover, the mitochondrial translocation of SH3GL2 triggers the intrinsic apoptotic pathway through the induction of O2− production and cytochrome C (CYTC) release. Conversely, in low nutrient conditions, breast cancer cells maintain their mitochondria in a hyperfused state by inhibiting the mitochondrial fission protein DRP1 and favouring energy production through OXPHOS. The blue arrows indicate activated pathways, whereas red arrows depict inhibited pathways in the breast cancer cell.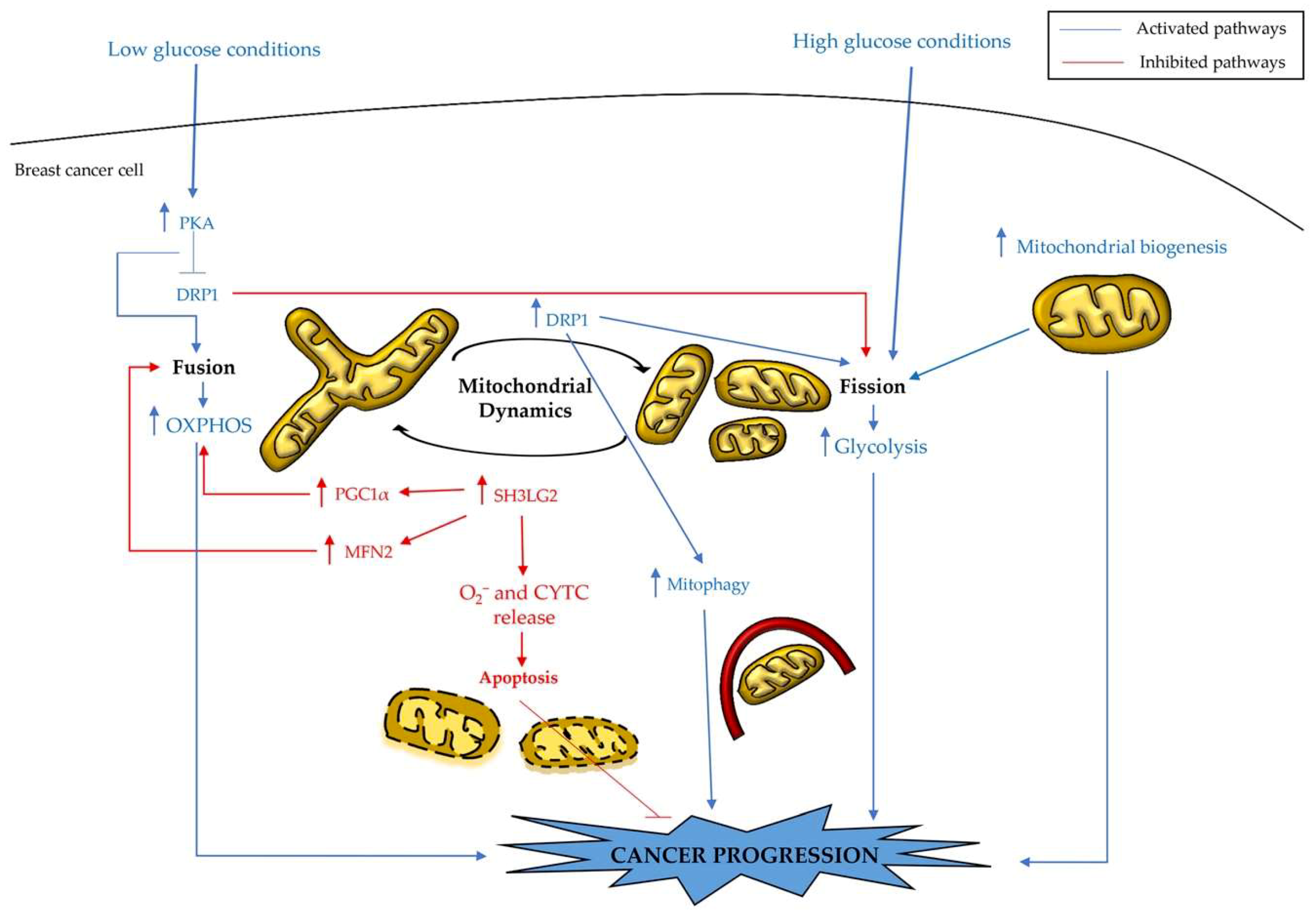 Figure 4. Functional alterations of mitochondria in breast cancer cells. Glucose carbon, which is mainly used for lactate production, is directed away from the TCA cycle and fatty acid (FA) synthesis. In this context, glutamine carbon feeds the TCA cycle and contributes to FA synthesis through the reductive pathway. The reductive carboxylation is supported by a disturbance in the redox ratio of mitochondria due to the aberrant function of the ETC, which decreases the NAD+/NADH ratio. This ratio is dissipated in part through the transfer of reducing equivalents from NADH to NADPH, which in turn may drive the NADPH-dependent reductive carboxylation of glutamine by isocitrate dehydrogenase 1 (IDH1) and IDH2. All these processes are further enhanced during hypoxia. Moreover, cells with ETC dysfunction use pyruvate, which is formed during glycolysis, to produce aspartate, which is important for cell proliferation and survival.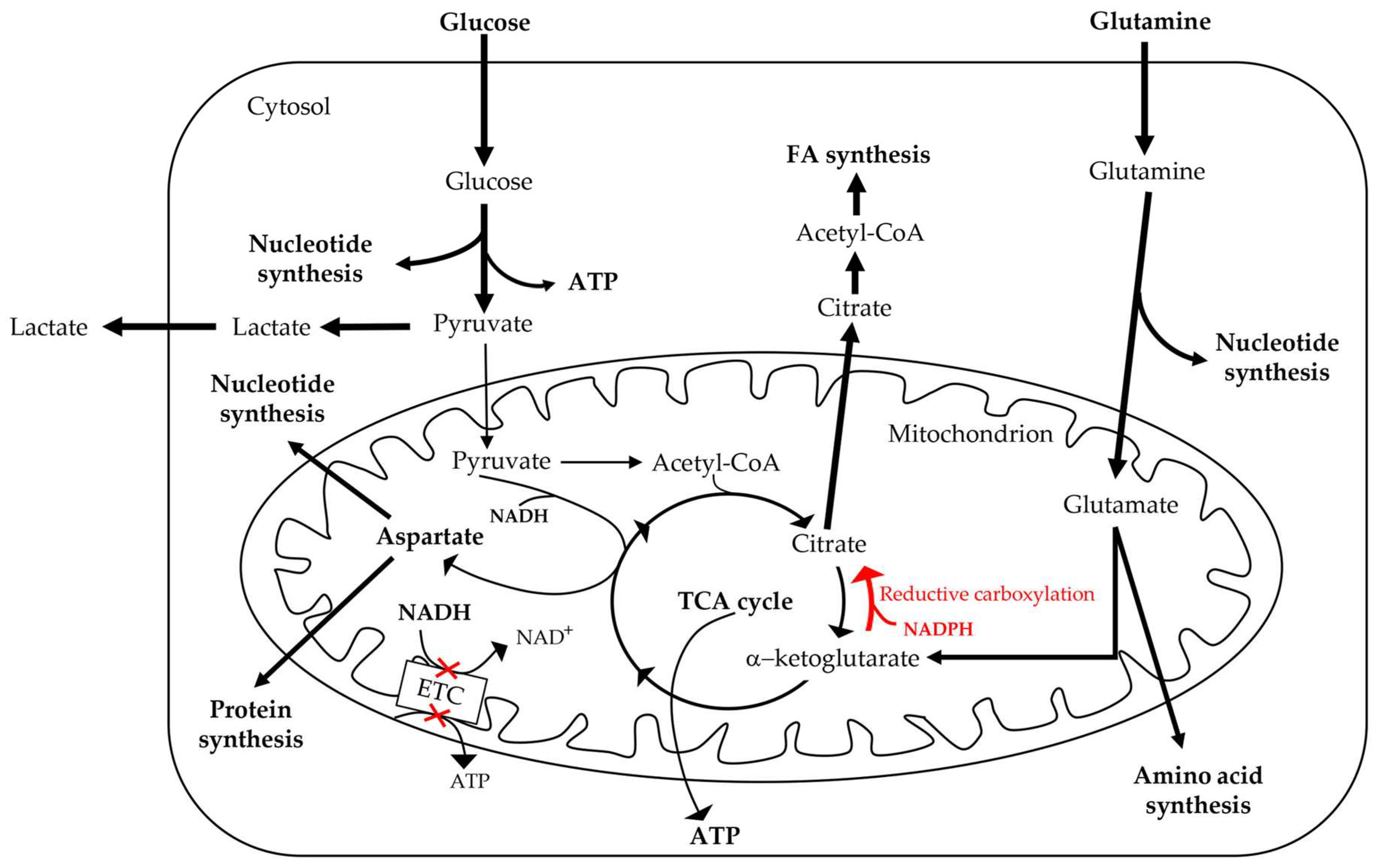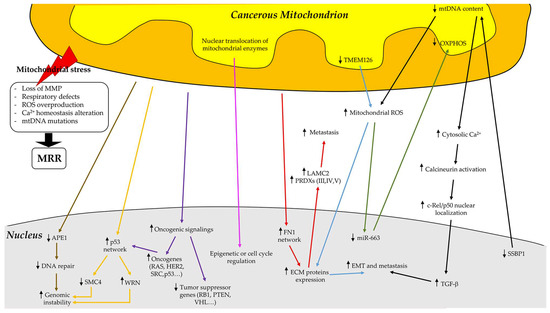 Figure 5. Mitochondrial retrograde regulation (MRR). Schematic representation of the main pathways used by cancerous mitochondria to communicate with the nucleus during breast cancer progression.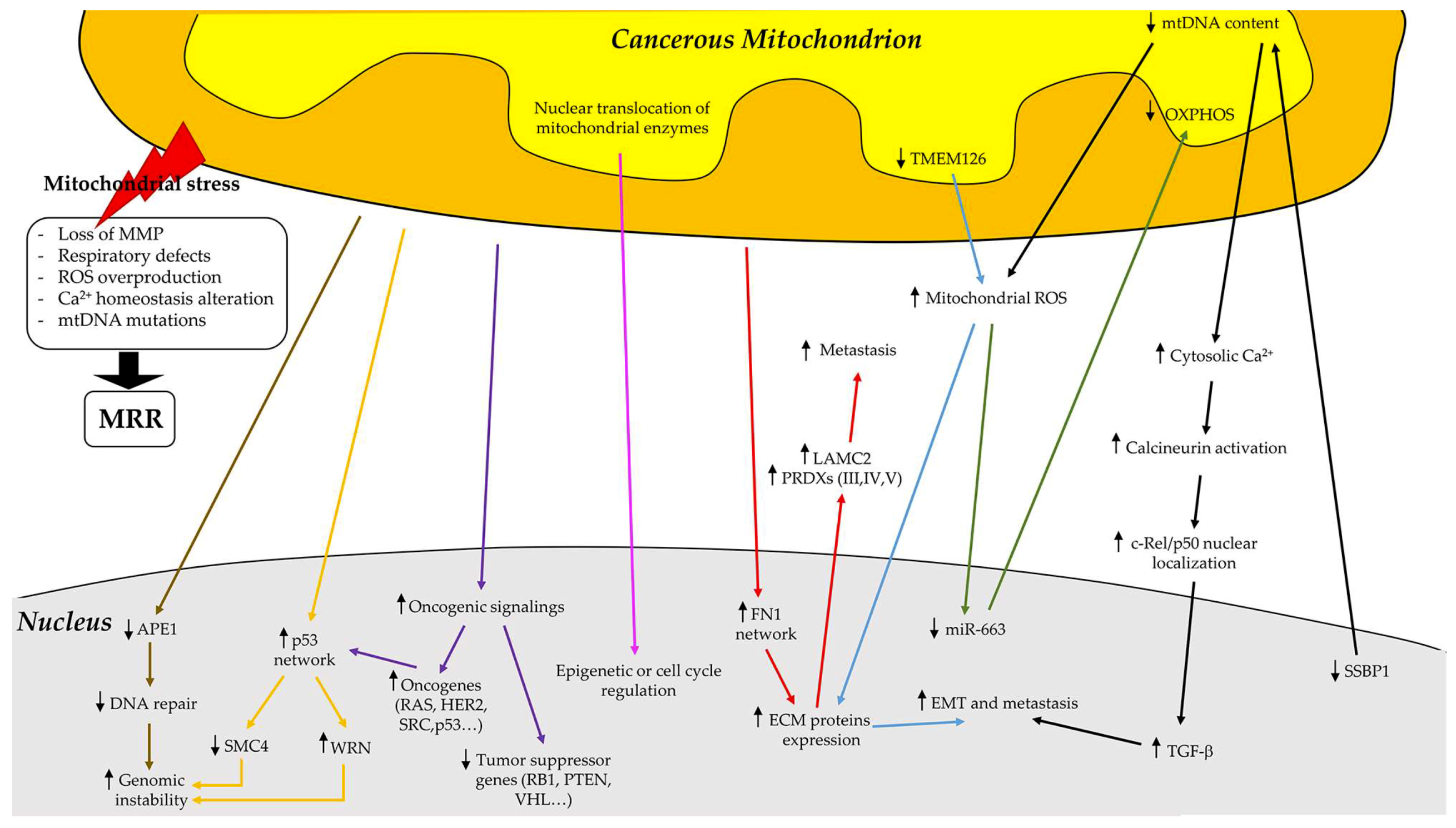 Metabolic targets
Agents or approaches
Effect on breast cancer cells
References
Arginine
ADI-PEG20
Autophagy-dependent cell death
[132]
Pyruvate metabolism
DCA
Re-establishment of mitochondrial function and OXPHOS metabolism. mitochondrial dysfunction and apoptotic cell death
[134,135,136]
Pyruvate metabolism
DCA in combination with PDT
ICD
[139]
SLC6A14 transporter
α-MT
Inhibition of amino acid transporter.
Apoptosis and autophagy
[157]
VDAC1
VDAC1 silencing
Cell growth arrest and tumour growth inhibition
[176]
Glutaminase
CB-839
Compound 968
BPTES
Inhibition of glutamine metabolism.
Apoptotic cell death
[155,158,159]
FASN
FASN inhibition
Apoptotic cell death
[160]
OXPHOS
TAM
Biguanides (Metformin, Phenformin)
Inhibition of Complex I of ETC and cytotoxicity.
Increased glycolysis and pharmacological resistance induction.
[11,145,146,147,148,152,153,173,177]
OXPHOS
MitoTam
Inhibition of Complex I of ETC.
Cancer cell death.
[179]
OXPHOS
ME344
Tumour growth inhibition
[173]
OXPHOS
FR58P1a
Metastatic capability reduction
[35]
OXPHOS and glycolysis
MGT
Anti-proliferative, anti-oxidant, and chemopreventive role
[140,141]
OXPHOS and glycolysis
TAM in combination with glycolysis inhibitor
Increased anti-tumour effect
[177]
OXPHOS and glycolysis
Metformin in combination with glycolysis inhibitor
Increased anti-tumour effect
[154]

© 2019 by the authors. Licensee MDPI, Basel, Switzerland. This article is an open access article distributed under the terms and conditions of the Creative Commons Attribution (CC BY) license (http://creativecommons.org/licenses/by/4.0/).