Telomere Function and the G-Quadruplex Formation are Regulated by hnRNP U
1
Department of Occupational Pneumology, Institute of Industrial Ecological Sciences, University of Occupational and Environmental Health, Fukuoka 807-8555, Japan
2
Department of Medical Biochemistry and Cell Biology, Institute of Biomedicine, University of Gothenburg, SE-40530 Gothenburg, Sweden
3
Oncology Laboratory, University of Gothenburg, Sahlgrenska Hospital, Gula stråket 8, SE-41345 Gothenburg, Sweden
*
Author to whom correspondence should be addressed.
Received: 13 March 2019 / Revised: 22 April 2019 / Accepted: 25 April 2019 / Published: 28 April 2019
Abstract
We examine the role of the heterogenous ribonucleoprotein U (hnRNP U) as a G-quadruplex binding protein in human cell lines. Hypothesizing that hnRNP U is associated with telomeres, we investigate what other telomere-related functions it may have. Telomeric G-quadruplexes have been fully characterized in vitro, but until now no clear evidence of their function or in vivo interactions with proteins has been revealed in mammalian cells. Techniques used were immunoprecipitation, DNA pull-down, binding assay, and Western blots. We identified hnRNP U as a G-quadruplex binding protein. Immunoprecipitations disclosed that endogenous hnRNP U associates with telomeres, and DNA pull-downs showed that the hnRNP U C-terminus specifically binds telomeric G-quadruplexes. We have compared the effect of telomere repeat containing RNA (TERRA) on binding between hnRNP U and telomeric (Tel) or single- stranded Tel (ssTel) oligonucleotides and found that ssTel binds stronger to TERRA than to Tel. We also show that hnRNP U prevents replication protein A (RPA) accumulation at telomeres, and the recognition of telomeric ends by hnRNP suggests that a G-quadruplex promoting protein regulates its accessibility. Thus, hnRNP U-mediated formation has important functions for telomere biology.
View Full-Text
►

▼

Figures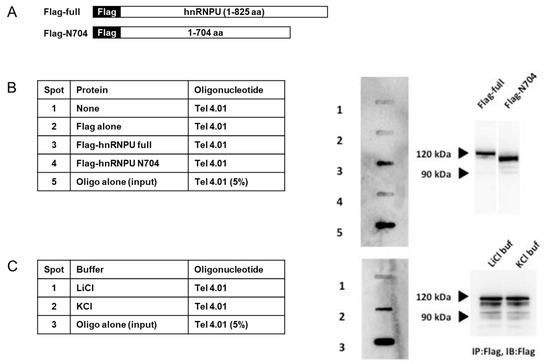 Figure 1
This is an open access article distributed under the
Creative Commons Attribution License
which permits unrestricted use, distribution, and reproduction in any medium, provided the original work is properly cited (CC BY 4.0).

Share & Cite This Article
MDPI and ACS Style
Izumi, H.; Funa, K. Telomere Function and the G-Quadruplex Formation are Regulated by hnRNP U. Cells 2019, 8, 390.
Note that from the first issue of 2016, MDPI journals use article numbers instead of page numbers. See further details here.
Related Articles
Comments
[Return to top]