Open Access This article is
freely available
re-usable
Article
Genetic Diversity and Differentiation at Structurally Varying MHC Haplotypes and Microsatellites in Bottlenecked Populations of Endangered Crested Ibis
1
MOE Key Laboratory of Biosystems Homeostasis & Protection, State Conservation Centre for Gene Resources of Endangered Wildlife, College of Life Sciences, Zhejiang University, Hangzhou 310058, China
2
Department of Agriculture, Zhejiang Open University, Hangzhou 310012, China
*
Authors to whom correspondence should be addressed.
Received: 19 December 2018 / Accepted: 23 April 2019 / Published: 25 April 2019
Abstract
:
Investigating adaptive potential and understanding the relative roles of selection and genetic drift in populations of endangered species are essential in conservation. Major histocompatibility complex (MHC) genes characterized by spectacular polymorphism and fitness association have become valuable adaptive markers. Herein we investigate the variation of all MHC class I and II genes across seven populations of an endangered bird, the crested ibis, of which all current individuals are offspring of only two pairs. We inferred seven multilocus haplotypes from linked alleles in the Core Region and revealed structural variation of the class II region that probably evolved through unequal crossing over. Based on the low polymorphism, structural variation, strong linkage, and extensive shared alleles, we applied the MHC haplotypes in population analysis. The genetic variation and population structure at MHC haplotypes are generally concordant with those expected from microsatellites, underlining the predominant role of genetic drift in shaping MHC variation in the bottlenecked populations. Nonetheless, some populations showed elevated differentiation at MHC, probably due to limited gene flow. The seven populations were significantly differentiated into three groups and some groups exhibited genetic monomorphism, which can be attributed to founder effects. We therefore propose various strategies for future conservation and management.
Keywords:
MHC; genetic drift; haplotype; crested ibis; founder effect; bottleneck; conservation genetics; selection
2. Materials and Methods
2.1. Sampling and DNA Extraction
We collected 307 samples including 141 feather, 130 blood, 25 muscle, and 11 eggshell samples from one wild and six captive populations (
Table 1
,
Table S1
). Blood samples were obtained from a wing vein by pricking the skin carefully and collecting a trace of blood on a cotton ball; muscle samples were obtained from dead birds; feather and eggshell samples were collected during molting and breeding times, respectively. All sampling from live birds was approved by the ethics committees of the relevant Breeding Centers, conducted in accordance with the guidelines, and supervised by the technical staff. Genomic DNA was extracted using the standard phenol/chloroform method [
39
].
2.2. MHC Genotyping
We analyzed the polymorphic MHC peptide-binding regions (PBR), which are coded by exons 2 and 3 of class I genes and exon 2 of class II genes, using single-strand conformation polymorphism and heteroduplex (SSCP-HD) analysis [
40
] according to the protocol described by Zhu, et al. [
41
]. For class I genotyping, given the highly similar introns flanking PBR exons among the five loci [
20
], we mainly used universal primers and focused on the heteroduplex (HD) banding pattern. An SSCP-HD profile containing the alleles of five class I loci was constructed from the positive bacterial artificial chromosome (BAC) clones stored in our laboratory [
20
,
42
], and was verified by profile reconstitution [
40
]. The profile was supplemented with novel alleles obtained by extracting and cloning new HD bands from genotyping gels (
Figure S1a,b
). For
UBA
and
UCA2
, which involved a single nucleotide substitution on exon 3, we designed locus-specific primers inside exon 3 and performed precise genotyping focusing on single-strand band patterns (
Figure S1c,d
). Meanwhile, the exon 3 sequences of
UCA1
*01 and
UCA2
*01 were identical. Thus, to avoid the interference from
UCA1
*01, we also utilized a SNP specific for
UCA2
*01 on intron 1 to differentiate between
UCA2
*01/*02 and
UCA2
*02/*02 through sequencing polymerase chain reaction (PCR) products. For class II genotyping, the eight genes were classified according to their orthologies [
20
]: For
DAA
and
DAB
, respective locus-specific primers were designed (IIA1e2, IIB1e2) (
Figure S1e,f
). For
DBA
s (
DBA1
,
DBA2
, and
DBA3
) and
DBB
s (
DBB1
,
DBB2
, and
DBB3
), given the extensive sharing of alleles and identical introns flanking exon 2 among genes of each orthology, orthology-specific primers were designed (IIA2e2, IIB2e2) (
Figure S1g,h
). Primers for genotyping are illustrated in
Table S2
. To exclude the possibility of amplification failure of potential alleles, representative genotypes (3 samples for each) were collected for each genotyping and amplified by ≥8 additional valid primers designed for different regions, and the PCR products were sequenced and verified. For
DAB
, an SSCP profile of reference bands was constructed by cloning different genotypes (
Figure S1f
) [
40
]. The PCR-SSCP analysis was performed ≥3 times for each primer pair per DNA sample. For cloning and sequencing, we randomly selected ≥5 positive clones per sequence, which were then subjected to Sanger sequencing in both directions by Majorbio (Shanghai, China) using an ABI 3730 automated sequencer. For samples with no PCR product from some primers (putative gene deletion), we extracted DNA twice and designed ≥10 additional sets of primers on both coding (exons 1, 2, 3, and 4) and noncoding (introns 1 and 2) regions to exclude the possibility of poor template quality or PCR failure. All obtained sequences of
Nini
-MHC PBR exons were deposited in GenBank (accession numbers: MK829161–MK829185).
2.3. Haplotype Analysis
In this study, we mainly analyzed the
Nini
-MHC haplotypes combining all class II loci and the major class I locus in the Core Region. Linkage disequilibrium (LD) between polymorphic loci (gametic phase unknown) was tested by Arlequin 3.5 [
43
]. Individual haplotypes were inferred from genotypes both manually and by multiple programs. We first inferred all potential haplotypes from the individuals with 0–1 heterozygous loci (i.e., homozygous at
DAB
and/or
UAA
). For individuals with ≥2 heterozygous loci (i.e., heterozygous at both
DAB
and
UAA
), most haplotypes were deduced using pedigree information provided by reserves (assuming Mendelian inheritance), and the remainder lacking parentage data were phased according to the most frequent haplotypes in their respective populations. Notably, although the crested ibis is strictly monogamous, captive cages are sometimes occupied by >1 breeding pairs (2–3 in most cases), creating the potential for recording false pedigrees. Thus, we verified the pedigrees using microsatellite data, and corrected the paternities of three suspect individuals among candidate parents. Moreover, individual haplotypes were estimated by Haplotype Inference (gametic phase unknown) implemented in Arlequin 3.5 using both Excoffier-Laval-Balding (ELB) and Expectation-Maximization (EM) algorithms (identical results were obtained), and by PHASE 2.1 using a Bayesian statistical method credited with higher accuracy than the EM algorithm [
44
]. LD coefficients between linked alleles were further computed based on the estimated haplotypes in Arlequin (gametic phase known). Both intra-population and intra-species (combining population data together) analyses were performed.
To determine the genomic structure of the class II region ("
COL11A2
–
BRD2
" fragment) for each haplotype, we randomly selected twelve homozygotes from different populations as follows: four HT02/HT02, three HT03/HT03, one HT07/HT07, two HT04/HT04, and two HT05/HT05 (there were no homozygotes of HT01 and HT06). The BAC clone containing HT01 [
20
] and an HT01/HT02 heterozygote were chosen as positive controls. We first amplified the full-length sequences of IIβ genes using two sets of primers (3UT1 and 3UT2) (
Table S2
), and PCR products were cloned and sequenced. Then we amplified the six overlapped segments using the corresponding primers P1–P4, P6, and P7 reported previously [
20
], and the PCR products of twelve homozygotes were cloned and subjected to primer-walking Sanger sequencing (for both clones and PCR products) by Majorbio (Shanghai, China). Each segment was verified by ≥3 independent rounds of long and accurate PCR (La-PCR).
2.4. Microsatellite Genotyping
After validity assessment of amplification, we first chose 12 reported microsatellite loci for genotyping [
30
,
45
]. Each forward primer was labeled with one of the three fluorescent dyes (FAM, HEX, TAMRA), and the triplex PCR products were resolved on the ABI 3730xl DNA analyzer (Applied Biosystems, Foster City, CA, USA). GeneMapper 3.7 (Applied Biosystems) was used to score the genotypes. PCR and genotyping were performed ≥3 times per sample. MICROCHECKER 2.2.1 [
46
] was used to check for genotyping errors and/or null alleles. All pairs of loci were tested for LD using the exact test (Bonferroni correction) in GENEPOP 4.0 [
47
]. LD tests were also performed between microsatellite loci and MHC haplotype. One locus was excluded because of its significant LD with another locus in certain populations. Genotypes of 11 loci were used for population analysis (Nn01, Nn03, Nn04, Nn12, Nn16, Nn17, Nn18, Nn21, Nn25, Nn26 [
30
], and NnNF5 [
45
]).
2.5. Sequence Analysis
Sequences of the
Nini
-IIβ exon 2 obtained above were aligned using the ClustalW algorithm with manual modifications in MEGA 6 [
48
]. We used two methods to detect historical positive selection on exon 2 of
DAB
and
DBB
. As the exons 2 of
DBB1
and
DBB2
are derived from
DBB3
[
20
], we integrated the three
DBB
loci as one locus with four alleles (
DBB1
*01,
DBB2
*01,
DBB2
*02,
DBB3
*01). The selection parameter ω, which estimates the ratio of the nonsynonymous substitution rate (dN) to the synonymous substitution rate (dS), was calculated, and the Z-test with Jukes-Cantor correction was performed in MEGA 6 [
48
]. Given the limited variation, we input each sequence a number of times equal to its frequency in the primary data. We also used omegaMap 0.5 [
49
] to detect positive selection under the influence of recombination by simultaneously estimating ω and the recombination rate ρ along the sequence. Analyses of positive selection were performed using a set of objective priors: ω and ρ following an inverse distribution (0.02–500); mutation rate (µ; starting from 0.1), transition/transversion rate (κ; starting from 3.0), and deletion rate (φ; starting from 0.1) following an improper inverse distribution. A variable model was used with a block length of 2 codons. Two independent Markov Chain Monte Carlo (MCMC) chains were performed for 1,000,000 iterations with a thinning interval of 100, and the first 10% of iterations were abandoned as a burn-in. The two chains with high convergence were merged to infer the posterior distribution of ω and ρ. Sites with posterior probability ≥95% were deemed to be under positive selection. R code was used to interpret the test output and generate plots.
Recombination on the full-length sequences of IIβ genes was detected by the RDP beta 4.16 package [
50
] using seven methods: RDP, GENECONV, Bootscan, MaxChi, Chimaera, SiScan, and 3Seq. A preliminary scan for recombination was performed with
p
≤ 0.05 for multiple comparisons. Recombination events identified by at least two methods were then verified and refined by several methods according to the manual, including examination of the plots, matrices, and phylogenetic trees.
Supplementary Materials
The following are available online at
https://www.mdpi.com/2073-4409/8/4/377/s1
. Figure S1. SSCP genotyping patterns. The upper and lower regions show the single-strand and heteroduplex regions, respectively. Arrows indicate the specific bands among genotypes in two class I SSCP-HD profiles. For each photograph, the left part shows representative genotypes, and the right part shows partial genotyping results in population surveys. (a) Exon 2 of class I genes. Numbers 1 to 3 represent
UAA
*01/*01,
UAA
*02/*02, and
UAA
*01/*02. (b) Exon 3 of class I genes. Numbers 1 to 3 represent
UAA
*01/*02,
UAA
*02/*02, and
UAA
*01/*01. (c) Exon 3 of
UBA
. Numbers 1 to 3 represent
UBA
*02/*02,
UBA
*01/*01, and
UBA
*01/*02. (d) Exon 3 of
UCA2
. Number 1 represents
UCA2
*01/*01, and number 2 represents
UCA2
*01/*02 or
UCA2
*02/*02 (see Methods for further differentiation). (e) Exon 2 of
DAA
. (f) Exon 2 of
DAB
. Numbers 1 to 9 represent
DAB
*02/*02,
DAB
*03/03,
DAB
*04/*04,
DAB
*01/*02,
DAB
*01/*03,
DAB
*01/*04,
DAB
*02/*03,
DAB
*02/*04, and
DAB
*03/*04.
DAB
*01/*01 was not found. (g) Exon 2 of
DBA
s. (h) Exon 2 of
DBB
s. Number 1 represents the sequence from
DBB2/DBB3
, and number 2 represents the mixed sequences from
DBB1
and
DBB2/DBB3
. The reference band of
DAB
*04 was added to each lane to strengthen the bands of
DBB1
with low proportion in mixed PCR products. Figure S2. Six MHC class I haplotypes of crested ibis. Black boxes indicate the five class I genes, with numbers representing alleles of each gene. White boxes indicate other functional genes, and the dotted oval represents the gap between the Core Region and the Class I Region [
20
]. Figure S3. La-PCR results for six segments of the class II region (P1–P4, P6, and P7) in representative samples. The ladder with reference band sizes (bp) is shown on the left, and the bright reference bands are labelled in red. Figure S4. Spatial variation in the logarithm of the selection parameter (ω) across the exon 2 of (a)
Nini
-
DAB
and (b)
Nini
-
DBB
as estimated with omegaMap. The site-wise mean (solid line) and 95% confidence intervals (grey shaded area) are shown. Values of log(ω) > 0 imply positive selection. The plots of posterior probability and selection parameters overlapped, so only one plot is shown for each analysis. Figure S5. Estimating the true number of clusters with ΔK for (a) MHC haplotypes and (b) microsatellite loci. The uppermost level of structure is the true number of clusters. Figure S6. Neighbor-joining trees of seven crested ibis populations for (a) MHC haplotypes and (b) microsatellites. Bootstrap values were computed over 2000 replicates and are shown as percentages. Table S1. Details of the crested ibis samples analyzed in this study. Table S2. Primers for PBR exon genotyping of
Nini
-MHC genes and amplification of full-length IIβ sequences in haplotype analysis. Table S3. Results of linkage disequilibrium (LD) test from Arlequin. Table S4. Summary of the
Nini
-IIβ sequences amplified by 3UT1 and 3UT2 and long-range segments amplified by P1–P4, P6, and P7 for each haplotype. Table S5. Recombination events between the full-length sequences of
Nini
-IIβ genes, identified using RDP. Table S6. Allele frequencies (%) of microsatellite loci across seven populations of crested ibis. Table S7. Pairwise
F
ST
values between populations for MHC (below diagonal) and microsatellites (above diagonal). Table S8. Results of the hierarchical AMOVA for the crested ibis.
Author Contributions
Conceptualization, S.-G.F. and Q.-H.W.; Methodology, Q.-H.W. and H.L.; Experiment and Analysis, H.L., T.Z., Q.-H.W. and S.-G.F.; Resources, S.-G.F.; Writing–Original Draft Preparation, H.L., Q.-H.W. and S.-G.F.; Writing–Review & Editing, H.L., T.Z., Q.-H.W. and S.-G.F.; Supervision, S.-G.F. and Q.-H.W.; Project Administration and Funding Acquisition, S.-G.F.
Funding
This research was supported by the National Key Program (2016YFC0503200) from the Ministry of Science and Technology of China, a special grant from the State Forestry Administration, and the Fundamental Research Funds for the Central Universities of China.
Conflicts of Interest
The authors declare no competing interests.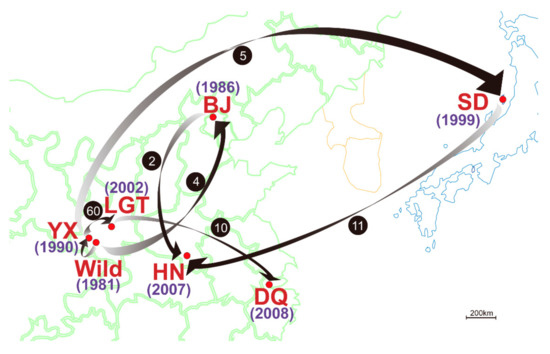 Figure 1. Map of the distribution and establishment of seven crested ibis populations (represented by red dots) in China (green lines) and Japan (blue lines). The SD population is from Sado Island, Japan, while the other populations are all from China. The year that each population was established is given beside the population name. Abbreviations for the six captive populations are: YX, Yangxian; LGT, Louguantai; DQ, Deqing; BJ, Beijing; SD, Sado; HN, Henan. The arrows represent the movement of founders with numbers indicated in the solid black circles.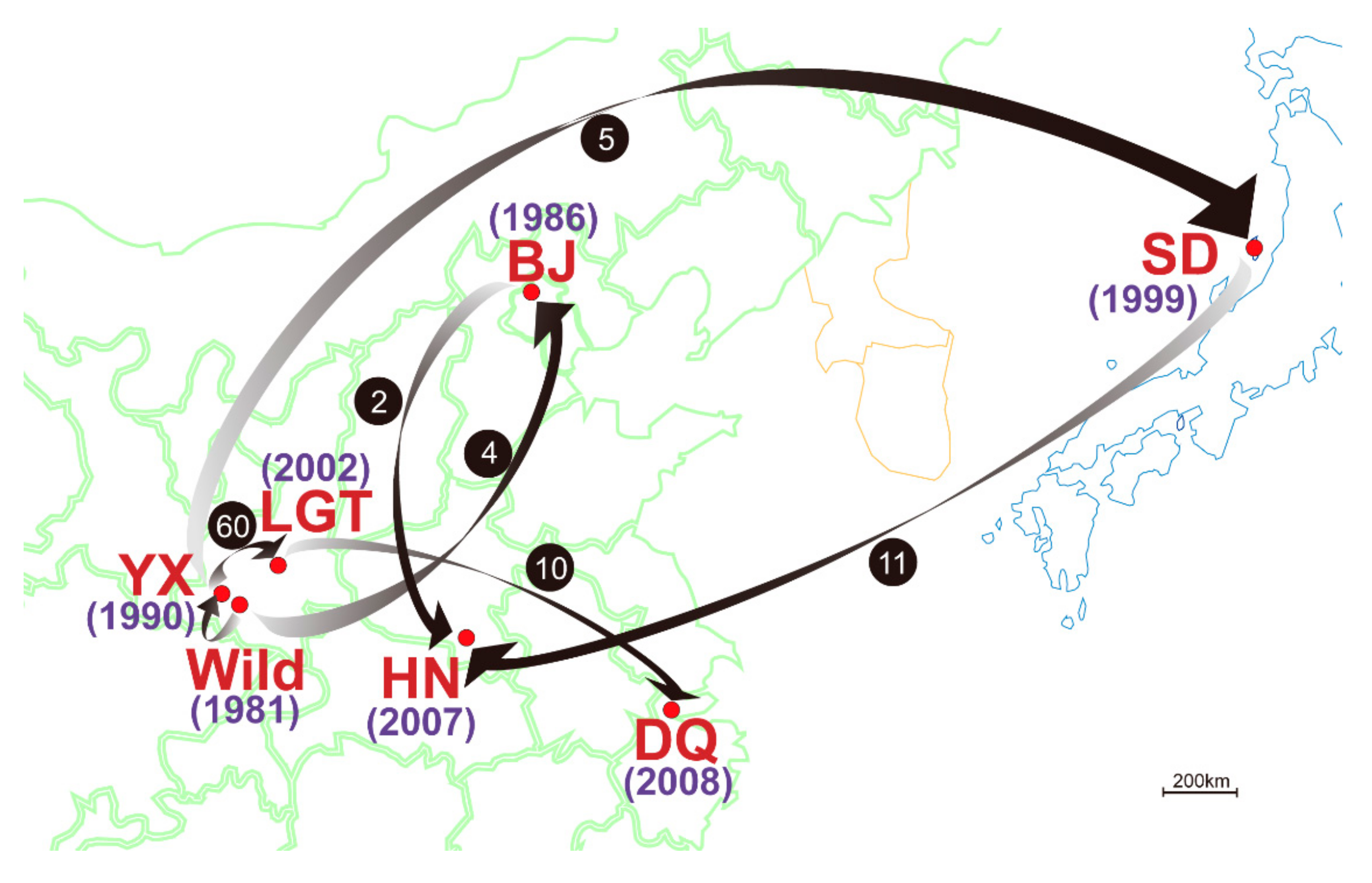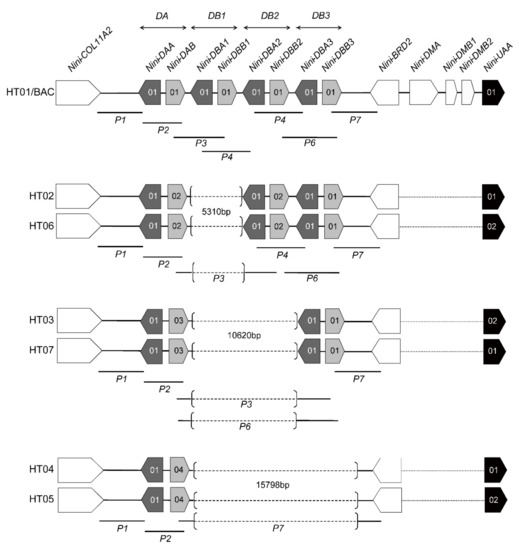 Figure 2.
Genomic structures of seven crested ibis MHC haplotypes. A total of seven haplotypes were inferred from genotype data, and their genomic structures of class II region were further determined by La-PCR using representative homozygotes. Dark and light grey boxes indicate the IIα and IIβ genes, respectively, with numbers indicating different alleles on the full-length level. Black boxes indicate the major class I gene (
UAA
) and white boxes indicate other functional genes [
20
]. Haplotypes are aligned, with bracketed dash lines representing deleted regions (the lengths were denoted aside) in relative haplotypes. Dotted lines between
BRD2
and
UAA
represent the unsequenced region. Locations of the La-PCR fragments amplified by the six reported sets of primers (P1–P4, P6, and P7) [
20
] are marked below the haplotypes.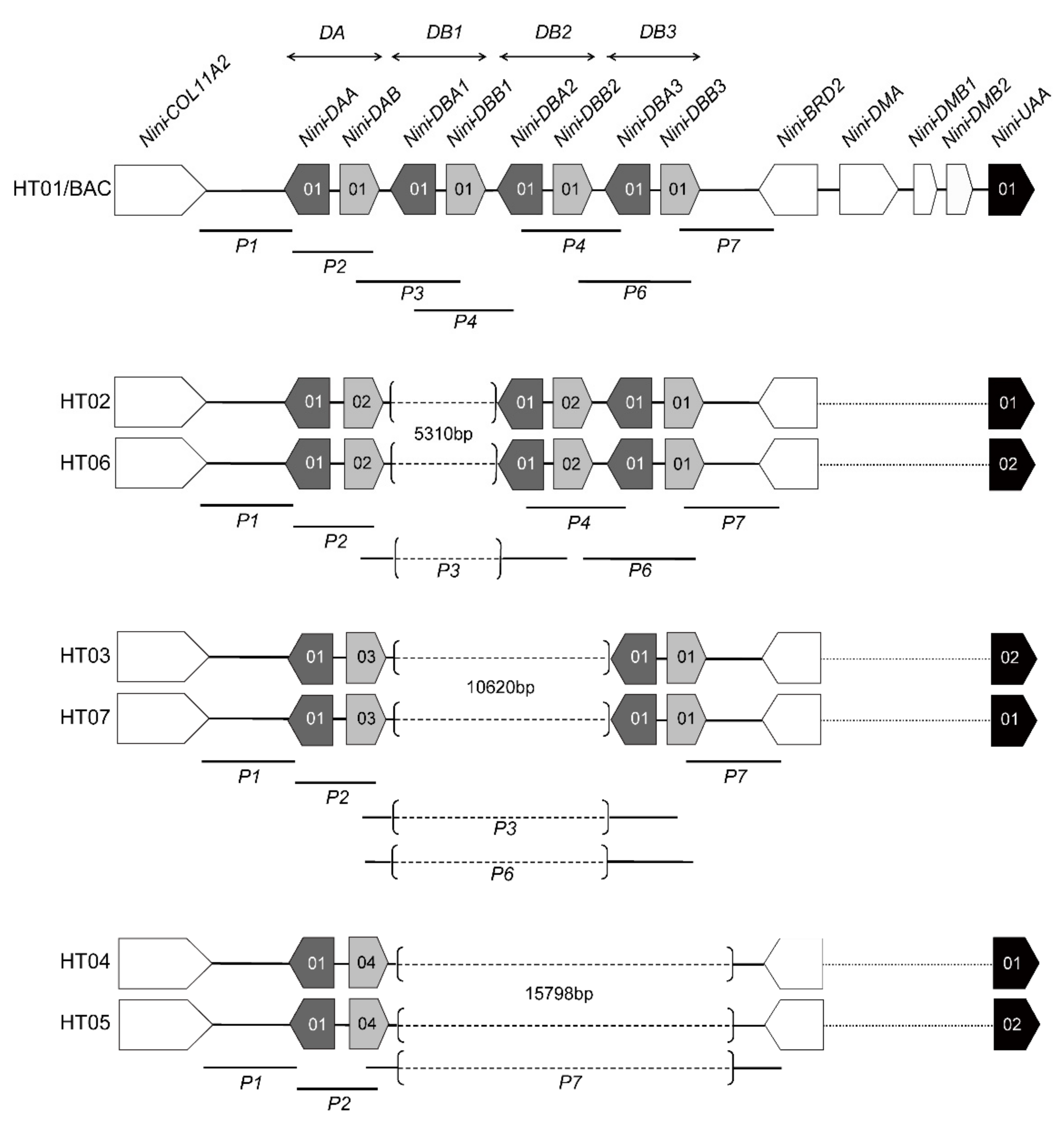 Figure 3.
Amino acid alignment of the exon 2 of full-length
Nini
-IIβ sequences. Dots indicate identity to
DAB
*01. Crosses represent putative antigen binding sites (ABS) inferred from Jardetzky, et al. [
60
] and Stern, et al. [
61
]. "a" and "b" denote sites under positive selection for
DAB
and
DBB
s, respectively, as estimated by omegaMap.

Figure 4.
Comparison of the full-length IIβ sequences (
a
) and evolutionary model of the class II regions in seven MHC haplotypes (
b
) in crested ibis. Blue (A) and red (B) boxes respectively indicate "type A" and "type B" regions represented by
DAB
*03 and
DBB3
*01. Numbers on exon 2 represent different nucleotide sequences. Black boxes indicate highly similar homologous regions which provide good opportunities for unequal crossing over between two ancestral IIβ genes. Dotted lines indicate alignment gaps. (
a
) Sequence identity (%) for each gene region was calculated in Lasergene software (DNASTAR Inc., Madison, WI) for
DAB
*03 vs.
DBB3
*01. (
b
) Dark and light grey boxes represent
DAA
and
DBA
s, respectively. The scale for intragenic regions is shown in the lower left corner. Breakpoints of recombination (as indicated by RDP) are shown by black crosses (intron 2 and intron 3–exon 5). The haplotype framed by the dashed-line was not detected in this study.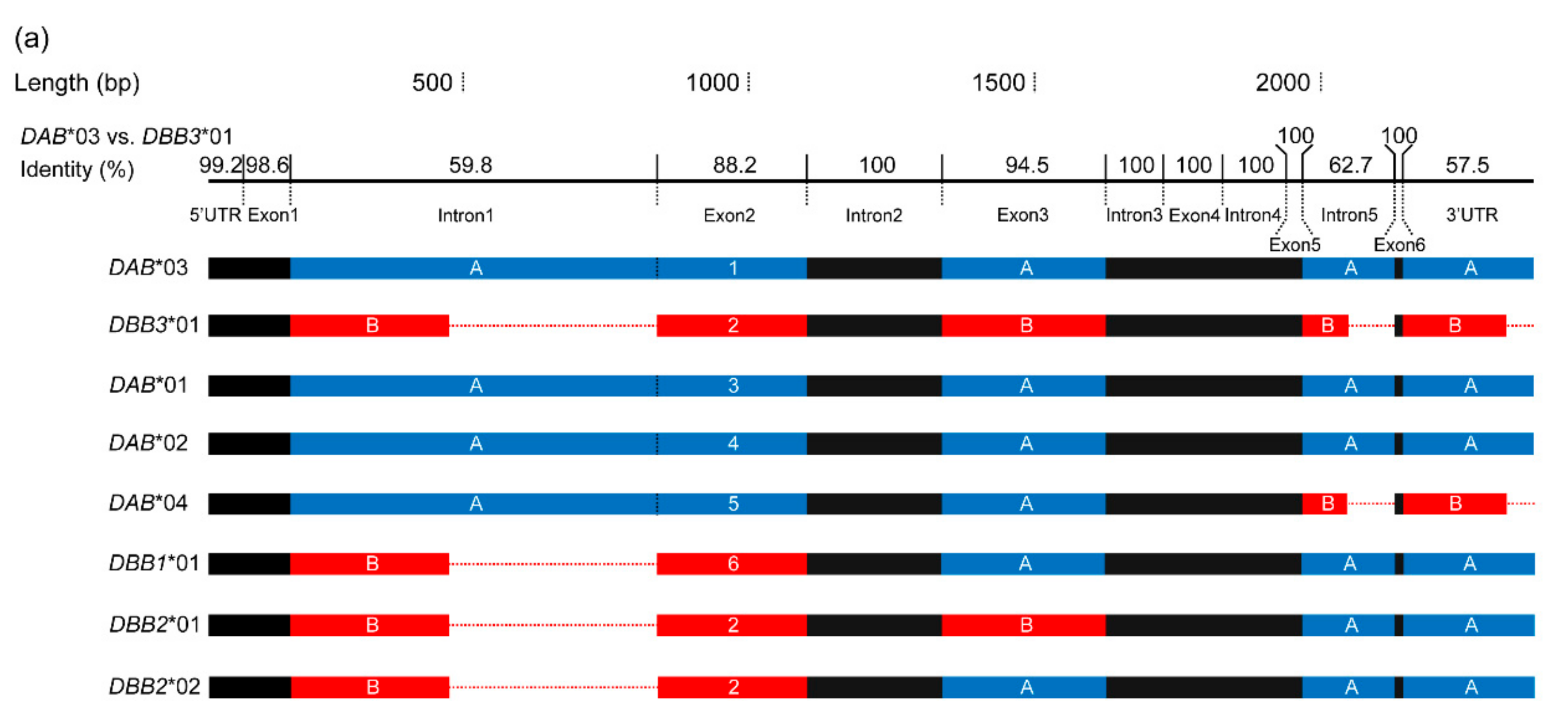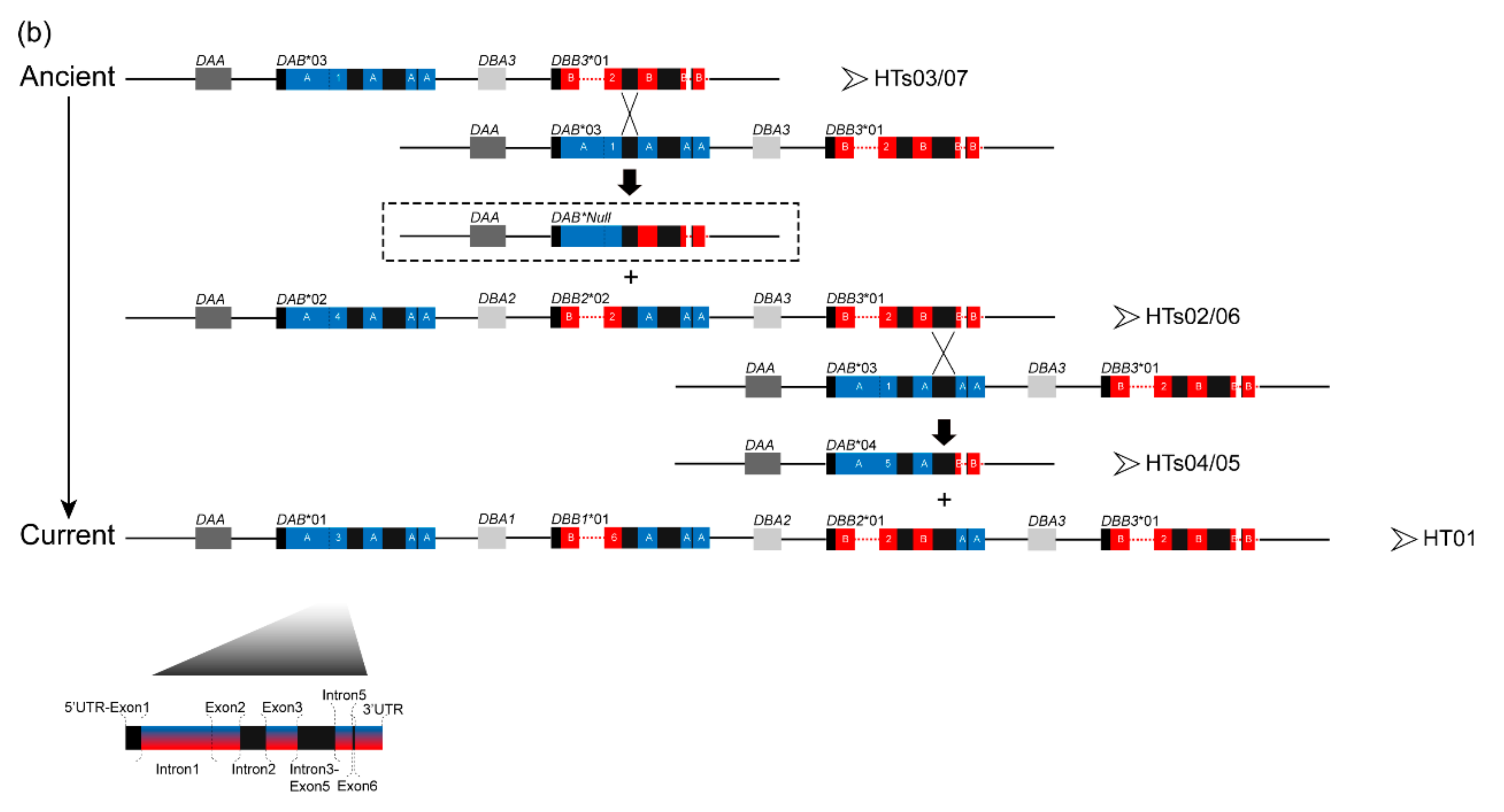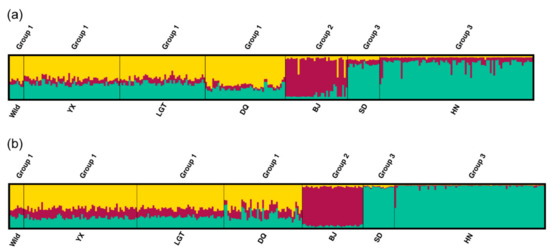 Figure 5. Bayesian clustering analysis (K = 3) using (a) MHC haplotypes and (b) microsatellite markers. Each individual is represented by a vertical bar, vertically partitioned into segments with lengths proportional to the individual's estimated membership fraction of each of the three inferred clusters indicated by different colors. The seven populations are separated by black lines and can be divided into three groups based on the proportion of membership of the three clusters.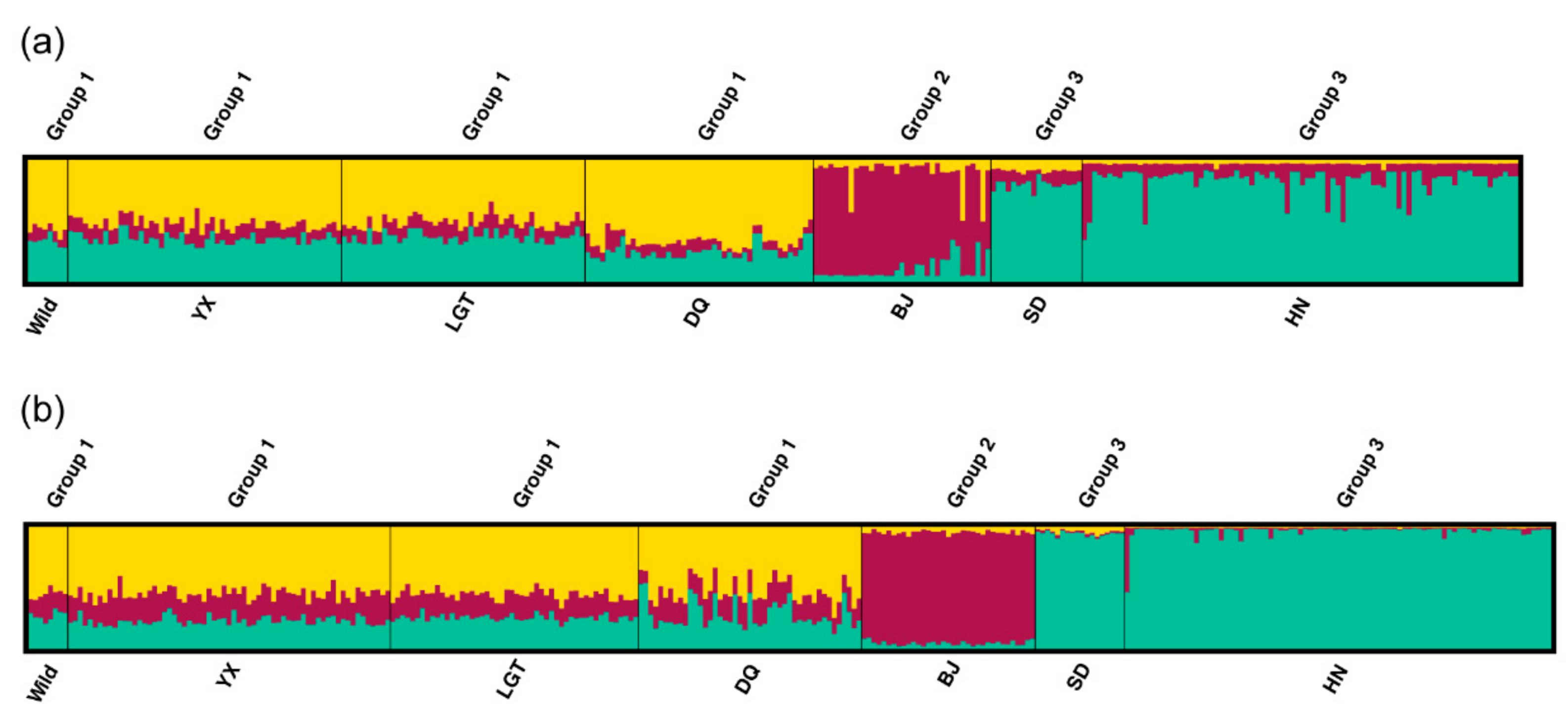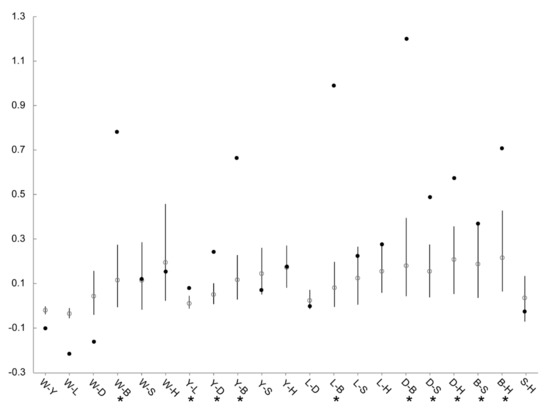 Figure 6.
Comparison between pairwise
G
'
ST
for MHC haplotypes and microsatellite loci among seven populations of the crested ibis. Pairwise
G
'
ST
with 95% CIs for microsatellite loci is indicated by white circles with corresponding error bars. Black circles indicate pairwise MHC-
G
'
ST
values. Pairwise populations with significantly higher MHC-
G
'
ST
than microsatellite-
G
'
ST
values are marked by asterisks. Populations are W, Wild; Y, YX; L, LGT; D, DQ; B, BJ; S, SD, and H, HN.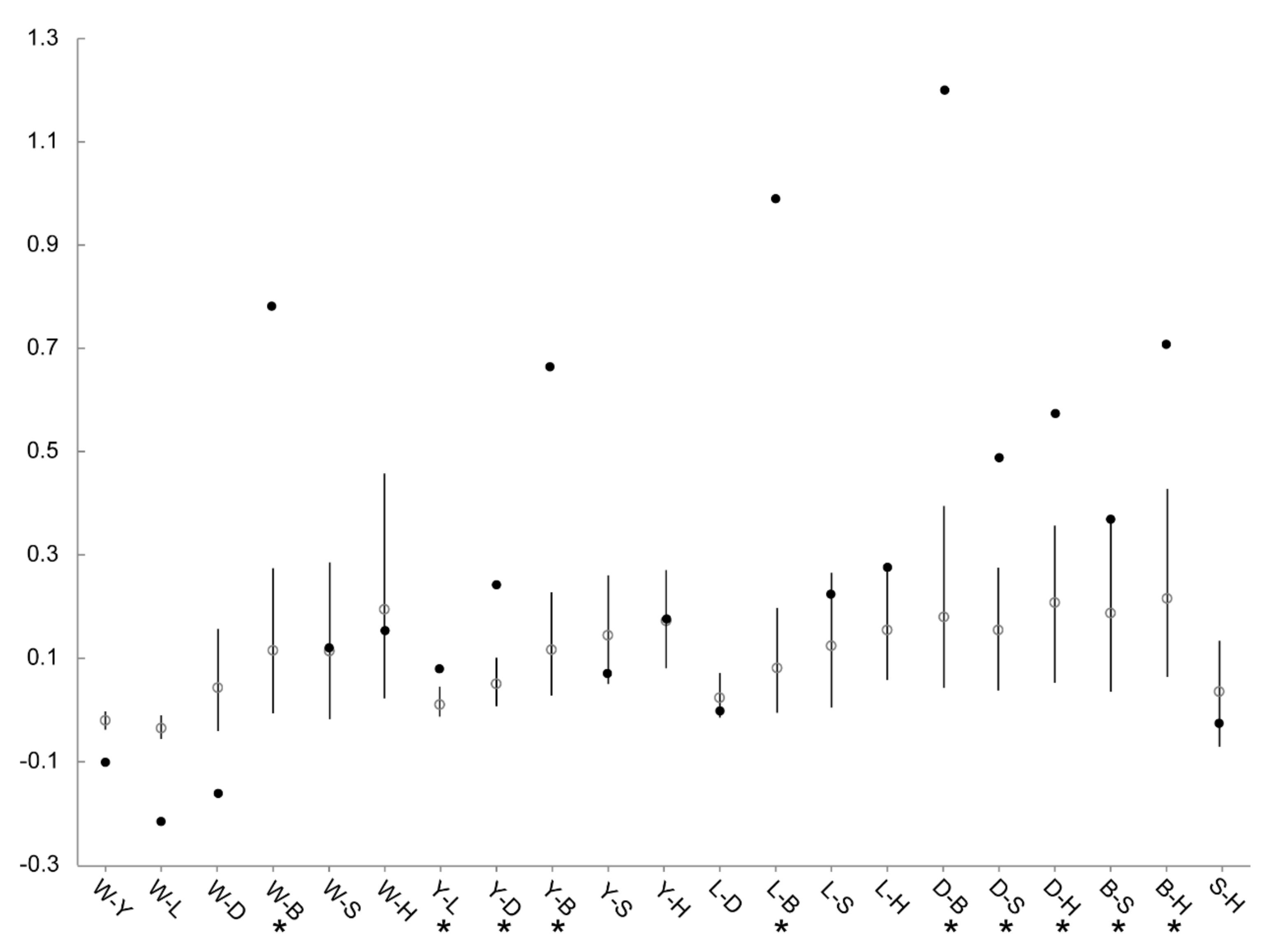 | Population | Year Established | Founder Size | Sample Size | Sampling Year | Population Size Around (Sampling Year) | Original Population of Founders |
| --- | --- | --- | --- | --- | --- | --- |
| Wild | 1981 | 6 b | 8 | 1990–1993 | 17 (1993) | - |
| YX | 1990 | unknown | 54/65 * | 1997–2006 | 145 (2004) | Wild |
| LGT | 2002 | 60 | 48/50 * | 2006 | 185 (2004) | YX |
| DQ | 2008 | 10 | 45 | 2008–2012 | 45 (2012) | LGT |
| BJ a | 1986 | 4 | 35 | 2011 | 35 (2011) | Wild |
| SD | 1999 | 5 | 18 | 2011–2012 | 120 (2011) | YX |
| HN | 2007 | 13 | 86 | 2012 | 86 (2012) | 11 from SD, 2 from BJ |
a Four individuals were introduced from SD into BJ in 2002, and two of these participated in breeding of eight "hybrid" generations. b The wild population was developed from six of the seven rediscovered birds, as one nestling fell off the nest and was later captively bred. * Numbers before and after the slash represent samples used in MHC and microsatellite genotyping, respectively. Population abbreviations are as in Figure 1.

Table 2. Summary of genetic variation and haplotype frequencies across seven populations of crested ibis.
Population
Wild
YX
LGT
DQ
BJ
SD
HN
Total
Sample size (MHC/microsatellite)
8/8
54/65
48/50
45/45
35/35
18/18
86/86
294/307
MHC
Homozygote 1
5
34
34
23
27
9
45
177
Heterozygote 2
3
20
14
22
8
9
41
117
Haplotype frequency (%)
HT01
6.3
7.4
5.2
10.0
0.0
0.0
0.0
3.9
HT02
43.8
28.7
44.8
51.1
14.3
25.0
28.5
33.2
HT03
25.0
26.9
21.9
18.9
60.0
36.1
32.0
30.8
HT04
12.5
19.4
15.6
6.7
2.9
22.2
32.0
18.5
HT05
12.5
17.6
11.5
12.2
8.6
5.6
1.2
9.0
HT06
0.0
0.0
1.0
1.1
0.0
0.0
0.0
0.3
HT07
0.0
0.0
0.0
0.0
14.3
11.1
6.4
4.3
HTs02/06
43.8
28.7
45.8
52.2
14.3
25.0
28.5
33.5
HTs03/07
25.0
26.9
21.9
18.9
74.3
47.2
38.4
35.1
HTs04/05
25.0
37.0
27.1
18.9
11.5
27.8
33.2
27.5
HO
0.63
0.78
0.75
0.71
0.54*
0.78
0.81
0.71
HE
0.76
0.78
0.72
0.68
0.60
0.76
0.71
0.75
AR
5.00
4.67
4.59
4.60
4.09
4.61
3.84
4.78
Microsatellite
HO
0.43
0.50
0.46
0.44
0.49
0.55
0.39
0.45
HE
0.49
0.45
0.44
0.43
0.46
0.47
0.37
0.44
AR
2.27
2.22
2.22
2.14
2.14
2.17
2.13
2.23
1 Homozygous at

DAB

and/or

UAA

; 2 Heterozygous at both

DAB

and

UAA

; AR, allelic richness; HE, expected heterozygosity (haplotype level for MHC); HO, observed heterozygosity (haplotype level for MHC). * significant deficiency of heterozygotes at

P

< 0.05.
Locus
Grouping
Source of Variation
d.f.
SS
Variance Components
Percentage of Variation
Fixation Index

P

Value
MHC
(Wild, LGT, DQ) (YX) (BJ) (SD, HN)
Among groups
3
12.800
0.02996
7.81
0.07810
0.00484
Among populations within groups
3
0.633
−0.00250
−0.65
−0.00706
0.81299
Within populations
581
206.899
0.35611
92.84
0.07159
0.00000
Microsatellite
(Wild, YX, LGT, DQ) (BJ) (SD, HN)
Among groups
2
49.130
0.10917
5.10
0.05102
0.00897
Among populations within groups
4
17.424
0.03245
1.52
0.01598
0.00002
Within populations
607
1212.932
1.99824
93.38
0.06618
0.00000
Significance values are derived from 1023 permutations.

© 2019 by the authors. Licensee MDPI, Basel, Switzerland. This article is an open access article distributed under the terms and conditions of the Creative Commons Attribution (CC BY) license (http://creativecommons.org/licenses/by/4.0/).