Impairment of Motor Function Correlates with Neurometabolite and Brain Iron Alterations in Parkinson's Disease
1
Institute for Prevention and Occupational Medicine of the German Social Accident Insurance, Institute of the Ruhr University Bochum (IPA), 44789 Bochum, Germany
2
Department of Neurology, St. Josef-Hospital, Ruhr-University Bochum, 44791 Bochum, Germany
3
Department of Neurology, St. Josef-Hospital, Katholische Kliniken Ruhrhalbinsel, Contilia Gruppe, 45257 Essen, Germany
4
School of Health Sciences, Purdue University, West Lafayette, IN 47907, USA
5
Department of Radiology and Imaging Sciences, Indiana University School of Medicine, Indianapolis, IN 46202, USA
6
Department of Radiology and Imaging Sciences, Emory University, Atlanta, GA 30322, USA
7
Department of Neurology, BG University Hospital Bergmannsheil, Ruhr University Bochum, 44789 Bochum, Germany
8
Department of Neurology, St. Mauritius Therapieklinik, 40670 Meerbusch, Germany
9
Institute of Clinical Neuroscience and Medical Psychology, Universitätsklinikum Düsseldorf, 40225 Düsseldorf, Germany
10
Leibniz Research Centre for Working Environment and Human Factors (IfADo), TU Dortmund, 44139 Dortmund, Germany
*
Author to whom correspondence should be addressed.
†
These authors contributed equally to this work.
Received: 20 December 2018 / Revised: 17 January 2019 / Accepted: 24 January 2019 / Published: 29 January 2019
Abstract
We took advantage of magnetic resonance imaging (MRI) and spectroscopy (MRS) as non-invasive methods to quantify brain iron and neurometabolites, which were analyzed along with other predictors of motor dysfunction in Parkinson's disease (PD). Tapping hits, tremor amplitude, and the scores derived from part III of the Movement Disorder Society-Sponsored Revision of the Unified Parkinson Disease Rating Scale (MDS-UPDRS3 scores) were determined in 35 male PD patients and 35 controls. The iron-sensitive MRI relaxation rate R2* was measured in the globus pallidus and substantia nigra. γ-aminobutyric acid (GABA)-edited and short echo-time MRS was used for the quantification of neurometabolites in the striatum and thalamus. Associations of R2*, neurometabolites, and other factors with motor function were estimated with Spearman correlations and mixed regression models to account for repeated measurements (hands, hemispheres). In PD patients, R2* and striatal GABA correlated with MDS-UPDRS3 scores if not adjusted for age. Patients with akinetic-rigid PD subtype (
N
= 19) presented with lower creatine and striatal glutamate and glutamine (Glx) but elevated thalamic GABA compared to controls or mixed PD subtype. In PD patients, Glx correlated with an impaired dexterity when adjusted for covariates. Elevated myo-inositol was associated with more tapping hits and lower MDS-UPDRS3 scores. Our neuroimaging study provides evidence that motor dysfunction in PD correlates with alterations in brain iron and neurometabolites.
View Full-Text
►

▼

Figures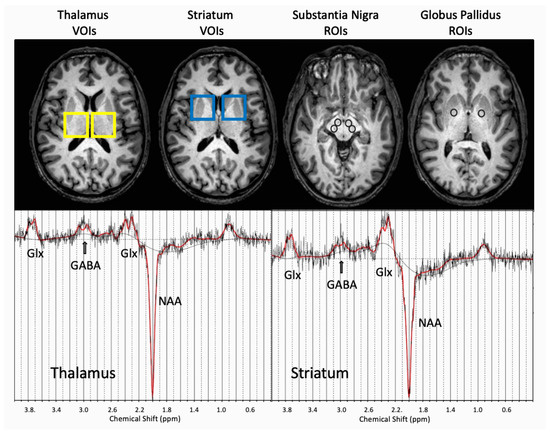 Figure 1
This is an open access article distributed under the
Creative Commons Attribution License
which permits unrestricted use, distribution, and reproduction in any medium, provided the original work is properly cited (CC BY 4.0).

Share & Cite This Article
MDPI and ACS Style
Pesch, B.; Casjens, S.; Woitalla, D.; Dharmadhikari, S.; Edmondson, D.A.; Zella, M.A.S.; Lehnert, M.; Lotz, A.; Herrmann, L.; Muhlack, S.; Kraus, P.; Yeh, C.-L.; Glaubitz, B.; Schmidt-Wilcke, T.; Gold, R.; van Thriel, C.; Brüning, T.; Tönges, L.; Dydak, U. Impairment of Motor Function Correlates with Neurometabolite and Brain Iron Alterations in Parkinson's Disease. Cells 2019, 8, 96.
Note that from the first issue of 2016, MDPI journals use article numbers instead of page numbers. See further details here.
Related Articles
Comments
[Return to top]