Expression of Translocator Protein and [18F]-GE180 Ligand Uptake in Multiple Sclerosis Animal Models
1
Department of Anatomy II, Ludwig-Maximilians-University of Munich, 80336 Munich, Germany
2
Department of Nuclear Medicine, University Hospital, LMU Munich, 80336 Munich, Germany
3
Institute of Neuroanatomy, RWTH Aachen University, 52074 Aachen, Germany
4
Laboratory of Experimental Hematology, University of Antwerp, 2000 Antwerp, Belgium
5
Vaccine and Infectious Disease Institute (Vaxinfectio), University of Antwerp, 2000 Antwerp, Belgium
6
Department of Nuclear Medicine, Inselspital, University Hospital Bern, 3010 Bern, Switzerland
7
Department of Anatomy, Rostock University Medical Center, 18055 Rostock, Germany
*
Author to whom correspondence should be addressed.
†
Axel Rominger and Markus Kipp contributed equally to this work as last authors
‡
Anne Nack and Matthias Brendel contributed equally to this work as first authors
Received: 20 November 2018 / Revised: 16 January 2019 / Accepted: 23 January 2019 / Published: 28 January 2019
Full-Text
|
PDF
[6224 KB, uploaded 4 February 2019]
|
|

Review Reports
Abstract
Positron emission tomography (PET) ligands targeting the translocator protein (TSPO) represent promising tools to visualize neuroinflammation in multiple sclerosis (MS). Although it is known that TSPO is expressed in the outer mitochondria membrane, its cellular localization in the central nervous system under physiological and pathological conditions is not entirely clear. The purpose of this study was to assess the feasibility of utilizing PET imaging with the TSPO tracer, [18F]-GE180, to detect histopathological changes during experimental demyelination, and to determine which cell types express TSPO. C57BL/6 mice were fed with cuprizone for up to 5 weeks to induce demyelination. Groups of mice were investigated by [18F]-GE180 PET imaging at week 5. Recruitment of peripheral immune cells was triggered by combining cuprizone intoxication with MOG
35–55
immunization (i.e., Cup/EAE). Immunofluorescence double-labelling and transgene mice were used to determine which cell types express TSPO. [18F]-GE180-PET reliably detected the cuprizone-induced pathology in various white and grey matter regions, including the corpus callosum, cortex, hippocampus, thalamus and caudoputamen. Cuprizone-induced demyelination was paralleled by an increase in TSPO expression, glia activation and axonal injury. Most of the microglia and around one-third of the astrocytes expressed TSPO. TSPO expression induction was more severe in the white matter corpus callosum compared to the grey matter cortex. Although mitochondria accumulate at sites of focal axonal injury, these mitochondria do not express TSPO. In Cup/EAE mice, both microglia and recruited monocytes contribute to the TSPO expressing cell populations. These findings support the notion that TSPO is a valuable marker for the in vivo visualization and quantification of neuropathological changes in the MS brain. The pathological substrate of an increase in TSPO-ligand binding might be diverse including microglia activation, peripheral monocyte recruitment, or astrocytosis, but not axonal injury.
View Full-Text
►

▼

Figures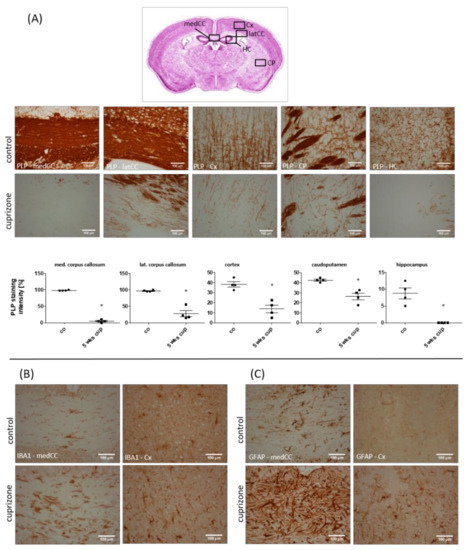 Figure 1
This is an open access article distributed under the
Creative Commons Attribution License
which permits unrestricted use, distribution, and reproduction in any medium, provided the original work is properly cited (CC BY 4.0).

Share & Cite This Article
MDPI and ACS Style
Nack, A.; Brendel, M.; Nedelcu, J.; Daerr, M.; Nyamoya, S.; Beyer, C.; Focke, C.; Deussing, M.; Hoornaert, C.; Ponsaerts, P.; Schmitz, C.; Bartenstein, P.; Rominger, A.; Kipp, M. Expression of Translocator Protein and [18F]-GE180 Ligand Uptake in Multiple Sclerosis Animal Models. Cells 2019, 8, 94.
Note that from the first issue of 2016, MDPI journals use article numbers instead of page numbers. See further details here.
Related Articles
Comments
[Return to top]