The Centriolar Adjunct–Appearance and Disassembly in Spermiogenesis and the Potential Impact on Fertility
1
Faculté de Médecine, Université de Tours, 10, Boulevard Tonnellé, 37032 Tours, France
2
National University of Science and Technology «MISiS», 119049 Moscow, Russia
3
Belozersky Institute of Physico-Chemical Biology, Moscow State University, Leninskye gory 1-40, 119992 Moscow, Russia
4
Research Centre for Medical Genetics, Moskvorechye 1, 115478 Moscow, Russia
5
CHRU, UF Biologie Cellulaire & Microscopie Electronique, 2, Boulevard Tonnellé, 37032 Tours, France
6
INSERM U1259, 10, Boulevard Tonnellé, 37032 Tours, France
7
UFR de Sciences et Techniques, Physiologie de la Reproduction et des Comportements (PRC), INRA, Centre de Tours, 37380 Nouzilly, France
8
Service de Médecine et Biologie de la Reproduction, CHRU Bretonneau, 2, boulevard Tonnellé, 37044 Tours, France
9
Faculty of Bioengineering and Bioinformatics, Moscow State University, Leninskye gory 73, 119992 Moscow, Russia
*
Author to whom correspondence should be addressed.
Received: 16 January 2019 / Revised: 15 February 2019 / Accepted: 16 February 2019 / Published: 19 February 2019
Abstract
During spermiogenesis, the proximal centriole forms a special microtubular structure: the centriolar adjunct. This structure appears at the spermatid stage, which is characterized by a condensed chromatin nucleus. We showed that the centriolar adjunct disappears completely in mature porcine spermatozoa. In humans, the centriolar adjunct remnants are present in a fraction of mature spermatids. For the first time, the structure of the centriolar adjunct in the cell, and its consequent impact on fertility, were examined. Ultrastructural analysis using transmission electron microscopy was performed on near 2000 spermatozoa per person, in two patients with idiopathic male sterility (IMS) and five healthy fertile donors. We measured the average length of the "proximal centriole + centriolar adjunct" complex in sections, where it had parallel orientation in the section plane, and found that it was significantly longer in the spermatozoa of IMS patients than in the spermatozoa of healthy donors. This difference was independent of chromatin condensation deficiency, which was also observed in the spermatozoa of IMS patients. We suggest that zygote arrest may be related to an incompletely disassembled centriolar adjunct in a mature spermatozoon. Therefore, centriolar adjunct length can be potentially used as a complementary criterion for the immaturity of spermatozoa in the diagnostics of IMS patients.
View Full-Text
►

▼

Figures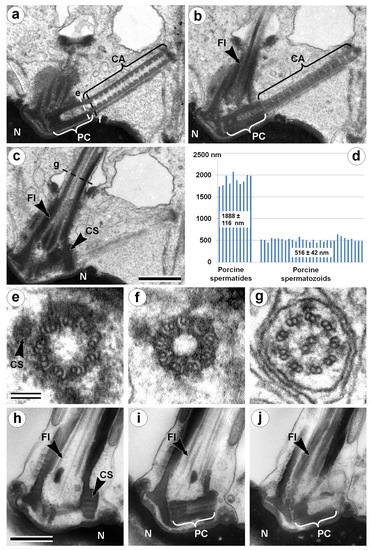 Figure 1
This is an open access article distributed under the
Creative Commons Attribution License
which permits unrestricted use, distribution, and reproduction in any medium, provided the original work is properly cited (CC BY 4.0).

Share & Cite This Article
MDPI and ACS Style
Garanina, A.S.; Alieva, I.B.; Bragina, E.E.; Blanchard, E.; Arbeille, B.; Guerif, F.; Uzbekova, S.; Uzbekov, R.E. The Centriolar Adjunct–Appearance and Disassembly in Spermiogenesis and the Potential Impact on Fertility. Cells 2019, 8, 180.
Note that from the first issue of 2016, MDPI journals use article numbers instead of page numbers. See further details here.
Related Articles
Comments
[Return to top]