Open Access This article is
freely available
re-usable
Review
New Insights into the Interplay between Non-Coding RNAs and RNA-Binding Protein HnRNPK in Regulating Cellular Functions
College of Life Science, Xinyang Normal University, Xinyang 464000, China
*
Authors to whom correspondence should be addressed.
Received: 19 December 2018 / Accepted: 15 January 2019 / Published: 17 January 2019
Abstract
:
The emerging data indicates that non-coding RNAs (ncRNAs) epresent more than the "junk sequences" of the genome. Both miRNAs and long non-coding RNAs (lncRNAs) are involved in fundamental biological processes, and their deregulation may lead to oncogenesis and other diseases. As an important RNA-binding protein (RBP), heterogeneous nuclear ribonucleoprotein K (hnRNPK) is known to regulate gene expression through the RNA-binding domain involved in various pathways, such as transcription, splicing, and translation. HnRNPK is a highly conserved gene that is abundantly expressed in mammalian cells. The interaction of hnRNPK and ncRNAs defines the novel way through which ncRNAs affect the expression of protein-coding genes and form autoregulatory feedback loops. This review summarizes the interactions of hnRNPK and ncRNAs in regulating gene expression at transcriptional and post-transcriptional levels or by changing the genomic structure, highlighting their involvement in carcinogenesis, glucose metabolism, stem cell differentiation, virus infection and other cellular functions. Drawing connections between such discoveries might provide novel targets to control the biological outputs of cells in response to different stimuli.
Keywords:
hnRNPK; lncRNAs; miRNA; gene regulation; cancer
Author Contributions
Y.X. and W.W. reviewed, wrote and arranged the manuscript; Q.H., Y.W. and C.L. reviewed the literature and prepared the table and figures; P.Z. and H.X. reviewed the literature and finalized the manuscript.
Funding
This work was financially supported by the National Natural Science Foundation of China (U1204326 and 31601167), the National Natural Science Foundation of Henan Province (182300410027), the Nanhu Scholars Program of XYNU, and the Program of Youth Learning Backbone Teacher in Henan province (2015GGJS-139).
Conflicts of Interest
The authors declare no financial or nonfinancial competing interests.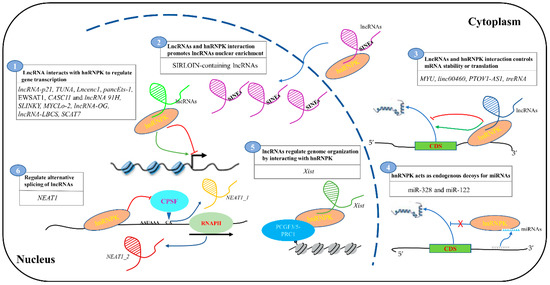 Figure 1.
The molecular mechanisms of ncRNAs and hnRNPK interplay in regulating gene expression. (1) long non-coding RNAs (lncRNAs) recruit hnRNPK and promote or restrain gene transcription; for example,
Lncenc1
1 binds to hnRNPK and induces glycolysis-associated genes in maintaining the self-renewal of nESCs. (2) lncRNAs and hnRNPK interaction promotes SINE-derived nuclear RNA localization (SIRLOIN)-containing lncRNAs nuclear enrichment. (3) lncRNAs, hnRNPK and mRNA form a complex that controls mRNA stability or translation; for example, the
MYU
and hnRNPK complex regulates
CDK6
mRNA translation. (4) hnRNPK act as miRNAs sponges, affecting their distribution on their target genes; for example, hnRNPK interact with miR-328 by acting as a decoy, thus relieving translational inhibition of C/EBPα. (5) lncRNA
Xist
regulates genome organization by interacting with hnRNPK, indirectly affecting gene expression. (6) hnRNPK is involved in the alternative splicing of lncRNAs; for example, hnRNPK regulates alternative 3′-end processing of
NEAT1
, and is required to maintain the
NEAT1_2
level.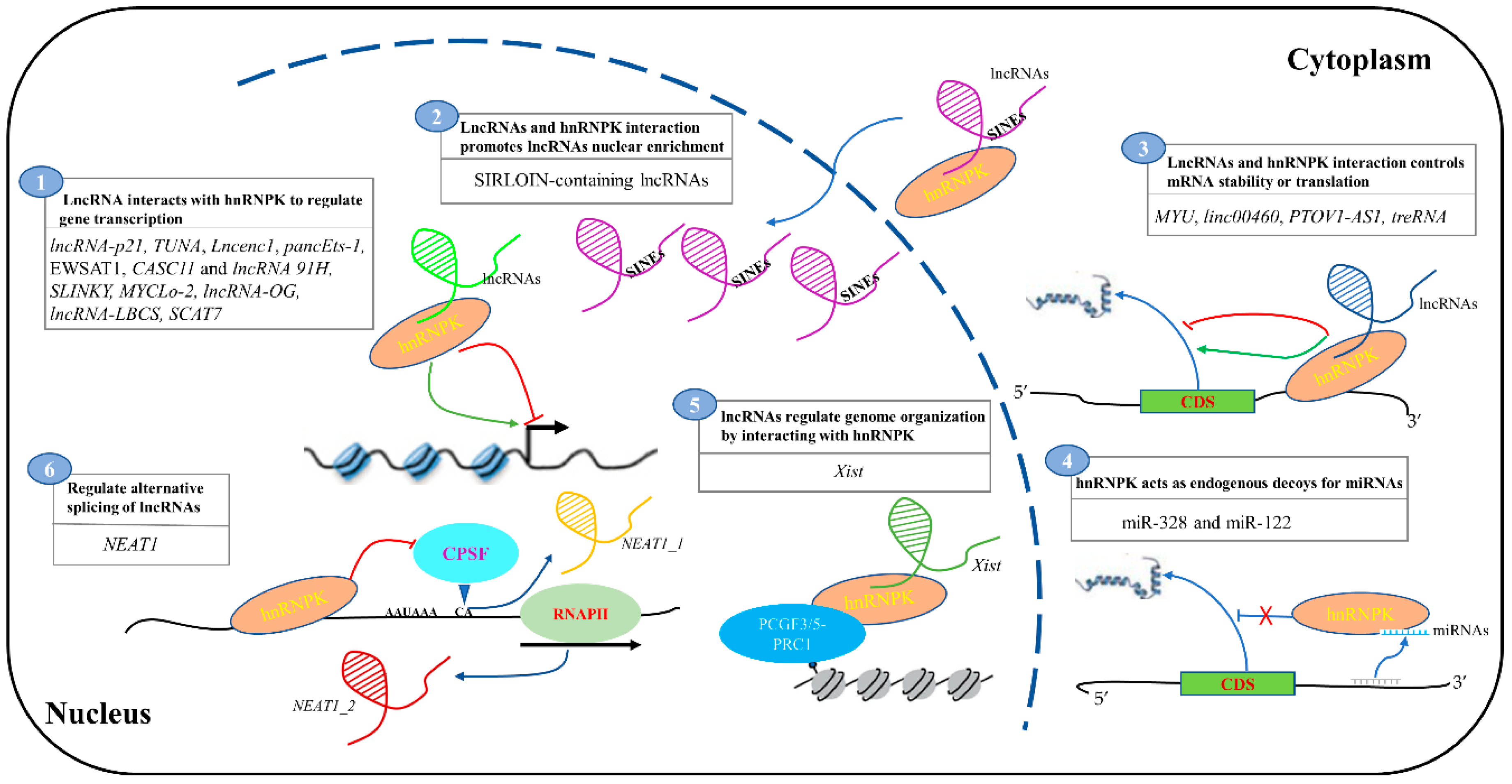 Table 1. Molecular function of heterogeneous nuclear ribonucleoprotein K (hnRNPK) and long non-coding RNAs (lncRNAs) interaction.
lncRNAs
Location
Dysregulation
Function
Mechanism
Ref.

LincRNA-p21

Nucleus
Upregulated
Promote mouse MEFs proliferation, p53-mediated apoptosis, regulate somatic reprogramming
Transcriptional regulation
[25,26,27,28]

TUNA

Nucleus
Upregulated
ESC pluripotency and neural differentiation
activate the pluripotency genes
[29]

Lncenc1

Nucleus
Upregulated
Maintain the self-renewal of nESCs
Regulate the transcription of glycolytic genes
[30]

pancEts-1

Nucleus
Upregulated
Promote the growth, invasion, and metastasis of NB cells
Activate β-catenin
[31]

CASC11

Nucleus
Upregulated
Promote CRC cell proliferation and metastasis
Activate Wnt/β-catenin pathway
[32]

lncRNA 91H

Exosom
Upregulated
Promote colorectal cancer development and metastasis.
Regulate hnRNPK expression
[33]

EWSAT1

Nucleus
Upregulated
Facilitates the development of Ewing sarcoma
Repress the expression of a subset of target genes in the context of Ewing sarcoma
[34]

SLINKY

Nucleus
Upregulated
Regulate cancer cell proliferation
Transcriptional regulation
[35]

MYCLo-2

Nucleus
Upregulated
Colon cancer transformation and tumorigenesis
Repress

p21

transcription
[36]

LncRNA-OG

Nucleus
Upregulated
Promote BM-MSC osteogenic differentiation
Promoting H3K27 acetylation of the lncRNA-OG promoter
[37]

LncRNA-LBCS

Nucleus
Downregulated
Inhibits self-renewal, chemoresistance and tumor initiation of BCSCs
Repress SOX2 transcription via mediating H3K27me3
[38]

SCAT7

Nucleus
Upregulated
Promote cell proliferation and tumor development
Activate FGF/FGFR transcription and its downstream PI3K/AKT and MAPK pathways
[39]

MYU

Cytoplasm
Upregulated
Promote proliferation and tumorigenicity
Stabilize CDK6 expression
[40]

linc00460

Cytoplasm
Upregulated
Lung cancer development
Translocate hnRNPK to the cytoplasm
[41]

PTOV1-AS1

Cytoplasm
Upregulated
Promote proliferation and metastasis of various cancer
Modulate HMOX1 expression
[42]

treRNA

Cytoplasm
Upregulated
Promote tumorigenesis
Suppress translation of E-cadherin
[43]

Xist

Nucleus
Upregulated
Inactive X-chromosome
Modify underlying chromatin
[44,45,46,47]

NEAT1

Nucleus
-
Modulates the alternative

NEAT1

3′-end processing
HnRNPK competed with CPSF6 for binding to NUDT21
[48,49]

© 2019 by the authors. Licensee MDPI, Basel, Switzerland. This article is an open access article distributed under the terms and conditions of the Creative Commons Attribution (CC BY) license (http://creativecommons.org/licenses/by/4.0/).