Open Access This article is
freely available
re-usable
Review
Adoptive T Cell Therapy Strategies for Viral Infections in Patients Receiving Haematopoietic Stem Cell Transplantation
1
Department of Paediatrics, Milano-Bicocca University, Fondazione MBBM/San Gerardo Hospital, 20900 Monza, Italy
2
Blood & Marrow Transplant Unit, Great Ormond Street Hospital, UCL, London WC1N 3JH, UK
3
Department of Pediatric Hematology, Oncology, Hemostaseology and Stem Cell Transplantation, Dr. von Hauner University Children's Hospital, LMU, 80337 Munich, Germany
4
Scottish National Blood Transfusion Service, Blood Transfusion Centre, Foresterhill Road, Aberdeen AB25 2ZW, UK
5
Infection, Immunity & Inflammation, Institute of Medical Sciences, University of Aberdeen, Aberdeen AB25 2ZD, UK
6
Haematological Sciences, Newcastle University, Newcastle upon Tyne NE2 4HH, UK
7
Institute of Cellular Medicine, Newcastle University, Newcastle upon Tyne NE2 4HH, UK
8
Paediatric HSCT Unit, Great North Children's Hospital, Newcastle upon Tyne NE2 4HH, UK
9
Department of Applied Sciences, Faculty of Health & Life Sciences, Northumbria University, Newcastle upon Tyne NE1 8ST 4HH, UK
*
Author to whom correspondence should be addressed.
Received: 20 December 2018 / Accepted: 11 January 2019 / Published: 14 January 2019
Abstract
:
Adverse outcomes following virus-associated disease in patients receiving allogeneic haematopoietic stem cell transplantation (HSCT) have encouraged strategies to control viral reactivation in immunosuppressed patients. However, despite timely treatment with antiviral medication, some viral infections remain refractory to treatment, which hampers outcomes after HSCT, and are responsible for a high proportion of transplant-related morbidity and mortality. Adoptive transfer of donor-derived lymphocytes aims to improve cellular immunity and to prevent or treat viral diseases after HSCT. Early reports described the feasibility of transferring nonspecific lymphocytes from donors, which led to the development of cell therapy approaches based on virus-specific T cells, allowing a targeted treatment of infections, while limiting adverse events such as graft versus host disease (GvHD). Both expansion and direct selection techniques have yielded comparable results in terms of efficacy (around 70–80%), but efficacy is difficult to predict for individual cases. Generating bespoke products for each donor–recipient pair can be expensive, and there remains the major obstacle of generating products from seronegative or poorly responsive donors. More recent studies have focused on the feasibility of collecting and infusing partially matched third-party virus-specific T cells, reporting response rates of 60–70%. Future development of this approach will involve the broadening of applicability to multiple viruses, the optimization and cost-control of manufacturing, larger multicentred efficacy trials, and finally the creation of cell banks that can provide prompt access to virus-specific cellular product. The aim of this review is to summarise present knowledge on adoptive T cell manufacturing, efficacy and potential future developments.
Keywords:
haematopoietic stem cell transplantation; viral infections; adoptive cell therapy; third party donor
1. Introduction
Haematopoietic stem cell transplantation (HSCT) represents an important curative option for a large group of malignant (mainly leukaemias and lymphomas) and nonmalignant disorders (e.g., primary immunodeficiencies and metabolic diseases). However, outcomes can be hampered by a wide spectrum of transplant-related complications including viral infections, which are a major cause of morbidity and mortality in transplanted patients [
1
]. Accurate incidences of viral infections in transplant settings are not reported consistently since differences in sample analysis (e.g., whole blood versus plasma) [
2
] or different viral load cut-offs for positivity, can lead to heterogeneous results [
3
]. Although pharmacological therapies are available to treat viral infections, many are ineffective due in part to drug resistance, or having to cease therapy due to drug-related toxicities. Furthermore, prolonged therapy is expensive. For these reasons, virus-specific T cells (VsTs), mainly cytotoxic T lymphocytes (CTLs), have been increasingly investigated as a treatment option for refractory viral infections in transplanted patients.
Different strategies for VsT manufacture have been employed to improve viral specificity of T cells towards single or multiple viruses, including methods of cell selection or in-vitro stimulation, choice of cell source, and HLA (human leukocyte antigen) matching. In this review, we illustrate the relevant differences in approaches to adoptive cell therapy using lymphocytes, focusing on factors influencing the efficacy of CTLs, and overview the latest advances and possible future developments of antiviral T-cell therapy.
2. Refractory Viral Infections Following HSCT
Hemorrhagic cystitis due to BK virus infection is a painful and difficult condition to treat, and can hamper the outcome of HSCT. Although some authors reported that cidofovir either systemic or intravesical can improve or reduce BK viremia or viruria, there are insufficient data to recommend its use as standard treatment.
Progressive multifocal leukoencephalopathy (PML) is a severe potentially fatal complication caused by JC virus reactivation, which can occur usually in late post-transplant phases (11–60 months). The diagnosis represents a significant challenge for clinicians as there are no specific treatments to prevent or reduce progression. Cidofovir, IL-2, cytarabine and IVIG have been variably used, but there is little evidence to suggest that such therapies prevent fatal outcome, which eventually occurs in a considerable proportion of patients.
3. From DLI to Virus-Specific T Cells and Beyond
4. Efficacy of Donor-Derived T Cells: Promising Potential and Pitfalls
There are no accepted predictive markers for response; peripheral blood viral load is not a reliable parameter in the early stages, since EBV DNA can be undetectable despite ongoing lymphoproliferative disease within organs, and, conversely, CMV and AdV DNA can show transient surges early after T cell infusions, possibly due to the cytolysis of infected cells.
5. Third Party CTLs
Donor-derived VST infusions are not always feasible in clinical practice due to the lack of specific immunity of donor cells (e.g., high-risk patients: CMV-seropositive receiving HSCT from CMV-seronegative donor), or the availability of the donor (e.g., patients undergoing UCB transplantation), and the time required for manufacture of the cellular product might be too prolonged to deal with the rapid clinical evolution of viral infection. Moreover, treatment failure can occur due to specific HLA restriction of donor-derived CTLs that are unable to recognize viral epitopes generated by viral DNA mutation and presented by a different HLA complex. In this scenario, use of more specific HLA restriction of T cells could correctly recognize viral antigens and clear the virus [
53
]. Ideally, the use of selected T cells with higher grades of specificity for particular HLA types could add additional benefit in terms of viral clearance, minimizing the risk of treatment failure.
The encouraging results following infusion of viral-specific T cells in solid organ-transplanted patients [
59
] suggested that third-party CTLs could be effectively used also in the setting of HSCT [
53
]. After a few initial reports [
60
,
61
] (
Figure 1
), demonstrating efficacy of third-party virus-specific T cells in HSCT patients, banks of third-party CTLs were developed in order to store specific antiviral T cell products that could be immediately available in the case of refractory infections. However, there are potential drawbacks to this approach: (1) partially matched cells might be recognized by the host immune system leading to rejection of CTLs; (2) the risk of alloreactive phenomena against recipient cells. Although few centers have implemented an "off-the-shelf" program of CTLs for HSCT recipients, and no randomized trials have been conducted yet, the published results suggest an overall response rate around 60–80% [
62
,
63
], both as prophylaxis and therapy, with a relatively low burden of severe complications (GvHD > grade II), similarly to donor-derived CTLs. This approach may be clinically beneficial in the early phases of post-transplant refractory infection, but lack of persistence of third party CTLs represents a concern, and there are still few data on long-term effects on viral clearance and specific immune reconstitution. Third-party CTLs have been detected up to 90 days after infusion, but persistence is expected to be shorter. Intriguingly, viral clearance is usually sustained, possibly related to specific antiviral immunity recovery following CTL infusion [
63
]. As mentioned above, third-party CTLs could also represent a promising alternative in patients who fail to respond to donor-derived CTLs and present viral genome mutations that lead to specific antigen–HLA combinations that are unrecognized by donor T cells. A more complete understanding of the mechanism of viral recognition by CTLs could lead to a personalized approach to adoptive cell therapy by matching the recipient HLA–epitope combination with the more appropriate HLA-restricted CTLs.
6. Conclusions
Viral infections after HSCT can be challenging for clinicians, and are a major cause of morbidity and mortality, especially in high-risk patients. Infusion of adoptive VSTs can tackle viral replication and restore antiviral immunity in patients not responding to antiviral drugs. The expected response rates are between 50–90%, with different manufacturing techniques, and even in the HLA partially matched setting, antiviral efficacy is reported around 50–70%. Toxicity is usually temporary and easily controlled, occurring only in a small proportion of patients. Further challenges might be addressed by broadening applicability to all transplanted patients (i.e., patients with active GvHD) and reducing the time to access cellular products using VST cell banks. Moreover, transplant-related mortality also arises from respiratory virus infections, JC and BK virus, and other viral infections that lack an effective antiviral treatment. Therefore, cellular products that can also target these viruses are required. Future challenges of adoptive therapies will include broadening applicability to different categories of patients, and the better definition of patient-oriented strategies.
Funding
This research received no external funding.
Conflicts of Interest
The authors declare no conflict of interest.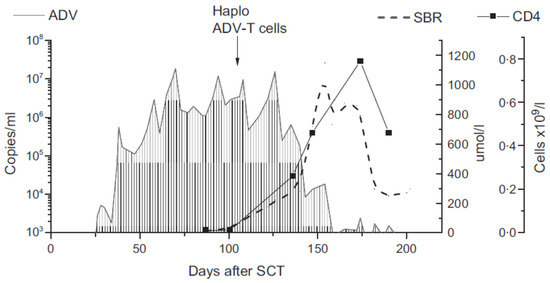 Figure 1.
Third-party CTL efficiently cleared viral load in a transplanted child with refractory AdV infection, although significant liver GvHD occurred afterwards. Adapted from Qasim et al. [
61
].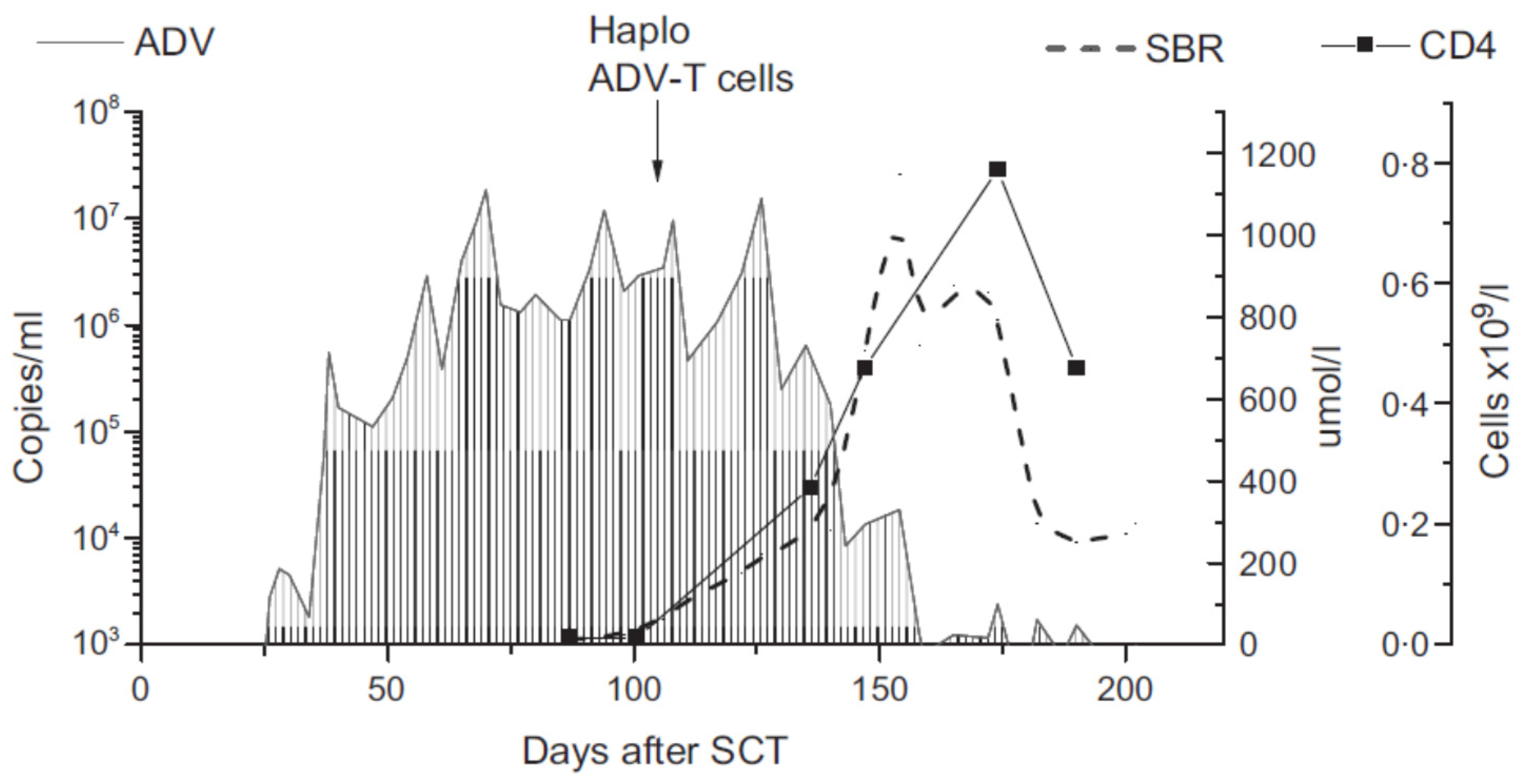 Table 1. Reported incidence of AdV, CMV and EBV post-transplant reactivation in peripheral blood, and disease-specific pharmacological treatment and rate of treatment response in children and adults undergoing haematopoietic stem cell transplantation.
Patients
Viremia
Viral Disease
Treatment
Response Rate
AdV
Children
15–30%
6–11%
Cidofovir, brincidofovir
60–80%
Adults
6–15%
2%
CMV
Children
15–20%
4%
Gancyclovir, foscarnet, valgancyclovir
70–80%
Adults
39%
13%
EBV
Children
11%
1–7%
Rituximab
60–70%
Adults
22%
1–3%

Table 2. Largest published clinical trials for treatment and prevention of viral reactivation after HSCT using donor-derived single-virus adaptive therapy, using either ex vivo expansion or direct selection.
Patients (

n

)
Population
Viral Infection
VST Stimulated or Isolated by
Citation
Ex-Vivo Expanded
113
Adults/Children
EBV
LBC
Heslop, 2010 [35]
50
Adults/Children
CMV
Mo-DC pp65-restricted
Blyth, 2013 [36]
8
Children
ADV
Multi-peptides AdV5
Ip, 2018 [37]
Direct Selection
10
Adults/Children
EBV
IFN-γ capture
Icheva, 2013 [38]
18
Unknown
CMV
IFN-γ capture
Peggs, 2011 [34]
30
Adults/Children
ADV
IFN-γ capture
Feucht, 2015 [39]
Abbreviations: LBC: lymphoblastoid cells; IFN: interferon; Mo-DC: monocyte-derived dendritic cells.

Table 3. Largest published clinical trials for treatment and prevention of viral reactivation after HSCT using donor-derived multiple-virus adaptive therapy.
Patients (

n

)
Population
Viral Specificity
VST Stimulated by
Citation
13
Children
EBV/ADV
LBCs transduced with ADV vector
Leen, 2009 [45]
15
Adults/Children
ADV/CMV/EBV
LBCs transduced with ADV vector encoding CMVpp65
Leen, 2006 [32]
10
Adults
ADV/CMV/EBV/VZV
Mo-DC transduced with ADV vector encoding CMVpp65, EBNA1, VZV vaccine
Ma, 2015 [46]
11
Adults/Children
ADV/CMV/EBV/BKV/HHV6
Pepmixes of immunodominant antigens
Papadopulou, 2014 [43]
Abbreviations: LBC: lymphoblastoid cells; Mo-DC: monocyte-derived dendritic cells; VZV: Varicella–Zoster virus; EBNA1: Epstein–Barr nuclear antigen 1.

© 2019 by the authors. Licensee MDPI, Basel, Switzerland. This article is an open access article distributed under the terms and conditions of the Creative Commons Attribution (CC BY) license (http://creativecommons.org/licenses/by/4.0/).