Altered VEGF Splicing Isoform Balance in Tumor Endothelium Involves Activation of Splicing Factors Srpk1 and Srsf1 by the Wilms' Tumor Suppressor Wt1
1
Université Côte d'Azur, Institute of Biology Valrose, Nice (iBV), CNRS UMR7277, INSERM U1091, 06107 Nice, France
2
Université Côte d'Azur, Institute for Research on Cancer and Aging, Nice (IRCAN), CNRS UMR7284/INSERM U1081, 06107 Nice, France
3
Faculty of Health and Applied Sciences, University of the West of England, Bristol BS16 1QY, UK
4
Department of Pathology, CHU Nice, 06107 Nice, France
*
Author to whom correspondence should be addressed.
Received: 6 December 2018 / Revised: 27 December 2018 / Accepted: 8 January 2019 / Published: 11 January 2019
Abstract
Angiogenesis is one hallmark of cancer. Vascular endothelial growth factor (VEGF) is a known inducer of angiogenesis. Many patients benefit from antiangiogenic therapies, which however have limitations. Although VEGF is overexpressed in most tumors, different VEGF isoforms with distinct angiogenic properties are produced through alternative splicing. In podocytes, the Wilms' tumor suppressor 1 (WT1) suppresses the Serine/arginine-rich protein-specific splicing factor kinase (SRPK1), and indirectly Serine/arginine-rich splicing factor 1 (Srsf1) activity, and alters VEGF splicing. We analyzed VEGF isoforms, Wt1, Srpk1, and Srsf1 in normal and tumor endothelium. Wt1, Srpk1, Srsf1, and the angiogenic VEGF164a isoform were highly expressed in tumor endothelium compared to normal lung endothelium. Nuclear expression of Srsf1 was detectable in the endothelium of various tumor types, but not in healthy tissues. Inducible conditional vessel-specific knockout of Wt1 reduced Wt1, Srpk1, and Srsf1 expression in endothelial cells and induced a shift towards the antiangiogenic VEGF120 isoform. Wt1(−KTS) directly binds and activates both the promoters of Srpk1 and Srsf1 in endothelial cells. In conclusion, Wt1 activates Srpk1 and Srsf1 and induces expression of angiogenic VEGF isoforms in tumor endothelium.
View Full-Text
►

▼

Figures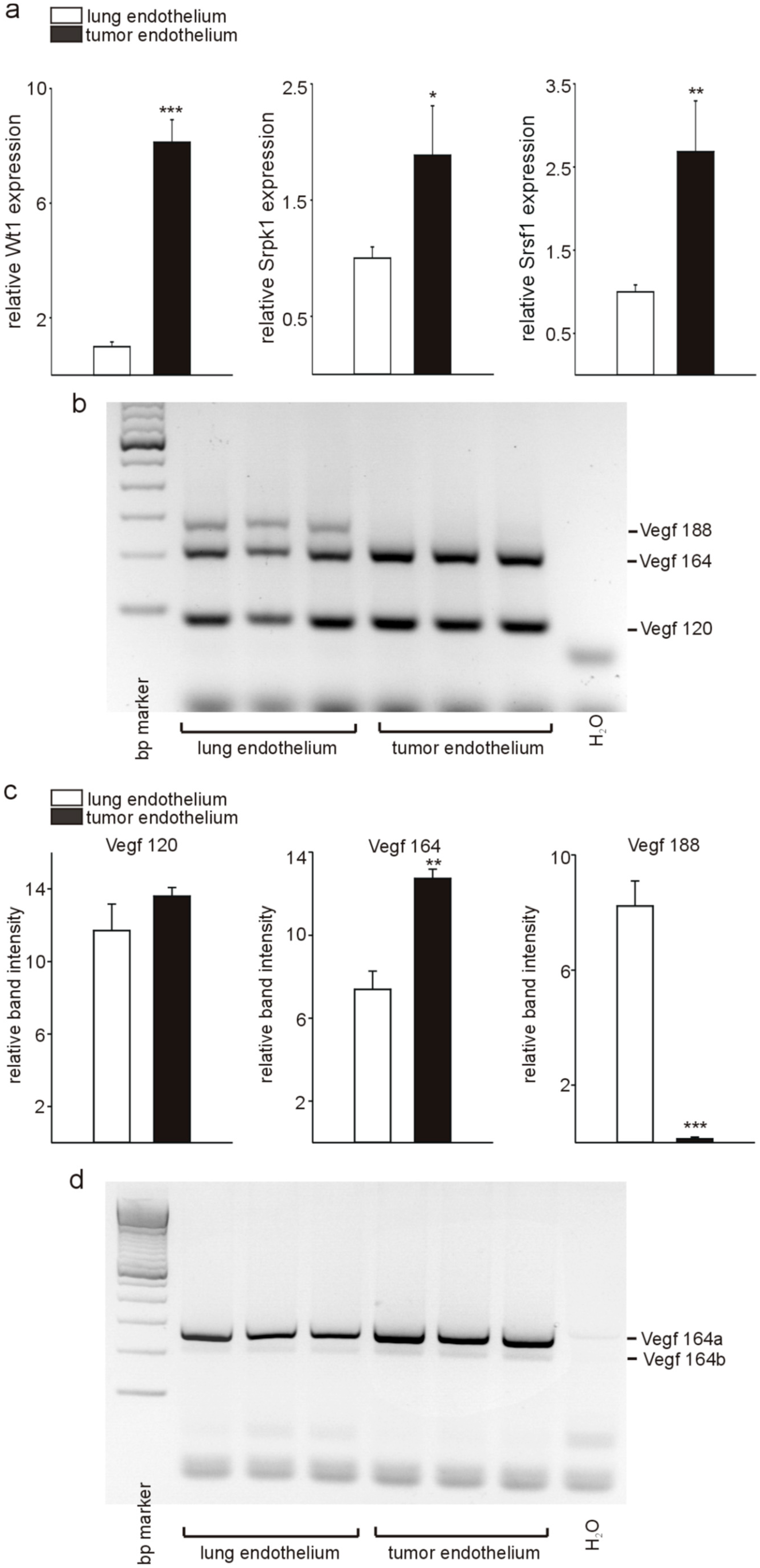 Figure 1
This is an open access article distributed under the
Creative Commons Attribution License
which permits unrestricted use, distribution, and reproduction in any medium, provided the original work is properly cited (CC BY 4.0).

Share & Cite This Article
MDPI and ACS Style
Wagner, K.-D.; El Maï, M.; Ladomery, M.; Belali, T.; Leccia, N.; Michiels, J.-F.; Wagner, N. Altered VEGF Splicing Isoform Balance in Tumor Endothelium Involves Activation of Splicing Factors Srpk1 and Srsf1 by the Wilms' Tumor Suppressor Wt1. Cells 2019, 8, 41.
Note that from the first issue of 2016, MDPI journals use article numbers instead of page numbers. See further details here.
Related Articles
Comments
[Return to top]