Crohn's Disease-Associated Adherent-Invasive
Escherichia coli

Manipulate Host Autophagy by Impairing SUMOylation

1

UMR 1071 Inserm, University of Clermont Auvergne, 28 place Henri Dunant, Clermont-Ferrand 63000, France

2

INRA, USC 2018, University of Clermont Auvergne, 28 place Henri Dunant, Clermont-Ferrand 63000, France

3

Centre Hospitalier Universitaire, 58 place Montalembert, Clermont-Ferrand 63000, France

†

These authors contributed equally to this work.

*

Authors to whom correspondence should be addressed.

Received: 8 December 2018 / Revised: 30 December 2018 / Accepted: 2 January 2019 / Published: 9 January 2019
Abstract
The intestinal mucosa of Crohn's disease (CD) patients is abnormally colonized with adherent-invasive
Escherichia coli
(AIEC) that are able to adhere to and to invade intestinal epithelial cells (IECs), to survive in macrophages, and to induce a pro-inflammatory response. AIEC persist in the intestine, and induce inflammation in CEABAC10 transgenic mice expressing human CAECAM6, the receptor for AIEC. SUMOylation is a eukaryotic-reversible post-translational modification, in which SUMO, an ubiquitin-like polypeptide, is covalently linked to target proteins. Here, we investigated the role of SUMOylation in host responses to AIEC infection. We found that infection with the AIEC LF82 reference strain markedly decreased the levels of SUMO-conjugated proteins in human intestinal epithelial T84 cells. This was also observed in IECs from LF82-infected CEABAC10 transgenic mice. LF82-induced deSUMOylation in IECs was due in part to increased level of microRNA (miR)-18, which targets
PIAS3
mRNA encoding a protein involved in SUMOylation. Over-expression of SUMOs in T84 cells induced autophagy, leading to a significant decrease in the number of intracellular LF82. Consistently, a decreased expression of UBC9, a protein necessary for SUMOylation, was accompanied with a decrease of LF82-induced autophagy, increasing bacterial intracellular proliferation and inflammation. Finally, the inhibition of miR-18 significantly decreased the number of intracellular LF82. In conclusion, our results suggest that AIEC inhibits the autophagy response to replicate intracellularly by manipulating host SUMOylation.
View Full-Text
►

▼

Figures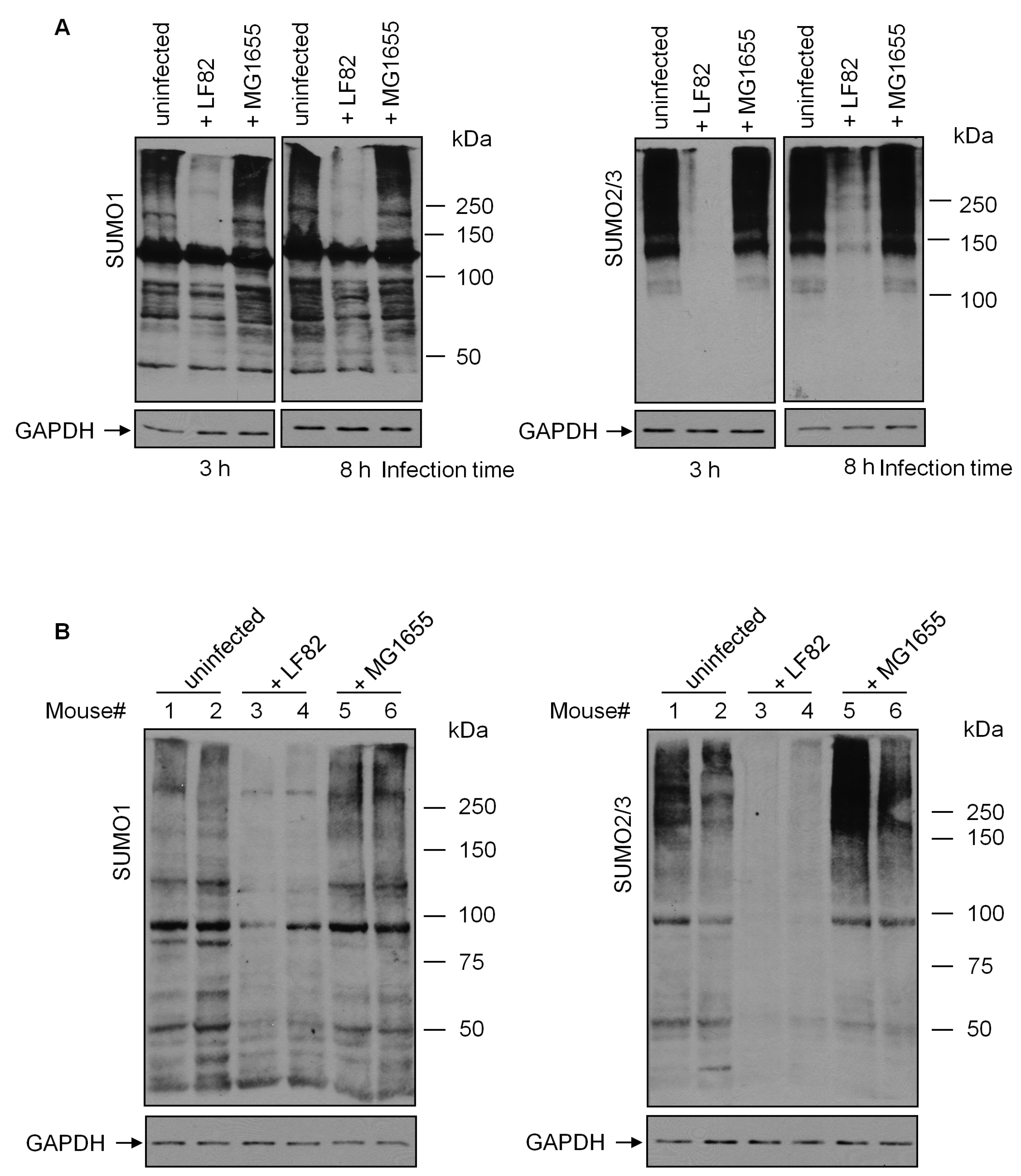 Figure 1
This is an open access article distributed under the
Creative Commons Attribution License
which permits unrestricted use, distribution, and reproduction in any medium, provided the original work is properly cited (CC BY 4.0).

Share & Cite This Article
MDPI and ACS Style
Dalmasso, G.; Nguyen, H.T.T.; Faïs, T.; Massier, S.; Barnich, N.; Delmas, J.; Bonnet, R. Crohn's Disease-Associated Adherent-Invasive Escherichia coli Manipulate Host Autophagy by Impairing SUMOylation. Cells 2019, 8, 35.
Note that from the first issue of 2016, MDPI journals use article numbers instead of page numbers. See further details here.
Related Articles
Comments
[Return to top]