Oxidative Stress Induces Telomere Dysfunction and Senescence by Replication Fork Arrest
Department of Science, University of Rome "Roma TRE", Viale Guglielmo Marconi, 446, 00146 Rome, Italy
*
Author to whom correspondence should be addressed.
Received: 17 December 2018 / Accepted: 29 December 2018 / Published: 3 January 2019
Abstract
Oxidative DNA damage, particularly 8-oxoguanine, represents the most frequent DNA damage in human cells, especially at the telomeric level. The presence of oxidative lesions in the DNA can hinder the replication fork and is able to activate the DNA damage response. In this study, we wanted to understand the mechanisms by which oxidative damage causes telomere dysfunction and senescence in human primary fibroblasts. After acute oxidative stress at telomeres, our data demonstrated a reduction in TRF1 and TRF2, which are involved in proper telomere replication and T-loop formation, respectively. Furthermore, we observed a higher level of γH2AX with respect to 53BP1 at telomeres, suggesting a telomeric replication fork stall rather than double-strand breaks. To confirm this finding, we studied the replication of telomeres by Chromosome Orientation-FISH (CO-FISH). The data obtained show an increase in unreplicated telomeres after hydrogen peroxide treatment, corroborating the idea that the presence of 8-oxoG can induce replication fork arrest at telomeres. Lastly, we analyzed the H3K9me3 histone mark after oxidative stress at telomeres, and our results showed an increase of this marker, most likely inducing the heterochromatinization of telomeres. These results suggest that 8-oxoG is fundamental in oxidative stress-induced telomeric damage, principally causing replication fork arrest.
View Full-Text
►

▼

Figures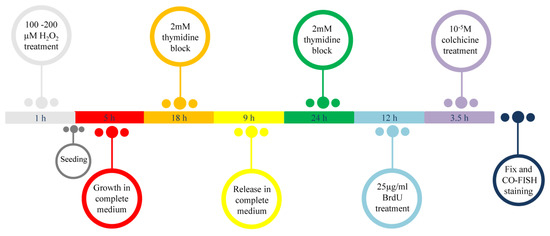 Figure 1
This is an open access article distributed under the
Creative Commons Attribution License
which permits unrestricted use, distribution, and reproduction in any medium, provided the original work is properly cited (CC BY 4.0).

Share & Cite This Article
MDPI and ACS Style
Coluzzi, E.; Leone, S.; Sgura, A. Oxidative Stress Induces Telomere Dysfunction and Senescence by Replication Fork Arrest. Cells 2019, 8, 19.
Note that from the first issue of 2016, MDPI journals use article numbers instead of page numbers. See further details here.
Related Articles
Comments
[Return to top]