Open Access This article is
freely available
re-usable
Brief Report
Ocrelizumab Depletes CD20+ T Cells in Multiple Sclerosis Patients
1
Department of Neurology, Hannover Medical School, D-30625 Hannover, Germany
2
Department of Clinical Immunology & Rheumatology, Hannover Medical School, D-30625 Hannover, Germany
†
These authors contributed equally to this work.

Received: 10 December 2018 / Accepted: 26 December 2018 / Published: 28 December 2018
Abstract
:
Ocrelizumab, a humanized monoclonal anti-CD20 antibody, has shown pronounced effects in reduction of disease activity in multiple sclerosis (MS) patients and has recently been approved for the treatment of patients with relapsing MS (RMS) and primary progressive MS (PPMS). CD20 is mainly expressed by B cells, but a subset of T cells (CD3+CD20+ T cells) also expresses CD20, and these CD20+ T cells are known to be a highly activated cell population. The blood of MS patients was analyzed with multicolor flow cytometry before and two weeks after treatment with ocrelizumab regarding the phenotype of peripheral blood mononuclear cells. CD20-expressing CD3+ T cells were found in blood samples of all MS patients, accounted for 2.4% of CD45+ lymphocytes, and constituted a significant proportion (18.4%) of all CD20+ cells. CD3+CD20+ T cells and CD19+CD20+ B cells were effectively depleted two weeks after a single administration of 300 mg ocrelizumab. Our results demonstrate that treatment with ocrelizumab does not exclusively target B cells, but also CD20+ T cells, which account for a substantial amount of CD20-expressing cells. Thus, we speculate that the efficacy of ocrelizumab might also be mediated by the depletion of CD20-expressing T cells.
Keywords:
Ocrelizumab; CD3
+
CD20
+
; CD20; T cells; B cells; multiple sclerosis; RMS; PPMS
Supplementary Materials
The following are available online at
https://www.mdpi.com/2073-4409/8/1/12/s1
: Figure S1: Gating strategy. Cells were gated on lymphocytes according to their FSC vs. SSC properties (
A
) further restricted to CD45
+
cells (
B
) and by excluding doublets in a FSC-H vs FSC-A plot (
C
), Table S1: Patient characteristics.
Author Contributions
S.G., F.F.K., M.W.H., K.-W.S., P.S., J.A., N.M., L.H.M., L.B., and S.A. obtained the samples. R.J. and T.L.J. performed the FACS experiments. S.G., R.J., R.E.S., M.S., and T.S. conceived and designed the study. S.G., F.F.K., M.W.H., K.-W.S., P.S., J.A., N.M., L.H.M., L.B., S.A., M.S., R.J., and T.S. analyzed the data. S.G., R.J., M.S., and T.S. wrote the paper. All authors contributed to manuscript revision, and read and approved the submitted version.
Funding
This research received no external funding.
Acknowledgments
The authors thank Sabine Buyny, Karin Fricke, and Kathrin Scheiwe for excellent technical support.
Conflicts of Interest
The authors declare no conflict of interest.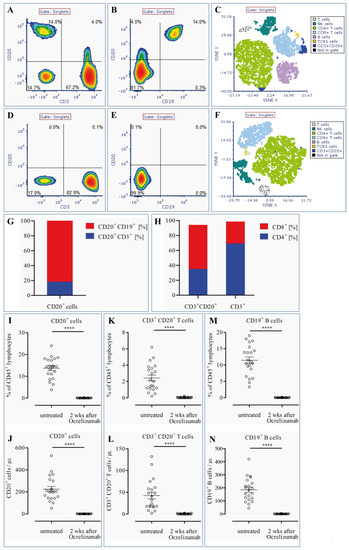 Figure 1. Detection of CD3+CD20+ T lymphocytes in peripheral blood of MS patients and depletion by ocrelizumab.

© 2018 by the authors. Licensee MDPI, Basel, Switzerland. This article is an open access article distributed under the terms and conditions of the Creative Commons Attribution (CC BY) license (http://creativecommons.org/licenses/by/4.0/).