Open Access This article is
freely available
re-usable
Review
Chemokine Receptors and Exercise to Tackle the Inadequacy of T Cell Homing to the Tumor Site
1
Center for Cancer Immune Therapy, Herlev Gentofte University Hospital, Herlev Ringvej 75, 2730 Herlev, Denmark
2
Department of Immunology and Microbiology, University of Copenhagen, Blegdamsvej 3B, 2200 Copenhagen, Denmark
*
Author to whom correspondence should be addressed.
Received: 27 June 2018 / Accepted: 13 August 2018 / Published: 17 August 2018
Abstract
:
While cancer immune therapy has revolutionized the treatment of metastatic disease across a wide range of cancer diagnoses, a major limiting factor remains with regard to relying on adequate homing of anti-tumor effector cells to the tumor site both prior to and after therapy. Adoptive cell transfer (ACT) of autologous T cells have improved the outlook of patients with metastatic melanoma. Prior to the approval of checkpoint inhibitors, this strategy was the most promising. However, while response rates of up to 50% have been reported, this strategy is still rather crude. Thus, improvements are needed and within reach. A hallmark of the developing tumor is the evasion of immune destruction. Achieved through the recruitment of immune suppressive cell subsets, upregulation of inhibitory receptors and the development of physical and chemical barriers (such as poor vascularization and hypoxia) leaves the microenvironment a hostile destination for anti-tumor T cells. In this paper, we review the emerging strategies of improving the homing of effector T cells (TILs, CARs, TCR engineered T cells, etc.) through genetic engineering with chemokine receptors matching the chemokines of the tumor microenvironment. While this strategy has proven successful in several preclinical models of cancer and the strategy has moved into the first phase I/II clinical trial in humans, most of these studies show a modest (doubling) increase in tumor infiltration of effector cells, which raises the question of whether road blocks must be tackled for efficient homing. We propose a role for physical exercise in modulating the tumor microenvironment and preparing the platform for infiltration of anti-tumor immune cells. In a time of personalized medicine and genetic engineering, this "old tool" may be a way to augment efficacy and the depth of response to immune therapy.
Keywords:
adoptive cell therapy; ACT; tumor infiltrating lymphocytes; TIL; genetic engineering; CARs; exercise; chemokines; homing
1. Introduction
Within the past decade, immune therapy has revolutionized the treatment of cancer and changed the outlook for patients with metastatic disease. The term "Immune Therapy" denotes approaches aimed at modulating the immune system to target and kill cancer cells and can be boiled down to three distinct treatment strategies: (1) Vaccines immunizing against tumor antigens (TAs), (2) Adoptive cell therapy (ACT) of
ex vivo
expanding immune effector cells, and (3) immune modulators improving endogenous anti-tumor immunity [
1
,
2
].
TA-specific T cells are readily found in the blood of patients with cancer and these cells infiltrate tumors despite having limited efficacy. Thus, tumors are infiltrated with tumor-reactive T cells but, in most cases, at low frequency [
3
]. To this end, a high frequency of tumor infiltrating of lymphocytes (tumor infiltrating lymphocytes, TIL) such as in CD8
+
T cells have been associated with improved survival of patients of several cancer diagnoses including melanoma [
4
], ovarian [
5
], breast [
6
], and colorectal cancer [
7
,
8
] even though solid prospective phase III clinical data are still missing. In addition, accumulating data supports the notion that baseline tumor infiltration by activated CD8
+
T cells (inflamed tumors) identifies a group of patients with a better chance for a clinical response to treatment with immunotherapy when compared to patients with non-inflamed tumors [
9
,
10
]. Thus, even though T cells can recognize and kill tumor cells, recruitment and infiltration of TA-specific T cells to tumors seems to impact overall survival and also represents a denominator for response to therapy using check point inhibitory antibodies.
Chemokines responsible for TIL recruitment and migration to the tumor site are found among the pro-inflammatory chemokines in both metastatic melanoma (MM) and ovarian cancer (OC), which associates with a TIL inflamed phenotype [
1
,
11
,
12
,
13
]. In addition, expression and binding of specific chemokine/chemokine receptors such as CXCR3-CXCL9/CXCL10 have been proposed as non-redundant requirements for endothelial transmigration of T cells across tumor vasculature in melanoma [
14
]. Consistent with this, melanomas with low expression of ligands for chemokine receptors CXCR3 and CCR5 are poorly infiltrated [
1
].
In addition, other roadblocks may occur on the anti-tumor T cell's path to the tumor site among other abnormal vascularization, poor perfusion, presentation of appropriate adhesion molecules, and hypoxia. Discussing old data of exercise physiology and new data on the effect of exercise on cancer, we propose a potential role for exercise in improving cancer immune therapy.
Adoptive Cell Therapy (ACT)
2. Chemokines in Cellular Homing and Immune Evasion
Exploiting Tumor-Specific Chemokine Axes
3. Disruption of Molecular Mediators of Homing
Several studies of T cell homing to tumors have used
in vivo
imaging using firefly luciferase transduction of T cells by enabling highly sensitive and specific tracking of T cells
in vivo
[
74
,
75
,
76
,
77
]. However, only very few studies have quantified the frequencies or total numbers of T cells in tumors [
75
,
76
,
77
]. Despite that most studies show that chemokine receptor engineered T cells can increase the frequencies of T cells infiltrating into the tumors after ACT in
in vivo
mouse models, the reported T cell homing is rather modest [
3
,
74
,
75
,
76
,
78
]. While IL-8 and other chemokines targeted through chemokine receptor engineering may induce the recruitment of T cells, T cell extravasation and migration into peripheral tissues rely on selectin and integrin binding in concert with chemokine signaling to mediate rolling and firm adhesion to the endothelial wall [
1
,
38
]. However, the vasculature of developing tumors may not necessarily support T cell adhesion, extravasation, and tumor infiltration [
92
].
Through a disproportionate expression of angiogenic cytokines and inhibitors, tumor vasculature is characterized by an abnormal structure and altered endothelia. This results in irregular blood flow, increased vascular permeability from leaky tumor vasculature, and insufficient lymphatic drainage [
92
,
93
,
94
]. These hypoxic neo-angiogenic vessels in the tumor are dysfunctional in the expression of homing molecules such as adhesion molecules (e.g., ICAM-1, VCAM-1, E- and P- selectins) and chemokines, and consequently less capable of supporting T cell flux and extravasation [
95
,
96
,
97
]. Tumor instigated chemokine/chemokine receptor mismatching, disrupted endothelial vessels, and adhesion of molecule expression are considered key factors in limiting TIL infiltration [
1
]. One strategy to tackle these obstacles may come from an unexpected source, which is exercise.
4. Facilitating Immune Infiltration through Exercise
The data discussed above suggests a potential role for exercise in cancer immune therapy. Despite this, no study, to our knowledge, have yet addressed the effect of exercise on the response to immune therapeutics (checkpoint inhibitors, ACT, vaccines, etc.).
5. Perspectives and Concluding Remarks
In light of the current knowledge, increasing the homing of effector T cells is crucial for ACT. Current strategies are addressing the issue of homing by genetically engineering T cells with chemokine receptors, which have shown promising preclinical results. However, fixing the T cells with GPS coordinates of the tumor does not fix the other road blocks. In this paper, we hypothesized a role for exercise in normalizing the poor tumor vascularization and lack of appropriate adhesion molecules and creating highways to the tumor.
Exercise has no adverse effects, but it leads to healthier living, decreases systemic inflammation as well as blood pressure and pre-diabetic states and increases physical functioning. In addition, it can be applied prior to ACT to increase the number of TILs in biopsies or increase the number/quality of peripheral blood cells for harvest in CAR/TCR therapy as well as after ACT where it can increase the accessibility and infiltration into remaining tumor lesions. Looking outside of the scope of improving ACT, one might speculate that getting more immune cells into tumors by exercise could assist other strategies of immune therapy. Checkpoint inhibitors relies on pre-existing tumor immune infiltration since patients with so called "cold" tumors fail to respond to checkpoint inhibitors [
9
,
132
,
133
]. Exercise might be a means to tip the balance by improving the response rate and depth of responses.
Author Contributions
M.I. researched and wrote the manuscript, and made figures/table, P.t.S. provided intellectual ideas and discussions of the content, and researched and edited the manuscript.
Funding
This work was supported by the Danish Council for Independent Research under grant no. DFF-1331-00095B and the Danish Cancer Society under grant no. R72-A4396-13-S2.
Acknowledgments
Thanks to the Danish Council for Independent Research and the Danish Cancer Society for supporting this work.
Conflicts of Interest
The authors declare no conflict of interest.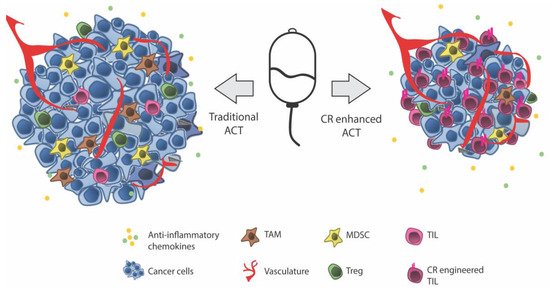 Figure 1.
ACT of autologous
in vitro
expanded T cells (TIL, CAR and TCR T cells). ACT relies on the efficient homing of transferred T cells to the tumor site. The cells of the tumor secrete chemokines supports tumor growth and immune evasion by diverting anti-tumor immune cells. Thus, the tumor is characterized by an environment of infiltrating Tregs, TAM, and MDSC expressing inhibitory receptors and secreting immune suppressive cytokines and factors and only few dysfunctional anti-tumor T cells. (
Left
) Traditional ACT relies on endogenous chemokine receptors expressed on infused T cells to enable homing to the tumor site. (
Right
) Chemokine receptor engineered T cells, which express a selection of chemokine receptors matching the tumor chemokines, are thought to improve the homing of transferred T cells to the tumor site. As a consequence, more anti-tumor T cells reach the tumor and by "outnumbering" the immune suppressive mechanisms might overcome immune suppression and improve the anti-tumor response of ACT. Abbreviations: ACT—Adoptive cell therapy, CR—Chemokine receptor, MDSC—Myeloid derived suppressor cell, TAM—Tumor associated macrophage, TIL—Tumor Infiltrating lymphocyte (here representing anti-tumor T cells), Treg—Regulatory T cell.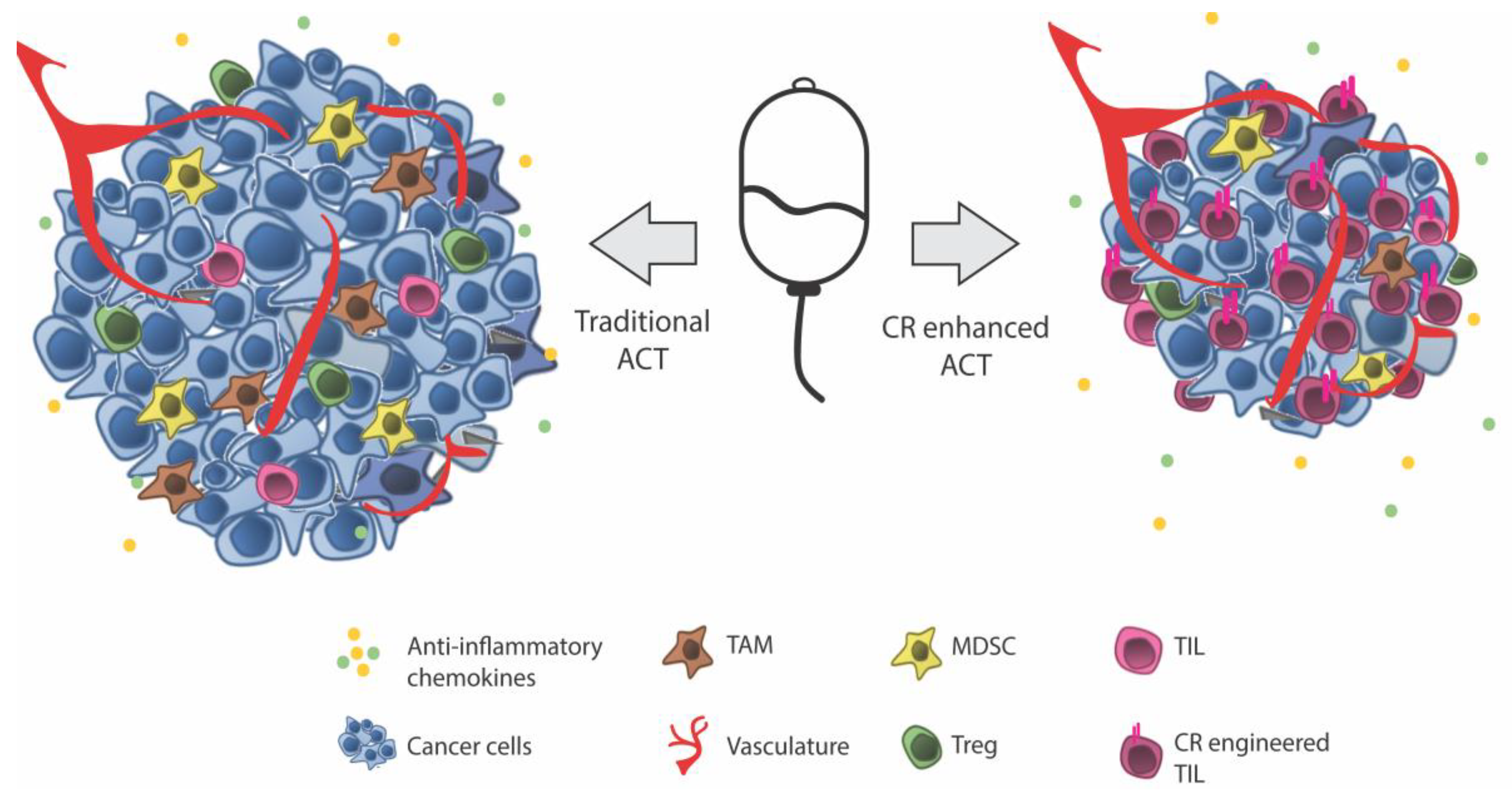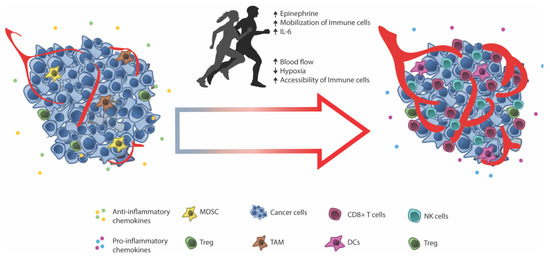 Figure 2.
Exercise may improve the efficacy of immune therapy by several mechanisms attributed to the effect of physical activity. Exercise induced epinephrine mobilize immune cells (NK-cells, T-cells, and B cells) from the secondary lymphoid tissue, releasing them into circulation. The concurrent increase in blood flow, through vasodilation and normalization of tumor vasculature, increase the accessibility and entrance of immune cells into the tumor. Among the benefits of increased perfusion is a decrease in hypoxic areas thought to modulate the effector function of infiltrating immune cells and expression of pro-inflammatory chemokines, which further aids the infiltration of more anti-tumor immune cells. Exercise could, therefore, be prescribed prior to ACT to increase the TIL numbers prior to biopsy and
in vitro
expansion as well as following ACT to secure the homing and on-site function of transferred T cells. Abbreviations: DC—Dendritic cell, IL—Interleukin, MDSC—Myeloid derived suppressor cell, NK—Natural killer, TAM—Tumor associated macrophage, and Treg—Regulatory T cell.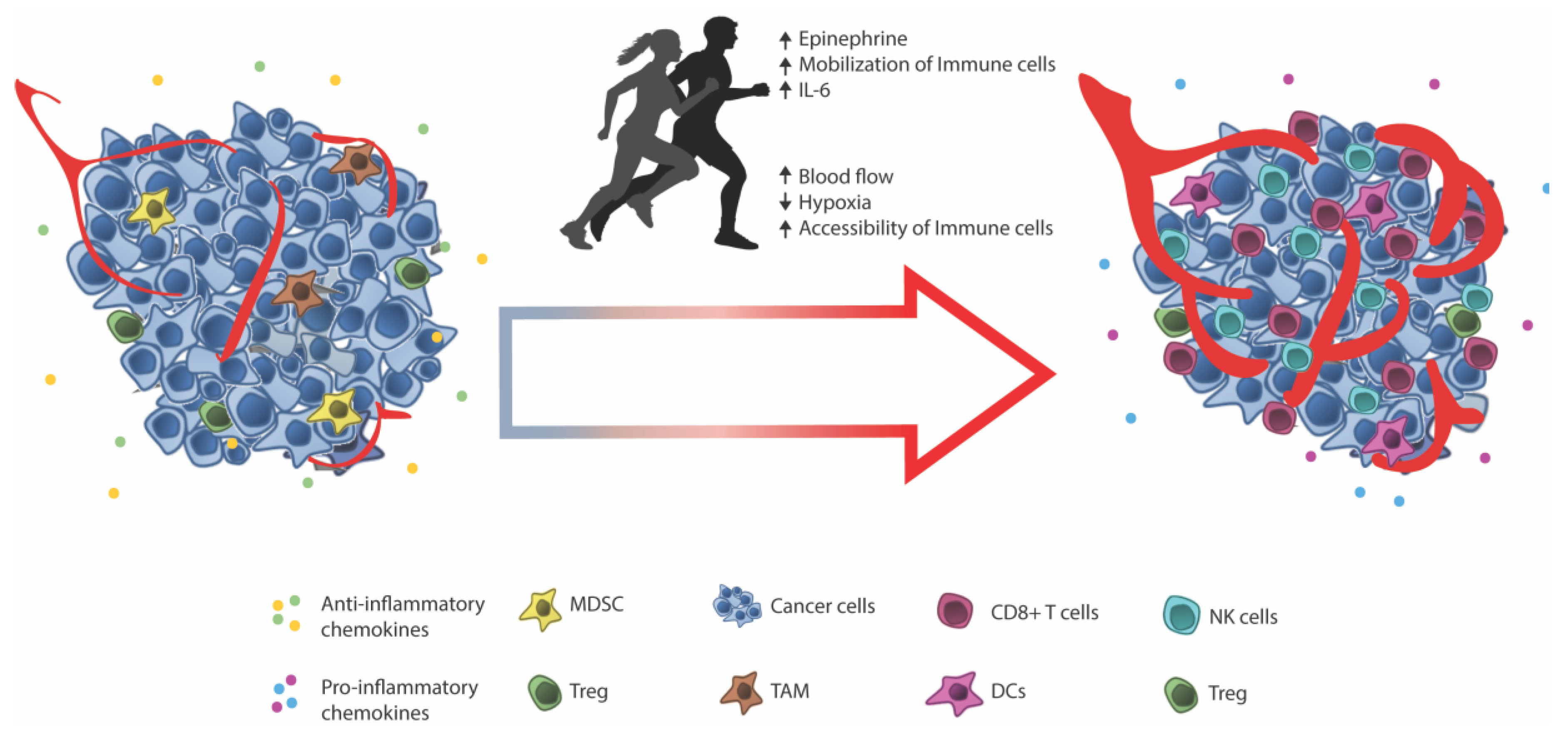 Table 1.
Excerpt of chemokine/chemokine receptors involved in the homeostatic and inflammatory adaptive T cell immune response and function in tumor immunology. More than 50 chemokines and 20 chemokine receptors have been described. Therefore, this table is limited to the migration axes described in the introduction section and the 11 among which this thesis revolves around (highlighted in bold font). Abbreviations: DC, dendritic cell, ILC, Innate lymphoid cells, LN, lymph node, MDSC, myeloid derived suppressor cells, NK, Natural Killer cells, NKT, Natural killer T cells, TAM, tumor associated macrophages, TAN, tumor associated neutrophils, Th, Thelper, TLS, Tertiary lymphoid structures, Treg, regulatory T cell. The role of chemokines in pro-tumor and anti-tumor responses have been reviewed in detail by Viola et al 2012 [
13
]. This table is a modified merger from Viola et al. 2012 [
13
] and Griffith et al. 2014 [
38
].
Chemokine
Alternative Name
Receptor(s)
Function an Adaptive T Cell Response
Function in Tumor Immunology
CCL2
MCP-1
CCR2, CCR3
Inflammatory monocyte trafficking
Recruitment of TAMs, MDSC, and neutrophils, Tumor infiltration of CD8+ T cells
CCL3
MIP-1α
CCR5
T cell-DC interactions
Recruitment and maturation of DCs, increased CD8+ T cell activation and tumor infiltration
CCL4
MIP-1β
CCL5
RANTES
CCL17
TARC
CCR4
Treg migration, Th2 response and migration
Treg recruitment and tumor infiltration
CCL19
MIP-3β
CCR7
T and DC homing to LNs
Formation of tumor associated TLS, recruitment and activation of Treg and MDSC, tolerogenic TLS and promotion of metastasis
CCL21
SLC
CCL22
MDC
CCR4
Treg migration, Th2 response and migration
Treg recruitment and tumor infiltration
CCL25
TECK
CCR9
T cell precursor homing to thymus
Inhibit effector T cell function, chemotherapy resistance, and metastasis [56]
CXCL1
Gro-α
CXCR1, CXCR2
Neutrophil trafficking
Survival, proliferation, and metastasis (cancer cells), Neoangiogenesis, recruitment of MDSC and TANs
CXCL8
IL-8
CXCR1,
CXCR2,
CXCL9
MIG
CXCR3
Th1 response, CD8, Th1 and NK trafficking to site of inflammation
Recruitment and infiltration of CD8+ T, NK, and NKT cells, inhibit tumor cell proliferation, vascular transmigration checkpoint [14]
CXCL10
IP-10
CXCL11
I-TAC
CXCL12
SDF-1
CXCR4
Bone marrow homing, LN homing
MDSC recruitment and promotion of metastasis
CXCL16
LEC, etc.
CXCR6
NKT and ILC migration and survival
Recruitment of activated T cells, NK cells, and monocytes

© 2018 by the authors. Licensee MDPI, Basel, Switzerland. This article is an open access article distributed under the terms and conditions of the Creative Commons Attribution (CC BY) license (http://creativecommons.org/licenses/by/4.0/).