Version is current.
Centrosome Remodelling in Evolution
Instituto Gulbenkian de Ciência, Rua da Quinta Grande 6, 2780-156 Oeiras, Portugal
*
Authors to whom correspondence should be addressed.
Received: 26 May 2018 / Revised: 27 June 2018 / Accepted: 4 July 2018 / Published: 6 July 2018
Abstract
The centrosome is the major microtubule organizing centre (MTOC) in animal cells. The canonical centrosome is composed of two centrioles surrounded by a pericentriolar matrix (PCM). In contrast, yeasts and amoebozoa have lost centrioles and possess acentriolar centrosomes—called the spindle pole body (SPB) and the nucleus-associated body (NAB), respectively. Despite the difference in their structures, centriolar centrosomes and SPBs not only share components but also common biogenesis regulators. In this review, we focus on the SPB and speculate how its structures evolved from the ancestral centrosome. Phylogenetic distribution of molecular components suggests that yeasts gained specific SPB components upon loss of centrioles but maintained PCM components associated with the structure. It is possible that the PCM structure remained even after centrosome remodelling due to its indispensable function to nucleate microtubules. We propose that the yeast SPB has been formed by a step-wise process; (1) an SPB-like precursor structure appeared on the ancestral centriolar centrosome; (2) it interacted with the PCM and the nuclear envelope; and (3) it replaced the roles of centrioles. Acentriolar centrosomes should continue to be a great model to understand how centrosomes evolved and how centrosome biogenesis is regulated.
View Full-Text
►

▼

Figures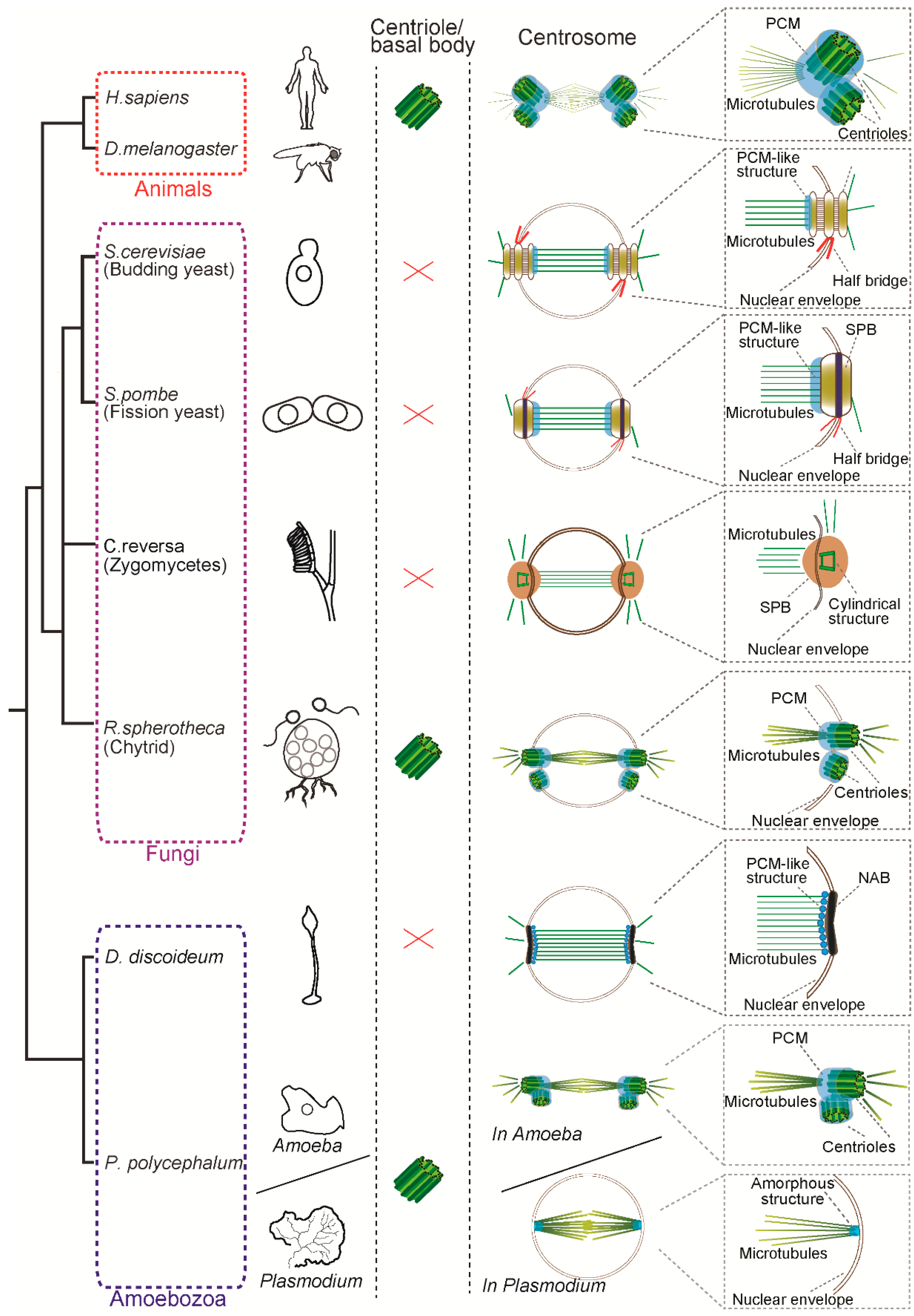 Figure 1
This is an open access article distributed under the
Creative Commons Attribution License
which permits unrestricted use, distribution, and reproduction in any medium, provided the original work is properly cited (CC BY 4.0).

Share & Cite This Article
MDPI and ACS Style
Ito, D.; Bettencourt-Dias, M. Centrosome Remodelling in Evolution. Cells 2018, 7, 71.
Note that from the first issue of 2016, MDPI journals use article numbers instead of page numbers. See further details here.
Related Articles
Comments
[Return to top]