TRPV1-Like Immunoreactivity in the Human Locus K, a Distinct Subregion of the Cuneate Nucleus
1
Department of Biomedical Sciences, University of Cagliari, Cittadella Universitaria di Monserrato, 09042 Monserrato (CA), Italy
2
Department of Medical Sciences and Public Health, University of Cagliari, Cittadella Universitaria di Monserrato, 09042 Monserrato (CA), Italy
*
Author to whom correspondence should be addressed.
Received: 29 April 2018 / Revised: 30 June 2018 / Accepted: 5 July 2018 / Published: 8 July 2018
Abstract
The presence of transient receptor potential vanilloid type-1 receptor (TRPV1)-like immunoreactivity (LI), in the form of nerve fibres and terminals, is shown in a set of discrete gray matter subregions placed in the territory of the human cuneate nucleus. We showed previously that those subregions share neurochemical and structural features with the protopathic nuclei and, after the ancient name of our town, collectively call them Locus Karalis, and briefly Locus K. TRPV1-LI in the Locus K is codistributed, though not perfectly overlapped, with that of the neuropeptides calcitonin gene-related peptide and substance P, the topography of the elements immunoreactive to the three markers, in relation to each other, reflecting that previously described in the caudal spinal trigeminal nucleus. Myelin stainings show that myelinated fibres, abundant in the cuneate, gracile and trigeminal magnocellular nuclei, are scarce in the Locus K as in the trigeminal substantia gelatinosa. Morphometric analysis shows that cell size and density of Locus K neurons are consistent with those of the trigeminal substantia gelatinosa and significantly different from those of the magnocellular trigeminal, solitary and dorsal column nuclei. We propose that Locus K is a special component of the human dorsal column nuclei. Its functional role remains to be determined, but TRPV1 appears to play a part in it.
View Full-Text
►

▼

Figures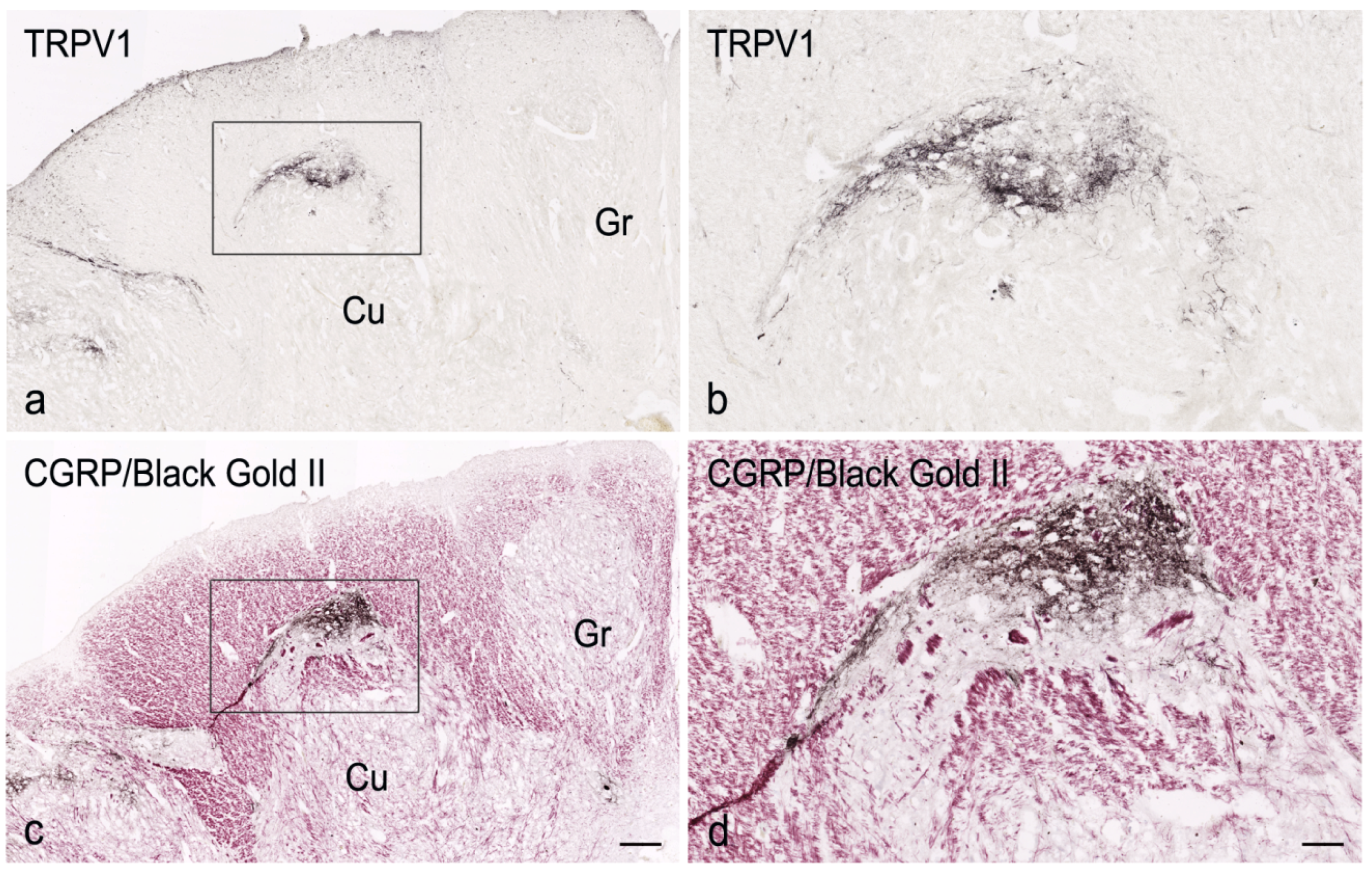 Figure 1
This is an open access article distributed under the
Creative Commons Attribution License
which permits unrestricted use, distribution, and reproduction in any medium, provided the original work is properly cited (CC BY 4.0).

Share & Cite This Article
MDPI and ACS Style
Del Fiacco, M.; Serra, M.P.; Boi, M.; Poddighe, L.; Demontis, R.; Carai, A.; Quartu, M. TRPV1-Like Immunoreactivity in the Human Locus K, a Distinct Subregion of the Cuneate Nucleus. Cells 2018, 7, 72.
Note that from the first issue of 2016, MDPI journals use article numbers instead of page numbers. See further details here.
Related Articles
Comments
[Return to top]