Elucidating the Metabolic Plasticity of Cancer: Mitochondrial Reprogramming and Hybrid Metabolic States
1
Center for Theoretical Biological Physics, Rice University, Houston, TX 77005, USA
2
Systems, Synthetic and Physical Biology Program, Rice University, Houston, TX 77005, USA
3
Department of Molecular and Human Genetics, Baylor College of Medicine, Houston, TX 77030, USA
4
Department of Bioengineering, Rice University, Houston, TX 77005, USA
5
Department of Biosciences, Rice University, Houston, TX 77005, USA
6
Physics and Astronomy, Rice University, Houston, TX 77005, USA
7
Dan L. Duncan Comprehensive Cancer Center, Baylor College of Medicine, Houston, TX 77030, USA
*
Author to whom correspondence should be addressed.
Received: 7 February 2018 / Revised: 1 March 2018 / Accepted: 8 March 2018 / Published: 13 March 2018
Abstract
Aerobic glycolysis, also referred to as the Warburg effect, has been regarded as the dominant metabolic phenotype in cancer cells for a long time. More recently, it has been shown that mitochondria in most tumors are not defective in their ability to carry out oxidative phosphorylation (OXPHOS). Instead, in highly aggressive cancer cells, mitochondrial energy pathways are reprogrammed to meet the challenges of high energy demand, better utilization of available fuels and macromolecular synthesis for rapid cell division and migration. Mitochondrial energy reprogramming is also involved in the regulation of oncogenic pathways via mitochondria-to-nucleus retrograde signaling and post-translational modification of oncoproteins. In addition, neoplastic mitochondria can engage in crosstalk with the tumor microenvironment. For example, signals from cancer-associated fibroblasts can drive tumor mitochondria to utilize OXPHOS, a process known as the reverse Warburg effect. Emerging evidence shows that cancer cells can acquire a hybrid glycolysis/OXPHOS phenotype in which both glycolysis and OXPHOS can be utilized for energy production and biomass synthesis. The hybrid glycolysis/OXPHOS phenotype facilitates metabolic plasticity of cancer cells and may be specifically associated with metastasis and therapy-resistance. Moreover, cancer cells can switch their metabolism phenotypes in response to external stimuli for better survival. Taking into account the metabolic heterogeneity and plasticity of cancer cells, therapies targeting cancer metabolic dependency in principle can be made more effective.
View Full-Text
►

▼

Figures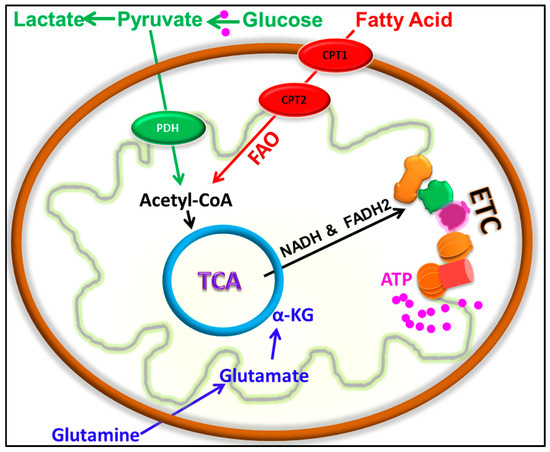 Figure 1
This is an open access article distributed under the
Creative Commons Attribution License
which permits unrestricted use, distribution, and reproduction in any medium, provided the original work is properly cited (CC BY 4.0).

Share & Cite This Article
MDPI and ACS Style
Jia, D.; Park, J.H.; Jung, K.H.; Levine, H.; Kaipparettu, B.A. Elucidating the Metabolic Plasticity of Cancer: Mitochondrial Reprogramming and Hybrid Metabolic States. Cells 2018, 7, 21.
Note that from the first issue of 2016, MDPI journals use article numbers instead of page numbers. See further details here.
Related Articles
Comments
[Return to top]